Looking to upgrade your "wheels" and invest in one of the best off road hoverboard models that are super popular right now? If you (or the kids) get tired of gliding around on pavement, you might want to seek adventure in the form of rougher terrain like sand, grass, gravel etc.
Or maybe you're just looking for a "first hoverboard" investment for the family and want to get the best there is? No point getting one of the cheap 0 self-balancing scooters if you want to have some REAL fun at the beach, in the woods, at the park, or just around your backyard (gravel, sand, mud or grass are no match for an all-terrain hoverboard).
Battery problems and fire issues are a thing of the past as most are now UL2272 certified. But that doesn't mean things don't go wrong. At an average of $300-$500, this isn't a cheap toy, and you want it to last. A long time! Returns and repairs for off-road hoverboards can be expensive and frustrating, especially if it breaks down outside the warranty period.
Luckily most issues can be avoided if you pick the right one. Some are genuinely better built and offer a more reliable riding experience than others.
For this article, I put a lot of time into researching every off-road model I could find. This is a review of what I believe to be the best off road hoverboards available right now. The criteria I used to evaluate each hoverboard are things that are important to me as a buyer and rider (and probably will be to you too) e.g. value for money, durability, safety etc. So let's get started!
What is the best all terrain hoverboard?
Check out our table showing our top review picks (just remember our no.1 pick overall is NOT featured on this table (the Halo Rover) as it's only available from the official website – all of the rest listed here can be bought on Amazon!
I have to warn you, this is the 2nd most expensive one on the list, but it is for a reason – it's also the best. And if the price is a barrier there ARE periodic price drops during the year (mostly in the Black Friday to Christmas shopping period). There is no doubt that this is the best off road hoverboard on the market (almost every hoverboard review on the internet agrees!), and it has even won awards that cement that fact. But what is it about this particular off-road hoverboard that makes it stand out from the crowd? Let's have a look at the features, plus the pros and cons of the board so you can find out what that is.
Features
Two LED lights are found at the front of this UL certified hover board, which is obviously perfect for safety and being seen in the dark. There are two durable all terrain solid rubber tires on the electric hoverboard which are 8.5 inches, with a high ground clearance. It easily has a speed limit of 10 miles per hour and it is able to move forwards, backwards, turn both ways and rotate 360 degrees. The hoverboard takes around two and a half hours to fully charge and has a battery life of two hours. Some extra features that make this board top of the list of best off road hoverboards on the market is the handy built-in Bluetooth speaker and mobile app . Simply by connecting your phone to this Halo hoverboard electric scooter you can enjoy music while you ride.
Pros
It has aluminum alloy guards which is important for both safety and durability of the board.
700 watt dual motors make this one of the best hoverboards for power, speed and durability.
The tires on this thing are absolutely amazing and pretty indestructible. This rugged hoverboard rides well on all surfaces from mud grass, gravel, snow and more. The tires are also thicker than those found on similar products.
The product comes with a UL2272 certificate, which confirms the safety of the LG batteries that come with the hoverboard.
Halo have also issued a worry-free guarantee with the product, which means you will get your money back in the unlikely case that anything does go wrong with the item.
It has positive feedback from customers all over the world. People young and old are completely loving the Halo Rover X Hoverboard.
Cons
It is a little more expensive than other hoverboards on the market but it's definitely worth the extra investment (plus [su_highlight background="#feff99″]if you use our coupon code you can get an extra $50 off![/su_highlight])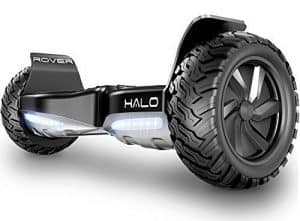 [su_button url="https://hi.switchy.io/1BfI" target="blank" background="#f70024″ size="10″ center="yes"]Get $50 Off Our No.1 Pick (Use coupon code ORDER50)[/su_button]
[su_divider]
This stylish hoverboard is one that has earned a place on this list for all the right reasons. Whether you are getting a hoverboard for yourself or someone else, this is one to look into. It has the same self-balancing technology of the Halo Rover and while it's not the fastest one on this list, it has many appealing features that are worth giving it a try.
Let's take a look so you can decide for yourself.
Features
This board has a maximum speed of 9.95 miles per hour, which is faster than average and enough to give you a thrilling ride. The 8.5″ tires are super solid and tough enough for rough terrain, which makes the general experience on the board a really smooth one. Safety is guaranteed with this device, it has been tried and tested and has a ul 2272 certified lithium-ion battery. This should help put any parents mind at ease, who might be getting this device for their child. There is a built in speaker which is easy to integrate with the device. Your favorite tunes makes riding a hoverboard even more fun.

Pros
It has a powerful 350 watt motor and provides you with an incredible ride and good range.
The entire device is made with high quality materials, coupled with the 8.5″ wheels makes the board very sturdy.
It fully charges within two hours or slightly less and the battery life is a little over two hours.
It is one of the most affordable hoverboards on the market, when you consider all the cool features.
The product has positive reviews from customers from all walks of life. Who better to trust than people who have actually tried the product for themselves?
It has super cool LED lights that change color. It also has a built in speaker where you can play some of your favorite music from as you ride.
Cons
Some people who have used the device have reported hearing a grinding noise when the hoverboard is in use.
The Gyroor Warrior off-road hoverboard is a little on the heavy side but this doesn't affect it when in use.
[su_button url="http://www.amazon.com/exec/obidos/ASIN/B0779826VN/?tag=elecridelabsg-20″ target="blank" background="#f70024″ size="10″ center="yes"]Click To Check Price On Amazon[/su_button] [su_divider]
This is a super-robust hoverboard and has also claimed the title as one of the fastest self balancing scooter on the market too. There are many features with this device, in addition to the general customer reaction, this has helped the product get a place on this list of best off road hoverboards. Intrigued? I bet you are, so come and find out more about it now.
Features
The 8.5″ wheels are appropriate to be used on all different types of terrains and are extremely high quality. It can climb slopes up to 18 degrees with no issue – the self balancing technology helps to keep the hoverboard level. The board good and has a very strong and robust body, with a weight limit of 120kg. There are high-end bluetooth speakers built in, which allows you to listen to music as you ride. Max speed is 12 mph and there are no other hoverboards on the market that go faster than this. If speed is something that is important to you, this might sway you more towards this board. The Hyper GoGo has an app that you can pair with this device on your phone. This is a pretty awesome feature that allows you to check your battery life, speed and routes while you are using it.
Pros
Overweight people are able to use the Hyper GoGo hoverboard easily because of its high weight limit and rugged build.
The device comes safety certified so you can be rest assured that it's safe to use for people of all different ages.
It is both water and dirt resistant. When you consider this coupled with the durability of the board, it means you can ride easily on a variety of surfaces.
The app is a really cool touch and helps you control the hoverboard performance as you want to as you ride.
What could be better than riding a super-fast hoverboard? Riding it while listening to music of course, and the added speakers allow you to do this!
Cons
The board only has a battery life of one hour which is not the best and doesn't allow you to venture too far from home.
[su_button url="http://www.amazon.com/exec/obidos/ASIN/B07L6VP591/?tag=elecridelabsg-20″ target="blank" background="#f70024″ size="10″ center="yes"]Click To Check Price On Amazon[/su_button]
[su_divider]
What says stylish more than putting the Lamborghini name onto a hoverboard and making it look just as good? This creation by Twodots is super sleek and definitely one of the best off road hoverboards that exists today. It all together gives the full package and that is all you can ask for when shopping for this kind of product. With that being said, it's time to review the product in more detail so you can decide if it's right for you.
Features
With two extremely powerful 400 watt motors, the hoverboard gives a smooth ride on many different surfaces as you take it exploring off road. The maximum speed is 9 mph, which is more than reasonable for getting where you need to be. The tires are 8.5″ and really high quality meaning that this product should last you for years ahead if you take care of it. Again with this hoverboard, Bluetooth is included which is easy to pair with any phone so you can enjoy music as you ride.
No products found.
Pros
TwoDots have done an amazing job of mimicking the sleek Lamborghini look into the form of a hoverboard. It is black and red, with stylish LED lights and modern detailing that stands out from the crowd. If you want to look as cool as possible on your hoverboard, this could be the right choice for you.
It has powerful motors, giving you a smooth, clean and relatively fast ride.
Many safety certificates have been achieved by this item, meaning you do not have to worry about it not being safe to use. It is UL 2272 certified.
It is getting positive feedback from customers all over the world and it particularly seems to be popular as a gift item for others.
There are LED lights which light your way at night and look good too.
Cons
It has a charging time of three and a half hours, which is pretty poor compared to other hoverboards out there and not ideal if you want to go for a ride fast.
[su_button url="http://www.amazon.com/exec/obidos/ASIN/B07JM327TB/?tag=elecridelabsg-20″ target="blank" background="#f70024″ size="10″ center="yes"]Read Customer Reviews & Check Price On Amazon[/su_button]
[su_divider]
One for the kids on this list of best off road hoverboards available to buy right now is the CBD Off-Road hoverboard. If you do not want to spend crazy amounts on money on this kind of product, this could be the best buy for you because it's much more affordable than others on the market. Let's delve right in a little further to see exactly what it brings to the competition.
Features
It has a modern design with LED lights, allowing you to see your way with ease if you are riding in the dark. The tires are strong and stand at 8.5″, making the product an extremely durable one and will hopefully last you for a lifetime. This board has a strong 500 watt battery, allowing you to glide off road smoothly on any terrain that might be in your way. It has gained itself all the necessary safety documents after strict testing, making it perfect for children to use too.
Pros
Includes Bluetooth speakers and app so you can connect your phone up to the board and listen to the music of your choice safely. If you are going anywhere using this item, music can make it much more fun.
It has a contemporary and stylish design.
You can choose a board with OR without bluetooth depending on whether that's important to you or not (without is a bit cheaper).
It's now available for under 200 bucks, which makes it the most affordable best off road hoverboards you can get your hands on. At this price, it also makes the perfect Christmas gift, perhaps for your child.
It charges pretty quickly and also has a decent battery life of around two hours.
Cons
As you can imagine for the price, it's not quite as durable as some of the others mentioned in the list. It might look the same and is the same size, but some of the materials used are different. That doesn't mean you won't get a good ride from it, and with a weight limit of 260lbs it's still suitable for teens and adults too, but it might be more susceptible to damage.
[su_button url="http://www.amazon.com/exec/obidos/ASIN/B07S5QTSVX/?tag=elecridelabsg-20″ target="blank" background="#f70024″ size="10″ center="yes"]Click To Check Price On Amazon[/su_button]
[su_divider]
The Epikgo Classic off-road hoverboard is not that different to the Halo Rover, and if you compared the two side by side you might even think they look the same. It certainly has many of the same features, including similar power (dual motors), aluminum alloy wings, speed of 10mph, performance, technology, rugged wheel and charging time. What the Epikgo is missing though (that the Halo Rover DOES have), is built in bluetooth speakers and mobile app for tracking functions. Also the Epikgo is slightly smaller and lighter than the Rover. If you're not interested in bluetooth or having a mobile app though, the Epikgo hoverboard is certainly one to consider as it performs admirably on a variety of terrains. It IS however quite expensive and is actually one of the most expensive on our list despite not having bluetooth. If you're looking for different features, the Epikgo also comes in Sport, Sport + and Premier Series models, all of which have different prices, features and specs.
Features
Travels up to 10 miles on a single charge, at approximately 10 mph
400 watt dual motors make it up to 80% more powerful than most of the other toy hoverboards available online with a smaller wheel and no off road capability
LED turn signals and headlights are included
Durable ABS body chassis
Solid rubber all terrain tires with high tread track pads
Sale

EPIKGO Self Balancing Scooter Hover Self-Balance Board -...

go safer - ul 2272 certified balance board with...
more power - epikgo has 400w dual motors that help...
go anywhere - solid rubber tires for all- terrain...
biger & better - epikgo is nearly 2x more powerful...
maximum weight limit- 240 pounds. minimum weight...
Pros
It's as tough as any of the hoverboards on this list and is powerful enough to ride smoothly on a variety of terrains.
The Epikgo is very highly rated by users – it has excellent strength and durability.
100% certified for safety
Charging time is very quick – only 1-2 hours
Good range and speed of up to 10mph
Cons
The lack of bluetooth and mobile capability is unfortunate as most off-road hoverboards have this in 2019 (even the cheaper ones). It might not be something that everyone wants or needs, but it should really be included as standard.
It tends to be more expensive than the Halo Rover (which although very similar in build, has some better features)
[su_button url="http://www.amazon.com/exec/obidos/ASIN/B01IAPMKYU/?tag=elecridelabsg-20″ target="blank" background="#f70024″ size="10″ center="yes"]See This Product On Amazon[/su_button]
[su_divider]
Swagtron T6 (Highest Max Capacity)
The T6 off-road hoverboard has one major USP, and that's its weight capacity. This board can carry up to 420lbs, which at the time of writing is higher than any other hoverboard on the market. Most of the bigger off road hoverboards carry about 260lbs max. So if you're on the heavier side (or maybe you carry a heavy backpack etc) this might be the option for you.
Most reviews will tell you this self-balancing scooter is a beast and built like a tank. And it is! However, even though the reviews are mostly positive, I've noticed a few recently that indicate SOME people have had reliability problems with their T6. And Swagtron's customer service isn't always the fastest when it comes to returns and repairs. Don't let that put you off though – I recommend buying on Amazon instead for fast, free shipping and easy returns.
Features
This board has a top speed of 12 miles per hour, which is an impressive speed for this kind of product. It has a cool black appearance and is very strong. So much so that it can handle a weight capacity of 420 lbs, much higher than other hoverboards on the market. The tires are very heavy duty with a good ground clearance and are 10″, this hoverboard can withstand pretty much any surface or terrains coming its way. In addition to this, providing it is well looked after, it should last you for years to come. This board has built in Bluetooth speakers which are easy to set up and use. The cool features don't stop there. Swagtron has a cool app that when downloaded and integrated with the hoverboard, can do a bunch of cool things. This includes controlling the speed and the fitted LED lights. Speaking of LED lights, the lights on this off-road hoverboard are strong and have the capability to brighten up 6.5 feet either side of you.
Swagtron Swagboard Outlaw T6 Off-Road Hoverboard - First in...

NOTE: Kindly refer to the user manual provided as...
FOR ALL RIDERS – The T6 can handle up to 420...
ALL TERRAIN - Roll over bumps and inclines up to...
12 MILE RANGE - The T6 off road hover board has a...
10" RUGGED TIRES - Dual rugged, 10" tubeless tires...
Pros
It has a 30 degree climbing capacity, meaning you can even climb small hills when you are riding on this board.
12 mph is an impressive speed for any off-road hoverboard and is achieved by having dual motors. This also gives extra power for climbing and performance over a variety of terrains including dirt and gravel.
Fast charging time of just 2-3 hours.
It has built up an amazing reputation and is known as the most heavy duty when considering best off road hoverboards.
If you are a bigger person and have always dreamed of trying a hoverboard but haven't been able to, you are in luck because the Swagtron T6 has a weight limit of 420lbs!
Cons
It is not 100% waterproof so you do need to be carefully riding in certain weather conditions, particularly if you are going through a puddle.
[su_button url="http://www.amazon.com/exec/obidos/ASIN/B01NH2WD3Z/?tag=elecridelabsg-20″ target="blank" background="#f70024″ size="10″ center="yes"]Check out the T6 on Amazon[/su_button]
[su_divider]
In Closing
Although the Halo Rover is the clear winner of most best off-road hoverboard comparisons (this one included) it's far from the only rugged contender on the market. The Halo Rover is the "crème de la crème" if you want the absolute best available, but if it's not within your budget there are plenty more to choose from.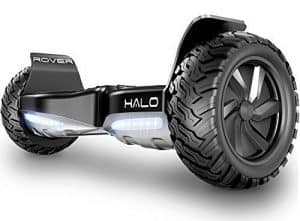 [su_button url="https://hi.switchy.io/1BfI" target="blank" background="#f70024″ size="10″ center="yes"]Get $50 Off Our No.1 Pick (Use coupon code ORDER50)[/su_button]
[su_note note_color="#d1defd"]
The review runners up
The Swagtron Swagboard Outlaw T6 is the best hoverboard offering for anyone exceeding the average max weight of 260lbs (and it's not just for the heavier rider – people of all shapes and sizes ride this, kids included). It is strong enough to carry a user weight of up to 420lbs, and is currently the ONLY one on the market with this max capacity. 12 mph speed is also one of the fastest, also with a 12 mile range per single charge.
If budget is a consideration check our best value pick, the Gyroor Warrior with 8.5 inch wheel – this is a very sturdy and durable hoverboard for the price. The range is a little less as 7.5-9.5 miles per single charge, but it does hit a pretty good speed of up to 10mph.
Or you could go even cheaper and try out the kids CBD Off road Hoverboard. It's not as fast and high performance as the others (the motors aren't quite as powerful), but it's perfectly good for a beginner or as a gift for the kids. And like the others it has Bluetooth speakers and has enough power to handle reasonably rough terrains.
If you're a supercar fan or just looking for something a bit sleek and stylish, the Lamborghini off-road hoverboard is very classy looking. The motor even sounds like a supercar! [/su_note]
Whether you're buying for yourself, or your kids, a hoverboard makes a fantastic gift at any age. You can't go wrong with something that brings the family together, and these scooters are a gift that everyone can share and have fun on. The off-road hoverboard features are better this year than they ever have been before and they're safer than ever too. UL2272 certified hoverboards for sale can be found on Amazon, Walmart, Best Buy and other leading retailers. How much do off-road hoverboards cost? Anything from approximately $180 (for the most basic models) up to about $500 for a top of the range, best performance, safety certified model. So price wise, there's something for everyone!