While it's no match for the Marty McFly kind of hoverboard as seen in the movie "Back to the Future," the Gyroor Warrior G2 is, no doubt, a smart scooter. With solid, rugged 8.5-inch off-road tires, this vehicle seems like a high-quality rideable that's also reasonably priced. But how exactly does it fare when put to the test?
In this Gyroor Warrior review we'll take a closer look at its features, build quality, and reviews so we can find the right answer to that question.
Its name,  "Warrior", suggests that this smart scooter is durable and capable of handling anything thrown at it. And that's indeed true considering the fact that its body is made from a combination of aluminum and ABS parts. Such a power casing is what in our view makes this machine ideal for all-weather and all-terrain use.
Beneath The Hood
Beneath the sleek casing are two motors, each one built to produce 350W worth of power. That's just enough to power the Warrior at a max speed of 9.95 miles per hour which is well above average.
Gyroor is a relatively popular brand in the personal transportation niche. And in fact, the company is behind quite a few other top-of-the-line electric vehicles. That's probably why their hoverboards have continued to gain popularity over time.
The Design
You've got to appreciate the kind of work Gyroor has done here. It's not always easy to create a hoverboard that stands out from the park while also giving it the power to maneuver through rough terrain. But they've managed to do exactly that.
LED Lights
The Gyroor Warrior G2 has some bright and awe-inspiring lights that make it a good looking tool of next-gen transport. It has both front and rear LED lights. And on top of that, it comes with a built-in system that controls the lights and the music speakers.
Bluetooth Speakers
We also like the fact that this system also features Bluetooth connectivity. This makes it possible to enjoy music from your phone even while you're on the move.
That said, the system produces a loud "Bluetooth ON" indicator noise every time you start it up. The company should have made it possible (or easier) to at least lower the indicator noise, especially for anyone who doesn't like attracting the attention of everyone who might be around.
Just How Powerful Is The Warrior?
Motor
Well, this smart scooter has earned the "Warrior" title for a good reason. And don't let its cute looks fool you, the truth of the matter is that it's stronger than you might imagine. As we have already noted, this system packs 2×350 watts motors.
That's a whopping 700 watts worth of power which is just enough to see you glide on all kinds of terrain – grass, gravel, sand and even through the mud. Whether you're riding around your garden, at the beach, at the park or through the woods, you really feel the power when using this smart scooter.
Speed
Its max speed is 9.95 miles per hour. Again, this is perfect for anyone who is experienced with hoverboards but you might not want to go at top speed yet if you're a beginner. All the same, there's no need to worry because this unit also features self-balancing security protection. This self-balancing technology means that the board will level itself making it easier to balance and stay on (especially important for kids or newer riders).
Gyroor Warrior Best Alternative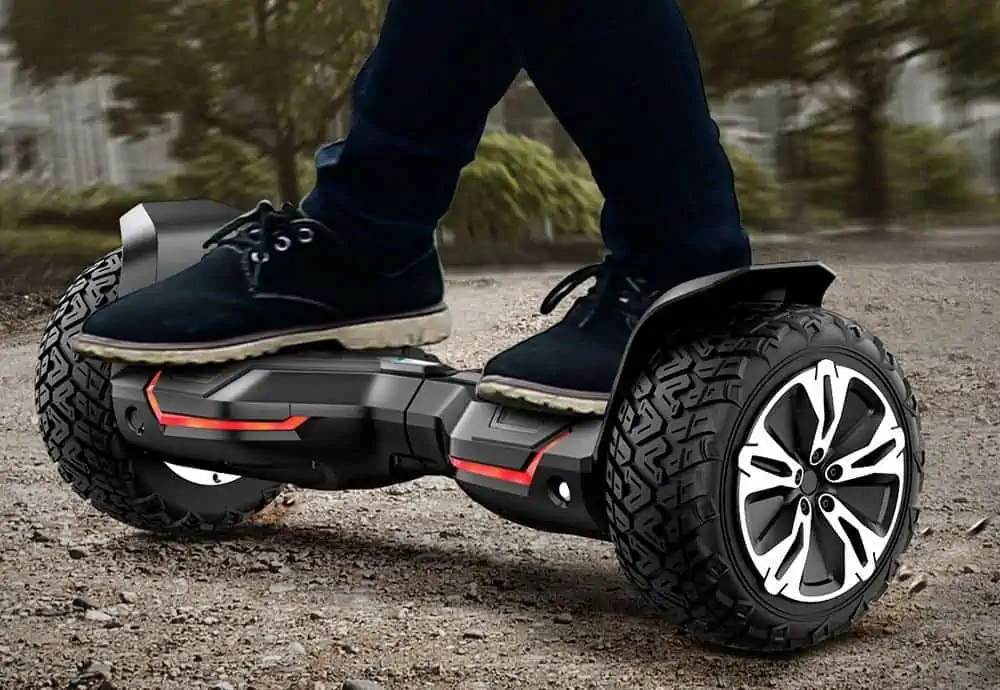 Testing Evaluation
Tested against similar models within the same category
Main Features:
Riders Weight Limit | 265 lbs
Motor | 350 watt
Range | 7.5~9.5 miles
Battery | 36V Li-Ion battery
Speed | 9.95 mph
Key Features & Specs
8.5-Inch Solid Off Road Tires
This system comes with some 8.5-inch pneumatic tires which are perfect for off-roading. The tires use air which means that they also provide that much-needed cushion even in off-road environments. Simply put, these tires give you better control especially in demanding situations.
Built-In Music Speaker
Want to play your favorite tunes via a powerful Bluetooth speaker based inside the hoverboard? That's pretty much what the Gyroor Warrior lets you do. You simply need to connect your phone to the scooter via Bluetooth and you can control the tunes even as you enjoy the ride.
The speakers are quite powerful, though. And this, unfortunately, might have you attract a lot of unnecessary attention if you switch on the device with the Bluetooth on.
Self-Balancing Technology
Inside the wheels of the Warrior are tiny sensors which detect the changes in speed and tilt. These signals are then sent to the main control board which is located in the main body.
Inside the main logic board are computer processors which step in to ensure that you have a smooth ride. This is a really important safety feature, especially for beginner users. It helps protect you from the possibility of losing control while cruising at fast speeds.
User-Friendly App Control
A robust smartphone app is provided for you. This is a handy tool for controlling the entire device. For instance, it's possible to play around with the balancing switch, adjust the LED and switch from the Adult Mode to Child Mode using this app. And that's not all, through the smart app, you can do the following:
Use an anti-theft alarm
Adjust the speed you want to ride at
Keep track of your riding track
Listen to music via Bluetooth
So, if convenience is what you're looking for, we think that so far, this off-road hoverboard does not disappoint. We'd give its smart app control tool some two thumbs up.
Colors
There are 4 different color options to choose from. These are blue, white, black, and red. So, you can always find something that complements your style and looks.
Specs
Weight: 33lbs
Water-Resistant: IP54
Optimal Climbing Angle: 30 degrees
Charging Voltage: 240V (50-60Hz)
Battery: 36V Li-Ion battery
Here's a Gyroor Warrior review from a user
Check out this young dude unboxing and then testing the hoverboard off road to see how well it functions:
Safety
The US Consumer Product Safety Commission recommends that all hoverboards should be UL-certified. And indeed, the Gyroor Warrior hoverboard enjoys a UL-2272 certification meaning that it meets all the necessary safety tests.
Final Thoughts on The Gyroor Warrior Off-Road Hoverboard
No matter what kind of a rider you are, you're bound to get your money's worth with the Gyroor Warrior hoverboard. It's actually very reasonably priced for an electric scooter of its caliber, and as an all-terrain model it is strong, durable and can ride with relative ease over a variety of terrains.
Whether you're buying this for yourself, or for a child, anyone over the age of 7 will be capable of riding this board (with a little practice if this is a first hoverboard). It even has both an adult mode and a child mode so that your child won't end up going too fast before becoming acclimatized to it.
Gyroor Warrior Best Alternative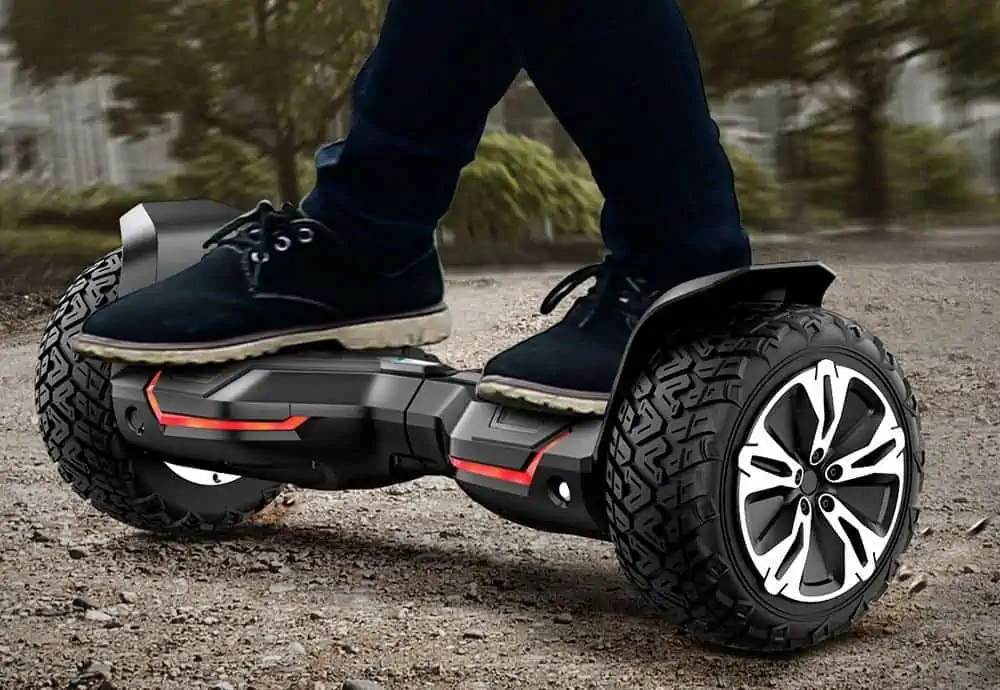 Testing Evaluation
Tested against similar models within the same category
Main Features:
Riders Weight Limit | 265 lbs
Motor | 350 watt
Range | 7.5~9.5 miles
Battery | 36V Li-Ion battery
Speed | 9.95 mph
Recent Topics