A hoverboard isn't the cheapest toy you could buy (whether it's for yourself or for the kid in your life), but they're a whole lot more affordable than they used to be. In fact now in 2023, they're the best price they've ever been since they first hit the market. So how much does a hoverboard cost right now? As you might imagine, hoverboard price will vary depending on the size and features it comes with.
Let's start with the cheapest best hoverboard:
6" Wheel Standard Hoverboard
TOMOLOO Hoverboards for Kids Ages 6-12, 6.5" Two-Wheel All...
Jetson Hoverboard - Flash Hoverboard with Off-Road...
TOMOLOO Hoverboards for Kids Ages 6-12, 6.5" Two-Wheel All...
Jetson Hoverboard - Flash Hoverboard with Off-Road...
Price: $100-$250 approx
Suitability: Kids and Beginners
These are the basic model, the one most people think of when you mention "hoverboard" or "self-balancing scooter" (which is actually a more appropriate name for them seeing as they don't actually "hover"). When UL 2272 certified (safe and tested) models first came on the market in 2016 these cost in the region of $300 to even $400. This price quickly dropped as more and more hover boards became certified, and now you can get one for less than $250. In fact, if you buy during the Black Friday shopping season you might find a bargain board for as little as $99-$150. Which is a real steal for a toy that your kids will love and get a lot of use from!
Check Hoverboard Black Friday Deals here
You do have to remember that at the lower price points though, you probably won't get anything too fancy. These usually have a max weight limit of about 220lbs (or sometimes less). They probably won't go particularly fast (top speed will be slow) and they won't have the longest lasting battery or bluetooth speakers. And some of the cheaper models might be missing some features that you might want in a hoverboard e.g. LED lights, Built in bluetooth technology, app compatibility etc. Also, they are only suitable for use on flat ground e.g. urban terrain or indoors.
8.5" or 10" Wheel Off Road Hoverboards
Table could not be displayed.
Price: $200-$500 approx
Suitability: All ages from 7+ to adult
How much does a hoverboard cost if you want something a bit bigger and better? You should definitely take a look at one of the off-road hoverboards which are currently very popular with both young and older users.
They're bigger (8.5" or 10" wheels), with rugged off-road tires, more powerful motors, a more durable frame, and can travel over a variety of different terrains including sand, grass, gravel, snow and more. Basically, they can manage all sorts of uneven ground that the cheaper models above wouldn't even attempt. So if you're feeling a bit adventurous, or you just want a more versatile scooter that you can use whether you're at the beach, at the park, or out on the trails, you'll want to opt for an off-road hoverboard.
Of course more functionality and durability, also means a higher price. Basic off road hoverboards start at as little as $200 but if you compare different models of different price levels you'll find that the more you pay, the better the specs. A higher hoverboard price will usually get you a bigger and more powerful motor (for faster and smoother rides over rougher terrain). Also some of the most expensive hoverboards e.g. the top rated Halo Rover Hoverboardwill have a strong aluminum frame rather than a plastic one which will ultimately last longer and be less susceptible to damage.
Top rated off road hoverboards will almost always come with bluetooth speakers, some have an app, and they have a higher weight capacity than the standard 6" hover boards mentioned above. Most will carry up to 260lbs and for the heavier adult, the Swagtron T6 Outlaw can handle up to 420lbs! 
What price is the Best Of The Best Now?
Back in 2015 when hoverboards first became popular, there were models such as the IO Hawk and Phunkeeduck which cost as much as $1500! Of course, we were later to learn, that despite their popularity with celebrities, they were no better in quality or functionality than self-balancing scooters that cost less than $500. In fact, they probably originated from the same factories in China but were just branded and marketed differently. Like all other hoverboards that year, they were NOT even UL certified (the UL 2272 hoverboard certification was introduced the following year), and they have since disappeared from the market. Thankfully, nowadays a hoverboard of that extortionate price would be hard to find!
So what if you want the absolute best hoverboard in 2019?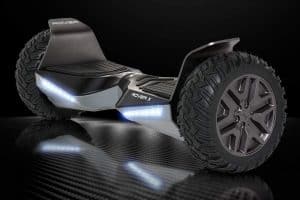 Introducing the Halo Rover X!
We've done a lot of research and tried, tested and reviewed numerous models - this has consistently proven to be the most durable, and powerful built in bluetooth off-road hoverboard in 2019. It has strong aluminum wings to protect against damage and has a top speed of up to 10mph (and a range of 10 miles) - you won't get specs like this with cheaper models.
Price wise it's definitely on the higher end of the market, but at $497 it's a lot cheaper than those early hover boards that cost a whopping 4 figures (and probably today would be worth only about $300!) It's sturdy, safe, and fun for riders of all ages!
[su_note note_color="#ffff66"]Get an extra $50 OFF with our coupon code ORDER50 at this link[/su_note]
That makes it a very good price for a high-quality hoverboard that all the family can enjoy. Read more about it here.
You might want to also consider these highly rated Hoverboards  with built in bluetooth speakers which I found have lots of good reviews
TOMOLOO Hoverboards for Kids Ages 6-12, 6.5" Two-Wheel All...
TOMOLOO Hoverboards for Kids Ages 6-12, 6.5" Two-Wheel All...
Final thoughts
Hopefully we've now answered the question, how much does a hoverboard cost and you can look for one that suits your budget. As you can see, there is a hoverboard price to suit everyone - whether you just want a starter board for around $100, or you want a "top of the range" off-road hoverboard for $500. Any time is a good time to invest (especially if you're looking for a birthday gift!), but you'll find the absolute best prices and deals in the lead up to Christmas. The Black Friday hoverboard sales are usually pretty good and all the top brands offer reductions.