Welcome to our Halo Rover X hoverboard review! With the electric rideable market growing rapidly, we are treated to one innovation after another, and off-road hoverboards are one such addition.
My research has shown me that the Halo Rover X is consistently rated the no.1 hoverboard product on numerous review sites setting the standard of hoverboards in the market today, but what makes it stand out? Why does it seem to be the "holy grail" of hoverboards in 2023? And is it worth the higher than average price?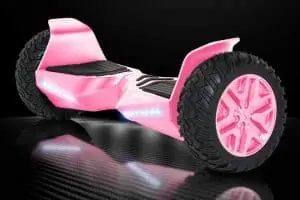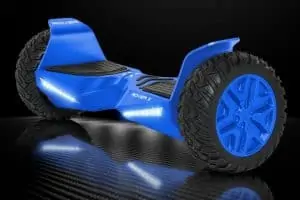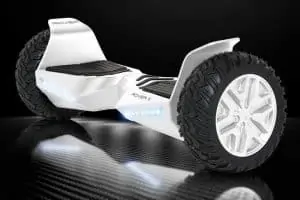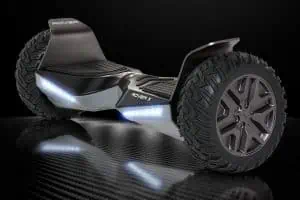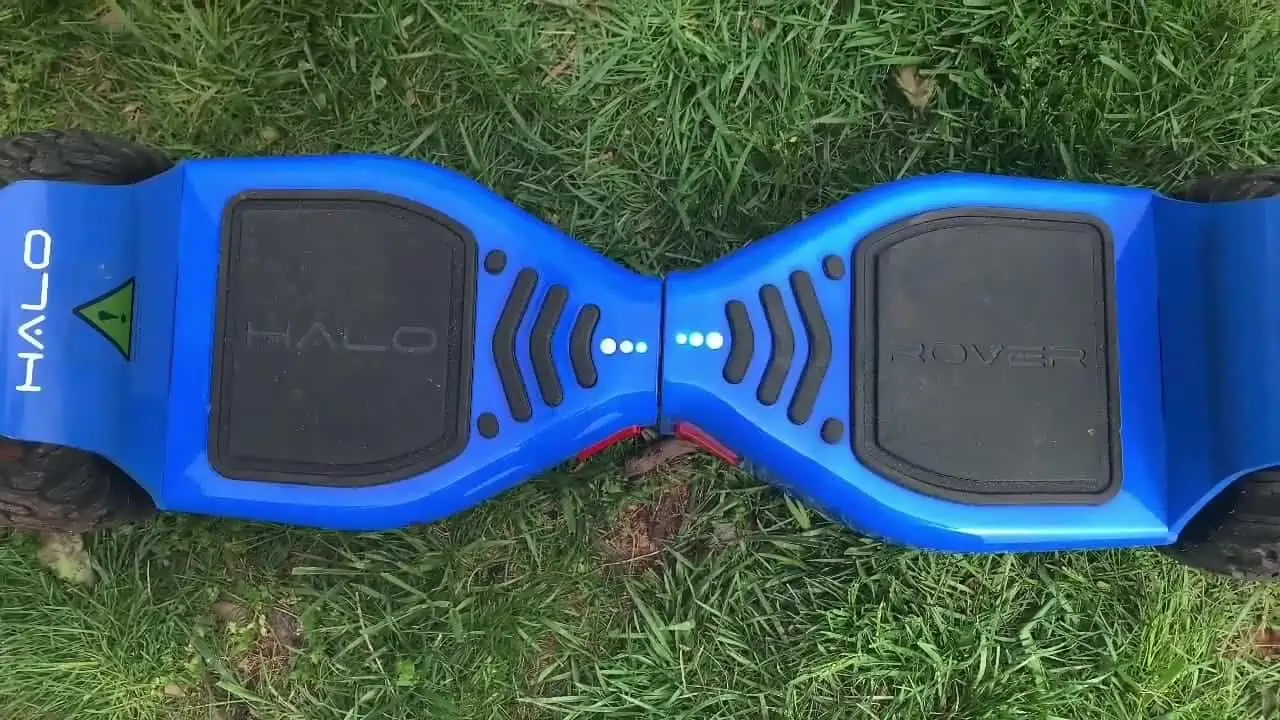 5/5 Rating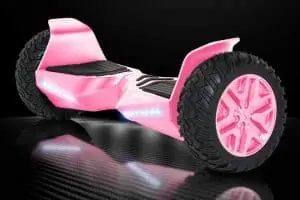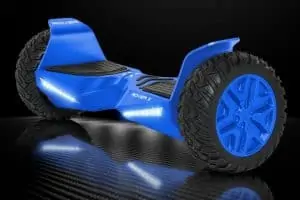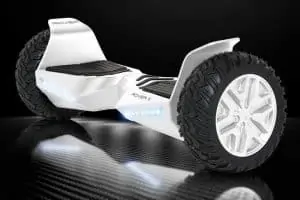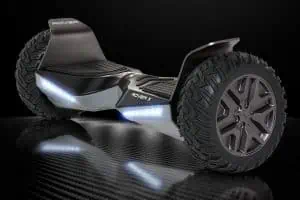 Get $50 Off Your New Halo Rover X Hoverboard + Free Shipping
A pretty fun one at that! These all-terrain self-balancing scooters are growing in popularity as people want more functionality than the traditional hoverboards that we first saw few years ago.
Who wants to be relegated to the pavement, or riding around the kitchen? We now want a quality ride on sand, gravel, grass, snow, outdoor trails and much more.
This Halo Rover X review takes a closer look.
Halo Rover All Terrain Capability
What is an off road hoverboard?
Although very similar to the original hoverboards in how they work, off road hoverboards are stronger, bigger and suitable for a variety of terrains.
Most of them feature between 8.5 inch to 10 inch wheels (versus the usual 6 inches). Many have tires that are pneumatic rather than solid rubber which enables them to traverse smoothly and safely over different terrains like gravel and grass.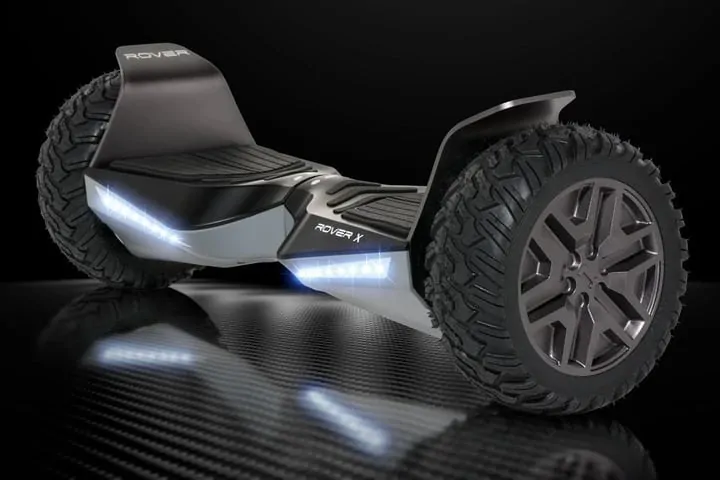 Testing Evaluation
Tested against similar models within the same category
Main Features:
Riders Weight Limit | 44 lbs to 260 lbs
Motor | 800 Watt
Range | Up to 10 Miles
Battery | UL 2271 Certified LG Lithium Ion Battery
Speed | Up to 10 mph
Get $50 Off Your New Halo Rover X Hoverboard + Free Shipping
They can, therefore, be used almost anywhere, making them a great choice to take on the trails, or to the park or beach with friends and family. In addition, most of these hoverboards boasts Bluetooth capability.
Features & Specifications of the Halo Rover X
Size and weight
Measures 9.1 inches by 8.7 inches by 27.5 inches while weighing 32 pounds. Its large size and heavy weight ensures greater stability in the hoverboard. This gives it an edge when it comes to off-road use but makes it a few pounds heavier than average and therefore a bit hectic to carry around.
8.5 inches wheels
Features indestructible multipurpose wheels made from durable aluminum with all-terrain capabilities. Their larger size adds to the stability and durability of this hoverboard.
Bluetooth technology – built-in Bluetooth speaker
The hoverboard comes fitted with Halo Bluetooth speaker allowing you to connect your phone and listen to your favorite music while riding the Rover X.
LG lithium-ion batteries
The batteries can last up to two hours allowing the hoverboard to go up to 10 miles per charge. This means it can be operated continuously for up to an hour. On the other hand, it takes around 2 1/2 hours for the batteries to be fully charged using the UL certified charger included.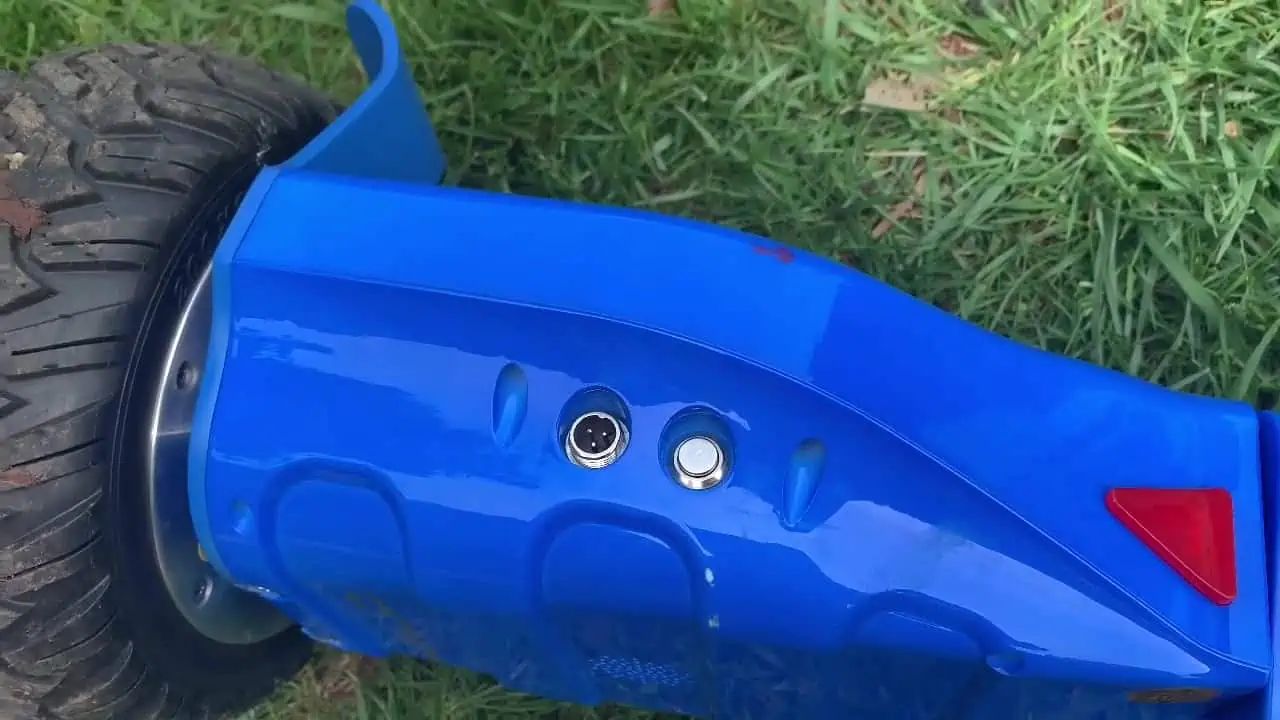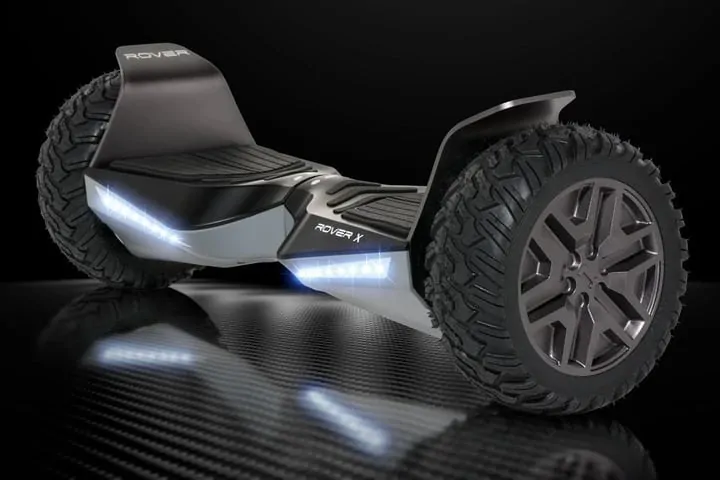 Testing Evaluation
Tested against similar models within the same category
Main Features:
Riders Weight Limit | 44 lbs to 260 lbs
Motor | 800 Watt
Range | Up to 10 Miles
Battery | UL 2271 Certified LG Lithium Ion Battery
Speed | Up to 10 mph
Get $50 Off Your New Halo Rover X Hoverboard + Free Shipping
Halo Rover X app
The Halo Rover X has its own app that allows the user to keep track of the distance covered, speed and battery life. The app can also be used to switch between the different riding modes and adjust steering sensitivity allowing you to customize it to your liking.
How fast can a Halo Rover X go?
10mph Speed
Featuring an incredible max speed of 10 miles per hour, the Halo Rover X hoverboard is faster than average hoverboards and is able to maintain it for a decent distance. This speed can, however, vary based on user's weight and type of terrain.
LED lights
They are included to increase your visibility for cars as well as pedestrians, riders and cyclists who might be traveling on similar terrains.
Halo Rover Weight Limit (Weight capacity)
The Halo Rover X can comfortably accommodate individuals with weight capacity of between 44 pounds and 260 pounds.
2x 400-watt motors
Boasts two electric power motors each with a 400 wattage that allows the hoverboard to take on greater inclines with grades up-to 20 degrees with ease. Being a powerful motor power, it gives the Rover X superior balance capabilities.
Is the Halo Rover water proof?
IPX4 water resistant certified
The hoverboard is not vulnerable to splashes of water. So individuals can use this hoverboard even in the rain without having to worry that it might be damaged by splashes of water. That doesn't mean you should deliberately ride through water puddles though as it is NOT WATERPROOF (no self-balancing scooter is).
Halo Technology Sensors
Among the list of features, Halo comes with an exclusive technology. The sensors monitor and manage the position of the Rover X thereby ensuring a smooth ride. And after recognizing the rider's patterns, the hoverboard can then adjust according to the user for a more personalized ride.
5/5 Rating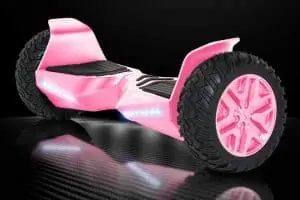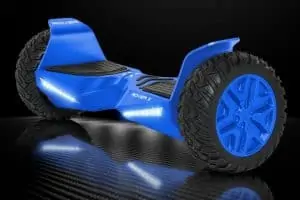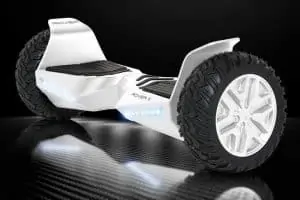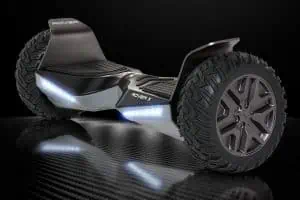 Get $50 Off Your New Halo Rover X Hoverboard + Free Shipping
Halo Rover vs Halo Rover X
You might notice if you visit the official Haloboard website that there are two different models – the original and the new X version. They look the same and even the price is the same, so what ARE the differences?
It's really only a few minor things:
The new Halo Rover X has newly designed aluminium wings which are more durable and offer better protection for your board (less chance of damage during falls). 
It also comes with a newly designed footrest for enhanced comfort and stability. Otherwise, the features seem to be entirely the same – speed and range, motor size, weight capacity, bluetooth speakers, app etc.
Safety Certification
This hoverboard has received the popularly coveted UL2272 safety certification. This is after having undergone various intensive and rigorous tests. The certification serves as an official seal of approval from a well known non-profit organization (Underwriter Laboratories) that the Halo Rover X meets all the necessary safety standards of the industry.
The battery and the included charger is UL certified to be fire safe. These certifications are a solid source of confidence that the hoverboard will keep on working properly without endangering the user's life (unfortunately previous cheaply made hoverboards were a fire hazard). This is as safe as any other lithium battery product in your home e.g. your laptop or cell phone. 
Safety has also been enhanced using the LED headlights and aluminum protective guards.
Pros
High quality built to be extremely tough and resilient to different terrains including bumps and cracks
Its mobile app is easy to use and comes as a handy tool for hoverboard enthusiasts starting their training
Designed and shipped in the USA with USA based customer service
Heavy-duty carry case included with a shoulder strap for carrying the hoverboard around with ease
Easy to use because of its three training modes (kids and new rider can start with the beginner mode)
Powerful motor that makes it more stable
Comes with many safety features for your peace of mind
Equipped with lots of fun options like the Bluetooth connection that enables you to play music while riding it
Cons
Compared to other hoverboards, one of the major downsides is that, well it is relatively expensive. But given its great features like off-road capabilities (with proper pneumatic tires), it seems to be well worth its price tag. Get a $50 off coupon here
At 32 pounds, it is definitely a lot heavier to carry around than a standard hoverboard. The weight gives the board more stability though which is necessary for safe riding on different types of terrain.
Warranty Information
Halo Rover X hoverboard boasts a one year worry free warranty. This means you can always send the board back in case you notice some manufacturing defect within the year. Like with anything, there are situations that are beyond the scope of the 12-month limited warranty. These are mentioned in the manual so if you buy, make sure you read it.
What makes it different to the cheaper off road models on the market?
You've probably seen off road hoverboards on sale for as little as $200 and you're wondering why this costs more than double the price? There are a few reasons, and IMHO they're valid…
The 800 watts of motor power (dual 400 watt) is significantly more powerful than those in the cheaper all terrain hoverboards. Some are only as little as dual 200 watt which really isn't enough power to manage different terrains effectively.
It's labelled the "indestructible hoverboard" for a reason. The high-grade aluminum frame and wheel guards are very tough and will withstand pretty rough usage (cheaper models usually use hard plastic which gets damaged easily).
It has a higher top speed (10mph) and higher range (up to 10 miles on a single charge) than most other hoverboards on the market today.
It's designed in the USA and the company is based in the USA so if you have any problems, it's a whole lot easier to get help than if you have to deal with China.
So despite the price, you definitely wouldn't be wasting your money. In fact the Halo Rover X hoverboard happens to be a better investment all round. Because of the quality design and manufacturing, it's almost certain to last a lot longer than a $200 hoverboard. Which will actually save you money in the long run (repairs or replacement costs can be high).
Final verdict – Is the Halo Rover X worth it? What do we think?
The Halo Rover X hoverboard offers a rewarding experience whether you are new to the world of hoverboarding or have been hoverboarding since you can remember. While it may not be within some consumer's budget, it is worth the price for its safe ride and extra features. It's one of the most durable and stable models on the market, and is a self-balancing scooter the whole family will be able to enjoy for years to come.
Adults and children alike will love this board and its definitely a step up from the average "traditional" 6″ wheel $100-$200 range hoverboard (which don't travel as fast, don't last as long, and are only suited to urban terrain i.e. smooth ground).
This is more expensive, but you'll be able to use it at the park, at the beach, and over all sorts of terrain so its a lot more versatile. Plus with pneumatic tires you'll have a smoother, safer and more comfortable ride.
Don't just take my word for it though! If you visit the official website you can check out some of the many real Halo Rover X hoverboard reviews and pics from users
Get $50 Off Your New Halo Rover X Hoverboard + Free Shipping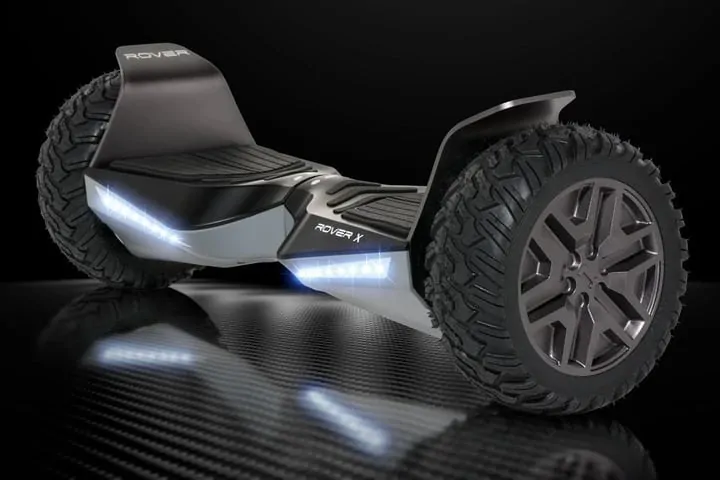 Testing Evaluation
Tested against similar models within the same category
Main Features:
Riders Weight Limit | 44 lbs to 260 lbs
Motor | 800 Watt
Range | Up to 10 Miles
Battery | UL 2271 Certified LG Lithium Ion Battery
Speed | Up to 10 mph
Get $50 Off Your New Halo Rover X Hoverboard + Free Shipping
Recent Topics