Best Hoverboards Post Black Friday Deals in 2023
Hoverboards were the breakout product of 2015, and since then have been THE must have toy for kids (and adults) at Christmas. They continue to be super popular, with a whole new generation of better quality, UL certified, safer hoverboards on the market since in 2019. Many of those who bought in the beginning unfortunately were left disappointed when it was revealed that their hoverboard purchases were potentially dangerous – since 2016 that's no longer an issue with the new UL certification (which you absolutely MUST look out for if you want a safe, high quality hoverboard. In case you're still worried see our article about hoverboard safety.

Swagtron Prices On Amazon
Swagtron are one of the biggest brands in personal transportation in 2019, and like they did in previous years, they will be offering some sweet deals on hoverboards again this Black Friday and Cyber Monday. Swagtron's most popular products are their range of hoverboards, but they also have the Swagcycle, Swagger Scooter, Swagboard electric skateboard and more.
So what Swagtron deals are available this year? Here are some of the current deals:
Swagtron Best Deals
Swagtron Black Friday Offers On T881
The Swagtron Swagboard Twist T881 has made its debut appearance in 2018 just in time for Christmas, and at this low price is likely to become one of their hottest selling hoverboards of the holiday period.
This is a lithium free hoverboard so anyone still worried about issues with lithium batteries needn't be with this hoverboard. This is marketed as a kids hoverboard though so if you're looking for something that the adults can join in with too go for the T580 instead.
Swagtron T6 On Sale For Black Friday
The T6 off road hoverboard was new to the market in 2017 having only been on the market since April. Currently its one of the most affordable all terrain hoverboards on the market and is the ONLY hoverboard on the market that can carry a max weight of up to 420lbs (most other off road hoverboards can only take a max weight of 265lbs). Despite its extra size (10 inch wheels) its still suitable for all ages and is recommended for kids age 8+ up to adult of any age. Here is today's price for the Swagtron T6:
The Swagtron T6 is reduced to $399.99 on Swagtron.com
Swagtron T1 Deals
The Swagtron  Swagboard Pro T1 came on the market in 2016 as the Swagtron T1 and quickly became one of the top selling models as it was one of the first to be UL certified. It's still popular today and has been rebranded as the Swagboard Pro. Check out the reviews and you'll see that its highly rated, although unlike the T580 it doesn't have bluetooth or app.
You can see it on Amazon below:
Razor – An Industry Leader In Rideables & Action Sports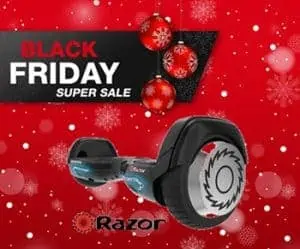 Since the Razor Hovertrax 2.0 came on the market, it has consistently been a top seller and is currently one of the top hoverboards available today. Razor, the company, isn't new to electric rideables, having sold kick scooters, electric scooters, dirt bikes and other ride ons since the launch of the original Razor scooter in 2000. They are so well known that nearly every parent who has a child of school age will certainly already have heard of Razor products (and possibly even own one)!
Why Choose The Razor Hovertrax 2.0 This Black Friday/Cyber Monday?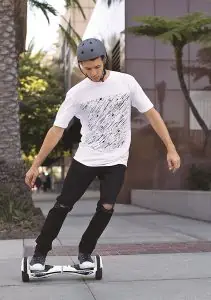 Safety – it's one of the genuine safest hoverboards on the market from a brand that is both established and reputable. It's UL 2272 certified with UL certified battery and charger and exceeds the highest fire and electrical safety standards.
Razor has NEVER been linked to the typical problems associated with cheap, unregulated, generic brands (overheating, sparking, fires etc.)
Suitable for all ages – although its recommended for kids (and adults) from age 8+ I've seen kids much younger safely navigate around a room using a Hovertrax (under careful supervision of course!). Take a look at this:
It's currently the cheapest it has ever been – if you bought this just 2 years ago you could have paid up to $100 more! One year on though it's still one of the innovative and state of the art hoverboards on the market.
The unmistakeable razor design on the wheels looks awesome and makes it stand out from the rest!
Features And Specifications
Exclusive Everbalance auto balancing technology makes it easier to mount and smoother to ride than many of its competitors
Travels at a speed of up to 8mph
Has 2 different levels – training and normal mode
Maximum rider weight of 220lbs
Battery life of approximately 60 minutes riding time
LED indicator shows riding mode and battery power
The frame is made from shatter resistant polymer and comes with fender bumper protection
Anti slip, rubber foot platforms
Safe, UL certified lithium ion battery pack with branded LG cells
Comes in red, black, white, blue and green
Gotrax Black Friday Deals
A newcomer to the market in 2017 was the Gotrax range of hoverboards, and it has quickly risen to the top as one of the best hoverboard brands for kids. Scooters such as the Gotrax Hoverfly ECO was on sale for as little as $149 last year making it a top seller, and the Gotrax Hoverfly XL off road hoverboard was also a very popular buy. This year they've got new design Gotrax ION which kids are going to love. It has a fun futuristic look and a range of awesome colors that will make it a popular deal.
As you can see most of these self balancing scooters now have bluetooth as standard. For younger kids you definitely want to look at a model with 6″ wheels, but for older kids and adults check out some of the larger products with 8.5″ wheels.
How much does a hoverboard cost?
All the popular brands will be getting in on the act this Black Friday, including Swagtron, Gotrax, Razor, Megawheels, HaloBoard, Jetson and more. The price of hoverboards has actually dropped significantly in the last few years (they were expensive when they first hit the market, but these days you can expect to pay approximately $150-$200 for a basic model (with 6″ wheels) and $200-$500 for an off road hoverboard. Black Friday hoverboard deals (many which go on until Cyber Monday and the week beyond) mean you can save even more on these prices.
Whether you're looking for a scooter to go off roading, or a cheap hoverboard with bluetooth and LED lights, there's something for everyone. And they're not just for the kids – many have a weight capacity of up to 260lbs, and the Swagtron T6 has a max weight of up to 420lbs. So the whole family can enjoy a ride!
What are Black Friday and Cyber Monday?
Black Friday is the shopping day after Thanksgiving and is the official start to the Christmas shopping season. Retailers offer deep discounts on many different items, particularly on expensive electronics. The name was originally coined by police in the 1960's to describe the mayhem in city centres on this day with store overcrowding and traffic jams. In recent years store sales have even led to violence and fighting in shopping malls as customers tried to grab the best deals on consumer electronics. Cyber Monday is the Monday following Thanksgiving, and is another busy shopping day with great bargains. It was created by retailers to encourage shopping online from home, although most people now do most of their shopping online anyway!
We prefer to avoid the craziness of store shopping and trying to find city parking in favor of online shopping from the comfort of home – Walmart and Amazon in particular are great for hoverboard and other deals!
Where to get a Black Friday Hoverboard deal?
Top retailers such as Amazon, Walmart, Best Buy, Target and Kohl's all sell UL 2272 certified hoverboards during the Black Friday and Cyber Monday period. What's the cheapest hoverboard you can get? Last year Walmart had one in their sale for just $99, so we expect to find similar deals again this year. Nearly all your favorite brands will probably be offering at least some price reduction or discount, so if you've had your eye on one make sure you check to see if it's on sale! You can often save a significant amount, especially on some of the more expensive brands. For instance last year Haloboard was offering $50 off their popular Halo Rover off road hoverboard!
Also you can check hoverboard black friday deals at our sister site.
Where to find the best Black Friday hoverboard sale prices
Amazon will be THE marketplace to watch out for – its one of the best places to buy hoverboards due to their customer protection return policies and free shipping, Walmart and Target get in on the act for Black Friday too though so its worth checking out their deals too when the time comes.
Although some deals will be in shops, most of the best hoverboard Black Friday sales are online, and frankly I prefer shopping online that crazy shopping weekend anyway! Who wants to be run over by deal seeking shoppers when you can sit in the comfort of your home in your pajamas and just buy online?
A hoverboard would make a great gift for a loved one this Christmas, or why not buy one for yourself? You won't find prices like this any other time of the year!