Razor MX350 Dirt Rocket Electric Motocross Bike, Blue, 10-12...
Razor MX500 Dirt Rocket Adult & Teen Ride On High-Torque...
Razor SX350 Dirt Rocket McGrath Electric Motocross - Green -...
It is fast and can reach speeds of up to 14 miles per hour.
It is powerful and reach exciting speeds of up to 15 mph.
Carries riders at speeds of up to 14 mph (22 km/h)
Razor MX350 Dirt Rocket Electric Motocross Bike, Blue, 10-12...
It is fast and can reach speeds of up to 14 miles per hour.
Razor MX500 Dirt Rocket Adult & Teen Ride On High-Torque...
It is powerful and reach exciting speeds of up to 15 mph.
Razor SX350 Dirt Rocket McGrath Electric Motocross - Green -...
Carries riders at speeds of up to 14 mph (22 km/h)
Children these days mature up so fast, and it was only like yesterday when you promised them an electric dirt bike on becoming teenagers. Teenage years seemed like a far way off, and had even slipped your mind. Well, they are now teenagers, and they can't stop reminding you. What were you thinking!
The tricky part is not in accepting to buy the electric dirt bike, but in choosing one. But it doesn't have to be a daunting task. We have got your back. We tested four of the best electric dirt bikes for your teenage son or daughter, and the following is what we got. Stick around for more.
Best Electric Dirt Bike for Teens Reviews
#1. Razor MX350 Dirt Rocket Electric Motocross
The assembly of the Razor MX350 may not be what you can call effortless, and the color options are not that vast. However, it is one of the most affordable considering the kid-friendly features it boasts. For example, the electric dirt bike has 30+ minutes of non-stop riding time without frequent charging interruptions.
Razor MX350 is fast and can reach speeds of up to 14 miles per hour. It is super quiet, and you won't have to deal with the constantly angry neighbors. The massive pneumatic knobby tires ensure the bike has an excellent grip on pavement, grass, and gravel, among other road surfaces.
Also Read:
Sale
#2. Razor MX500 Dirt Rocket Adult & Teen Ride
The age range of the Razor MX500 seems a bit deceiving for the 14-year-olds, and the color choices are not that many. However, the dirt e-bike has solid steel construction for safety and durability.
Dirt Rocket MX500 has a bonafide dirt e-bike frame geometry to handle the illest of maneuvers in various environments.
It also looks quite authentic, and functionality is almost like the real gas dirt bike, and this in a way enhances the riding experience. The 500-watt electric motor is powerful and propels the little guy forward with force to reach exciting speeds of up to 15 mph.
You will be quite surprised that such a rugged electric dirt bike is almost noiseless, and that's a good thing.
Razor MX500 Dirt Rocket Adult & Teen Ride On High-Torque...
POWERFUL MOTOR: Powered by a 650-watt,...
LONG RANGE BATTERY: Rechargeable 36V (three 12V)...
SAFETY & COMFORT: The Razor Dirt Rocket MX500...
DURABLE & LONG-LASTING: An all-steel frame with...
EXTRA FEATURES: Additional features include soft...
Also Read:
#3. Razor SX350 Dirt Rocket McGrath Electric Motocross
The aluminum and plastic body may not be a source of so much confidence in terms of durability. Furthermore, teenagers with a bigger body frame may not be very comfortable using it.
But on the other hand, the electric dirt bike has a design inspired by the legendary Jeremy McGrath. It comes complete with the McGrath graphics, and the kids will feel like they are using the same bike as the legend. The electric motocross has MX-frame geometry for strength and to accommodate young riders.
Other great features include the riser-style and adjustable handlebars and 12-inch pneumatic knobby tires. The bike also has an efficient hand-operated rear brake.
Razor SX350 Dirt Rocket McGrath Electric Motocross - Green -...
Inspired by the winningest supercross rider in...
Complete with authentic McGrath graphics and...
Carries riders at speeds of up to 14 mph (22 km/h)...
Features adjustable-angle, riser-style handlebars,...
Recommended for ages 13 and up; supports riders up...
Also Read:
#4. Pulse Performance Products EM-1000 E-Motorcycle 
No products found.
The kid's motorcycle can only accommodate up to 120 pounds and is only available in pink. Generally, the electric motorcycle is feminine in design.
But apart from its shortcomings, the electric dirt bike has an exciting and fun design that the teenager will fall in love with. The cruising speed of up to 10 mph ensures that the kid is safe even as they have fun. It has a comfortable and easy to use twist throttle, and they will take to it like fish in the water.
The unit comes with smooth and strong caliper hand brakes for stopping power, and the wheels are durable and robust.
No products found.
Also Read: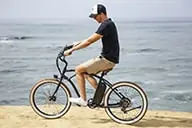 Choosing an Electric Dirt Bike for Teens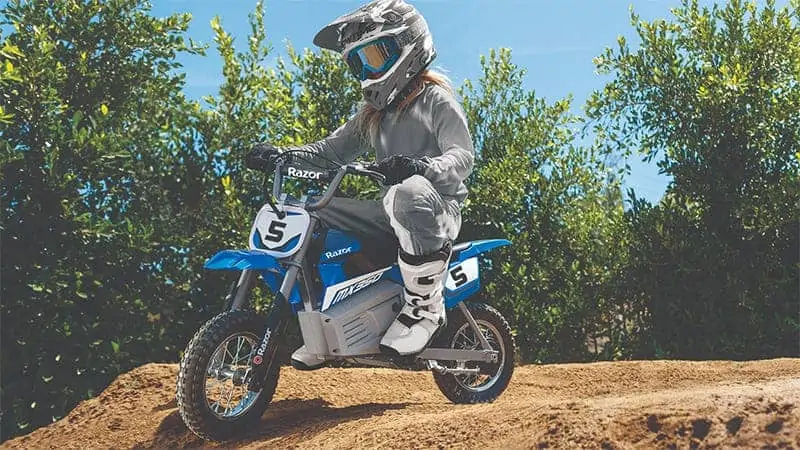 Photo created by razor
Also Read:
Choosing the right electric dirt bike for your teen is not a walk in the park. You have to get it right because it determines your teenager's safety, even as they have fun.
Quality
Without a doubt, the quality of the electric dirt bike is in its features. A good model will have large tires, around 14 and 18 inches depending on the age of the rider, for stability on various roads. Also, the overall construction and design should be tuned for the rough terrains.
This means the frame and other components' material should be durable to offer maximum support and overcome abuse associated with riding in challenging terrain.
Ideally, purchase a model that is easy to assemble and comes with all the necessary accessories. This saves you from the trouble of running around looking for one thing or another or from your home to the repair shop.
Of course, the electric dirt bikes for teens are scaled-down, but they may still be unsafe for teenagers. As you look for other features, safety should be at the back of your head at all times.
Some electric bikes have special features such as parental control to regulate their speed depending on the teens level or skills. Go for the adjustable handlebars to prevent any discomfort for teenagers with long legs.
Talking of discomfort, a padded seat is a great addition and will make the whole experience so much fun.
Also Read:
Budget
You may be hesitant to spend big bucks on an electric dirt bike for your teenage son or daughter because you are not sure if they will like this sport. However, you should not be too economical as a good and safe model may not be that cheap.
You can get a reasonably priced unit without compromising on quality and safety. Electric dirt bike brands are increasing in the market, and together with improvements in technology, they are getting cheaper. That means it is now easier than a few years ago to get a good model at a reasonable price between $300 and $500.
Brands
In every market, there are top brands associated with commitment to quality and consistency. The electric dirt bike market is no exception.
Ideally, popular brands such as Razor, KTM, and Zero will give you the biggest bang for your buck by having the safest and the best quality units. The benefit of going for the top brands is reliability and consistency in quality.
Also Read:
Durability and Strength
A durable and robust electric dirt bike is ideal. It prolongs the fun for your teenage daughter or son and ensures their safety even as they make the jumps.
The term dirt e-bike refers to a model with various rugged components such as a welded tubular steel frame that resists denting. It is not a dirt bike if it cannot handle different weather and riding conditions.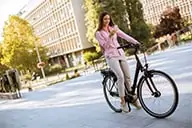 Why You Should Allow Your Teenager to Ride an Electric Dirt Bike
The number one concern for parents is the safety of their kids. However, this should never be an issue since there are a wide variety of age-appropriate electric dirt bikes. As a parent, you can always choose a model with appropriate safety features such as easy dial down and throttle limiters.
Electric dirt bikes are also excellent tools to teach your teenager to be responsible. They can learn to be responsible for their own safety and that of others by understanding the limits they should maintain. With the help of the parents, the teenagers can learn and apply good safety habits.
Riding also means spending more time with family and friends. A family that rides together develops a stronger bond. Inarguably, the strongest relationships are between people that share a common activity, and riding a dirt e-bike with others is a great example.
You may have noticed that dirt bike riders are always in great shape. This is because the riding activity engages different muscles of the body to keep balance and navigate tough terrain. It also improves the reflexes of your teenager and enhances their mental acuity.
Apart from improving their fitness level, the riding activity is also a form of stress release. Peer pressure and schoolwork are significant stressors for your teenager, and they need a break once in a while. Dirt e-bike riding is an exciting stress reliever, and it lets them recharge and refocus.
Riding also keeps your teenager out of trouble. Once they start this sport, it becomes hard to stop, and every second of their free time will be spent having fun outdoors. They can therefore stay out of trouble and avoid bad company.
eBike riders are more aware of their environment, and this makes them better navigators. When they become adults, this awareness comes in handy when driving motor vehicles.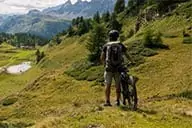 What is the Most Appropriate Age for Electric Dirt Bikes?
It mostly depends on their maturity and growth of every teen. Every manufacturer specifies the rider's age which is an average between 8 and 15 years old, but it does not always mean that your teenager is ready for the motorized unit.
While there is no specific way to tell whether your teenager is ready for the dirt e-bikes, there is a wide range of factors that you should evaluate.
Before you can let your teenager ride, ensure they understand the safety precautions associated with riding electric dirt bikes. What rider level are they, and are there options on-the-market to accommodate it? Also make sure they are tall enough to touch the ground with their feet while seated comfortably.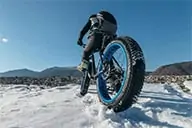 How Much Time Will it Take to Recharge the Electric Dirt Bike Batteries?
This depends on various factors that include the type of battery system used and the electric dirt bike model. The majority of the units have a 36V or 24V battery system that takes between 8 and 12 hours to fully charge.
But still, you will find units with an installed lithium-ion battery system with significantly shorter charge times. It will take around three hours for the lithium ion battery to be fully charged.
Product Recommendation
Sale
Recent Topics