Are you looking to convert your regular bike into an electric bike? Maybe you're looking for a cheap and affordable alternative to a classic electric-powered bike. 
With Swytch's Ebike Conversion Kit, you can turn any bike — including foldable bikes — into an electric bike without prior knowledge or skill.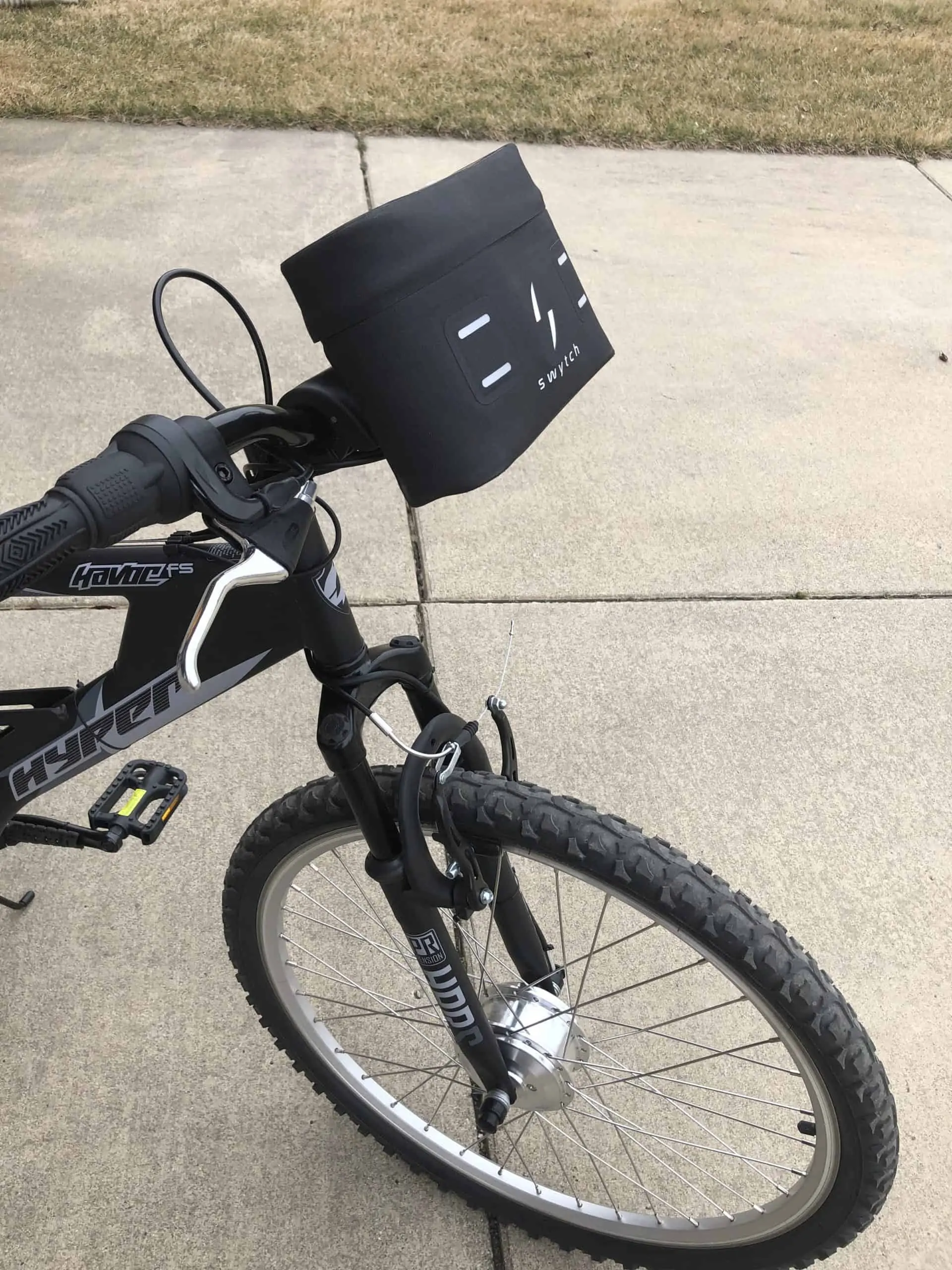 It's a DIY kit that transforms your bike into a pedelec (a pedal-assist electric cycle), powering your bike to conquer steep inclines with less then usual effort putting into pedaling.
How Much Does A Swytch Kit Cost?
On average, the cost of the Swytch Kit is around $1,000 US Dollars however they offer discounts from time to time which brings their price on the universal kit to around $600. 
There are two types of kits. The first kit is a universal one that can be installed on almost all regular bikes and it cost around $1200 without a discount. They also offer a conversion kit for the Brompton bike which cost around $1500 without a discount.
Want to know when a discount from Swytch is available?
Sign up and we'll make sure you're first in line 
Also Related: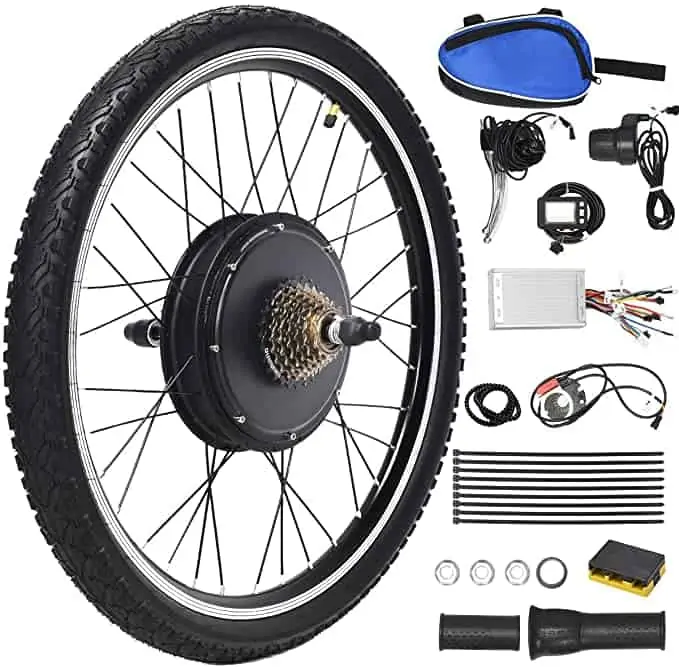 Components of the Swytch Kit
Dubbed the "world's smallest and lightest e-bike conversion kit", the Swytch kit's components are so brief, all it requires to transform your regular bike into an electric bike are a few tweaks and installations.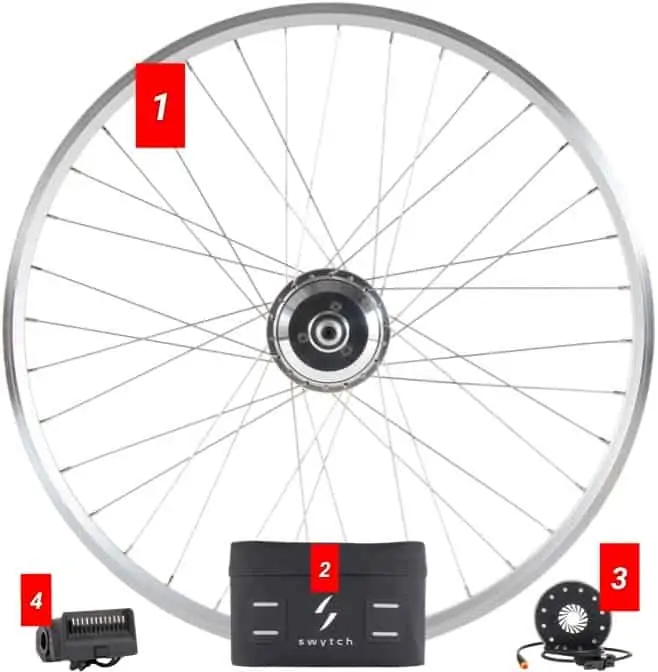 Image credit: Swytchbike.com
1) A motor wheel
2) A power-pack
3) A handlebar bracket
4) A PAS kit or pedal sensor
Product Specifications
| | |
| --- | --- |
| Motor(s) | Brushless motors located inside the wheel's hub. |
| Controller | A lightweight power-pack containing the battery, a display on top, and the controller. |
| Maximum power output | 250W for both ECO and PRO kits. |
| Range  | On a full charge, the ECO kit can travel as far as 22miles (35km) while the PRO kit travels 31miles (50km) on every full charge. |
| Top Speed | 15mph for the ECO kit and 20mph for the PRO kit |
Swytch eBike Conversion Kit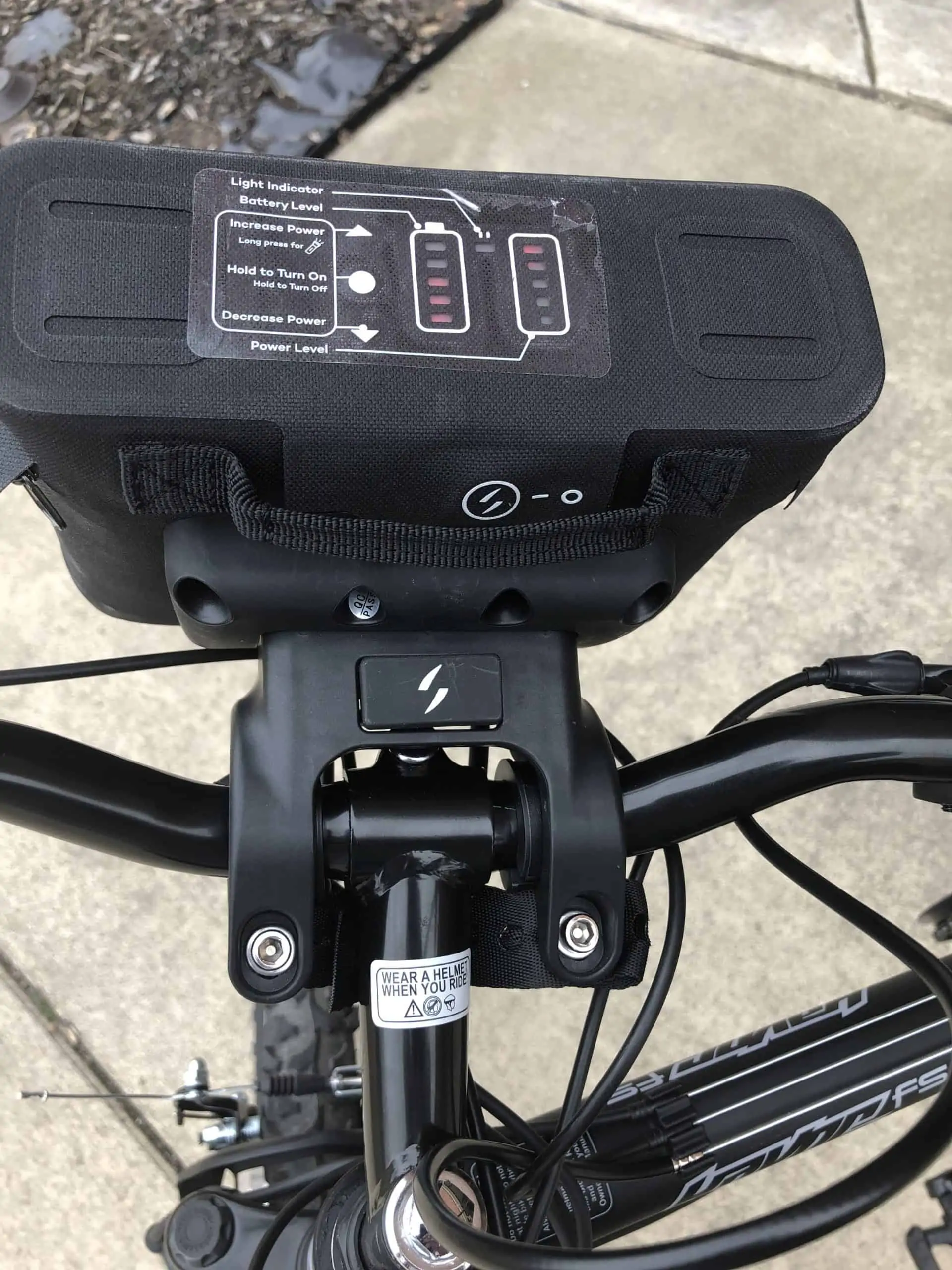 Features Of The Swytch Ebike Conversion Kit. 
A detachable power pack: 
The Swytch e-bike conversion kit offers riders the versatility of a regular road bike and an electric bike all in one with its easily-removable lightweight power-pack.
Because of the simplicity and size of the kit, you can easily switch from electric-powered mode to regular in a matter of seconds. All you have to do is remove the lightweight power-pack from the handlebar bracket.
Source: Swytch bike on YouTube.
Also Related: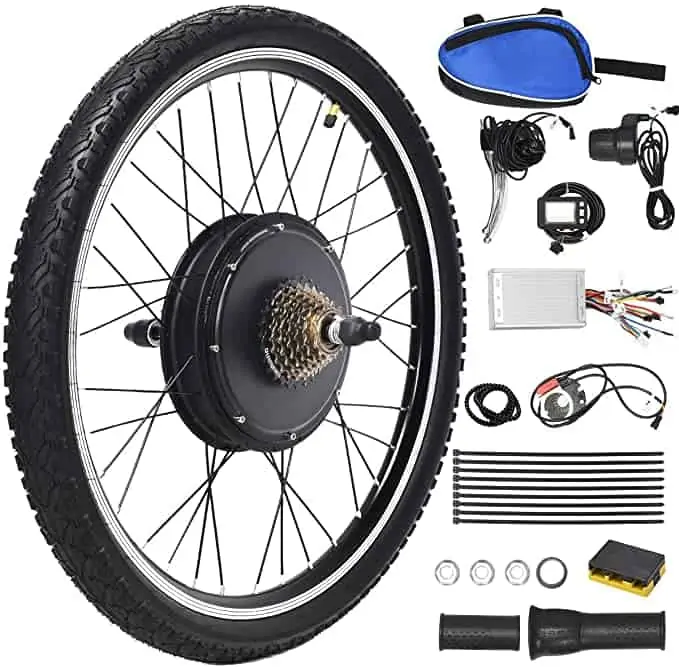 Brushless Hub Motor: 
Because the motor is located inside the hub of the wheel, it doesn't require special skills to install the motor and convert your regular bike into an e-bike.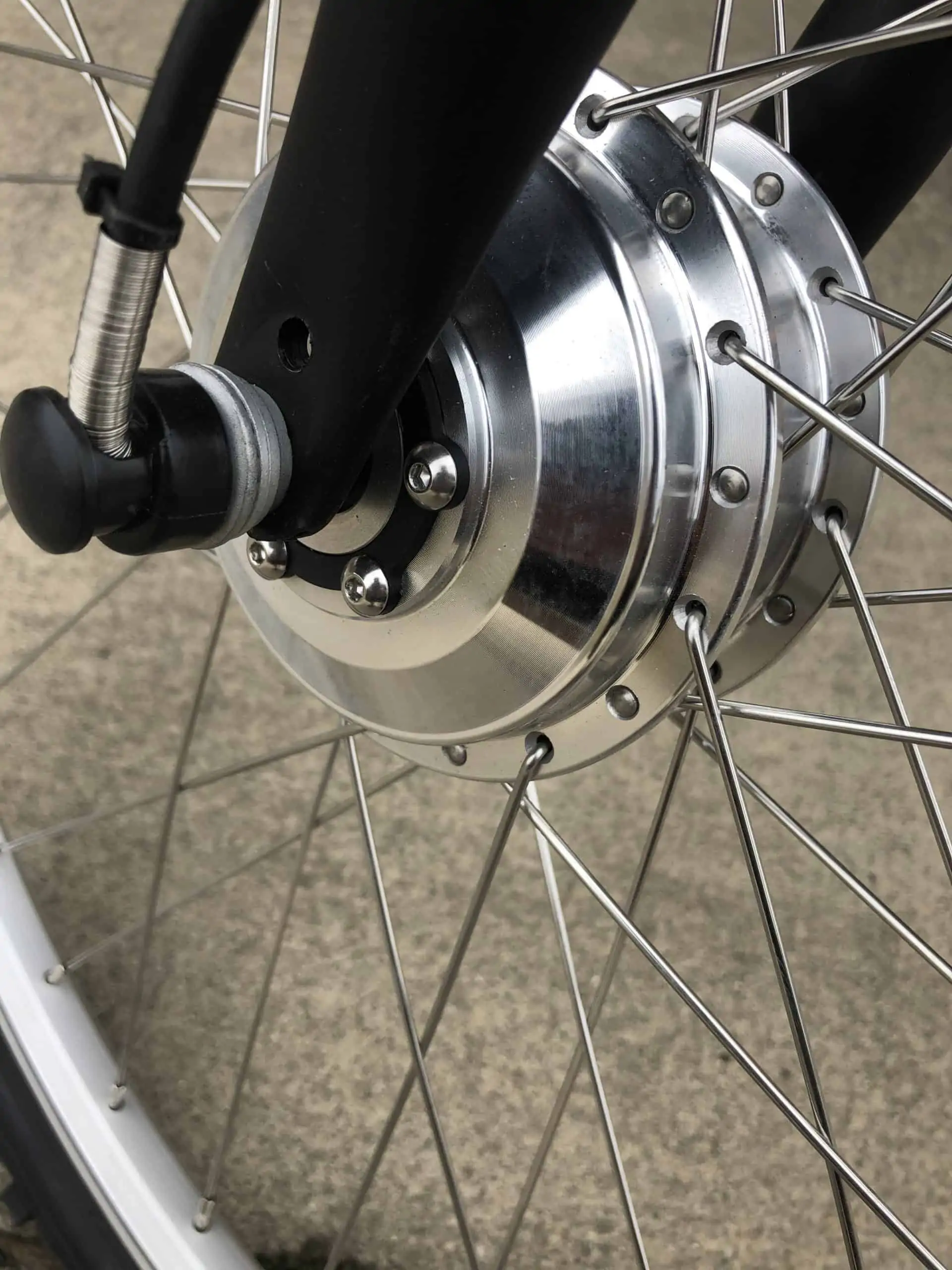 I know you're probably wondering – "What is a brushless hub motor?". I won't dive into all the details now. All you need to know for now is that brushless motors, because of the way they're designed, last longer than brush motors.
This is because they are not subject to wear as a result of friction. They also dissipate heat faster than brush motors.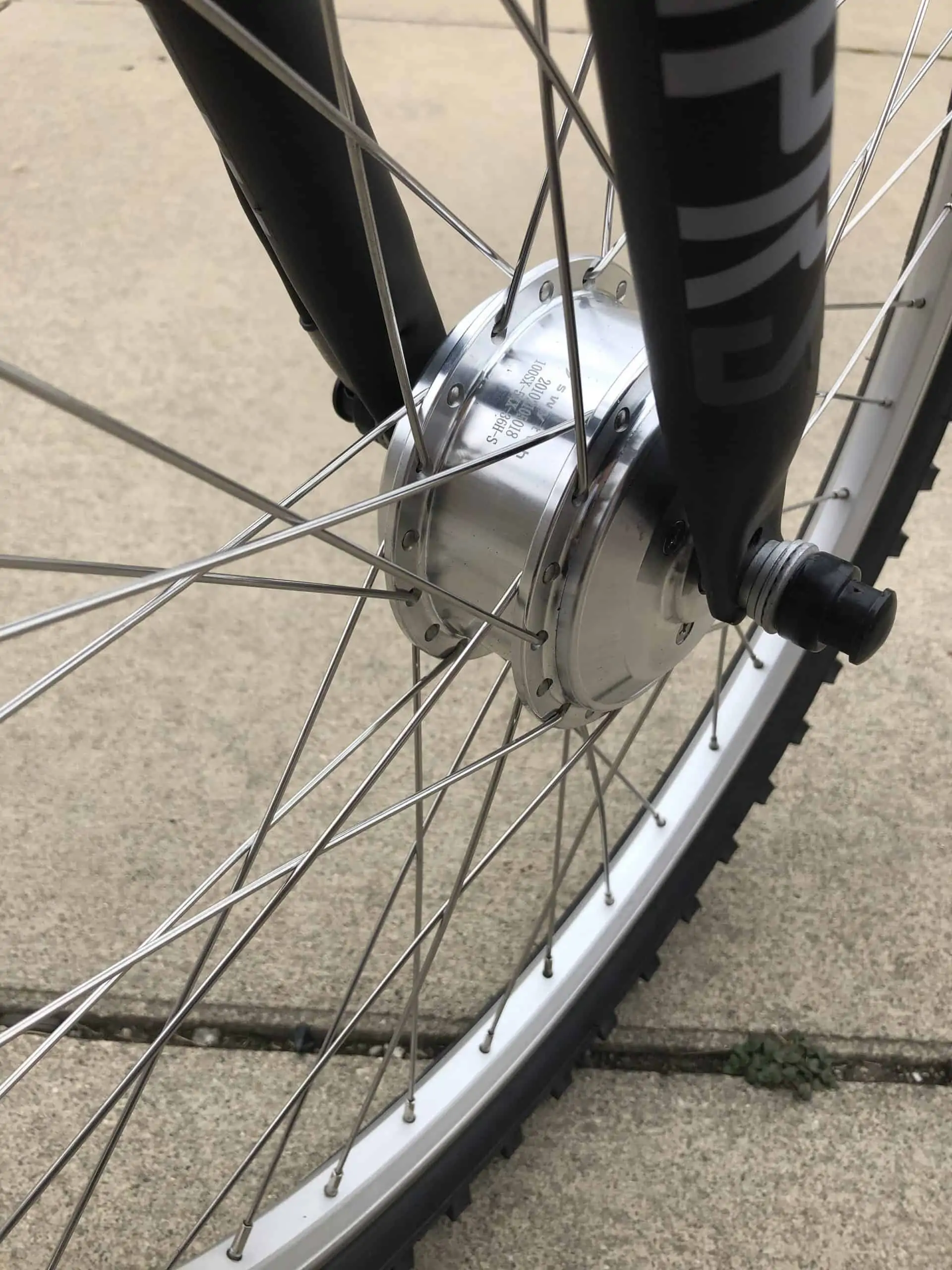 Also Read:
You see now that not only is the Swytch kit a simple and portable one, its components are crafted to ensure durability.
250W Of Hill-Flattening Power: 
The Swytch kit's power pack is loaded with enough power to climb steep inclines. 
This impressive 3kg power pack can boost your bike to travel as fast as 20mph for the PRO kit and 15mph for the ECO kit, covering a total range of 50km and 22miles (35km) respectively. 
Swytch eBike Conversion Kit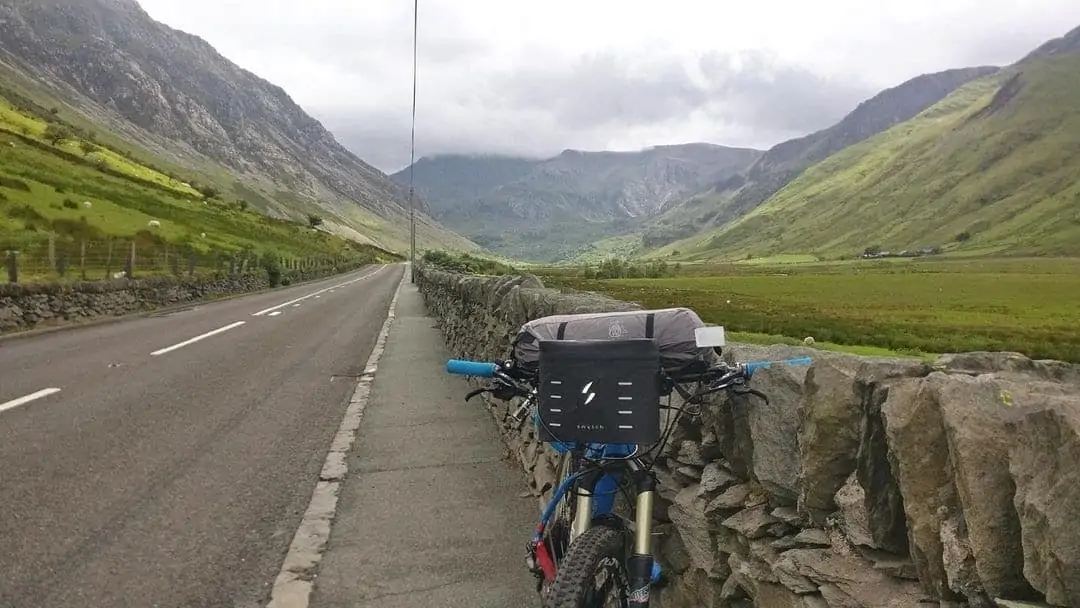 Image credit: Swytch bike @ Instagram.com
Depending on your power needs, you can switch between power modes utilizing the user interface located at the top of the power-pack.
You can switch from low to full power and back by simply pressing a button. This ensures you conserve enough power to cover even more distance, further extending the time until your next charge.
Smart Control System: 
One thing that sets the Swytch Ebike Conversion Kit apart from other e-bike conversion kits is its smart control system.
Equipped with a cadence-detecting sensor and a controller running on sophisticated software, riding on your newly converted bike promises to be a "more fun and less effort" experience.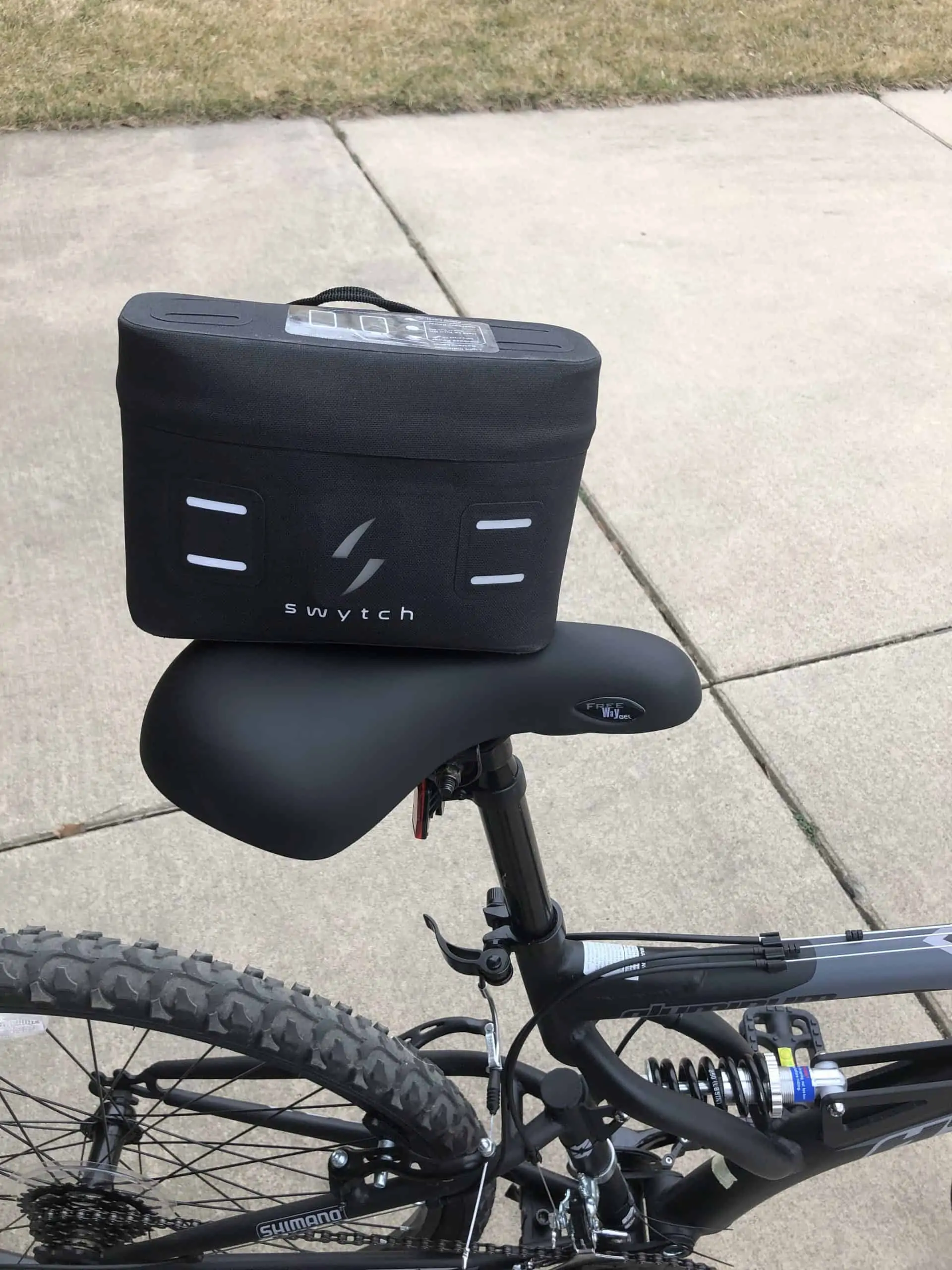 Here's how it works – When you're pedaling, the sensors measure your pedaling tempo — in this case, cadence — and send signals to the power pack, which in turn regulates power output.
For example, let's assume you want to ride up a hill. It's only natural you increase, and try to maintain, the intensity of your pedaling to be able to generate enough power to climb up the incline.
Also Related: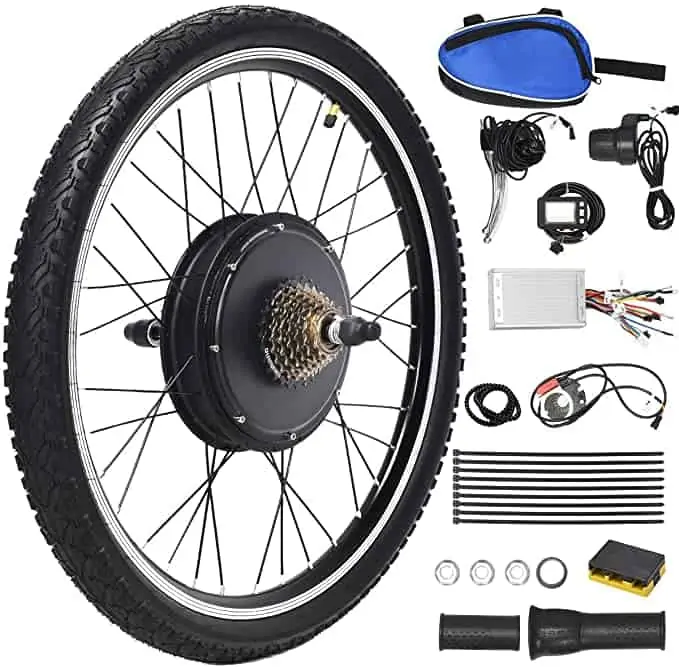 Once the pedal sensor detects higher cadence, it will send signals to the power pack, which then calculates and delivers the optimal amount of power required to boost your front wheel's hub motor.
Thereby powering the bike to climb the hill with very little effort from the rider. 
Swytch eBike Conversion Kit
Pros and cons of using Swytch's kit
In transforming your traditional bike into an e-bike here are some pros and "cons"
Pros
Converting one's regular bike to an e-bike using Swytch's kit is a cheaper alternative to purchasing an electric-powered bike.
The Swytch conversion kit's price typically ranges between $999 and $1249 for ECO kits, & $1249 and $1499 for PRO kits with the option pre-order at a 50% discount rate. 
The Swytch Conversion Kit is compatible with any bike.
Swytch's Universal Kit is designed to fit onto all standard bikes.
So, no matter your brake — rim or disc — or bike type — road or mountain —  the universal kit is the perfect e-bike conversion solution for your needs.
For foldable bikes — like Brompton and Dahon bikes — with narrower forks, the Brompton kit comes with a slim motor specifically designed to fit into such forks and still retain the bike's foldability.
On average, electric bikes weigh around 38-70 pounds (17-32 kg) while conventional bikes weigh around 22-35 pounds (10-16 kg). 
This is why conventional bikes are easier and more convenient to carry around, with variants like Brompton bikes able to fold into smaller, more portable sizes.
With Swytch's e-bike conversion kit, you get to maintain your regular bike's lightweight feature while enjoying all the perks that come with riding an e-bike.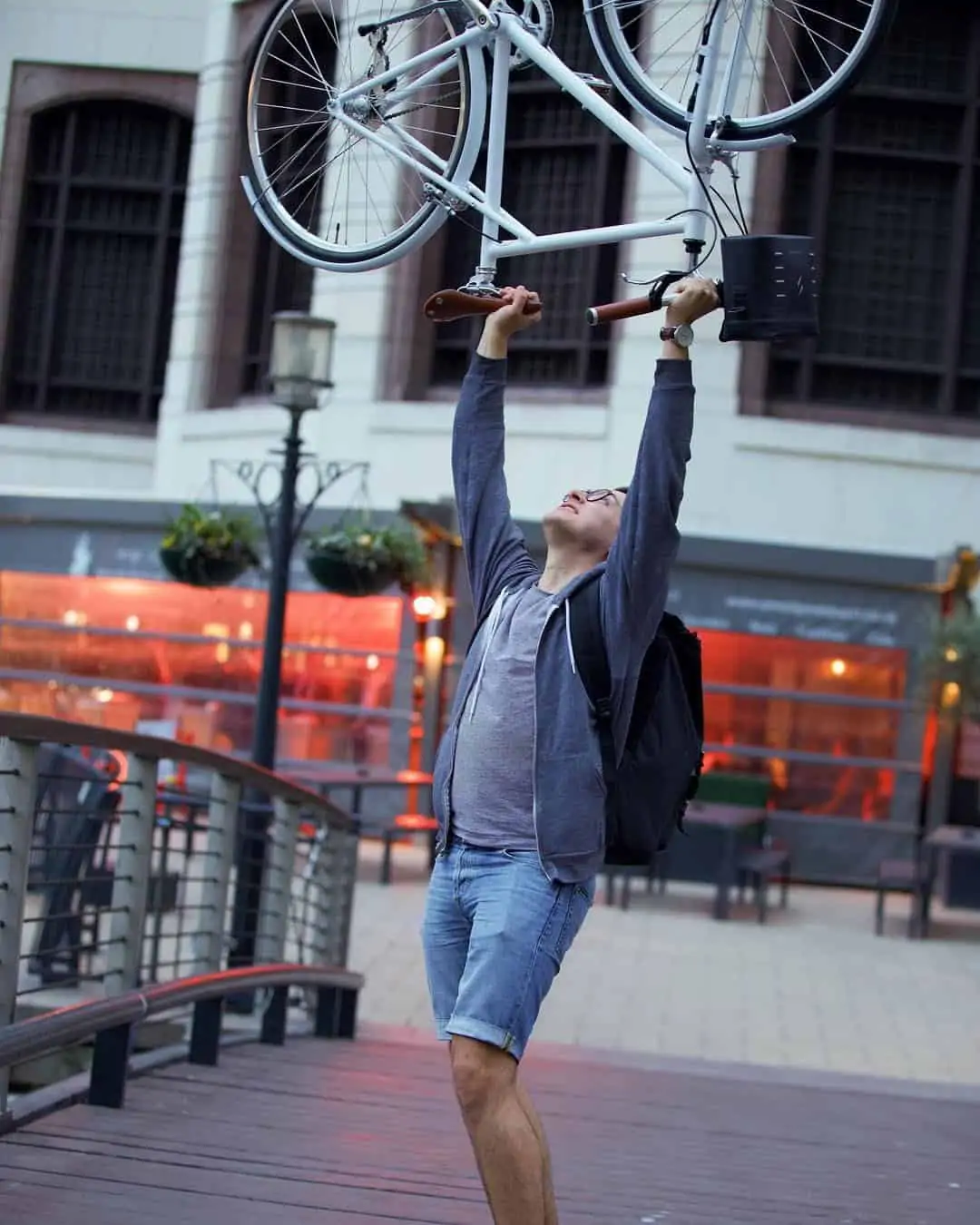 Image credit: Swytch Bike @ Instagram.com
Also Read:
And for foldable bikes, using the Swytch conversion kit will practically turn your bike into a foldable lightweight e-bike.
Cons
Honestly speaking, we couldn't find many disadvantages associated with converting your regular bike into an e-bike using the Swytch kit.
Is it perfect? No, it's not.
But considering the advantages this simple kit provides bicycle riders over traditional and electric bikes, it's obvious the team at Swytch designed this brilliant piece with the convenience of the end-user in mind.
 it's worth noting that fitting components of the Swytch e-bike conversion kit to not-so-standard bicycle types (or customized bikes) might require some skill.
 Pre-orders usually take between 2 to 3 months before your kit arrives.
We wished there was no cap on the 20mph speed limit on the motor
Swytch eBike Conversion Kit
Who The Swytch Kit Is For
A Swytch-kit powered bike, like other electric-powered bikes, takes the exercising and effort out of cycling and introduces a whole new world of convenience and fun to riders.
If you're someone who rides your bike to school or work to avoid traffic, you can now reach your destination without breaking a sweat.
Even better, if you have to park your bike in a public space, just remove the power-pack so no one will be able to make away with your "e-bike".
For people who live in hilly areas or areas with strong headwinds, riding a Swytch powered e-bike turns what was once a spontaneous cardio exercise into an actual fun ride.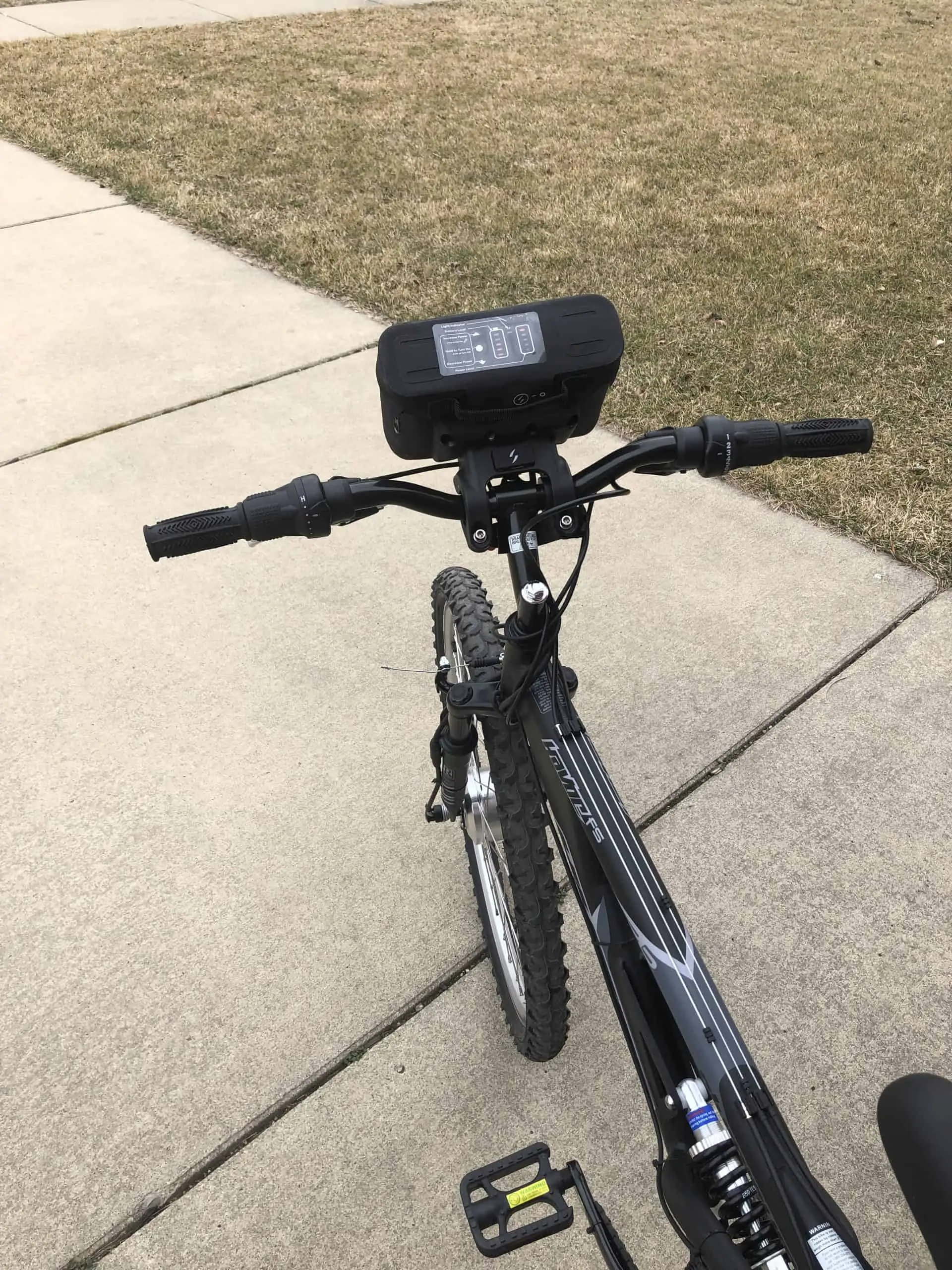 Who The Swytch Kit "Isn't" For
As I mentioned earlier, the Swytch kit converts your regular bike into a "pedal-assist" e-bike, facilitating an almost effortless riding experience.
If you're someone who rides bikes to get extensive exercise for your leg muscles or for cardio, or someone who expect to cruise at a higher speed then 20 mph then this cheat-kit may not be for you.
Also Related:
Recent Topics