For electric scooter enthusiasts looking for an affordable but stylishly designed high-performance e-scooter, you might want to keep your eyes peeled for Varla's most recent product launch.
The Varla Pegasus. The 1600W electric scooter joins the much more powerful Eagle One as the brand's newest addition to their range of affordable higher-performance e-scooters.
The Varla pegasus promises to be one of the cheapest 30mph electric scooters for adults.
With such a small design, you'd probably feel like the Pegasus doesn't have much to offer. But actually, it has power behind its design. The Valara Pegasus weighs 68 pounds stand alone and has a weight capacity of 300 pounds. Powered by a dual 500w motor and a 48 volt/15.6 ah battery allows the Varla Pegasus to travel at a top speed of 35 miles an hour and can last for 28 miles on a single charge. 
Features Of The Varla Pegasus
Speed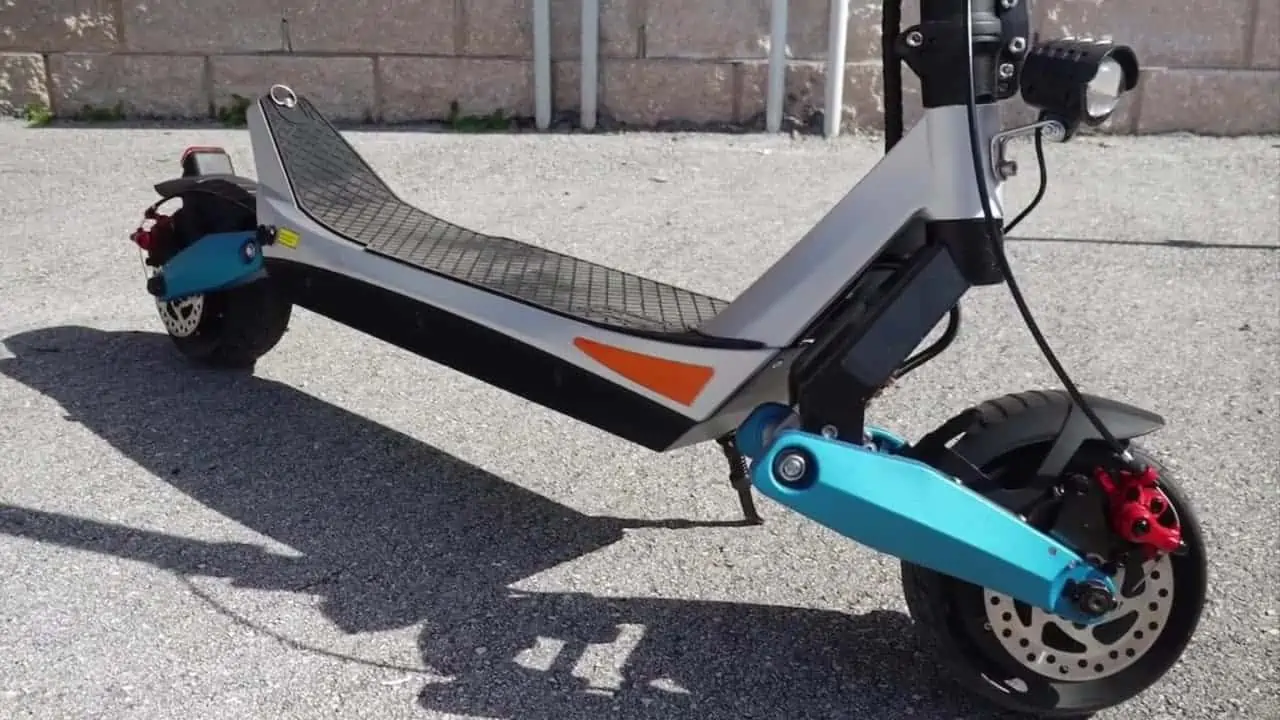 With the power of the dual motors, the Pegasus can reach speeds up to 35 mph. This is the usual speed in most urban areas, making this usable in city streets where electric scooters are legal for city commuting.
The thumb throttle that is placed on the handlebar is a feature that makes this easy to accelerate more comfortably than a traditional finger-throttle. With high speed, there also needs to be high-quality brakes, and fair enough, Varla has a great dual disc brake system that will ensure a safe stop from any speed.
Keep in mind, you should always exercise caution when riding an electric scooter regardless of speed and skill level
Tires
For every electric scooter that will be traveling on the pavement or concrete, there has to be a good set of tires. The tires on the Pegasus are solid and puncture-proof, making them safe to ride on pavement and make it less chance of getting a flat when hitting a bump or a rock.
What makes them unique is that they're solid plastic rather than tubeless rubber, making the ride feel that much smoother on any surface. The Pegasus also works well both on and off-road, though you might notice more wear if using it off-road.
Special Features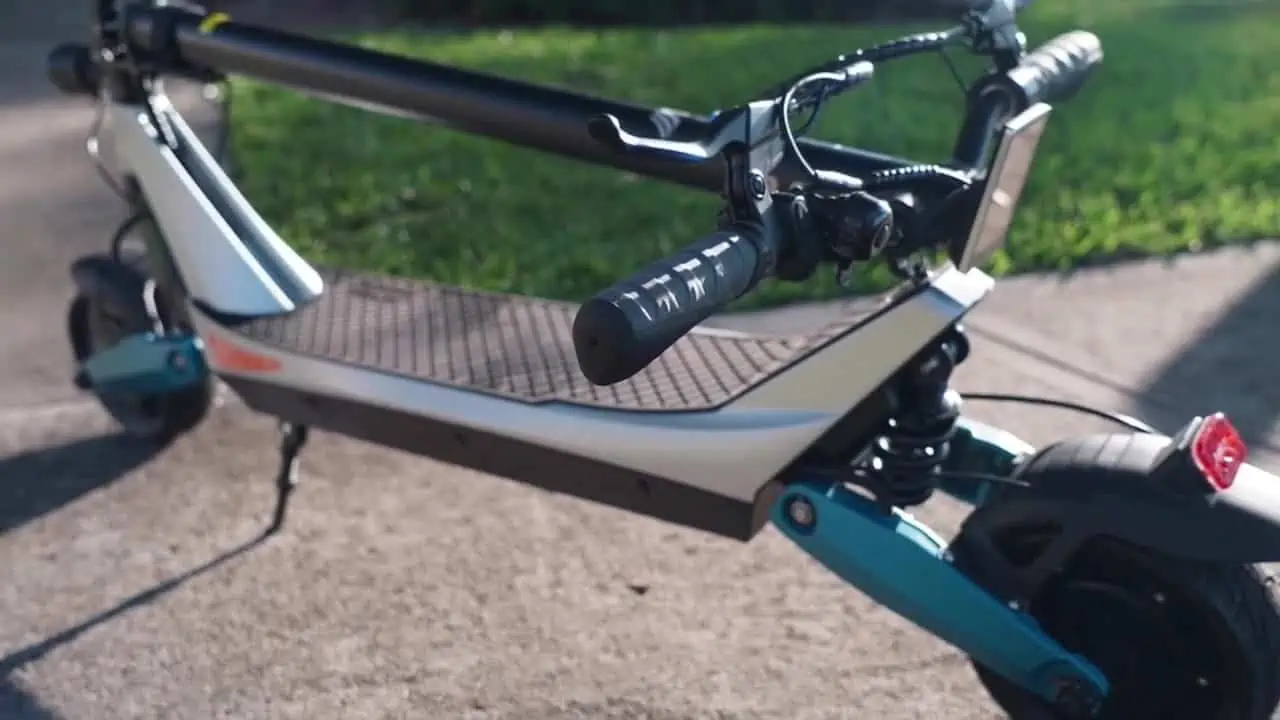 One of the most unique and useful features that the Pegasus has to offer is the safety locking mechanism. As easy as pushing a button and releasing the clamps, the electric scooter folds up compactly enough to be easily packed in the backseat of a car or while riding a bus.
In addition, the LCD display is right on the stem, in the center where the rider can look down at a glance with ease. It's bright enough to see your speed, battery life, and range from a quick tilt down, instead of looking away to the side where you could get distracted easier. 
Smart LCD display
The Varla Pegasus doesn't come with the average EY3 or QS-S4 throttle display you see on most e-scooter handlebars.
The design team at Varla took things to the next level with the Pegasus's smartphone-looking thumb throttle display that challenges the Unagi Model One's futuristic LED display in terms of aesthetics.
It wasn't specified on the website if this unique LCD comes with other special features like a touch-enabled screen or a USB hub to charge the rider's phone.
As was said about the thumb throttle, it's much easier to use as it's right next to your thumb from the handlebar and in a much more comfortable position. And the rear and front headlights are bright enough to make night riding safe and fun.
1600W Peak Power
According to specifications on the manufacturer's website, the Varla Pegasus is equipped with dual 500W brushless hub motors that give out a combined 1600W of power at peak performance.
What does this mean for riders? Well, to explain it simply, powerful motors ensure that a vehicle maintains set performance standards and ride quality even when it's put through demanding conditions.
For example, traveling uphill, being able to transport heavier loads without experiencing a significant drop in speed or overall performance, etc. For electric scooters, a perfect use case will be traveling up steep hills.
An electric scooter's max power also determines how it will perform when being ridden by a heavier rider. The Varla Pegasus boasts a 300lbs max rider capacity and a hill-climbing ability of 25°.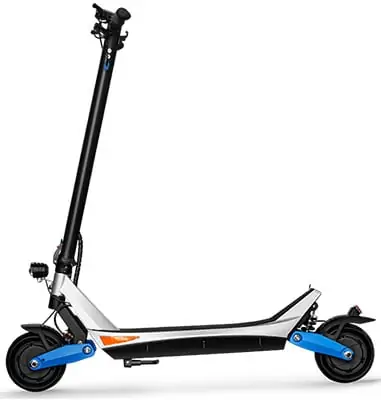 Durable Puncture-Proof Tires
The Pegasus is set to be released with 3.5 inch-wide solid rubber tires which, when compared to pneumatic tires, are more durable and cost-efficient in terms of maintenance.
With airless tires, you never have to worry about flats or constant air pressure adjustments to provide more traction. Their extra-deep treads provide greater traction even when riding on wet and slippery surfaces.
Another advantage of solid, flat-proof tires is they can't be overloaded. They have greater load-bearing capabilities than pneumatic tires. This is why heavy-duty vehicles like forklifts and backhoes use airless tires.
However, opting for airless tires will mean trading the shock-absorbing features of pneumatic tires for durability — good thing the Varla pegasus is equipped with dual-coil springs.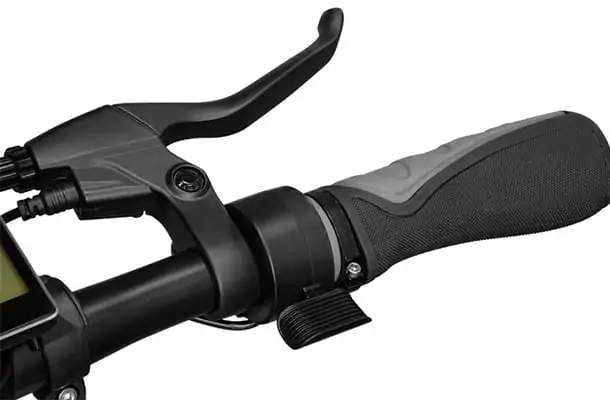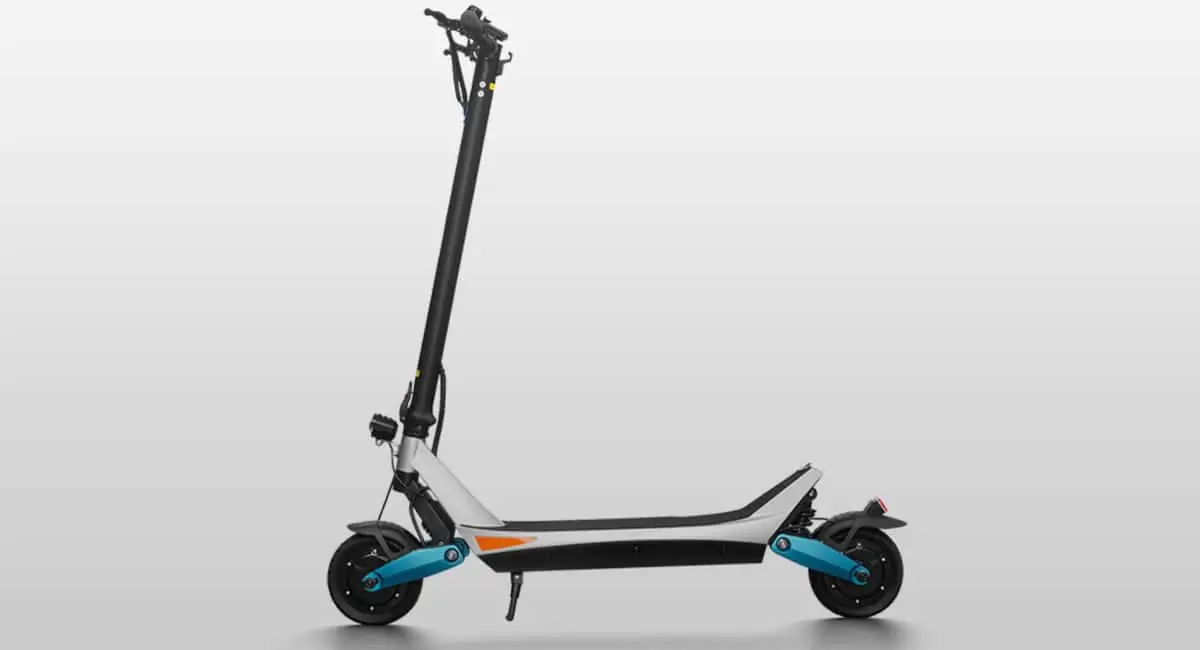 Testing Evaluation
Tested against similar models within the same category
Main Features:
Riders Weight Limit | 300 pounds
Motor | Dual 500w
Range | 28 miles
Battery | 48V 15.6Ah
Speed | 35 mph
Pros Of The Varla Pegasus
1) Smooth And Soft Ride Quality On Any Terrain
Spring suspension systems are more flexible than typical shock absorbers.
Their ability to compress (as a result of absorbing energy from bumps) and return to their expanded state with very little resistance, improves overall ride quality.
While the Varla Pegasus hasn't been tested under real-world conditions yet, its shock mitigation system might just provide the same seamless riding experience as any other e-scooter with a dual spring suspension system.
Pros
Lightweight, making it easier to fold and carry
The 28-mile range on the battery after a 4 – 5 hour charge
Cheaper than most city commuting electric scooters
It Goes 35 mph, which is the typical speed of most urban areas

2) The Varla Pegasus Is An Inexpensive Option To Higher-Priced 30mph And 40mph E-scooters
Based on research carried out at the time of this writing, the Varla Pegasus ranks amongst the cheapest 30mph electric scooter on the market. Originally priced at only $1299, potential buyers are eligible for a $200 discount when they pre-order the stylish scooter from the manufacturer's website.
Practically anyone can own this scooter — and I'm not saying this just because the Pegasus is inexpensive. With a flexible 6-month interest-free payment plan, potential buyers can pay off their electric scooters in installments.
And to further entice scooter enthusiasts, the company includes an e-scooter lock, an assembly tool, and a fast charger on every order — for free! 
3) The Scooter Comes With A Two-Year Warranty
Varla extends a lengthy 24-month warranty on all orders placed from their official website.
So, if you pre-order the Varla Pegasus and it comes broken or you notice any performance issues after riding it for the first time, you can reach out to their support via email with proof of purchase and a picture or video describing whatever issues you experienced.
It's worth noting however that the warranty only covers manufacturing defects and shipping damages — in the unfortunate event where a rider crashes the e-scooter, they can't take advantage of the warranty.
Cons Of The Varla Pegasus
There have been many positive aspects spoken about the Pegasus, and they are well deserved. However, it should be noted that this scooter isn't without its issues. There are a few things you need to know about this that might change your attitude about owning it.
Unlike pneumatic tires, whose compressed air plays a part in mitigating shock, solid tires transfer the vibrations — or energy — from bumps straight to the spring. This affects overall ride quality and can make the scooter's spring wear prematurely.
Also, Varla didn't include an IP rating in the Pegasus description. While this might just be negligence on their part, it might also mean the Pegasus is not water-resistant. We recommend going for electric scooters with at least an IP54 water resistance rating.
Last but not least,
The range that the Pegasus has is pretty impressive, yet at the same time, is limited compared to other scooters that have ranges upwards to 40 miles on a single charge. While the self-lock folding mechanism is very handy, it doesn't compact the scooter and more than the length of the scooter. 
The self-locking mechanism doesn't fold the handlebars, meaning you need to be careful when transporting 
Placement of the thumb throttle might be awkward to use at first 
Not entirely waterproof, so can't be used during rainy days or areas with large amounts of water. 
Cons 
The self-locking mechanism doesn't fold the handlebars, meaning you need to be careful when transporting 
Placement of the thumb throttle might be awkward to use at first 
Not entirely waterproof, so can't be used during rainy days or areas with large amounts of water.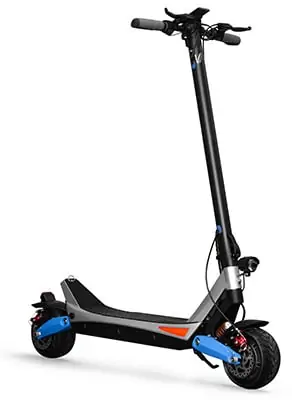 How the Varla Pegasus Stacks Up Against Other 30mph Electric Scooters
Varla Pegasus versus the Apollo Explore
The Apollo Explore is hands down one of the most portable scooters on the planet —  more portable than the Varla Pegasus — weighing just 52lbs (23kg) and being able to fold at the handlebars. However, its (the Apollo Explore's) 1400W peak power is no match for the Pegasus's 1600W maximum power output.
Varla Pegasus Versus the Kaabo Mantis 8
In terms of peak power, the Kaabo Mantis 8 is lord over the Pegasus, generating a combined 2200W of raw power at peak performance. Even still, the Varla pegasus possesses a  higher hill-flattening power (25°) than the Mantis 8 (20°) and can support heavier loads (300lbs) than the Mantis (265lbs).
In terms of speed, the Varla Pegasus has a  non-tested top speed of 35mph while the Mantis boasts a real-world top speed of 25mph (43 km/h).
Tabular Representation Varla Pegasus, The Kaabo Mantis 8, and The Apollo Explore
| | | | |
| --- | --- | --- | --- |
|   | Varla Pegasus | Apollo Explore | Kaabo Mantis 8 |
| Top speed | 35mph | 31mph | 25mph |
| Maximum power output | 1600W | 1400W | 2200W |
| Max Range | 28 miles | 34 miles | 25 miles |
| Max Rider weight | 300lbs | 265lbs | 264lbs |
| Scooter weight | 68lbs | 52lbs | 50lbs |
Who Should Buy This Product?
The Pegasus would probably be a good fit for those who are looking for a quick and light alternative to using taxis and buses to get around town. With that 300-pound weight capacity that the Pegasus provides, it might also appeal to heavier riders who need something that can handle their weight without much issue.
Between the unique features, the speed, and the availability to make it street legal, the Varla Pegasus definitely accommodates those who want an electric scooter that is dependable as it is environmentally friendly.
Who Shouldn't Buy This Product?
If you're looking for an electric scooter that can go from 0 to 60 mph in three seconds, this might not be the best choice for you. It is more focused on those who want a city commuter rather than a racing electric scooter. 
Also, the limited range on the battery and charge time probably won't appeal to those who are expecting an all-day ride. It's more like a way to get from home to work and then back home.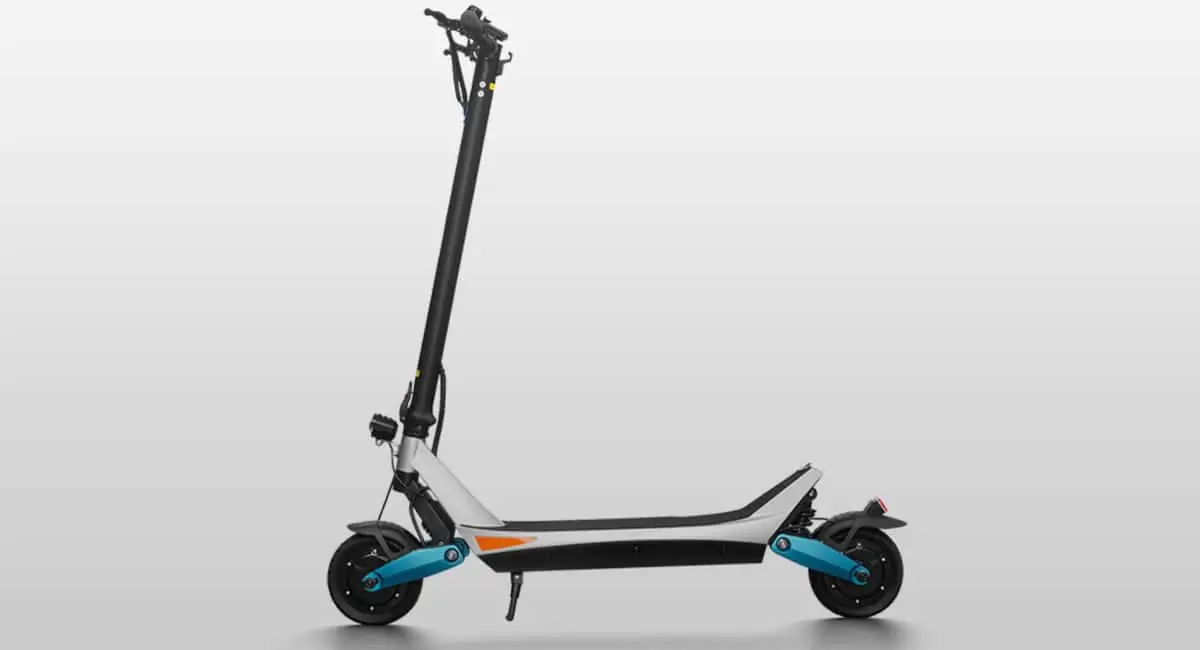 Testing Evaluation
Tested against similar models within the same category
Main Features:
Riders Weight Limit | 300 pounds
Motor | Dual 500w
Range | 28 miles
Battery | 48V 15.6Ah
Speed | 35 mph
Recent Topics