The Apollo Explore Electric Scooter is part of the Apollo line of scooters that consists of three other scooters ranging from just above entry-level to the extreme dual-motor scooters.
The Apollo Explore scooter sits right behind the heavy-duty Apollo Pro, and it's a step-up from the mid-level Apollo City.
Here is our Apollo explorer electric scooter review
After reading this review, if you think it's the right scooter for you, you can check best price available Here
Also you can use promo code "ElectricRideLab" to get $50 worth of free accessories, upgrades, or spare parts
Who is it for?
The Apollo Electric Scooter is targeted for users who are looking for a pretty quick, long-range commuter that is practical and comfortable.
It's designed for riders who want a scooter for daily use that has enough battery power for 15 to 25 miles.
Who is it not for?
If you plan on using the scooter infrequently and for short trips, then the Explorer might not be for you.
Also, if you'll have a hard time lifting a 50-pound scooter, then you might s well consider a lighter alternative such as the Apollo City.
Specifications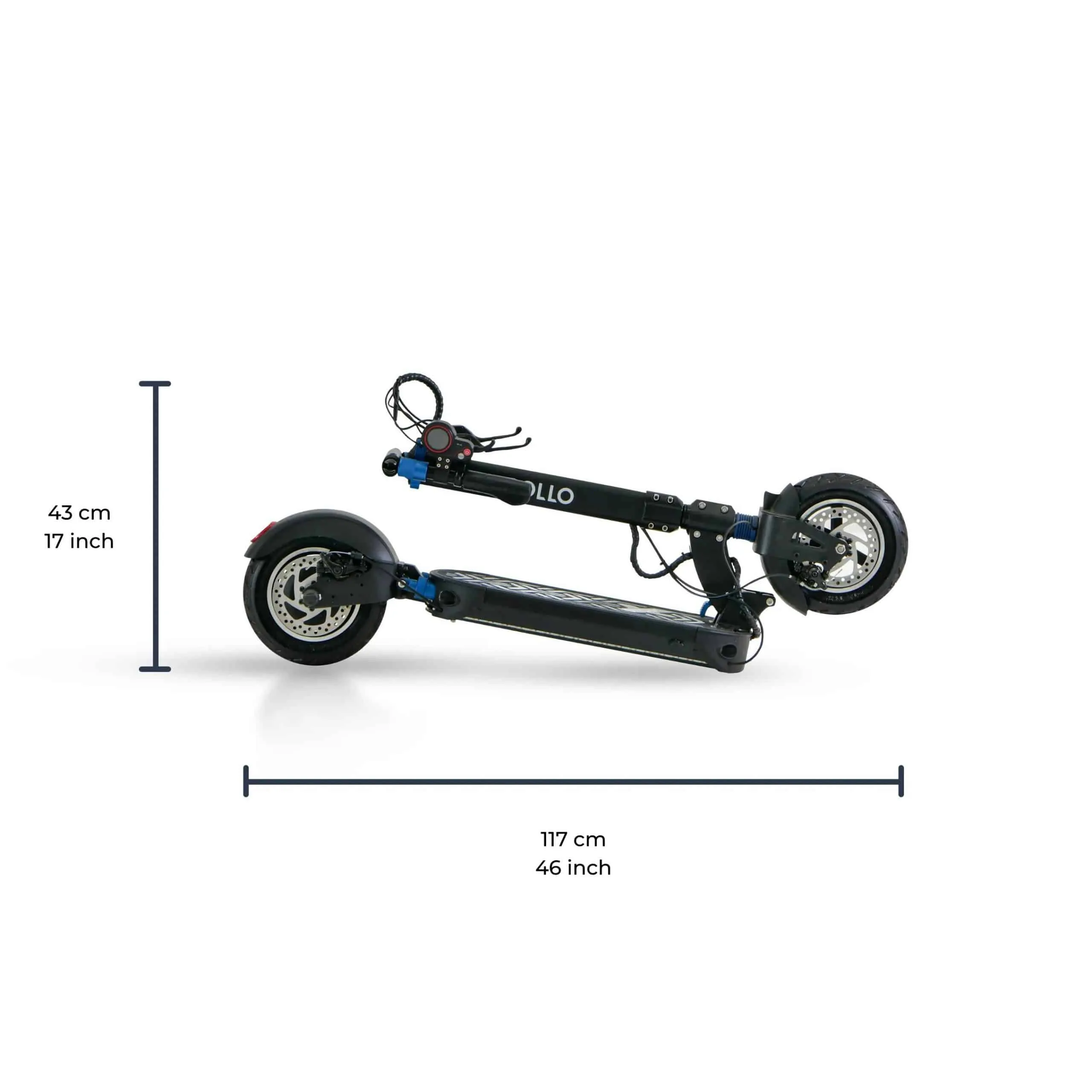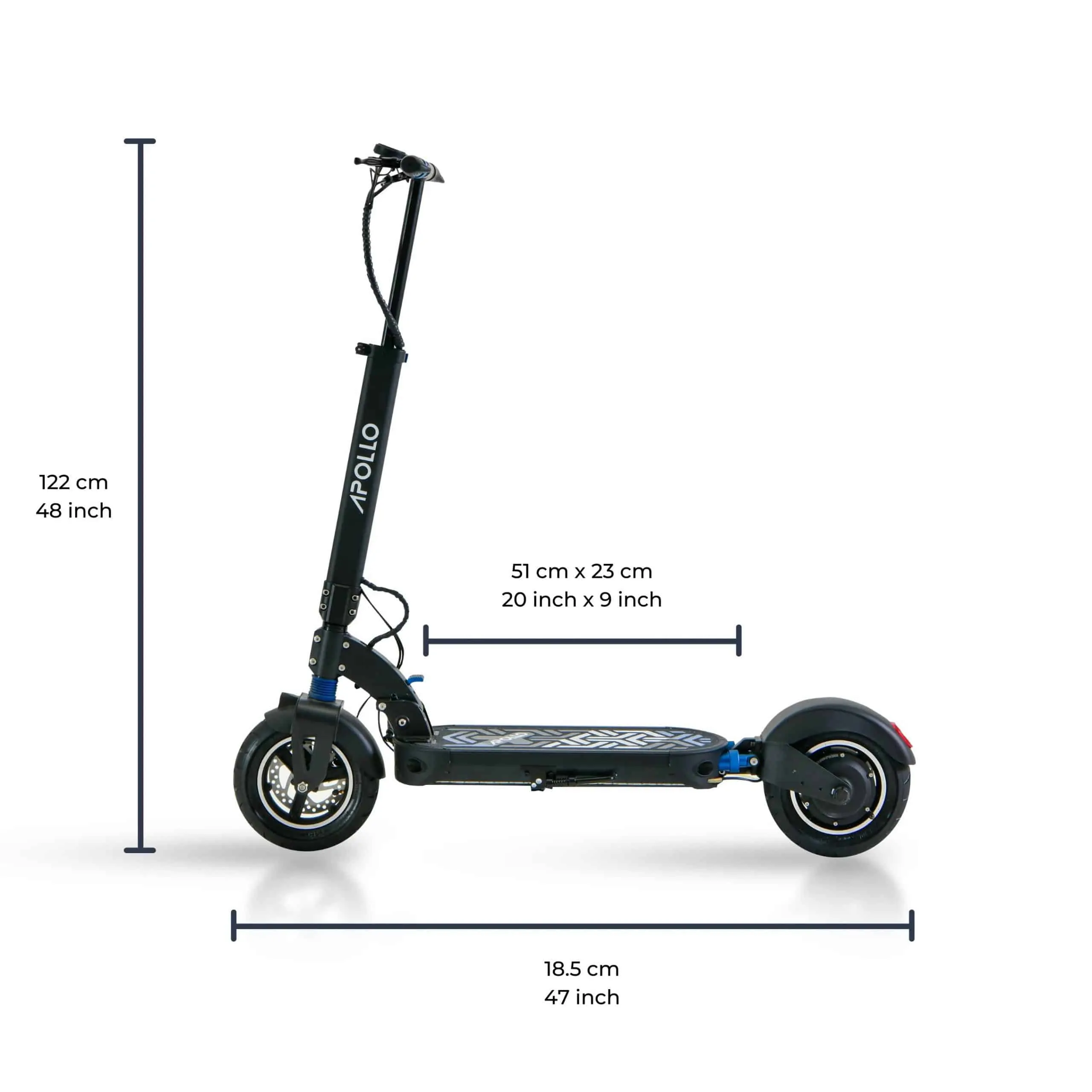 Features and Benefits
Design
Design-wise, the Apollo Explore has nothing out-of-the-ordinary because it sports a more traditional scooter look.
What perhaps separates it from the rest of the scooters, however, is the material construction.
It comes with forged aluminum build on the stem, handlebars, and the base.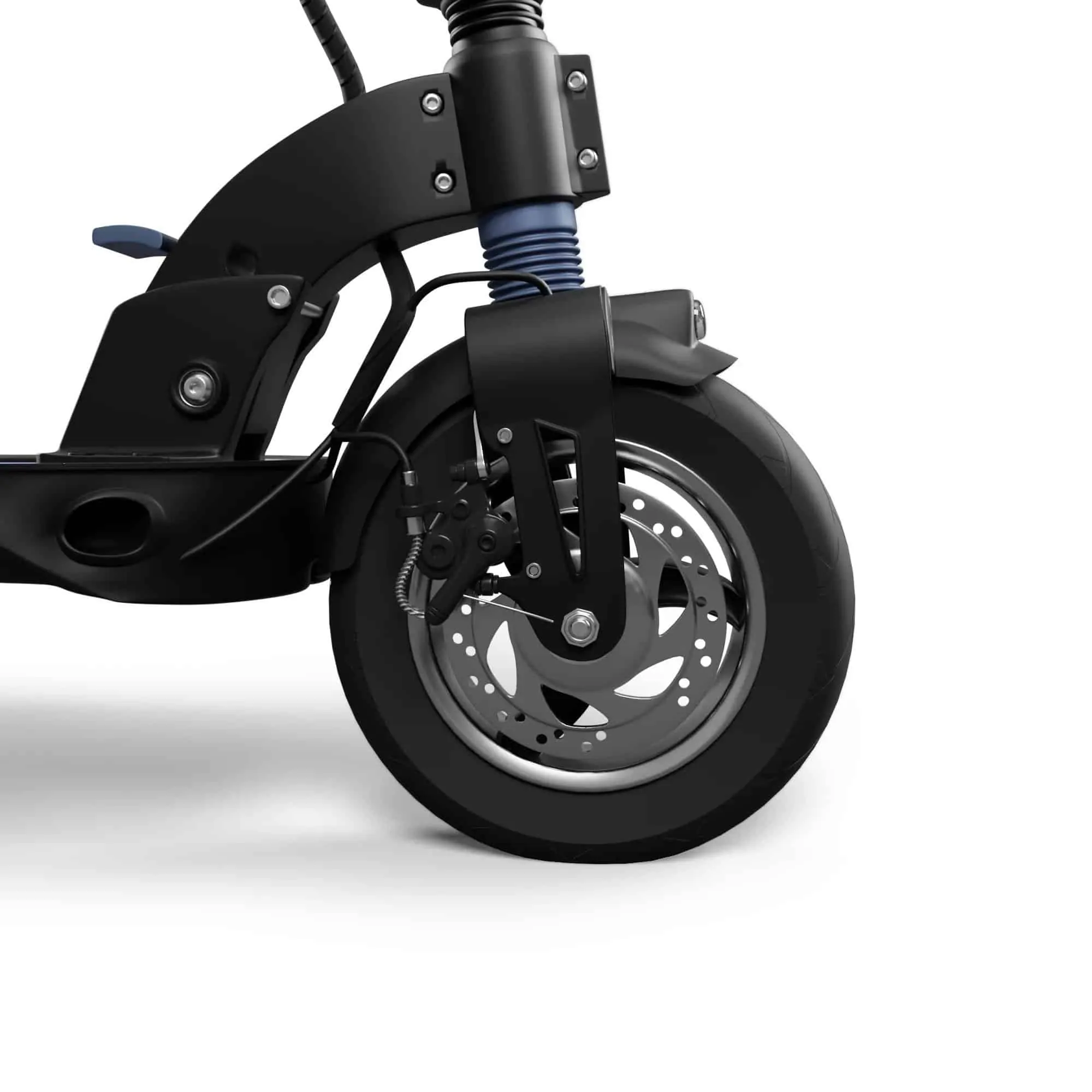 The suspension forks, on the other hand, are made from CMC machined aluminum, while the rest of the scooter is designed from die-cast aluminum.
Generally, metal-based scooters are durable, and with the Apollo Explorer, you can expect it to serve you for a couple of years without breaking down.
Better yet, the scooter will take on the hits, and the falls without compromising on its structural integrity.
Ride Quality
Overall, I would say the ride quality on the Explorer is awesome.
While certainly not the best in its class, it's more than decent, and it offers a seamless ride by preventing the jarring bumps.
The ride quality on this model is made possible by several nifty features.
Notably, the scooter sports large pneumatic tires, which alongside the spring suspension in the rear and front, make for a smooth ride, nearly on all terrains.
In particular, the spring system is well-balanced, neither too stiff nor too soft, and so, it won't rattle even on the rough roads.
Another notable element that promotes ride quality is the large 20" by 90" spacious deck that gives ample standing room, which is essential for the longer rides.
Another under-rated ride quality element on the Explorer is the rather large 5.3″ of ground clearance, which is essential for dropping off the curbs and getting over obstacles, which is a must for the particularly long rides.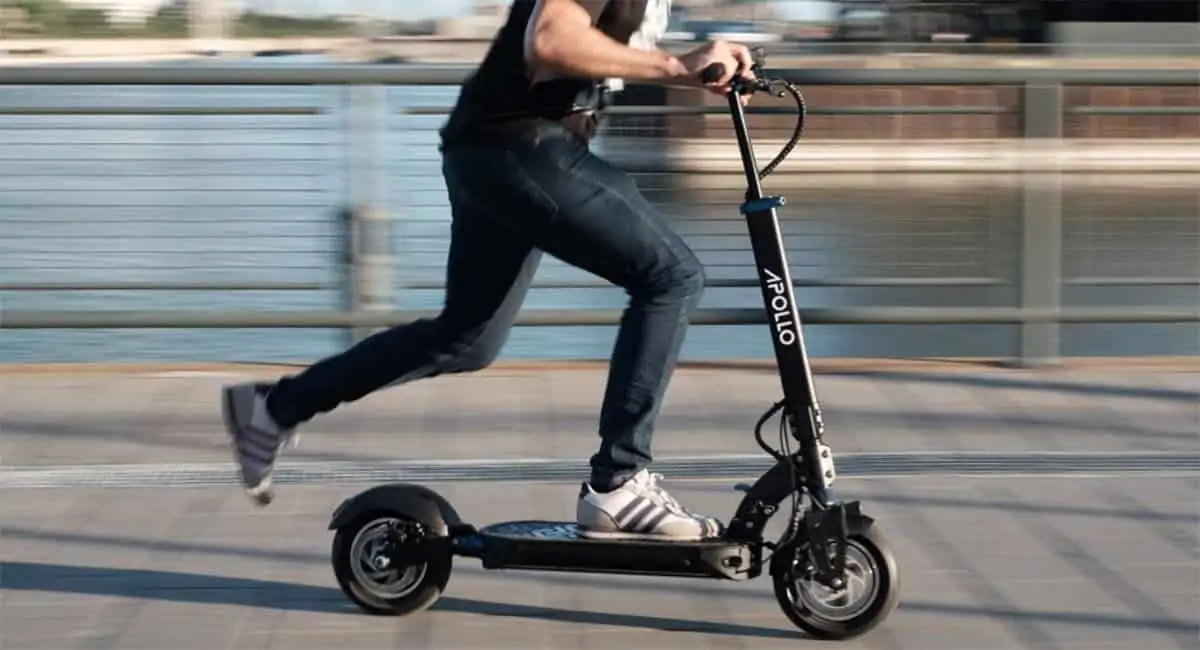 Testing Evaluation
Tested against similar models within the same category
Main Features:
Riders Weight Limit | 264 lbs
Motor | 1000 watt
Range | 35 miles
Battery | 52V 18.2Ah
Speed | 31 mph
Speed
The Apollo Explore is terrain-agnostic, designed to handle the flat terrain just as well as it does the tall and rugged roads.
Sporting brushless motors with 1400W peak output, this model is capable of delivering an impressive top speed of 31 MPH with ease.
Better yet, it has impressive acceleration and can reach 15 MPH in a measly 3.5 second.
Honestly, the power on this scooter gives the rider the flexibility of blending with cars, or cyclists as you like.
Braking
Speed doesn't make any sense if you can't come to a timely grinding halt, exactly what the Explore offers.
The two high-performance disk brakes, alongside re-gen brakes that promote a near-instant halt.
According to the manufacturer, for instance, the Explorer brakes have a decent braking distance of 8 feet.
Away from the braking performance, another good thing with these brakes is they're quite seamless in their application, letting you slow down slowly.
Range
An ideal scooter for long-range, the Explorer will let you explore to destinations where no other scooter has gone before.
The 52v 18.2Ah battery-powered cells have by far the best performance, especially when compared to other models within its class.
With this battery, it's possible to achieve a generous range of 37 miles, which few scooters, if any, can achieve.
Now, you might think that the large batteries will take time to recharge; we also thought so, but to our surprise, it only takes 3-4 hours to juice them up.
Portability
Apollo Explorer shines in the size department- it's possible to fold the scooter into a compact package.
Unfortunately, it's quite hefty, and the 50.7 pounds means that it's not suited for frequent lifting.
For what it's worth, however, it will make both transportation and storage easier.
Extras
Some of the notable extras on the Explorer include the presence of lights that enhance your visibility on the road.
The console option is yet another handy feature that gives you access to your cycling info such as distance, time, and battery levels.
Finally, the IPX4 rating makes this model suitable for use in the light showers, though we wouldn't advise using it in a downpour.
Drawbacks
The Apollo Explorer doesn't have any striking flaws, but there're some improvements we would love to see in their future modes.
For starters, we would hope to see a higher-mounted front headlight for improved visibility.
The only major con on this model is probably the lack of audio alert.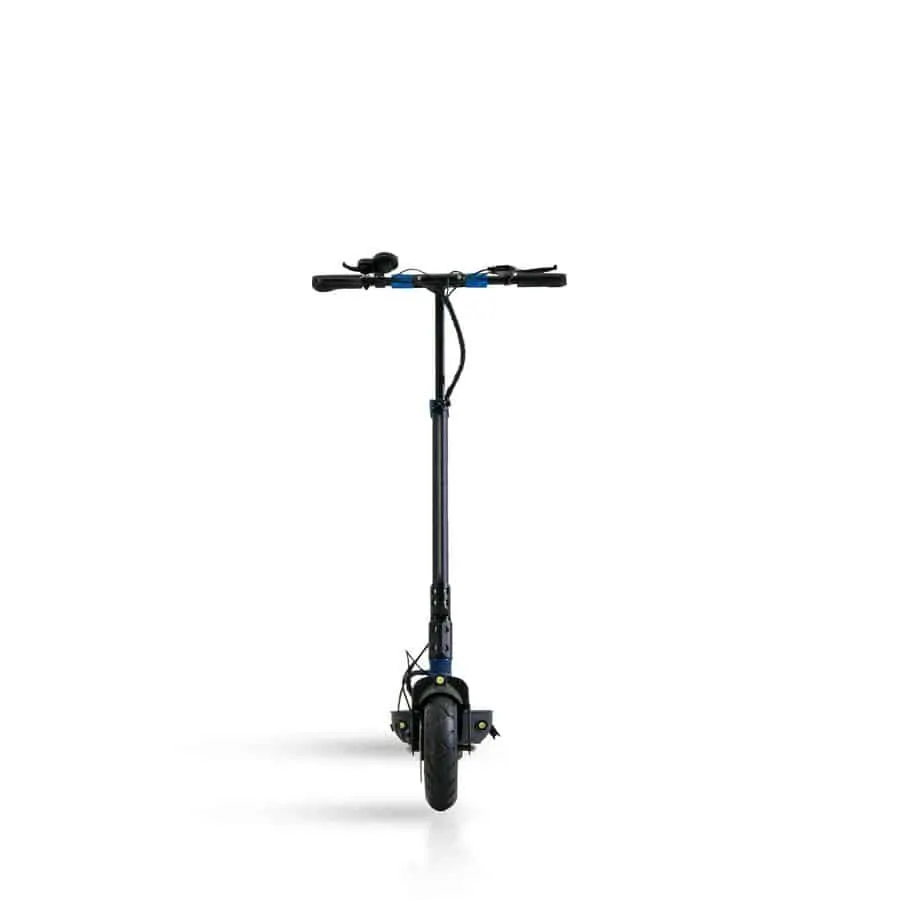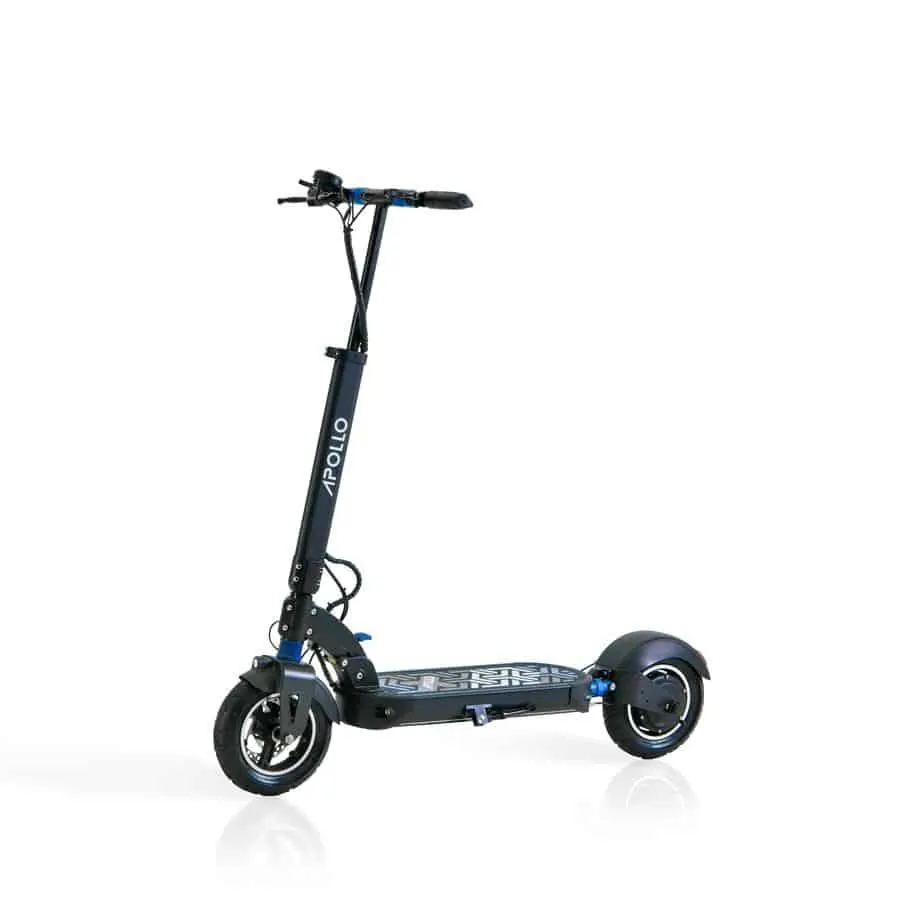 Pros
High speed
Long-range
Durable
Comfortable
Cons
Summary
Away from the mentioned flaw, the Apollo Explorer has everything you would need to enjoy a long comfortable ride.
It's comfortable, durable, and performance-oriented.
Additionally, this scooter has a game-changing feature, though it's not part of itself; it comes with a generous 24-months warranty, the highest we've come across in the market.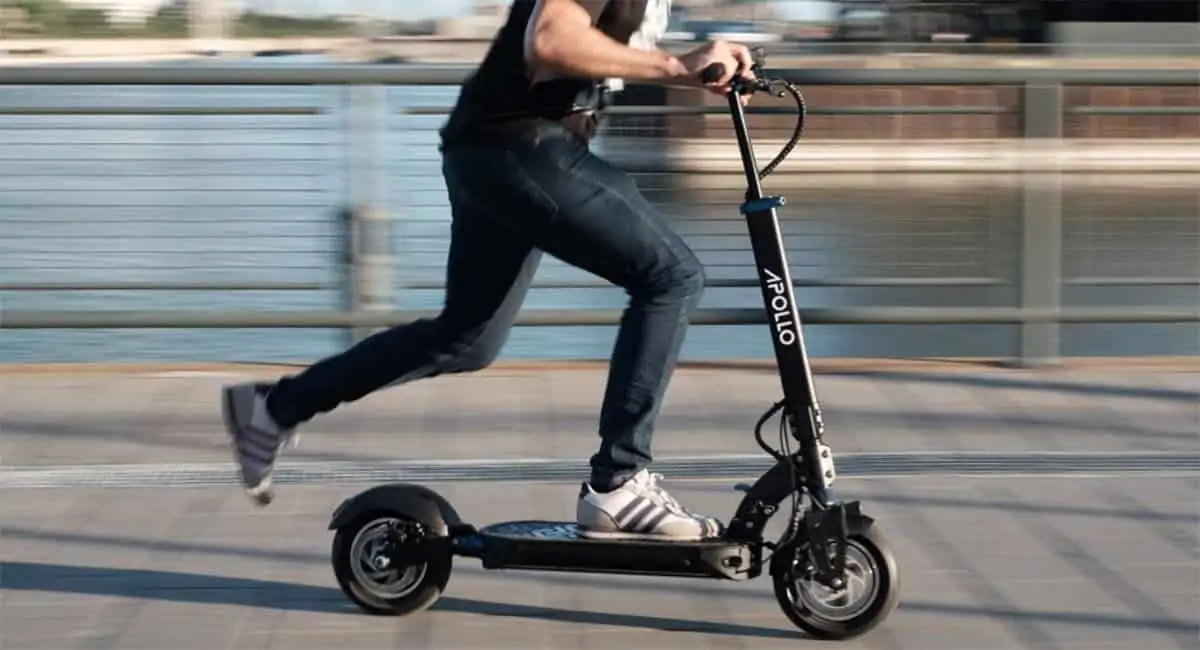 Testing Evaluation
Tested against similar models within the same category
Main Features:
Riders Weight Limit | 264 lbs
Motor | 1000 watt
Range | 35 miles
Battery | 52V 18.2Ah
Speed | 31 mph
Recent Topics