Are you a big fan of high-performance e-scooters — like the Wolf Warrior 11 and the DualTron ||| — but consider their price and weight ranges a massive turnoff when selecting the best electric scooter for your needs?
The good thing is you don't necessarily have to sacrifice the thrill of brain-melting speeds, conquering steep hills, and powerful vibrations for convenience and affordability.
Enter the Kaabo Mantis Pro!
The Kaabo Mantis Pro is a portable high-performance (65lbs/30Kg) e-scooter with dual 1000W motors that deliver up to 3200W at peak power.
Accelerating from 0 – 15mph in 2 seconds (which is just 0.1 second slower than the Wolf warrior's 1.9 seconds), the Mantis Pro's speed features make it stand out as a viable competitor to higher-powered (5400W) E-scooters.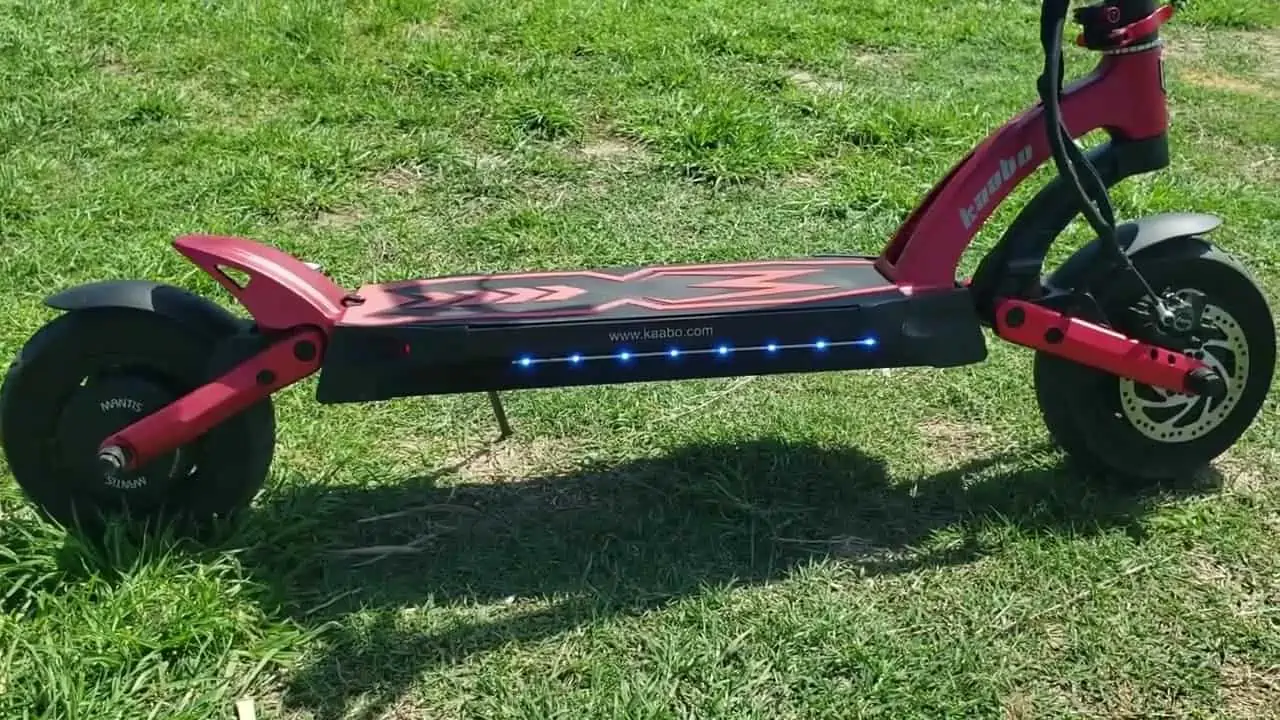 Specifications Of The Kaabo Mantis Pro
| | |
| --- | --- |
| Maximum power output | 3200W (Dual 1000W motors) |
| Top speed  | 40mph (64km/h) |
| | 65lbs (30kg) |
| Max rider capacity | 330lbs (149kg) |
| Max range | 40 miles (64km) in Eco mode.  |
| Brake  | Full hydraulic disc brakes. |
Features Of The Kaabo Mantis Pro
1) Coil Spring Suspension System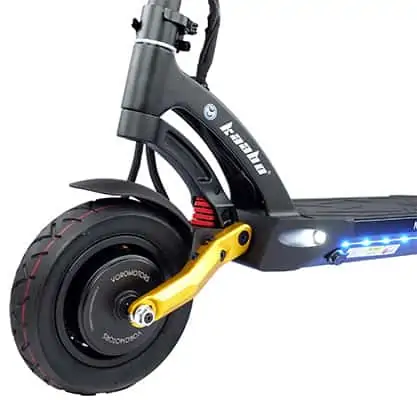 Because of their design, coil-spring suspension systems can soak up more shock than typical shock absorbers.
This is because the active coil is able to absorb and store energy from the bumps before transferring it to the dampener to dissipate. Resulting in very little of the energy (from the bump) being transferred to the rider.
This shock mitigation system facilitates a smooth riding experience for riders even at high speeds above 30mph. It also ensures riders can maintain complete control (and balance) of their e-scooter when they jump on — or with — their scooters.
2) Light But Durable Frame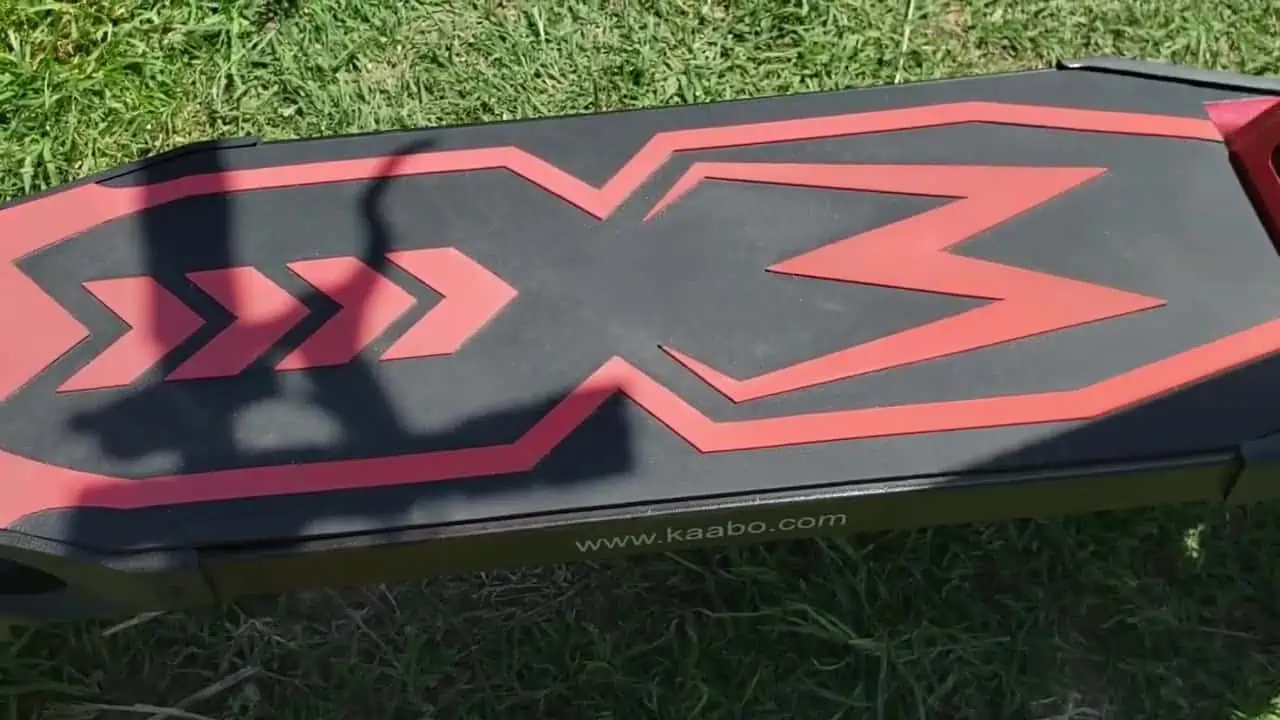 I don't know how, but Kaabo was able to optimize all that beastly power into a 65lbs (30kg) frame.
The Kaabo Mantis Pro, when compared with other high-performance electric scooters in its class, is actually lightweight.
The table below better illustrates the weight difference between the Kaabo Mantis Pro and other high-powered e-scooters.
| | | |
| --- | --- | --- |
| Scooter Name | Scooter's Peak Power | Scooter Weight |
| Apollo Pro 60V Ludicrous | 2400W | 77lbs |
| Nanrobot LS711 | 3600W | 90lbs |
| Evolv Pro-R  | 3000W | 80lbs |
| Dualtron 3 | 3600W | 80lbs |
| Inokim OXO | 2600W | 74lbs |
The Mantis is not lightweight enough to be considered a commuter e-scooter — even Hafthor Bjornsson won't be comfortable carrying 60lbs (30kg) in between commutes.
However, if you're in the market for an extreme electric scooter that won't hurt your back every time you try to lift it, you might want to consider the Kaabo Mantis pro as it offers a reasonable performance-to-weight ratio compared to other beasts.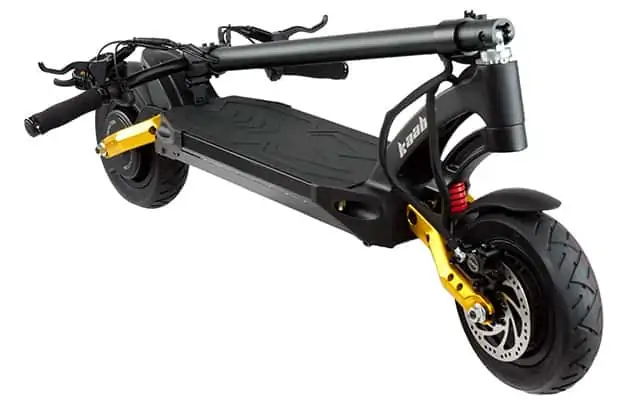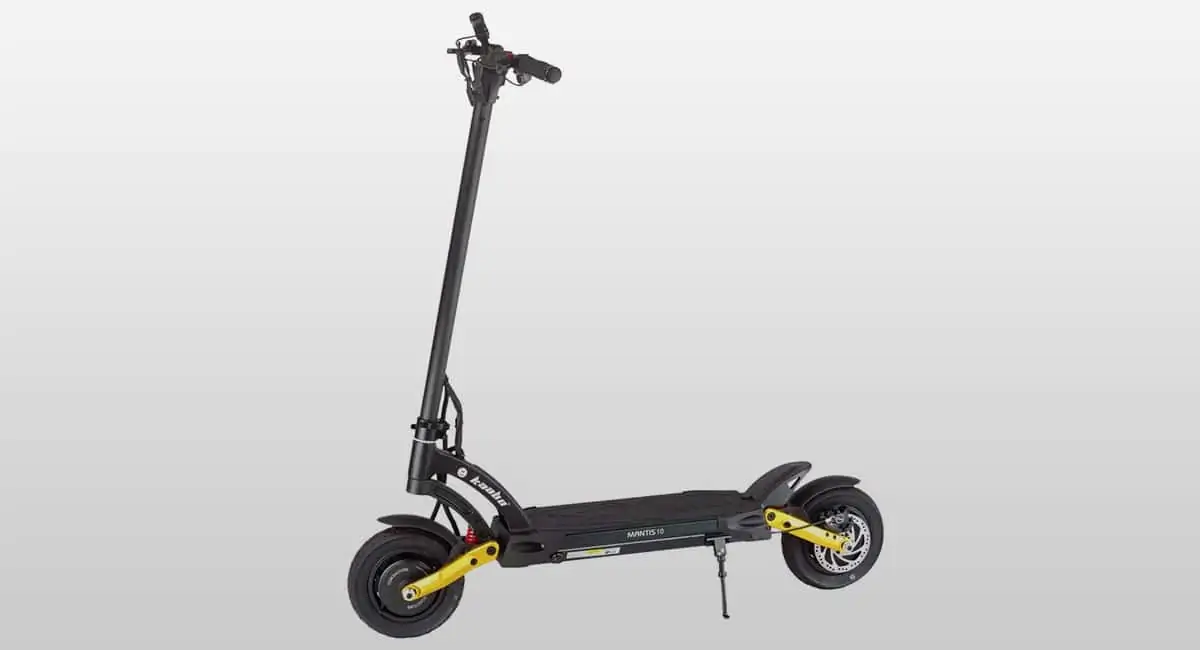 Testing Evaluation
Tested against similar models within the same category
Main Features:
Riders Weight Limit | 330 lbs
Motor | 3200W (Dual 1000W Motors)
Range | 40 miles
Battery | 60V 18.2Ah or 24Ah Battery
Speed | 40 mph
3) Minimotors EY3 Display
The Minimotors EY3 display gives you full control of your Kaabo Mantis pro by taking the guesswork out of riding.
Ensuring riders can see what's being displayed on the screen even in daylight (with adjustable brightness settings), the Minimotors EY3 displays your current speed, battery power (not just in blocks or bars but a battery percentage to complement), battery volts, power mode, etc.
It also lets riders toggle between power modes — 1,2, and 3 with 1 being the most conservative and 3 being the most assertive.
The Minimotors EY3 display is like the Kaabo Mantis Pro's infinity gauntlet. When wielded properly, riders can easily switch between power modes — ECO/single motor mode when you want to cover more distance and Turbo/Dual motor mode when you want to travel at insane speeds.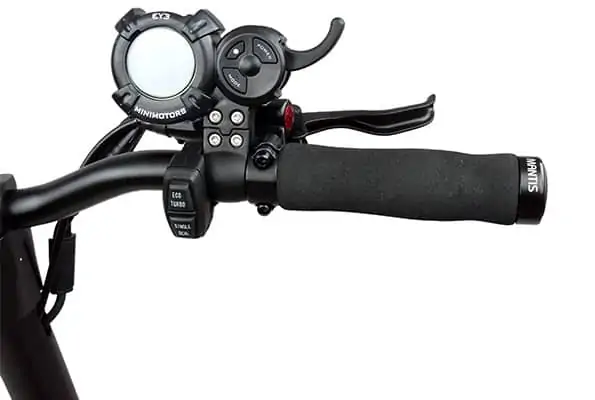 Pros of the Kaabo Mantis Pro
1) It Is a Portable High-performance E-scooter
As I mentioned earlier, the Kaabo Mantis Pro is lighter than other high-performance scooters of the same class — in fact, it could be the lightest 40mph(64km/h) electric scooter.
Its folding mechanism is straightforward. Since carrying a folded e-scooter with one stem is more practical than carrying one with a split stem (like the Wolf Warrior 11), riders might find conveying the Mantis a bit more convenient than carrying split-stem high-performance e-scooters.
2) Excellent Ride Quality
The Kaabo Mantis pro promotes a smooth riding experience thanks to its bouncy spring suspension system and 10-inch pneumatic tires. 
For slightly heavier riders looking for an e-scooter that can hold up their weight without slowing down a considerable bit, you might want to take this beast out for a spin.
Real-world tests record that the Mantis Pro attained speeds of 37mph (60km/h) when it was ridden by a 235lbs (106.5kg) rider. So, if you are worried that your weight could influence this e-scooter's performance, tell that to its dual 1000W motors.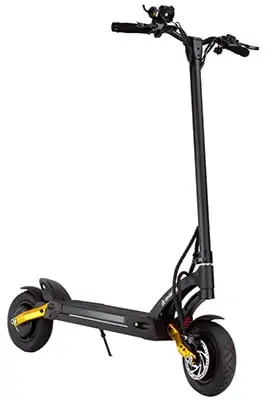 Cons Of The Kaabo Mantis Pro
1) The Kaabo Mantis Pro Has a History of Wobbly Stems
A few riders complained that after riding a few miles on the Mantis, they noticed the stem started to wobble. This happens when the stem's bolt gets loosened as the e-scooter is being ridden.
If eventually you purchase the Kaabo Mantis Pro and experience such problems, it's best you stop riding as a wobbly stem might result in the rider losing control of the scooter.
It's worth noting however that this isn't a general flaw as not all users have encountered this issue while riding their Mantis.
But to be on the safer side, Fluidfreeride has put together a video on how to stop the stem's bolt from loosening due to vibrations from riding.
2) It Doesn't Come With Bright Headlights
Its "front-facing" lights — located on the deck — are not bright enough to illuminate your path at night. They only extend a few feet ahead of the rider.
This makes riding at night very dangerous as riders are unable to see objects in front of them before coming within close range of these objects — or people. Giving the driver less time to react — brake or swerve, maybe even both — resulting in a collision that may lead to serious injury.
Installing additional lights somewhere around the stem or handlebar will solve this problem as the light beams will illuminate the path ahead.
FAQs
Who's the Kaabo Mantis pro for?
If you're a speed junkie, I'm guessing the Mantis' impressive 0–15 mph in 2 seconds speaks to you just as much as its 40mph top speed does.
Its beastly 3200W power and 30° hill-climbing ability might also appeal to off-road riders.
Who's the Kaabo Mantis Pro Isn't for?
It might be a lighter scooter when compared to other high-performance e-scooters, but it's not light enough to be considered the best commuter scooter out there.
Trust me, you don't want to haul 30kg in-between commutes.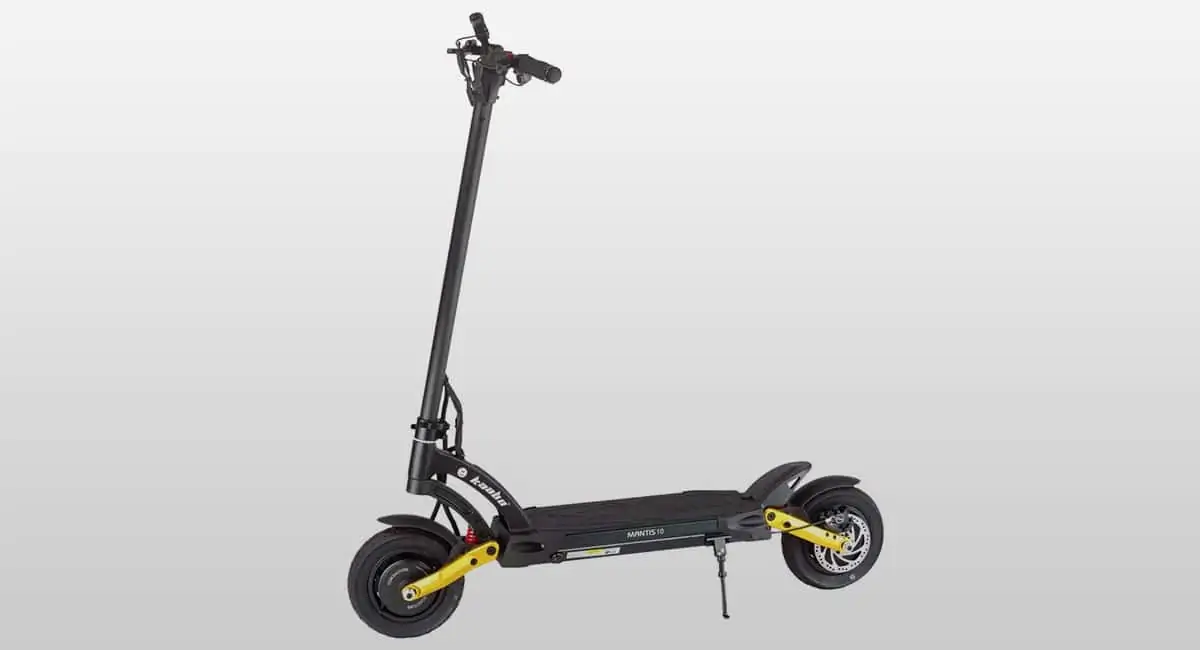 Testing Evaluation
Tested against similar models within the same category
Main Features:
Riders Weight Limit | 330 lbs
Motor | 3200W (Dual 1000W Motors)
Range | 40 miles
Battery | 60V 18.2Ah or 24Ah Battery
Speed | 40 mph
Recent Topics