Nothing is more important than reliability in design, speed, safety, and smoothness in an electric scooter as a daily commuter. Well, slower electric scooters such as Emove may be sufficient for shorter distances, but longer commutes need a better speed.
Varla Eagle One is a game-changer in more than one way.
With an excellent suspension system, pneumatic tires, and dual motor system, Varla Eagle One is one of the smoothest rides in its class. The e-scooter comes off as more powerful to scale steep inclines, has a better range and a top speed of 40 MPH to beat off the competition.
But is this all there is about the dual motor electric scooter? Let's explore more on what makes Varla Eagle One Electric Scooter the perfect all-terrain e-scooter based on the following:
Powerful motor and better range

Smooth and comfortable ride

Safe ride

Ride experience 

Construction and weight load capacity
Varla Eagle One Dual Motor Electric Scooter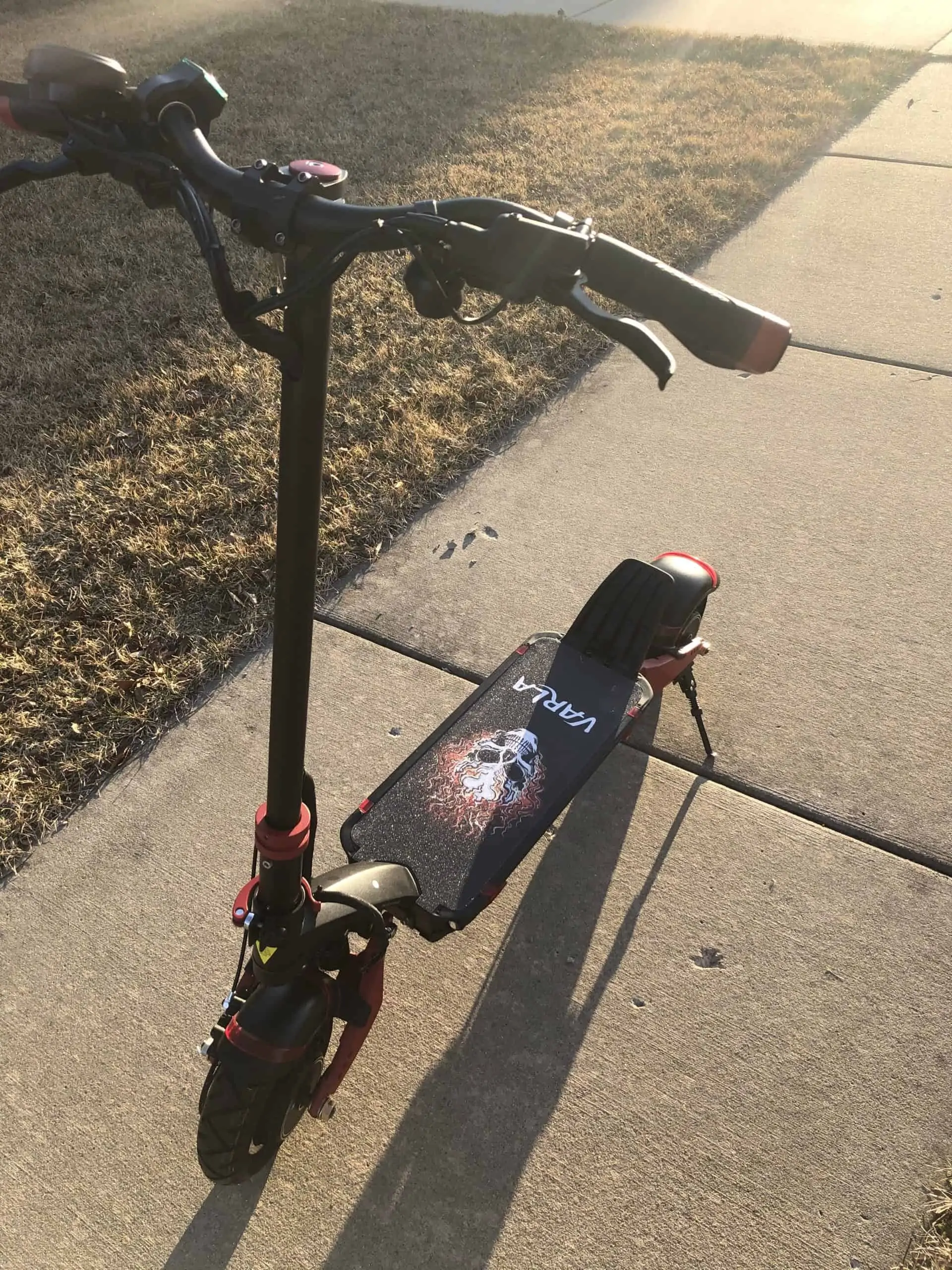 Powerful Motor and Better Range
The dual hub motor, rated at 1000W and powered by 2 x 25A speed controllers, boasts a peak power output of 3200W. This is mostly sufficient for a peak performance output to get you where you need to be at the right time.
The stated climbing angle is plus 30 degrees.
On the other hand, the lithium-ion battery, with a 52V/18.2Ah capacity, can exceed the 40 miles range on eco mode. It is one of the few electric scooters that may be ideal for long-distance riding.
Charging only takes around 8 to 9 hours with one charger and between 4 and 5 hours with two chargers. Another piece of good news: the brand will list the battery as an accessory for a more comfortable replacement when the time comes and, therefore, extend the electric scooter's lifespan.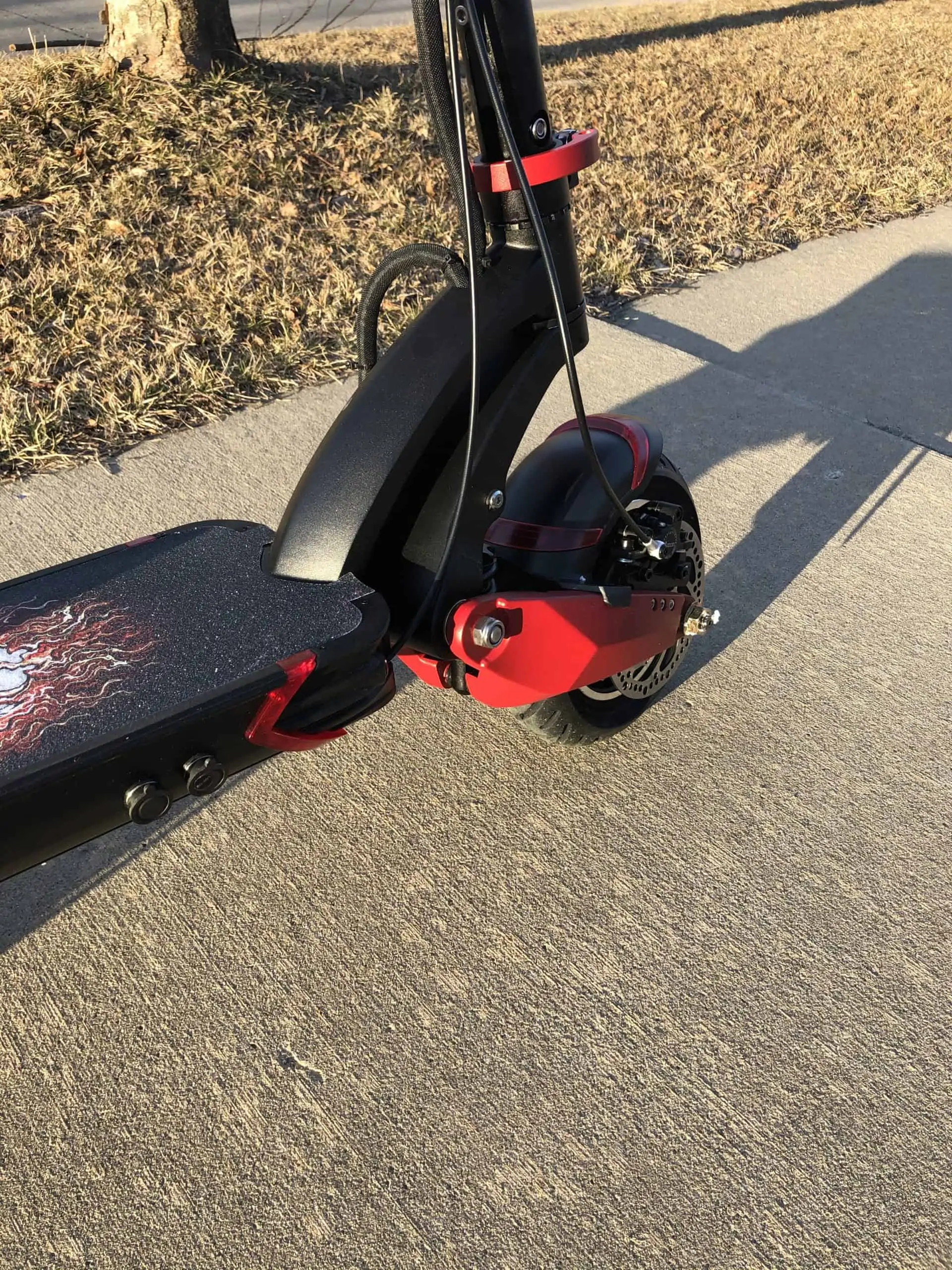 Smooth and Comfortable Ride
The electric scooter has independent front and rear suspension to absorb any discomfort associated with rough patches on your way to work. The bone-shaking experience on bumps and potholes can be quite uncomfortable for people with joint and muscle problems.
The Varla Eagle One Electric Scooter is easy on your joints and muscles, and this definitively enhances the riding experience.
The independent suspension system absorbs the bumps and keeps the gravity stable as well. There is no struggle to control the scooter after hitting an unexpected bump at top speeds.
The 10 inches pneumatic tires also play a significant role in smoothening the ride. But apart from the shock absorption, the tires have a decent high control sensitivity and anti-skid performance.
The only possible shortcoming is tire punctures. Dealing with a burst tire may take you a few dollars back and some precious time.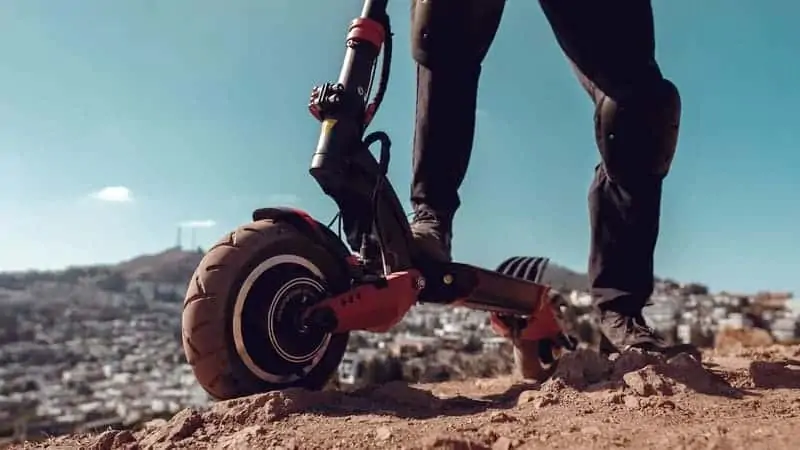 Source: Varla Scooter
Safe Ride
Varla Eagle One comes installed with an ABS and dual hydraulic brakes for sufficient stopping power. Sudden stops to avoid running into an animal are easier, thanks to the high-end braking performance.
The hydraulic disk brakes' excellent heat dissipation makes them much more efficient and durable. They wear out less, and chances of malfunctions are minimal.
The ABS is a unique feature in an e-scooter, which prevents the wheel from locking up and ensures a better road grip. You feel much more confident, and your journey is more exciting. 
The electric scooter has an LED headlight and taillight for improved visibility. The headlights are powerful to illuminate the road in front, and the taillights light up when you brake. This is to make other road users aware of your presence.
Others can see you better, and you can navigate better in low lighting for improved safety.
The LEDs have a longer lifespan of up to 30,000 hours.
In terms of security, have a good lock, and if possible, take the unit with you to the office.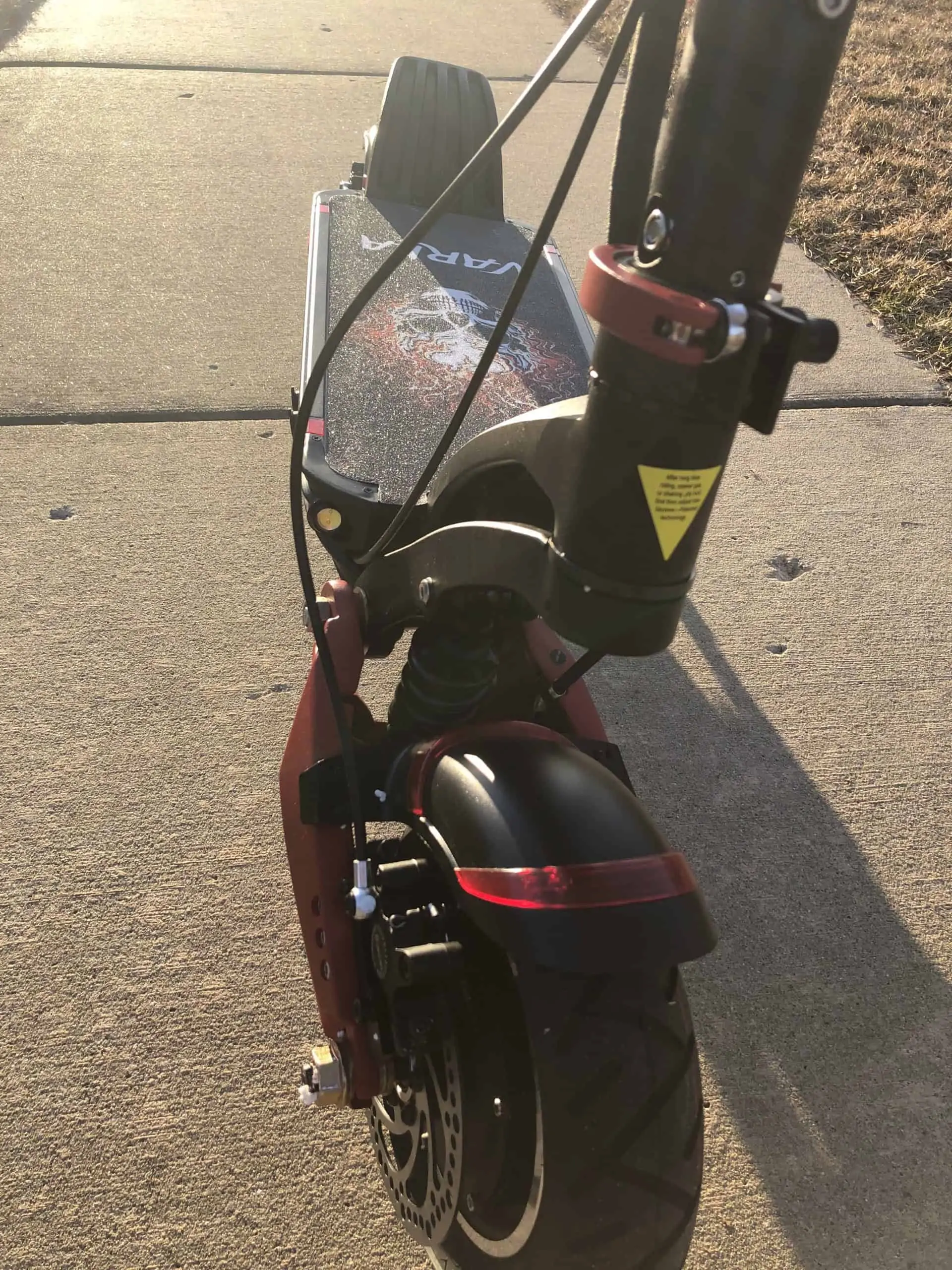 Riding Experience
A good quality LCD display is not quite standard in most electric scooters, mostly cheap models. Varla Eagle One LCD is intuitive and informative. It displays all the information you require, such as battery power, speed, and distance, at a glance.
You can easily control the speed and enjoy the wind on your face as you enter the final stretch towards home. 
The e-scooter has a capable locking clamp for quick and more effortless folding and unfolding for more comfortable transport. The whole process may only take you three seconds.
If the standing rides are too much of a hassle, you can purchase a suitable seat and attach it to the model. Some people have joint and muscle problems, and standing rides can exacerbate the problem.
What about the portability?
Well, the portability of the Varla e-scooter suffers a bit because of its weight.
Typically, the majority of electric scooters weigh between 23 lbs and 33 lbs, depending on various factors. At 77 lbs, Varla is double the weight of most, which affects its portability, and this is a shortcoming.
But looking on the bright side, anyone can take some comfort in knowing that the components are of good quality, which may sometimes explain the additional weight. Good quality materials on accessories such as hydraulic brakes, standing board and wheels are sometimes heavier, and this affects the overall weight of the model.
Further from that, nothing prevents you from carrying the electric scooter in the subway, buildings, and public transport vehicles for your convenience. Anybody hoping to upgrade to Varla will most likely feel the weight difference in a big way.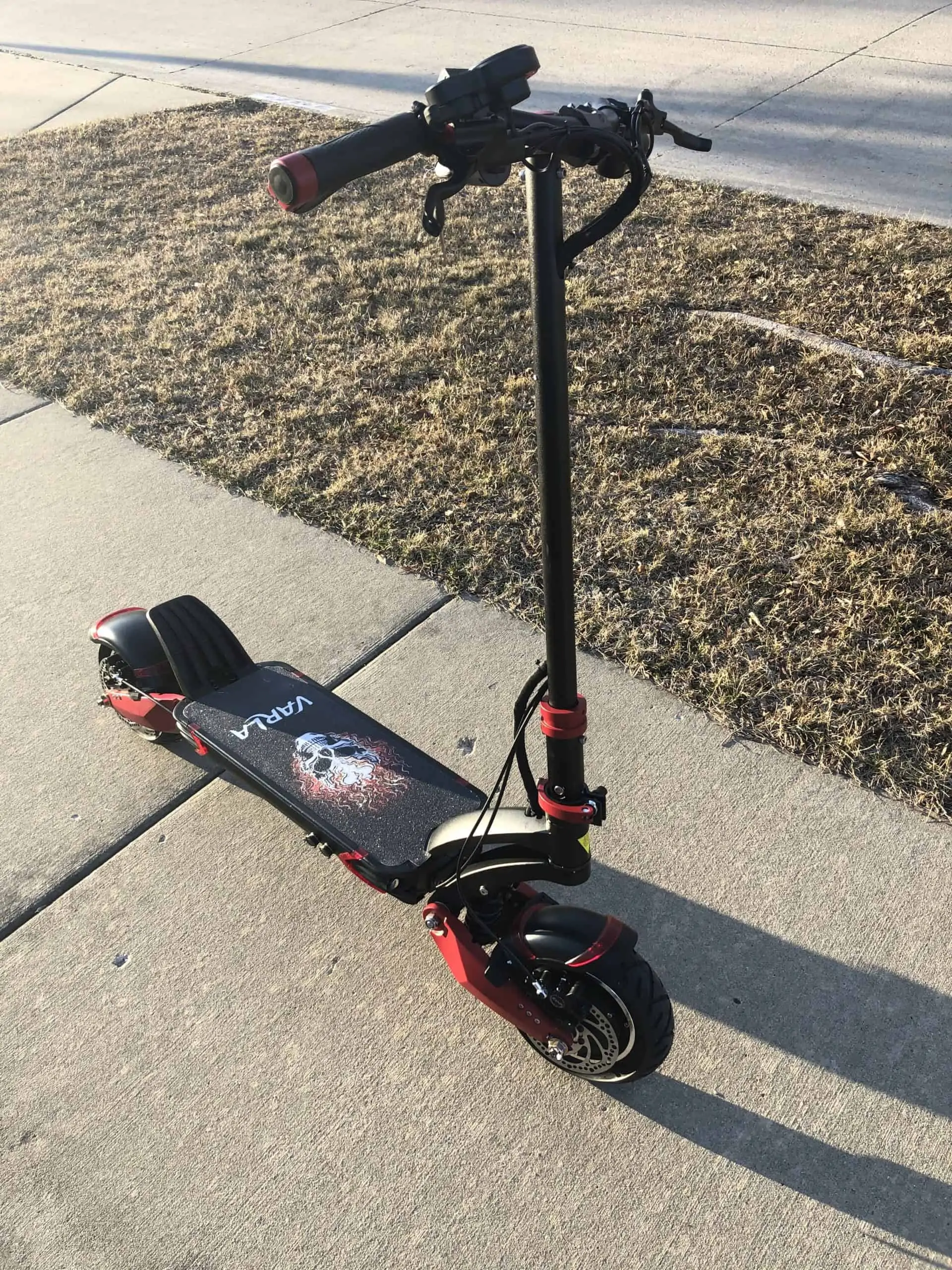 Testing Evaluation
Tested against similar models within the same category
Main Features:
Riders Weight Limit | Max. 330 lbs
Motor | Dual Hub Motor, 1000W x 2
Range | 40 Miles
Battery | 52V/18.2Ah Lithium-ion battery
Speed | 40+ MPH
Construction and Capacity
Aluminum alloy construction may not be the most durable or the strongest, but it serves the purpose quite well as an electric scooter material. The metal is lightweight and robust for riding on harsh surfaces and environments.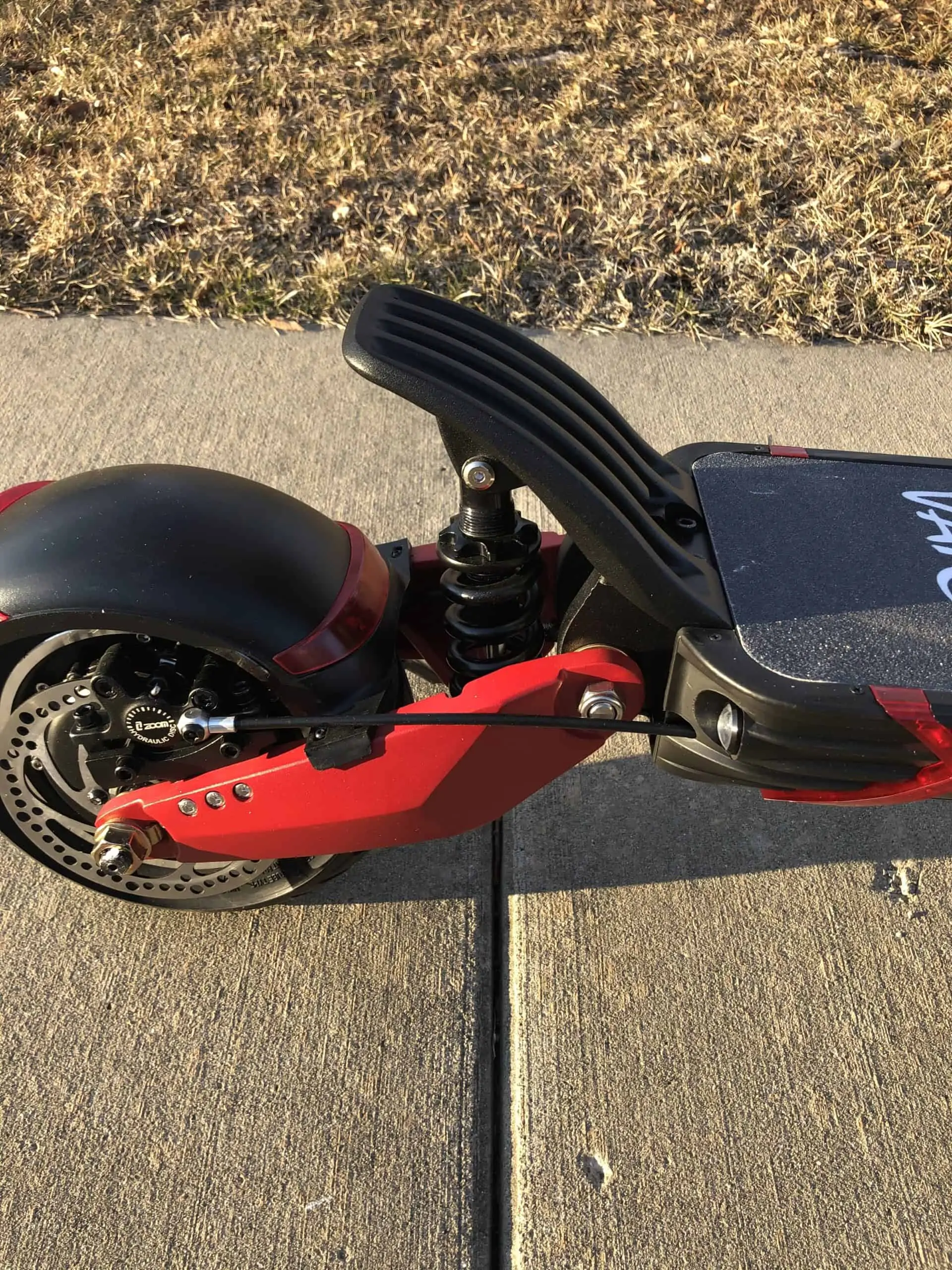 Varla has a payload capacity of 330 lbs, which is quite sufficient for most people. The recommended capacity is 265 lbs.
Pros & Cons of Varla Eagle One Dual Motor Electric Scooter
Pros
LED headlight and taillight for better visibility and safety
Pneumatic tires and independent suspension for smooth and comfortable rides
Informative and intuitive LCD
Convenient and easy-to-use locking clamp
All-terrain e-scooter
Quality and durable materials
Cons
Pneumatic tires will sometimes get a puncture
At 77 lbs, The electric scooter is heavy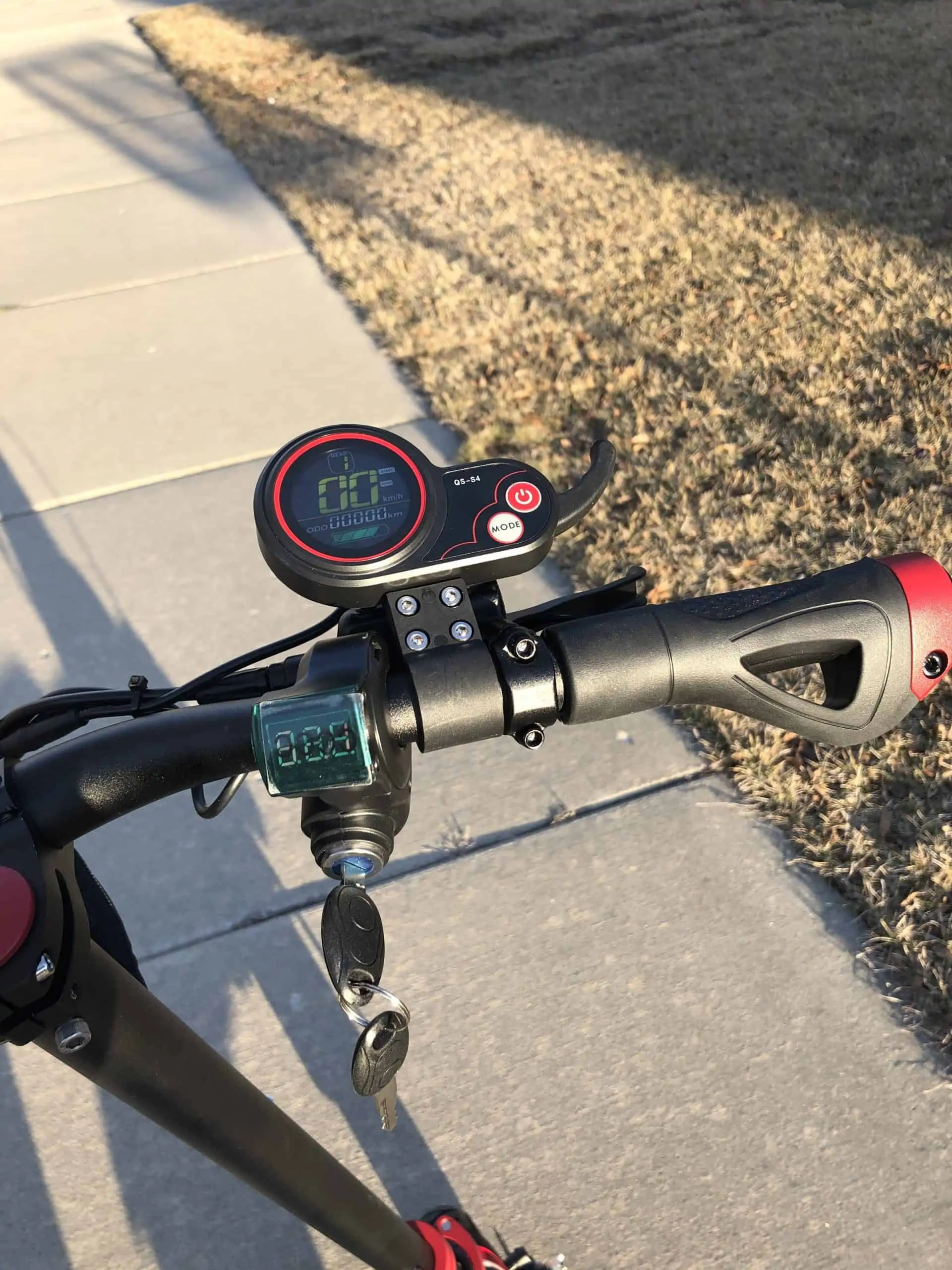 Is Varla Eagle One the Fastest Escooter?
Varla Eagle One has a lithium-ion battery capacity of 52V/18.2Ah and can reach 40 MPH speeds. This is faster than the Emove Cruiser at 25 MPH.
However, it does not match others' speed, such as Dualtron Thunder and Currus NF, with 50 mph and 43 mph speeds, respectively.
Although faster e-scooters are a lot of fun to ride, they can also be dangerous. Varla Eagle One has various features such as effective hydraulic brakes and an ABS to ensure your safety. Regardless, always have a helmet and other protective equipment when cruising at more than 30 MPH.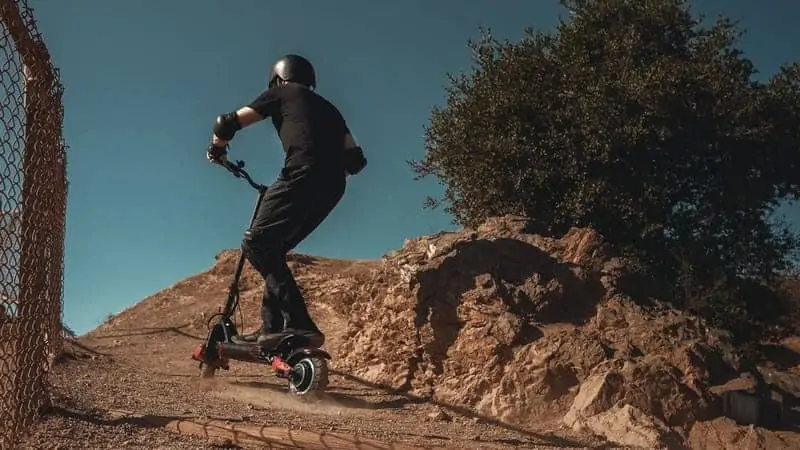 Source: Varla Scooter
Can You Ride Varla Eagle One Off-Road?
Electric scooters have come to be associated with bustling city and urban places. There are even rental services for city commuters. But when it comes to off-road commuting, not many e-scooters make the cut.
Most manufacturers label or advertise the e-scooters specific to particular riding conditions. It's ideal to do your shopping with the terrain you will mostly be riding in at the back of your mind.
That said, Varla Eagle One is one for the harsh riding conditions. It has various features for off-trail ridings, such as reinforced wheels and good quality components to overcome the abuse – this explains its higher weight.
Varla Eagle One is among the few with top-of-the-range features such as pneumatic tires to tackle bumpy and hard surfaces on the trail to your favorite picnic spot.
The braking system has to be appropriately sealed and equipped for the extreme outdoors, and that is pretty much what you get with Varla.
As opposed to airless tires, the pneumatic tires in the electric scooter are best for offroad riding. They absorb bumps and frequently adjust with pressure. The independent suspension in Varla takes the bite off the rough terrain and increases stability.
Of course, the offroad environment needs a set of suitable LEDs to illuminate the trail and avoid stumbling upon boulders and other barriers. The LEDs on Varla are rugged and durable for the harsh environment. A more expansive deck allows body movements, such as bending your knees and moving your feet a bit, needed to keep in balance.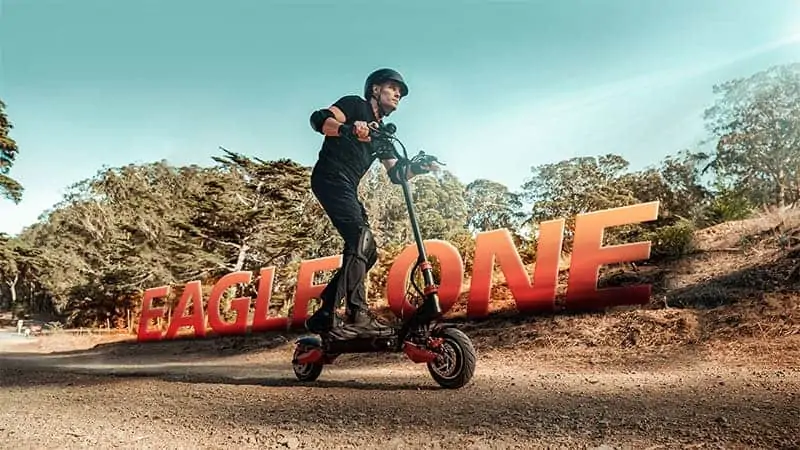 Source: Varla Scooter
The Benefits of Varla Eagle One
Varla Eagle One is equipped with an efficient battery and motor. You use less energy to commute, and that has significant savings on your monthly utilities spend. Combustion engines consume more.
The newer electric motors are much more efficient, translating to benefits for the environment. It does not have emissions, and the battery is long-lasting. There are also well-being and quality of life benefits associated with reduced reliance on fossil fuels.
The charging speeds are much more improved with Varla Eagle One, thanks to increased lithium-ion battery development. It will only take you between four and five hours with two chargers to fully charge and embark on your journey.
The wide maneuverability of the e-scooter has to be one of the most exciting and convenient features in the Varla Eagle One. You can fold and unfold in seconds for public commuting or transportation.
Moreover, the Varla Eagle One rider enjoys increased control, thanks to the intuitive and innovative LCD. The single or dual switches in the main dashboard and the easy-to-use acceleration switch all come in handy when dealing with sticky situations on your way home.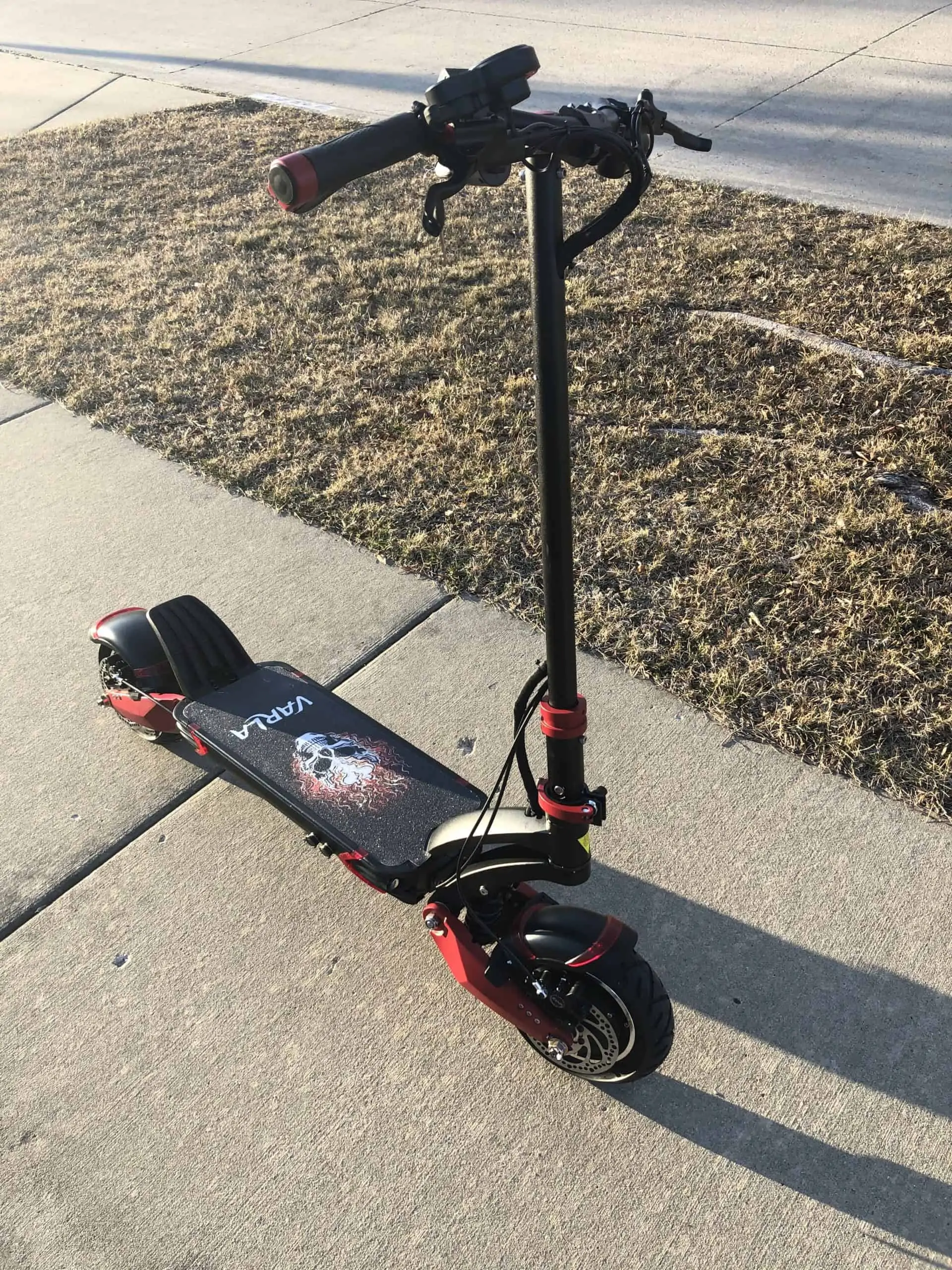 Testing Evaluation
Tested against similar models within the same category
Main Features:
Riders Weight Limit | Max. 330 lbs
Motor | Dual Hub Motor, 1000W x 2
Range | 40 Miles
Battery | 52V/18.2Ah Lithium-ion battery
Speed | 40+ MPH
Recent Topics