Electric scooters are more than just a fun way to get around. They also serve as an effective commuting vehicle that can take you anywhere. However, the range of the electric scooter could be one of the few drawbacks which makes it unsuitable for long-distance trips, unless you're buying a long range capable model.
The range varies from one model to another, but it is typically lower than other types of vehicles such as electric cars or ebikes.
In this article we will talk about how far electric scooters will go on a full charge and how to increase the range of electric scooters so that you can get the most of a fully charged battery. We'll also mention our top model picks that can go up to 45 miles on a single charge. More of this down below. Let's get started.
Finding somewhere to have your e scooter charged, especially between stops, is not that hard nowadays. But still, it's good to know up to what extent these models can be considered reliable.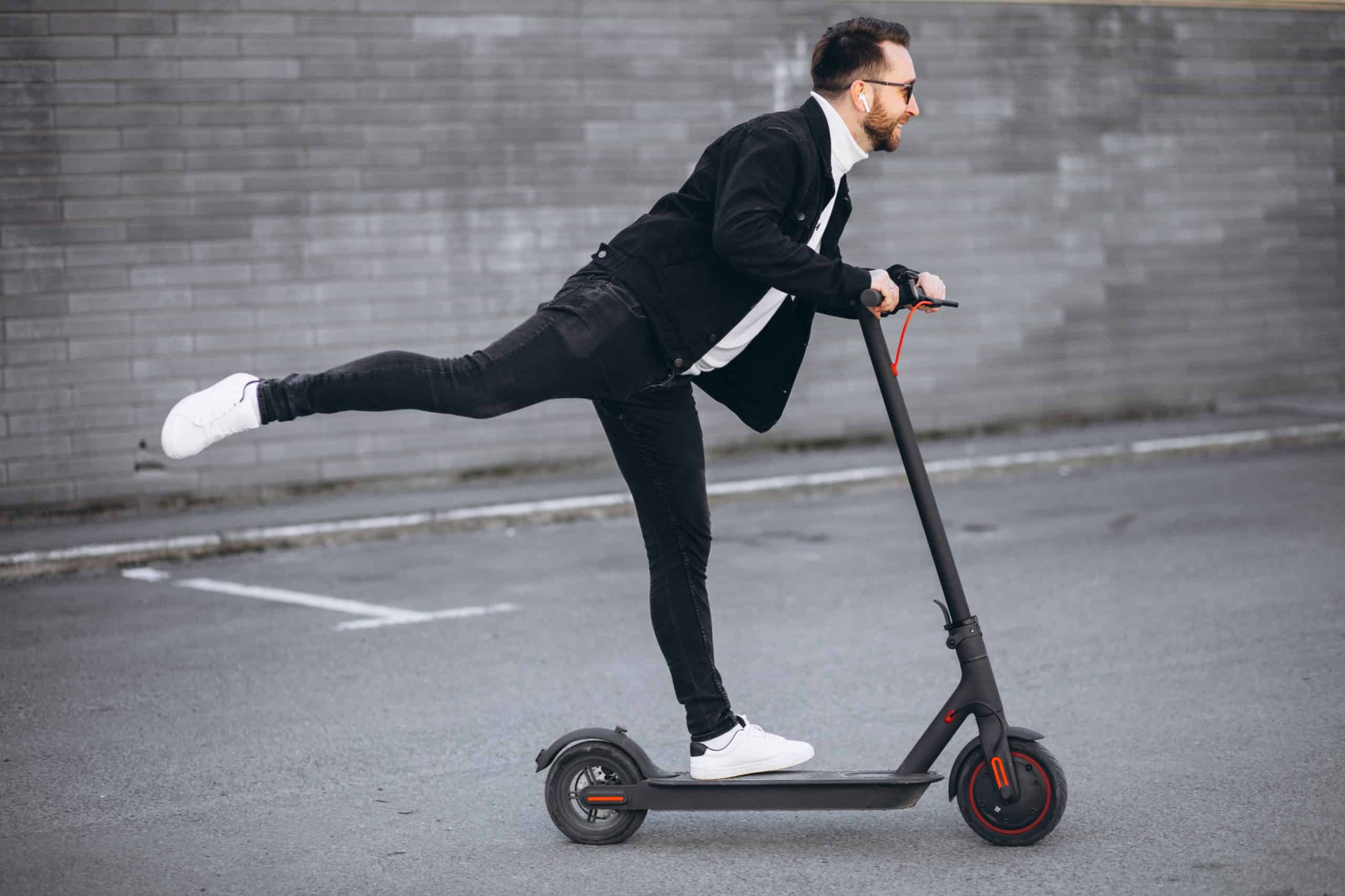 How many miles can an electric scooter go
It depends on the type of terrain, rider's weight, frequent starts, and stops. Generally, electric scooters can go about 5 to 40 miles.
Getting around on an electric scooter is far more fun than a car or truck. With an electric scooter, you can avoid a heavy trafficked road and arrive at work on time. They are also inexpensive because you don't have to refuel at a gas station. All you have to do is recharge the battery, but how long will the battery last before you'll need to recharge it again?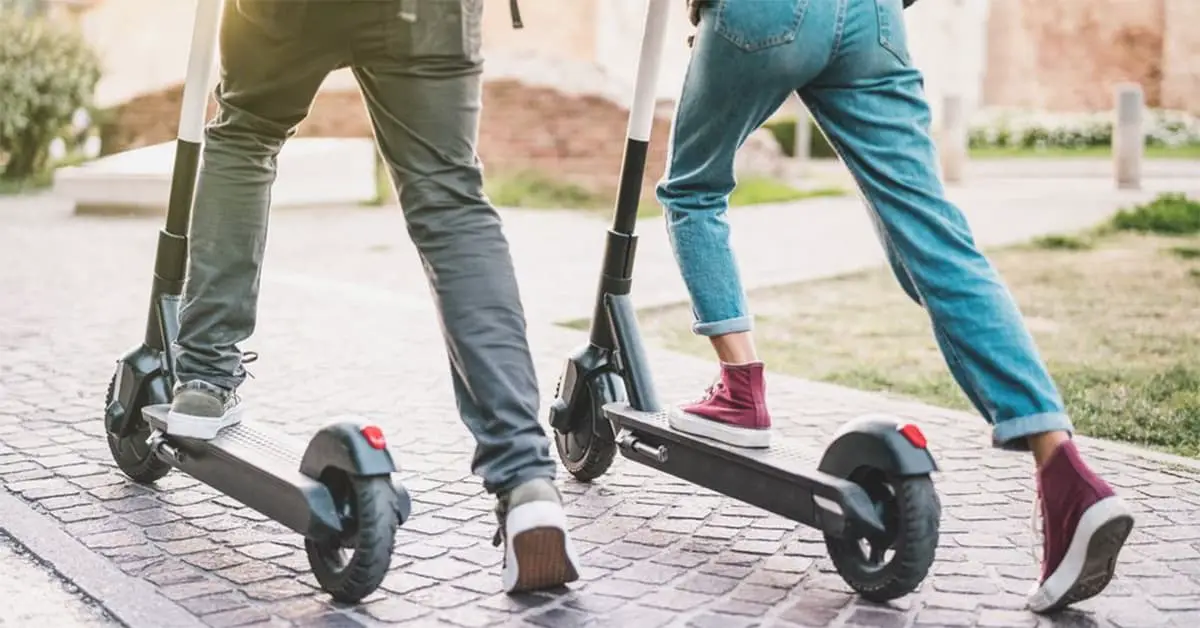 The battery is the most sensitive component. Conventional batteries used in electric scooters are lithium polymer and lithium-ion batteries.
Lithium batteries have longer cycle times and charge faster. They also have a high capacity, which offers a long-range to the electric scooter. The average time for charging a lithium battery for a standard e-scooter is 4 to 6 hours.
You will find that some models have dual power options, which allows for faster charging. To know if the battery is fully charged, most electric scooters have an LED display. Just check the battery indicator.
How Many Miles Can You Travel on an Electric Scooter
As a rule of thumb, the distance an electric scooter can travel depends on the model, battery, speed, weather, and even the rider's weight.On average, the range of electric scooters is between 5 – 40 miles. To give you some examples, here is a list of 10 popular electric scooters and their respective ranges.
Also Read:
Are Electric Scooters Good for Long Distance
In general, electric scooters are good for long travel if they're equipped with a big enough battery.
There are so many E-scooters built for the sole purpose of commuting. These commuter E-scooters have powerful motors, long lasting batteries, and tires designed for the streets. There are even long-range models that can travel up to 70 or 80 miles on a single charge, though these models tend to be more expensive.
No matter what electric scooter model you opt for, there are ways to secure more range out of your electric scooter. For example, you can make sure to ride in the optimal mode and speed, or try to minimize the overall weight your E-scooter has to bear.
Is It Faster to Travel Through Congested Urban Streets Using an Electric Scooter Than a Car
Electric scooters are often praised for being more cost efficient than cars and better for the environment. Another aspect to consider is that E-scooters can actually be faster than cars when it comes to traveling in congested cities.
City traffic can make a 2 or 3 mile commute take upwards of 25 minutes. On an E-scooter traveling 10-12mph, those same 2 or 3 miles could be traveled in just over 10 minutes. To see how E-scooters might shorten your commute, you might try using Google Maps to plan routes through your city and compare the car vs. bicycling directions.
E-scooters may also be a better choice for urban streets because they eliminate the time spent searching for parking. Most electric scooters are foldable, and made to be carried into work or stores.
List of Electric scooter with a decent  range 
Which Electric Scooter Has the Longest Range
Some high quality E-scooters have pretty incredible ranges. On any of the three E-scooters below, you can be sure that you'll reach your destination on a single charge.
#1. EMOVE Cruiser 52V 1600W Dual Suspension – Long Range Electric Scooter
Photo created by voromotors
The EMOVE Cruiser is designed specifically for commuting. It gets a maximum of 62 miles of long range, and reaches speeds of up to 30mph. The EMOVE Cruiser is powered by a 1600W brushless DC motor and a 52V battery.
One of the only downsides to this E-scooter is that it requires 9-12 hours to fully recharge. Still, the EMOVE Cruiser has dual suspension and 10″ Pneumatic, Car Grade tires to ensure a smooth ride.
EMOVE Cruiser
Main Features:
The Motor: 1000W
Top Speed: 30 mph (48.2km/h)
Range: 62 mi (100km)
#2. Kaabo Wolf King GT Off Road Electric Scooter
Photo created by voromotors
The Wolf King GT is a premium electric scooter that is built to travel far and fast. This E-scooter has a range of 70 miles, and can reach a maximum speed of 63 mph. The Wolf King GT is powered by two, 2000W motors and a 72V  battery, and you can accelerate from 0-50mph in under 5 seconds.
Other benefits of this E-scooter include its low charging time of 7 hours, its dual hydraulic brakes, and its 4 inch, anti-glare TFT display. To ensure safe riding at night, the Wolf King GT comes with ultra bright LED headlights, desk sidelights, brake lights, and even turn signals.
Kaabo Wolf King GT
Main Features:
The Motor: 2000W
Top Speed: 62 mph (96.5 km/h)
Range: 70 mi (112 km)
Also Related:
#3. Dualtron Storm Electric Scooter
Photo created by voromotors
The Dualtron Storm comes with a range of 80 miles. It can reach a top speed of 55 mph, and climb hills with a 35 degree incline. One of the most unique features of the Dualtron Storm is the E-scooter's super wide deck, made to fit both your feet comfortably while you travel at high speeds.
On top of the wide deck, this E-scooter has 11″ tubeless street tires to reduce the chances of getting stuck while riding over drains or potholes. The Dualtron Storm is equipped with hydraulic brakes, to ensure riders have even better control.
Dualtron Storm
Main Features:
The Motor: 6640W
Top Speed: 55 mph (~80.4 km/h)
Range: 80 mi (~257.4 km)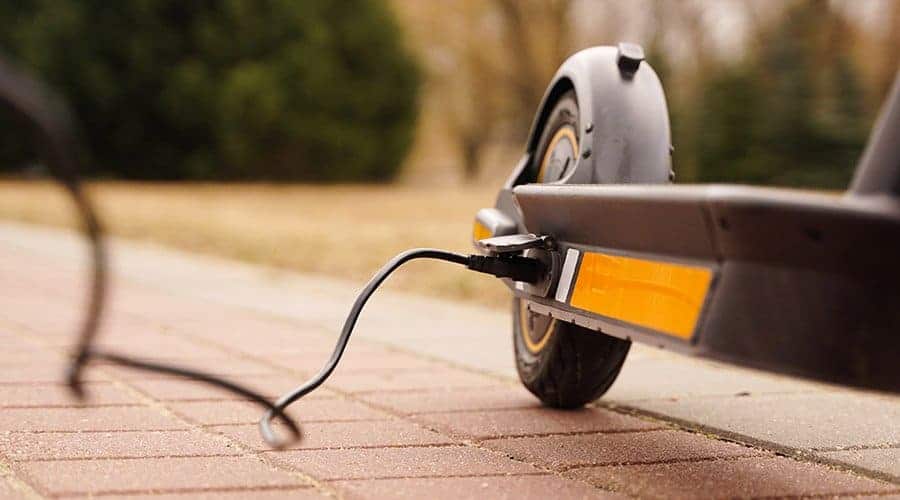 Also Related:
How Long Does an Electric Scooter Charge Last
In most cases, an electric scooter charge will last around 2 to 4 hours. The amount of time that an electric scooter battery charge will last depends on the battery type, and how the E-scooter is ridden.
Most E-scooters have different modes that the rider can choose from. There may be an eco-mode or power saving mode on the scooter, which impacts how much power is extracted from the motor.
If the rider is traveling at full speed in the fastest mode, the battery charge lasts less than an hour on average. However, some cruiser models can last between 5 and 6 hours when traveling at a modest speed in eco-mode.
Similar to range, the amount of time an electric scooter charge lasts depends on rider weight, wind speeds and terrain. Carrying a heavy backpack or constantly traveling uphill are two example scenarios that would zap your E-scooter battery charge more quickly.
How Long Does Electric Scooters Battery Last – Lifespan
It's difficult to know precisely how long your battery will last. The reason for this is that there are a lot of factors in play. They include the rider's weight, terrain, scooter model, speed, battery capacity, and weather. On average, the lifespan of an electric scooter battery is 1 to 3 years.
How to Increase the Range of Electric Scooter
There are several ways to increase the range of your electric scooter.
Ride on Suitable Road Surfaces
The condition of the road affects the performance of your electric scooter. If the road is bumpy, your e-scooter will have less range. This is because it will consume more power. But if you travel on a bike path, pavement, or other smooth road surfaces, the scooter will consume less power.
As such, it will have a long-range. It's essential to avoid the following terrains – grass, gravel, and icy roads. Not only will these surfaces reduce the range of your scooter, but it will wear out your wheels faster.
Upgrade Your Battery
If you are not satisfied with your battery performance, upgrade to one with a higher capacity. While it's expensive, it less costly compared to buying a new long-range scooter. For example, if your current battery is (36V/10Ah), you can upgrade to (48V/10Ah). However, make sure your electric scooter motor is compatible with this upgrade by reading the motor's specifications on your user manual or by reaching out to the manufacturer's customer support.
Travel Light
An electric scooter is an ideal vehicle for errands such as grocery shopping and more. The problem is the extra weight affects the performance of the motor and battery. To have long-range on a full charge, avoid the extra weight.
Also Read:
What Is The Longest Range Electric Scooter
There are certain electric scooters currently available, which are meant to offer as much range as 75 miles (approx. 120 km) before recharging. These are the models designed with the raw capacity to keep up with fast and moderate moving traffic.
They are often reliable and can help reach your destination and still have power left for the following day.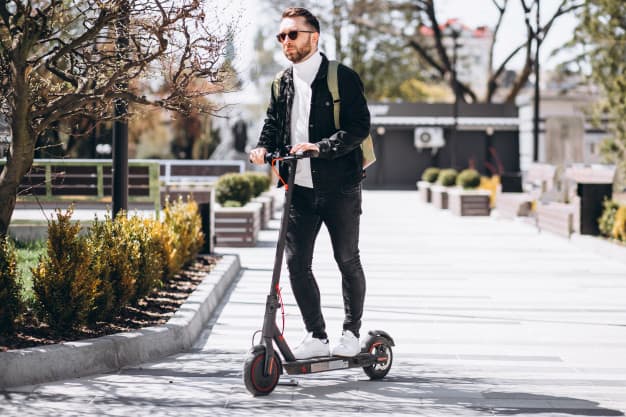 Learn More:
One thing to note, however, is that there are certain crucial factors that influence the longest range a particular model will offer. These include battery life, rider weight, weather conditions, riding surface, uphills and downhills.
What is The Mid-Range Electric Scooter
Subject to the model type, mid-range electric scooters can reach speeds between 35-40 miles on average before charging. As you may already know, factors like drivers weight, battery life, the road and such will also affect the model's overall range.
Mid-range electric scooters batteries will last between 2-4 years with a general mileage estimate of between 3000-5000 miles. Still, this depends on the battery capacity, storage and use conditions.
That means if you use your e scooter rigorously or expose it to improper storage, the battery life is likely to get compromised.
Also Read:
Electric scooter range comparison table
| | |
| --- | --- |
| Product Name | Range (Miles) |
| QIEWA Q1Hummer | 65 |
| | 40.4 |
| | 40.3 |
| | 28 |
| INOKIM Quick 3 | 26 |
| | 20 |
| | 25 |
| | 10.6 |
| | 25 |
| | 50 |
| Dualtron Ultra Electric Scooter | 75 |
| | 12 |
Summary
An electric scooter is an urban commuter's dream. Whether you are riding your e-scooter to the store to pick groceries or commute to work, an e-scooter is a handy vehicle. To keep up with your hectic life, you need an e-scooter with a long-range.
A new long-range model is expensive ($2500 and over). But you can increase the range of a budget scooter. To do so, upgrade the battery to a higher capacity, travel light, and ride on smooth road surfaces.
Recent Topics