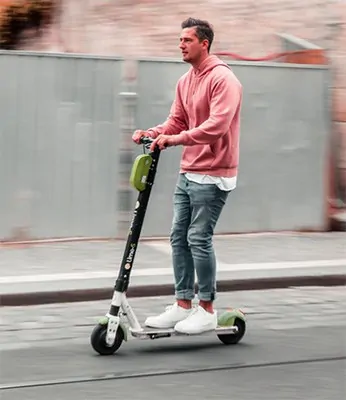 Stand up Electric scooters are fast becoming a symbol of modern urban transport.
Look around you, and you'll see electric scooters even in some of the world's biggest cities, such as New York, Paris, and London.
And from the look of things, the use of stand up electric scooters trend is set to move in only one direction…forward.
While the electric scooter popularity is undeniable, choosing the right stand up electric scooter for your needs will ensure you get the most from this PEV (Personal Electric Vehicle) 
The article will give you a comprehensive run down of what to look out for when buying a stand up electric scooter for yourself, as well as some reviews of the top models on the market right now.
Premium Options
Editor's 1st Choice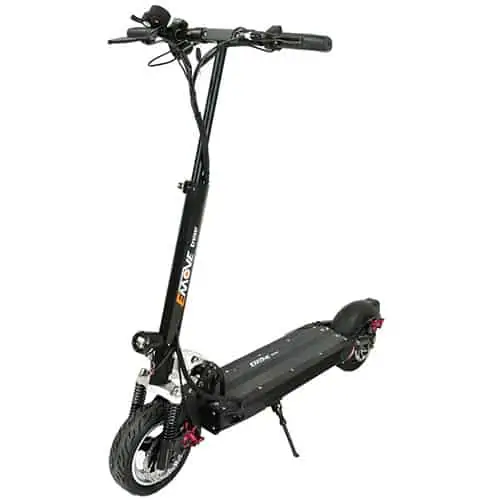 Overall Rating:
Max Load: 352-lbs / 140-kg
Range of 62 miles (~100km)
Top speed of 25+ mph
Get 7% Off With Code
ELECTRICRIDELAB
Editor's 2ndChoice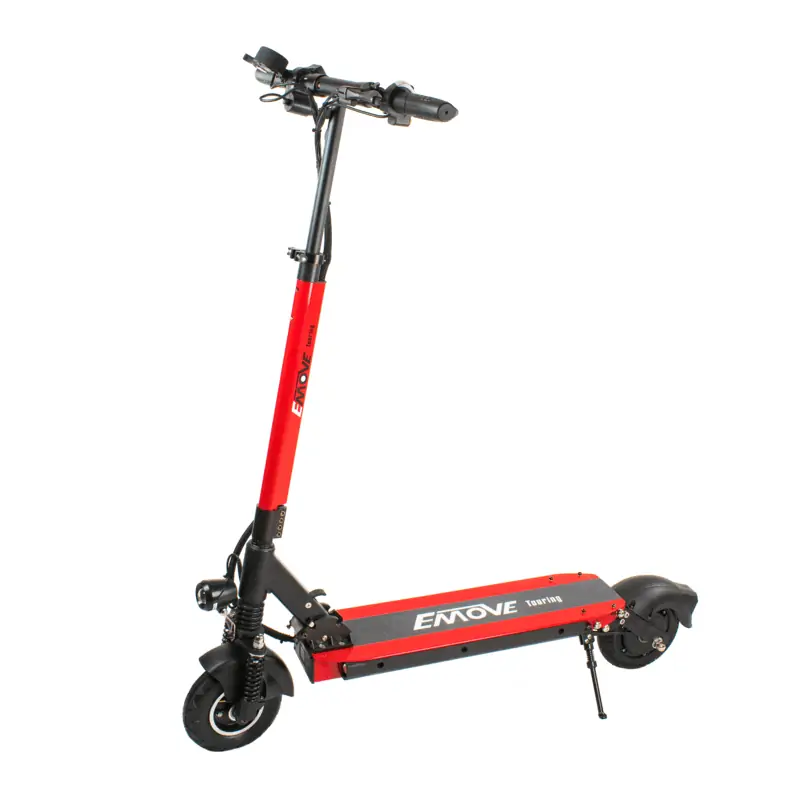 Overall Rating:
Max Load: 330-lbs (150-kg)
Range of 25miles (~ 40km)
Top speed of 20+ mph
Editor's 3rd Choice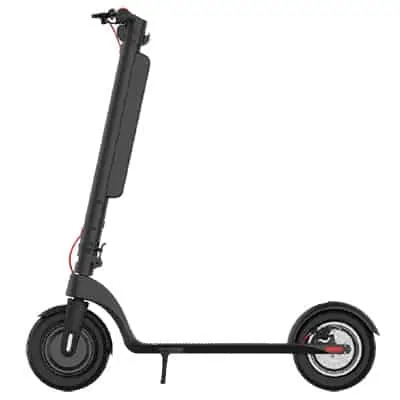 Overall Rating:
Max Load: 275 pounds /125 Kg
Range of 20-30 miles
Top speed of 20+ mph
(Much More Affordable Options)
Best long range folding electric scooter
Segway Ninebot MAX G30P Electric Kick Scooter- 350W Motor,...
Segway Ninebot ES4 Electric KickScooter- 300W Motor, 28...
Hiboy S2 Pro Electric Scooter, 500W Motor, 10" Solid Tires,...
Gyroor Electric Scooter for Adults, 380W 20 Miles Long-Range...
Segway Ninebot MAX G30P Electric Kick Scooter- 350W Motor,...
Segway Ninebot ES4 Electric KickScooter- 300W Motor, 28...
Hiboy S2 Pro Electric Scooter, 500W Motor, 10" Solid Tires,...
Best long range folding electric scooter
Gyroor Electric Scooter for Adults, 380W 20 Miles Long-Range...
Are stand up scooters street legal?
There is a lot of confusion over whether or not scooters are street legal.
While some states allow scooters to be ridden on public streets, other states don't as stand-up scooters are not recognized as a form of transportation. They are considered toys, which means they are not street legal but there are a few exceptions where you may be able to take them out on the sidewalk and some states allow them on public roads if they can reach speeds of over 20 mph.
So the law for e-scooters varies from state to state so make sure to check the laws at your own state.
What is a standing electric scooter and what are they're also called?
Standing scooters are also known as upright scooters. They are a type of electric vehicle designed to be ridden while standing, typically on both feet.
Standing scooters were first introduced in the early 2000s. They started out as an alternative to the conventional push scooter but have since evolved into their own unique product category.
How much does a stand up scooter cost?
The prices of stand up scooters vary depending on the features that are offered. The average price for a stand up scooter starts at $350. The low budget option costs around $250, which is still significantly cheaper than other modes of transport.
If you are looking for a premium stand up scooter, the price will start from $600 and higher, with some models costing more than $2,000.
What is the fastest stand up electric scooter?
In general, the top speed for most electric scooters is 25-30 MPH. But the fastest electric scooters called the "Wolf King" can reach speeds of up to 60 MPH.
The Wolf King motor offers a maximum output of 6720 watts which makes it super easy to take on hills and other obstacles. It has a range of 50 miles / ~80.4 km on a single charge which means you won't have to recharge it as much as other models.
Also Read:
Other Stand Up Electric Scooters for Adults
Electric scooters for adults vary significantly from electric scooters such as those for kids or teens.
Primarily, the difference is in the design componentry.
Unlike kids, adults are weighty, so they exert more weight on the electric scooter. Thus, a primary consideration with any electric scooter for an adult is the weight capacity.
Ideally, an electric scooter should have a weight capacity, anywhere from 250 pounds, and this should be sufficient support for an average adult.
Comfort is yet another critical factor when choosing an electric scooter for adults. Due to the bigger stature, an electric scooter should equally have befitting dimensions, ideally large enough to accommodate the adults.
First, the deck should be spacious enough for a comfortable rest of both or two feet, and the height should be large enough to allow the adults to ride without hunkering down. Even better, it should feature an adjustable handle to let you tailor your height needs.
Finally, an electric scooter for adults should have the power for performance. Of course, the motor power level will depend on the skill level, terrain, and your riding needs.
Either way, it's always a good idea to pick an electric scooter with a higher power rating than you need.
And because most of the electric scooters for adults have a high speed, it makes sense that they should also have a proper braking system. The ideal electric scooter should feature a braking system that can bring the rider to an instant halt, without getting jolted forward.
Now, there're many electric scooters for adults in the market, but based on what we've just described, here are my best picks:
Also Read:
Two Wheel Standing Electric Scooter
Two-wheel standing electric scooters, also known as self-balancing electric scooters, consist of two motorized wheels connected through an articulated pad/deck where the rider places their feet.
With the two-wheel electric scooters, riding stability is a huge concern.
Of course, your skills will also determine how easy it is to ride these electric scooters without falling, but the electric scooters themselves can contribute to the overall ride experience.
Here, it would help if your electric scooter has relatively larger wheels.
Larger wheels have numerous benefits in adding to the overall stability, but notably, they create a wider surface area for contact reducing the risk of falling.
The larger wheels are also fantastic when it comes to riding over the rugged terrain. They can easily overcome any potholes and even jump over curbs with greater ease.
Also Read:
Here are inspiring options for those who need a quality and practical two-wheel electric scooter:
3 Wheel Up Electric Scooter
Three-wheel electric scooters, like their name suggests, have three legs. A typical 3-wheel set down electric scooter has a single wheel on the front for steering and two drive wheels at the rear.
These electric scooters have a tighter turning radius, so it's easy to maneuver them through the tight spaces.
Although some of them have anti-tip wheels, they're not as sturdy as the four-wheel electric scooters.
Additionally, they don't ride well off roads.
For this reason, if you must pick a three-wheel stand-up electric scooter, ensure that it's low enough to offer stability, yet high enough to provide ground clearance for riding on the rugged terrain.
It's all about finding the right balance between stability and ground clearance.
Also Read:
Sure, few three-wheel electric scooters manage to find the perfect balance between them, but we feel the options below did a great job of striking the perfect balance.
4 Wheel Standing Electric Scooter
4 wheel electric scooters are more reliable than the 3-legged version, especially when it comes to stability.
The likelihood of a four wheel standing electric scooter tipping or losing stability is minimal.
While they're not easily maneuverable in tight spaces, they offer ample space for the rider to place their feet and overall bodies.
However, their greatest limitation is size. They offer large space for the user, and so likewise, they consume a lot of space.
The perfect four wheels electric scooter should offer sufficient space for you, while at the same time being compact enough for storage.
Also Read:
Of the 4 wheels electric scooter we reviewed, we feel these options have superior traits for this type of electric scooter.
Vive 4 Wheel Mobility Scooter - Electric Powered Wheelchair...
SAFELY NAVIGATE SMOOTH SURFACES: Easily maneuver...
COMFORTABLE SEATING: Comfortably padded, the wide,...
EASY TO TRANSPORT: Quickly disassemble the Vive...
INTUITIVE EASY-TO-USE CONTROL PANEL: Located on...
CUSTOMER-DRIVEN BRAND: The Vive Mobility Scooter...
Sale
Fat Tire Stand Up Electric Scooter
Aptly named the fat tire to stand up electric scooters, these scooters have an abnormally "fat" tire.
The fat tire is both a convenience and a drawback.
It also allows the electric scooter to handle the more rugged terrains, such as snow and mud.
On the flip side, it makes the electric scooter heavy, meaning it will need more energy to ride you and the tires' weight.
When choosing a fat tire electric scooter, it's always good to pick one with higher performance, particularly the power.
The motor power of the ideal fat tire stand up electric scooter should effectively cater to the tires' weight and yours.
Also Read:
We found these scooters have everything it takes to manage both weights without compromising on the overall performance.
Fastest Stand Up Electric Scooter
The fastest electric scooters are all about speed.
Most of these electric scooters are typically common with the seasoned riders and speed junkies.
To attain high speed and effectively maintain the momentum, an electric scooter should feature a powerful motor.
The electric scooter also ought to be lightweight not to drag you during acceleration.
It should also have a superb suspension system to absorb the shocks delivered by the bumps and potholes at top speeds.
They should also be durable and sturdy, taking in the hits of the bumpy ride and shrugging of any abuse.
Also Read:
After our extensive research, we found this list of electric scooters are among the top-rated and fastest stand up electric scooters in the market.
Recent Topics