A seated electric scooter is probably what you need to get If you fancy exploring the urban life comfortably and without sweating profusely! Riding such a scooter is not only fun but is very convenient as well which is why such models have become quite popular, both among the elderly and the young.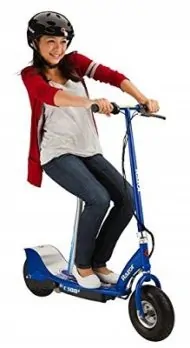 EVERCROSS H5 Electric Scooter, Electric Scooter for Adults...
Segway Ninebot S-Plus Smart Self-Balancing Electric Scooter...
Hiboy S2 Electric Scooter with Seat - 8.5" Solid Tires - Up...
Segway Ninebot E22 Electric KickScooter w/t Free Seat, 300W...
EVERCROSS H5 Electric Scooter, Electric Scooter for Adults...
Segway Ninebot S-Plus Smart Self-Balancing Electric Scooter...
Hiboy S2 Electric Scooter with Seat - 8.5" Solid Tires - Up...
Segway Ninebot E22 Electric KickScooter w/t Free Seat, 300W...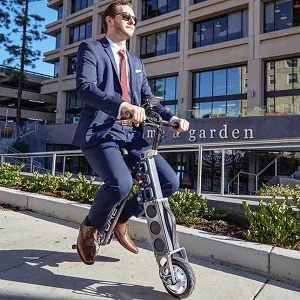 An electric scooter with a seat is just the thing for a long ride out with a friend on the weekends or riding solo around your neighborhood. So why buy a seated electric scooter and what features to consider when buying one? Keep reading to find out.
Also Read:
Why Should You Buy Electric Scooter With Seat?
To add more comfort and fun, scooter manufacturers introduced electric scooter with a seat. Traveling to work for longer distances can be more comfortable if you purchase a scooter that you sit on when you ride back home from work or school.
Here is why you should prefer an electric seated scooter over all the other kinds of models: 
Makes your Ride More Comfortable
A seat incorporates a more comfortable riding position without compromising the flexibility and freedom that many electric scooter riders find very appealing. Also, you might find your seat a pure blessing if your commute is rather long- you will not need to tire your legs by standing in an upright position!
Greater Capacity
When you talk about carrying capacity, most of the electric scooter models available in the market that come equipped with seats are turbo horses!
You might be surprised to know that compared to standard electric scooters, the ones featuring seats can carry two times the load that conventional electrical scooters can. You can expect a quality electric seated scooter to carry up to 550 pounds!
Easy to Assemble
Assembling an electric seated scooter is a relatively easy task. Most of the models can be assembled in less than 10 minutes without you having to peruse the user manual for too long!
How to Choose The Right Sit Down Electric Scooter?
To pick the right sit down electric scooter for yourself, you need to mainly consider the type of scooter you desire. 
Do you seek a folding scooter or one that is equipped with 3 wheels? Perhaps you are looking for an electric scooter for your kid and don't know what features to look for. Well, you have come to the right place! 
Best folding electric scooter with seat
Electric seated scooters that you can fold easily are quite popular these days. It may be wise to consider these factors when getting a folding electric seated scooter:
Portability
No one wants a foldable scooter that is bulky and a pain to carry around. When purchasing such a scooter, it may be a good option to opt for a model that is lightweight and portable and easy to fold. That would allow you to take it with you where you want to go.
Also, you can consider buying a small-sized scooter that will fit easily in the trunk of your car.
Also Read:
Power
Apart from portability, the electric scooter needs to be sturdy and powerful enough to take you wherever you need to go. It should have a long-range and a robust motor. Hence, you are probably better off buying a top-quality folding scooter model and not something that a kid would fancy!  
Best 3-wheel electric scooter with seat
The best 3-wheel seated electric scooters tend to provide more safety and stability than standard two-wheeled scooters, and sometimes even longer ranger and greater torque for more demanding use. 
When buying such a scooter model, you ought to consider certain factors such as:
Type of Scooter
Dual Purpose and Standard are the 2 common types you will find in the market.
The former can be one of the better-suited options for young kids. When you have a dual-purpose 3 wheel seated electric scooter, you can switch from a seated position to a standing one at your convenience. That allows children to balance the scooter better.
The Standard 3-wheel scooter models with seats feature handlebars as well as a folding base. The 2 front wheels of the scooter provide more stability whereas the wheel at the back serves as a counterbalance. This type of scooter can be a perfect choice for riders of all age groups.
Wheels
Make sure the wheels are made from polymer when purchasing a scooter. Why? Polymer happens to be a very durable material that works flawlessly on all kinds of surfaces.
Whether you want to ride your 3-wheel scooter on a dirt path or the pavement outside your house, polymer wheels will always have your back! Also, you might want to go for a scooter whose wheels are simple to adjust and remain properly oriented with ongoing usage. 
Best electric scooter with removable seat
When buying an electric scooter that features a removable seat, it would be preferable to choose a model whose seat you can remove and re-assemble easily with little fuss.  
Also, it can be a good option to select a scooter model whose seat you can adjust easily height-wise.
Not every rider has the same height. That is why it's better to opt in for  a height adjustable scooter seat so that you can sit comfortably on it with both your hands on the handles.  
You will be pleased to know that most of the removable seats on scooters boast this particular feature and it is quite straightforward to adjust the height using the adjustment lock. You will find this lock in the seat post's middle. 
You have the flexibility to set the heights on most of the scooter seats anywhere between 18 inches and 24 inches.
Another important factor here is suspension. You require suspension on your seat if your electric scooter does not have it. You will most likely experience a bumpy and unpleasant ride every time if your scooter seat lacks this necessary feature.
Also Read:
Best electric scooter with seat for kids
Kids tend to immensely enjoy zipping around their local neighborhoods on their electric scooters. Electric seated scooters designed for kids come in all shapes and sizes and you should pick your model carefully.
One of the most crucial considerations you need to make is the size of the kid. If your child is older (8 years or more) and heavy, buying a scooter with greater weight capacity is probably the best option.
Also, if your kid is much younger, then it can be a good idea to opt for a seated scooter that features 3 wheels. The extra wheel would help the child to balance the scooter better and provide more stability as well.
When buying such a scooter, you might also want to consider how far will your kid go on the scooter. If you are buying your child a seated scooter so they can go to their school or nearby park and back, think about how far they have to commute.
If the place is quite far away from where you live, you might want to opt for a scooter model that has a longer range. With a long-range scooter, you do not have to worry about the battery dying too soon. A scooter with around a 15-mile range will probably do the job in most cases!
What is the significance of load capacity on an electric scooter with a seat?
The load capacity in simple terms is the maximum capacity your electrical scooter with a seat can withstand without buckling down. 
A seated electric scooter can be a pleasurable way to run your little day-to-day errands. This is particularly true if the scooter comes equipped with a basket that you can use to store stuff in. However, the maximum load is a reference to the total load amount on the scooter — the rider's load as well as any cargo.
An electric scooter that boasts a heavy build enables a large-sized adult to ride and maneuver with comfort and stability. However, such designs often have bigger motors and batteries. The larger the motor and battery, the more your electrical scooter will weigh and that makes it less portable.
It is safe to say that a heavy-duty seated electric scooter might not be the ideal choice for you if you wish to buy a model that you carry around easily.
What About The Seat?
As for the seat itself, the important aspects are for sure how comfortable it is, is it adjustable for your height and is it removable. You should be prepared for some assembly too when you order an electric scooter with a seat.
Most electric scooter with seat for adults has the option of choosing between the sit-down and standing ride because the seat is removable. Some even include the assembly kit. Having a comfortable seat is great if you plan a longer ride with your scooter. Watch for the fact is the seat adjustable to your height and the handlebar, too.
Will Seat Provide You With a Comfortable Ride?
Seat means comfort however an electric scooter with bad shock absorption can greatly affect how comfortable a seat would be.  Remember you may be sitting down for hours. 
How do you install a seat on an electric scooter?
The good news is that putting a seat on an electric scooter (if it does not have one already) is no rocket science and it is something you can do easily yourself. Simply follow these steps:
Gather the required materials you will need such as the scooter seat, nuts, bolts, etc. Make sure that all of these things fit with the particular scooter model you have.
Wear the required safety equipment. This is for your own safety so that you do not hurt yourself. Safety equipment includes overall, goggles, boots, etc.
Drill a couple of holes close to the post mount's center.
Position the seat on the scooter's footboard. Next, place your seat in the position you prefer.
Drill 2 equal-sized holes sizes in line with the ones you drilled in the first step.
Screw the bolts tightly in the holes you drilled in order to firmly hold the seat. Position the nuts at the end of the bolts. You will use these nuts to tighten the bolt. Finally, use 2 wrenches to tighten.
That is it! After performing these steps, your electric scooter will be equipped with a well-fitted seat. 
Also Read:
Best More Affordable Electric Scooter With Seat Reviews
Electric Scooter with Seat for Adults – Razor Eco Smart Metro Electric Scooter
This electric sit down scooter is great for short rides to the store. It is powered by a 500W motor which can take you for 40 minutes until you need to recharge the battery which takes about 12 hours to fully charge.
This sit on scooter weighs 67lbs so it is not that lightweight, but the good part is that it can carry a 220lbs adult. You can be sure that you will feel comfortable because the seat is extra padded and adjustable.
Also, it comes with a shock-absorbing springs so it eases a bumpy rides. When you first lay your eyes on, it will seem like a regular bike. It has the standard bicycle size 16-inch pneumatic tires and handles that resemble the ones on a typical bike.
There is also a light bamboo deck and a rack you can detach and carry with you. The top speed of this electric sit down scooter is 18 mph which is pretty decent for a seated scooter. This scooter is recommended for teenagers and adults.
Pros
Very affordable looking at to the size and comfort.
Cons
This scooter is heavy with 67lbs of weight which makes it a bit hard to store and transport. Also, it is not foldable.
Sale
EcoSmart Metro Electric Scooter – Padded Seat, Wide Bamboo...
Product Note: Max speed and range per charge vary...
SIT AND RIDE – Soft padded seat and wide bamboo...
SMOOTH HANDLING – Air-filled 16" tires (406 mm)...
CARGO CARRIER – Tote your groceries, books, or...
FAST AND POWERFUL – A 500-watt, high-torque,...
Electric Scooter With Seat And Trunk – Razor Pocket Mod Electric Scooter
Pocket Mod Scooter is a retro electric scooter with seat that provides a storage space underneath. The scooter has the weight capacity of around 170 pounds, which is more than enough for a typical teenager.
The best part about this scooter is that it comes in different colors, pink, violet, blue, white, and many other colors so it suitable for both genders. The seat on the scooter is removable and that space beneath it is good for a helmet or similar size objects.
Just like other electric scooters, this one is powered by a motor that doesn't make a loud sound and it can go up to 15 mph. 
See Razor Pocket Mod in Action
The battery on this scooter can be better. The charging time is too long and you would have to wait almost 12 hours for a full charge.  You can charge it over night. Once fully charges, you can expect a 40-minutes long ride
Pros
Cons
Not portable and heavy to carry.
Also Read:
Sit Down Scooter – Uberscoot 1000W Electric Scooter
The Uberscoot 1000w electric scooter comes in two options, you can buy it with the seat or without one.
The riding range on this scooter is around 10 miles therefore might not be the best choice for a long ride. The battery fully charge in 4-8 hours which makes it one of the shortest charging time on the list.
The scooter weighs about 79 lbs, has a 60-day warranty, can be folded up and overall.
Compact enough in size so it's easier to transport then the model above. When it comes to the design, this scooter comes in plain black with a few blue details
With weight capacity of around 265 lbs, this makes it suitable for adults as well.
When it comes to the speed, at 20 mph make this scooter fall at the mid speed category – Not the fastest scooter on the market nor the slowest.
Pros
It comes with or without a seat. Comes in different colors and compact enough for easy storage.
Cons
Riding range at 10 miles per charge is not impressive.
UberScoot 1600w 48v Electric Scooter, Black, Large
Dimensions: 49" L x 25" W x 43" H | Weight: 117...
Motor: 1600 Watt (Brushless).
Top Speed: 30mph (speed limit wire must be...
Batteries: Four 12V/12AH (48 volt system) Sealed...
Max load: 265 lbs.Kickstand
Also Read:
Kids Electric Scooter with Seat – Razor E300S Electric Scooter 
Designed for kids and young teens.
This particular scooter weighs 52 pounds which makes it sort of a heavy unit. The scooter can speed up to 15 mph. Not too fast however fast enough to be safe. 
The chain-driven motor on the scooter gives you a quite ride so you can enjoy a noiseless motor trips.
See Razor E300S in Action
Made of steel and the tires were made to last giving you a smooth ride on a 10-inch pneumatic tires.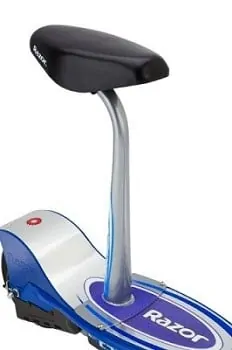 What about the seat?
The seat is padded and it's comfortable during the ride however it might need some adjustment to make it just right for the rider.
Pros
Tires are made to last at 10-inch pneumatic tires size giving you a smooth and comfortable ride.
Cons
Seat height not adjustable.
Razor E300S Durable Adult & Teen Ride-On 24V Motorized...
POWERFUL MOTOR: Powered by a 250-watt,...
LONG RANGE BATTERY: Rechargeable 24V (two 12V)...
EXTRA FEATURES: Additional features include soft...
DURABLE & LONG-LASTING: An all-steel frame and...
SAFETY & COMFORT: The Razor E300S has a...
Recent Topics