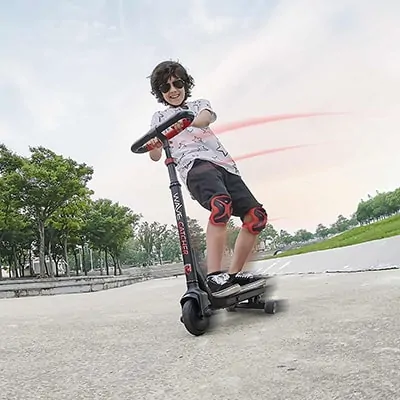 3 wheel scooters are perfect for kids who need a stable robust scooter. Three wheels combine stability, agility with the performance so you can ride safely.
Three-wheeled scooters use a tilt and lean steering meaning kids can lean in the direction they want to go and the wheels will turn in that direction.
FAO Schwarz Kid's LED Light-Up Spinner 3-Wheel Kickstart...
WV WONDER VIEW 3 Wheel Scooter for Kids, Kids Scooter with...
LaScoota Kick N Roll Scooter for Kids, 3 Wheel Adjustable...
Jetson Scooters - Jupiter Mini 3 Wheel Kick Scooter (Black)...
Banne Scooter Height Adjustable Lean to Steer Flashing PU...
FAO Schwarz Kid's LED Light-Up Spinner 3-Wheel Kickstart...
WV WONDER VIEW 3 Wheel Scooter for Kids, Kids Scooter with...
LaScoota Kick N Roll Scooter for Kids, 3 Wheel Adjustable...
Jetson Scooters - Jupiter Mini 3 Wheel Kick Scooter (Black)...
Banne Scooter Height Adjustable Lean to Steer Flashing PU...
This innovative lean to steer style is easy to learn and has been designed to develop coordination as kids ride. Over the years, different types of products have been invented to keep up with the rising demand.
The broad choice has however made finding a good 3 wheel scooters for kids the first time a bit challenging and therefore I have examined a handful of 3 wheel electric scooters and here is a list of the best products I found based on stability, performance and riding safety.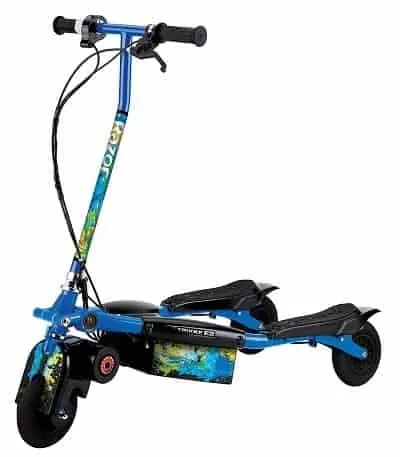 Also Read:
Best 3 Wheel Electric Scooters for Kids
3 Wheel Scooter For Big Kids – Swagtron Cali Drift Electric Scooter
This Swagtron three wheel electric scooter has a unique design which improves stability. The handlebars are U shaped and adjustable for a good grip so you can adjust the ride as you like. Another design touch is a wide colorful non-slip deck which will keep you from falling and makes you stand out among all the classic scooters around.
Also Read:
See Swagtron Cali Drift in Action
The stem of the handlebars is adjustable for riders of different heights so the ride would be comfortable. You can cruise around for 9.5 miles at the speed of 15.5mph before the battery needs recharging. It recharges in 2.5 hours so you can go on another adventure immediately.
Also Read:
The handlebar can slide from side to side for easy maneuvering. Drift has a thumb-activated throttle which comes in handy when you cruise fast and you need you can choose speeds with a simple push of a button.
You can simply fold down the scooter and put it in the car trunk or under the bus seat as it weighs only 22lbs. It can carry an average adult of 264lbs. The brakes are quick and efficient with either the handbrake or footbrake—or both for extra safety. Solid rubber wheels give the Cali Drift a smooth ride for all terrains.
No products found.
Also Read:
Best Tricycle Scooter For Kids
Razor Power Rider 360 Electric Tricycle
Razor PowerRider 360 – Electric Tricycle, Up to 9 mph,...
Blast into the future with the PowerRider 360 -...
Features push button throttle and reaches speeds...
Cut full 360 degree spins, slide, even drift on...
Includes front, hand operated braking system,...
Recommended for ages 8 and up; supports riders up...
Best 3 Wheel Kick Scooter For Kids
AODI Swing Scooter Adjustable 3 Wheels Foldable Wiggle Scooter
Also Read:
A Quick Background on How 3 Wheel Electric Scooters Work and How to Ride Them
A 3 wheel electric scooter or a "Trikke" is a personal vehicle with a flexible frame on 3 wheels, stabilizing it in all conditions, on turns, or uneven surfaces. 
The rider stands on two-foot platforms above the two rear wheels and steers the vehicle with handlebars attached to the lone front wheel.
A body-powered Trikke is propelled using a motion that moves the vehicle along a curved, S-shaped path which is called carving. The rider moves the vehicle from side to side, turning the handlebars and leaning the front structure while moving one's body weight toward the side one is turning into.
The weight of the rider during a turn (or "carve") is placed mainly on the foot at the outside of the turn. The inside foot will support very little weight and the rider will often lift the heel of this foot during the turn.
The resulting motion is similar to skiing, a move on a skateboard or one's leg movements during roller skating.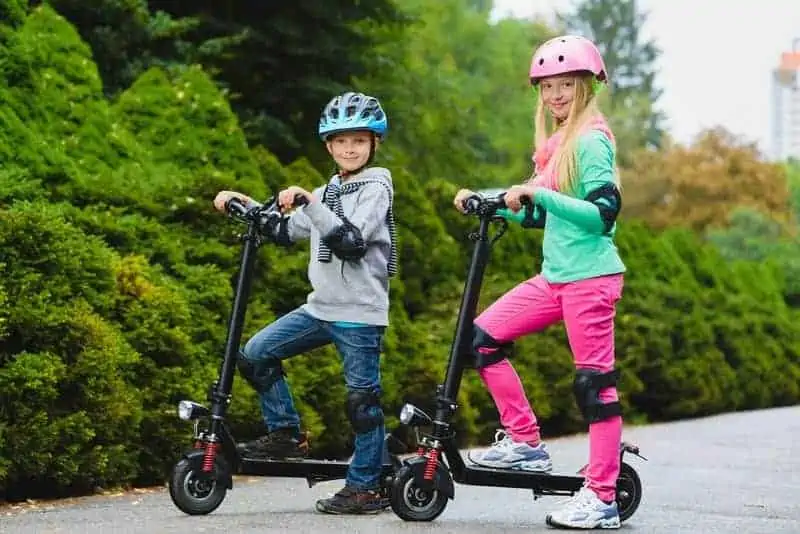 Also Read:
An electric scooter is a small, light two-wheeled vehicle considered to be one of the most practical forms of transportation. Also, the fun aspect and the affordable price makes the electric scooter one of the hottest gifts today for young and older kids.
These scooters are powered by rechargeable batteries and they often can be very fast and therefore were not suitable for children. However brands came out with kids versions that is safer
Kids scooter versions don't allow kids to ride fast then they're supposed to and they give your kid about 40 minutes of riding time which is plenty of time for fun.
The average charging time of kids electric scooters is 12 hours. Most of the models I recommend here have an average range of 40 minutes
In this guide you will find the best electric scooters for young and old kids (Boys and Girls) ranked by important factors such as:
Safety Features

Battery Capacity 

Design 

Durability 

Battery Charging time

Price
Here Our Top Picks
Best For Boys
Best For Girls
Safety Comes First!
No matter whether your kid has experience riding or not, make sure they have the proper safety gears during the ride. That should include an electric scooter helmet and a set of pads for knees and elbows. Also, always monitor your kid so you can be sure that they're handling the scooter correctly.
It generally, takes no particular skill to operate the kid's versions of electric scooters and that is why it is such an interesting toy for kids all over the world. Nevertheless, adult supervision is advised.. 
Also Read:
Best Electric Scooters For Boys (Two Wheels)
Razor E300 Electric Scooter For Boys 10 Years and Older
This electric scooter is one of the most popular electric scooter models for kids with the Razor name on it "A popular rand". It's designed for kids who are 8 years and old.
This scooter can speed up to 15 mph but still not super fast, which makes this it a safer option for kids ride.
What makes this motorized scooter so popular is its size which allows it to carry 220 pounds.
See Razor E300 in Action
There is also a seated version, so you can pick the one you like best. It doesn't have foldable handlebars so it takes some storage space which is a downside.
This model has a chain driven configuration and a twist-grip throttle that offers variable speed acceleration and hand controlled rear brakes.  The motor is extra quiet which is another plus. You will also get the 10-inch pneumatic tires for your kid to have an even smoother ride.
The battery runs for 40 minutes with a single charge and the initial charge takes up to 12 hours. The electric scooter is built of steel and it comes in blue, white and matte gray color.
Pros
The weight capacity of the scooter is 220 lbs, more than enough for a kid, even an adult.
Cons
The charging time is more than 12 hours which is pretty long.
Also Read:
Razor RX200 Electric Off-Road Scooter
This is considered one of the best off-road electric scooters for kids and that is why it is not recommended for kids under the age of 13. Actually, there aren't off-road electric scooters suitable for 6-year-old, 7-year-old or even 10-year-old because that is not a safe environment for young children.
The top speed of this Razor electric scooter is 12 mph and its battery allows a continuous ride that will last for 40 minutes, give or take depending on the terrain. The heavy-duty tires will endure even the toughest terrain and the disc brake will make sure that the scooter can stop on time.
See Razor RX200 in Action
This is not a foldable electric scooter because it had to be sturdy and stable for every off-road adventure there is. Even the green color of the scooter tells you that it is not an ordinary city-ride electric scooter.
The handles are made to resemble bicycle handles which improve the grip and makes sure that a rider can react in time, whether it is to press brake or throttle. The weight capacity of the scooter is 155lbs and the overall weight of the scooter is 46lbs, which is not light.
Pros
It is one of the best off-road electric scooters for kids and teens.
Cons
The battery takes 12 hours to be completely charged.
Sale
Razor RX200 Electric Off-Road Scooter , Green, 37 Inch
Product Note: Max speed and range per charge vary...
With the trailblazing new RX200, the ride begins...
New off-road version of the classic E200 Electric...
Rip up the trails at speeds up to 12 mph (19 kmh)
Features off-road tires, disc brake and a new gear...
Also Read:
Ninebot Kick Electric Scooter ES2 For Boys 8 Years and Older
The best part about this scooter is that it comes with a bunch of LED lights so your kid will be impressed and you will be relaxed because the scooter is very visible on the road.
The top speed of this scooter is around 15.5 mph, but the interesting part is that you can adjust the speed between three modes – economy, normal and sport mode. That means the speed is adjustable to the traffic around the scooter which makes it very safe. But, due to the 3 modes, I would recommend it only for teens and older persons.
When your kid is done with the scooter, you can simply fold it and store it away. The weight of the scooter is 27 lbs, which is pretty OK for an electric scooter designed for kids. The weight capacity, on the other hand, is 220 lbs so you can conclude it is mostly made for older kids.
The handles on the scooter are covered with an anti-slip surface which makes them safe to use.  Also, all controls on the scooter are located on the handle so it is easy to control.
Pros
Easy to use scooter with LED lights below the deck.
Cons
Has 3 speeds so it is not suitable for younger kids.
Sale
Best Electric Scooters for Girls (Two Wheel)
Razor Pocket Mod 24V Electric-Powered Scooter 
This is one of the best cheap electric scooters with seats for kids because it looks like a kid's electric moped so it comes with a few additional features like a storage space under the seat. it comes in different colors so it is a suitable scooter for kids (girls and boys). You can find it in pink, white, red or even in blue and black colors.
The top speed of this child moped scooters is 15 mph so the recommended age for electric scooter is above 12 years. The weight capacity is 170 lbs, which is more than the model for teens above. When it comes to the battery range, there aren't any surprises because this one also provides 40 minutes of the continuous ride with 12 hours charging time.
But, there is one thing you should remember. This kids scooter with a seat looks more like a moped so you can't fold it or store it in the cabinet. But, you can put it in the garage and you can be sure that your kid will be safe on it with all the proper equipment.
See Razor Pocket Mod in Action
The helmet doesn't have to be a hassle since there is storage under the seat your kid can use to store the helmet and a few other things. The storage isn't big but it should hold a helmet if it is basic dimensions.
Pros
It looks like a bike and it comes in different colors so it is a great choice for kids. You can lift the seat and use that space below as storage.
Cons
The scooter is not foldable and you can't carry it around.
Sale
Razor Pocket Mod Miniature Euro-Style Electric Scooter (Hot...
RETRO STYLE: The Pocket Mod gives everyone with an...
POWERFUL MOTOR: Powered by a 24V, high-torque,...
LONG RANGE BATTERY: Rechargeable 24V (two 12V)...
SAFETY & COMFORT: This mini electric scooter has a...
DURABLE & LONG-LASTING: An all-steel frame...
Also Read:
Razor E100 Electric Scooter For Girls 8 Years and Older
E100 Razor Electric Scooter has a smaller deck and a frame which makes it the best electric scooter for 8 -year-old boys and girls. It is a small unit which means that your kid can leave it outside unfolded and it won't take that much space.
The weight capacity of this motorized scooter for kids is around 120lbs, so you can be sure it is made for kids, not adults. The top speed of the scooter is 10mph and the runtime is 40 minutes, just like the models above so there aren't surprises.
Since it is an electric scooter for ages 8 and up you can assume that the navigation and the overall control of the scooter are easy and you would be right. The acceleration and the brake are on the handles and the deck is wide enough for both feet.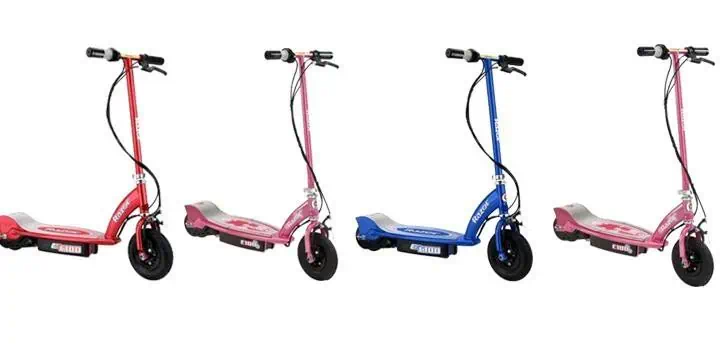 The price of this model is lower than most of the products in this category so it can be called a bargain when you look at the quality and features the model has. It comes in a silver, pink, red and purple version, so I would recommend it more for girls, although there is a black and blue color combination so it is also a great choice for boys.
Pros
Easy assembly takes about 10 minutes and is completely adjusted for kids. It is one of the cheaper models, but the quality is still pretty good.
Cons
The speed is not too fast, but that is a good thing because kids will be safe.
Also Read:
Razor E125 Electric Scooter
This electric scooters comes in a variety of colors. What I like about this scooter is that it has a top speed of 10mph, which isn't too fast therefore it is suitable for 7-year-old or older. 
The runtime of this scooter is similar to the model above. That means you can ride it for about 40 minutes on a single charge and the battery charging time is 12 hours, which is slightly above average time for the most electric scooter for young kids.
Because of its motor, this scooter is capable of going uphill at a slow pace, so you can definitely consider this model if your neighborhood has some terrains.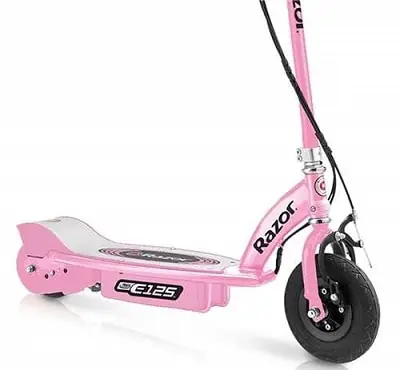 During winter time when your kid can't be outdoors, you can easily fold it and put it away, which is not that common feature for the kid's mini electric scooters.
Pros
This scooter is very easy to ride, easy to carry around and very interesting to the kids.
Cons
The wheels on the scooter are made for the city ride, so no bumpy roads.
Razor E125 Kids Ride On 24V Motorized Battery Powered...
Sleek electric scooter with high-torque,...
Requires a small manual kickoff to 3 mph before...
Adjustable handlebar adapts to riders of all...
Motor cruises at speeds of up to 10 mph
Recommended for ages 8 and older (120 pounds max...
Also Read:
Kids Stand Up Scooter
For kids, safety always takes precedence over performance and everything else.
See, kids are still learning how to operate an electric scooter, meaning chances for accidents are higher.
While the basic safety tips such as wearing helmets play a crucial role in enhancing the overall safety, the electric scooter itself should also help with the safety.
For instance, a stand up electric scooter for kids should have a relatively lower speed than adults. The limiting speed should help to prevent the chances of an accident happening and reduce the severity of accident injuries.
Secondly, it would also help if an electric scooter for kids has headlights and signal lights to make the rider more visible.
Comfort should also be emphasized on electric scooters for kids as you still want to make their riding experience memorable and enjoyable.
Cost is also a critical element for stand-up electric scooters for kids. While we don't advocate for cheaper electric scooters, don't run yourself dry in the name of an electric scooter.
Electric scooter purchases for kids should be reasonable as they don't need some of the advanced or premium features of adult scooters.
More importantly, these scooters should be simple to operate.
Best stand up electric scooters for your kids based on what we mentioned above:
Also Read:
Kids Electric Scooter Cost
The good thing about kid's electric scooter is that their price is much lower than Adults electric scooters
The cheapest kid's electric scooters you should consider shouldn't be below $100, although the average price is around $200 or higher.
Quick Tips For Buying Your Kid Their First Electric Scooter.
Best Range For Kid's Electric Scooter – an average range for children's electric scooter is 40 minutes, which is more than enough for a trip to school, to the park and back.
Top Speed For Kid's Electric Scooter – the battery scooter for a child has lower top speed than adult's models and it is mostly 8-12mphs, which is more than enough for your kid to have fun and stay safe.
Average Battery Charging Time – most kid's scooters come with 8-10 hours charging time which is OK  because you can easily charge the battery during the night.
Kid's Electric Scooter Weight Capacity – The average is around 100-120 pounds. Just make sure there is only one kid on the scooter at a time.
Kid's Electric Scooter's Size – Since your kids is growing, look for models with adjustable handrails. That means you can adjust the height of the scooter as your kid grow taller.
Is it for the right age? Respect the age range mentioned by the manufacture.   
Electric Scooters for Little Girls
Who said that electric scooters are not for little kids? If you want to surprise your little girl with a nice gift, an electric scooter might be a great option.
A battery operated scooter might give your little girl a lot of fun. Usually, kids love these kinds of rides and feel really joyful while riding and having fun with their friends.
While shopping for an electric scooter for your toddler girl, you will need to pay attention to electric scooter's safety features, how long the battery after it's fully charged and how long does it take for the battery to charge in full.
You might also need to watch for the weight the scooter can handle. I know those little angels don't weight much but you will be surprised by some electric scooters models that get broken quite easily due to the fact that some brands use poor quality plastic under estimating our kids weight "by too much"!   
Here Are Best Picks
Note that some models come without a powered motor and some models come as 3-wheels.
Electric Scooter Safety Gears
Recent Topics