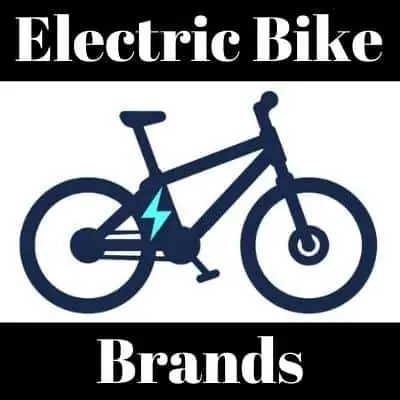 It comes as no surprise. Electric bikes are holding a significant spot in the future's mobility. The micro-mobility sector has been growing rapidly and steadily in the past several years.
This trend shows no signs of slowing down anytime soon and it is just starting to catch on in North America.
In fact, from 2014 to 2017, sales of American electric bikes had jumped by a whopping 91 percent to $77.1 million. This sector of the $5.9 billion cycling industry in the country has been steadily expanding ever since.
There are many different e-bike companies producing electric bikes these days and here we will take a look at best electric bike brands of the most well-known electric bicycle companies – their strengths, weaknesses, and specific models that they offer.
So below is an exhaustive list of the most reliable electric bike brands out there. This article will cover every aspect of your journey, from finding the most ideal e-bike for your needs to choosing the best e-bike vendor.
What Are the Top Brands of Electric Bikes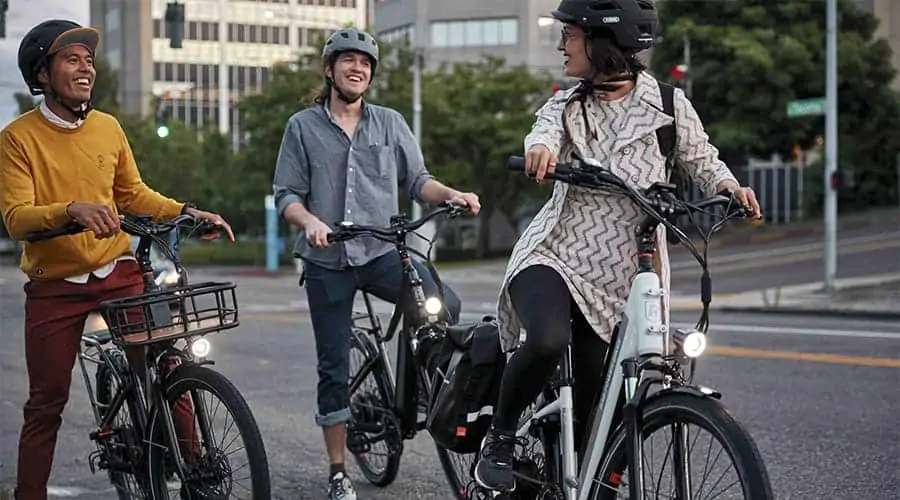 Photo created by radpowerbikes
Shopping for a new electric bike can be very exhausting. The market is flooded with poorly-designed ebikes from China. Even if you eventually find an e-bike that meets your requirements, you might still have to deal with delays in delivery – if your package ever gets delivered in the first place.
In this post, we'll be listing some of the most trusted e-bike manufacturers on the planet. This list will help narrow your search for a quality e-bike down and reduce the amount of time you spend verifying the legitimacy of electric bikes brands in the market today.
Electric Bike Brands List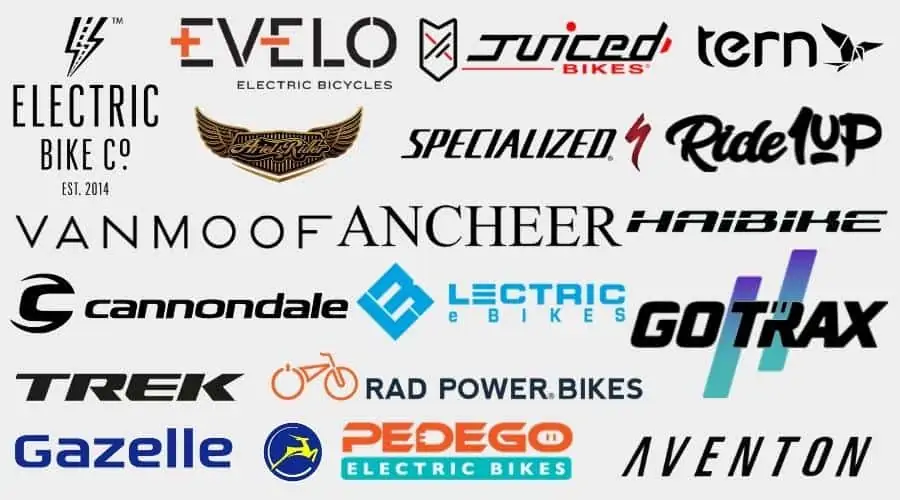 We have compiled a list of the best e-bike brands in the world. Each brand in this list has at least one award-winning electric bike in its line-up.
They are rated in order of the overall performance of their e-bikes, their logistics, and customer service.
| E-bike Brand | Location (Headquarters) | Overall Rating |
| --- | --- | --- |
| | Costa Mesa, California | 5.0 |
| | Seattle, Washington | 4.8 |
| | Morgan Hill, California | 4.8 |
| | San Diego, California | 4.6 |
| | Waterloo, Wisconsin | 4.6 |
| | Amsterdam, Netherlands | 4.6 |
| | Los Angeles, California | 4.5 |
| | Dieren, Netherlands | 4.5 |
| | Fountain Valley, California | 4.5 |
| | Seattle, Washington | 4.5 |
| | Seattle, Washington | 4.4 |
| | San Diego, California | 4.4 |
| | Wilton, Connecticut | 4.3 |
| | Carrollton, Texas | 4.3 |
| | Phoenix, Arizona | 4.3 |
| | Taipei, Taiwan | 4.3 |
| | Ontario, California | 4.0 |
| | Denver, Colorado | 4.0 |
Ebikes Brands and Manufacturers Comparison
Brand

Brand Logo

Where are they Based?

Where are their e-bikes manufactured?

Where do they ship to?

Ontario, South California, U.S.A.

 

They also have a warehouse in North Carolina.

Their plant in China

They ship to 48 states in the U.S., countries in the European Union, Puerto Rico, Guam, and other countries based on their discretion.

Seattle, Washington, U.S.A.

China

In the U.S: Rad Power Bikes ships to all states in the U.S. except Hawaii and Alaska.In Canada: They ship to all provinces except Yukon Territory, Northwest Territories, and Nunavut.

 

In Europe: To find the complete list of countries Rad Power Bikes ships to in Europe, click here.

Trek bikes is headquartered in Waterloo, Wisconsin with branches in the U.K., Japan, India, Netherlands, Denmark, Korea, Austria, and a few other countries.

In their U.S. headquarters, Netherlands, Germany, Taiwan, and China.

Trek has dozens of authorized dealers located around the globe.Use their store finder to locate retailers close to you.

Juiced Bikes is based in San Diego, California.

China

They only ship to the 48 contiguous U.S. states.

Ride1up's major base of operations is their San Diego facility.They store their ebikes in a warehouse in Sparks, Nevada.

Ride1up's e-bike components are sourced globally and assembled in China.

Ride1up ships to addresses in all 50 U.S. states.They also ship to Canada. Currently, they don't ship to European countries.

Electra is based in Encinitas, California.

Taiwan

They only ship to addresses in the United States, including Hawaii and Alaska.

Morgan Hill, California, U.S.A

Taiwan

Specialized only ships to authorized retailers. You can use their store finder to search for local shops near you.

Newport Beach, CA.

EBC manufactures it's bikes with materials sourced from overseas.

Electric Bike Co. ships locally to every U.S. state, every province in Canada, and to most countries abroad.

Shenzhen, China.

Turboant electric bikes are manufactured in Shenzhen, China.

Turboant only ships electric bikes to addresses in the 48 contiguous U.S. states.

 

They also ship to Canada.
What Electric Bikes Are Made in the USA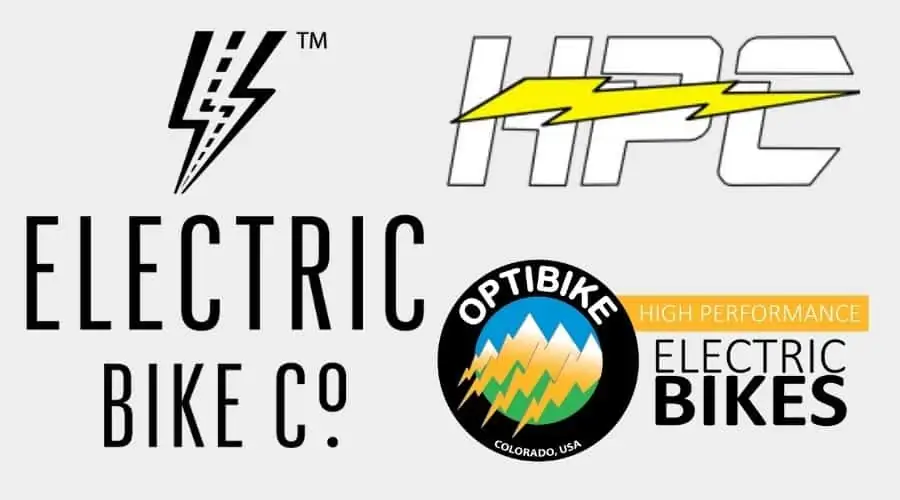 Most ebike brands still outsource ebikes manufacturing to countries around the world and in particular Asian countries however most of the research and design takes place in the US.  There are some outstanding electric bikes from a handful that are designed, and sold in the USA. Among the most popular is Rad Power Bikes' RadRunner, a functional (part cargo) yet sleek (though the body is a little heavier at 65 pounds) and fun electric bike. It is reasonably priced considering its premium features—a top speed of 20 mph, mileage of 25 to 45 miles per full charge, and a load capacity of up to 300 pounds. 
The casual cruiser Electra Townie Path Go! is a popular US-made option for e-bike enthusiasts. Both variants—the 10D EQ Step-Thru and the 10D EQ Step-Over—have assisted speeds that can reach up to 20 mph and a Bosch motor that can take a range of up to 65 miles per charge. On the downside, some bikers rant that there is a limit in sizing choices as there is just a single frame size for every frame style. 
If you are looking for an efficient e-bike with a simple design, the Ride1Up Core-5 is an entry-level model that is touted to outlast a car, thanks to its standard components. Its top speed can reach 28 mph on pedal assist and up to 20 mph on throttle with a single-charge range of up to 40 miles. It lacks a rear rack (which can be purchased separately) and fenders, though.
Meanwhile, for the adventurous bikers, Trek Rail 7 is an electric mountain bike (e-MTB) that is engineered to endure tough terrains just like a typical trail bike. The long-range Bosch battery can support more mileage and an assisted top speed of up to 20 mph. Just be warned that its tires tend to offer little traction and can wash out quickly if the user is not careful enough.
| Electric Bike Brand | Where They Are Manufactured |
| --- | --- |
| | Newport Beach |
| | Los Angeles |
| | Colorado |
Other brands like Specialized and Gazelle manufacture their e-bikes in Europe; Switzerland and Netherlands respectively.
The Best Electric Bike Brands in USA
If there is a word that would best describe this brand, it would be 'supercharged.' That is because Rad Power Bikes has become one of the major driving forces that have been propelling the rise of the electric bike market not just in the US but also in the entire North America. The company has also gained the attention of major investors—a proof of its potential.
Rad Power Bikes constantly upholds the commitment to deliver power. Most of the models in its lineup easily fall into the 'best e-bike' category. Thus, since its 2015 launch, the brand has easily attained the status as the biggest electric brand in the entire continent.  
Among the electric bike brands California has given birth to, Ride1Up is one of the most notable when it comes to pricing. The brand is known for its urban e-bike models that cost reasonably. Numerous industry observers cite the intense competition in its home-state as the best driver for this reputation of the company.
If you are looking for performance electric bikes with practical price tags, you should check out the lineup from Ride1Up. The brand has models that can accelerate up to 25 mph—at par with competitors' models that on the contrary cost more than $2,000. Who says you can't achieve power at cheaper costs?
Also Read:
One of the oldest American e-bike brands boasts of versatility and durability. Trek is among the electric bike companies USA has produced that offer models that can endure prolonged riding in various terrains. The company currently has 42 electric bike models that are mostly all-round and are demonstrating excellence.
Other than e-bikes that are versatile, Trek's lineup is characterized by ideal weight distribution. The brand's electric bikes can readily accommodate accessories. Thus, Trek bikes can be customizable, bolstering biker's value for money. No wonder, the company has endured the tests of time since its establishment in 1975 in Wisconsin.
More than the swag, Electra's electric bikes have added punch. The brand makes sure each detail about its e-bike lineup can deliver the authentic experience that is unique to it. Since its birth in 1993 and until now that it is operating as an independent unit of Trek, Electra has been known as among the top favorites for American biking enthusiasts.
Each of the Go! Collection (Townie, Townie Path, Vale, and Attitude) has inherent characteristics that are superior in comparison to rivals. You can enjoy Electra's laid-back DNA that matches its power. The company's electric bikes have average top speeds of 28 mph powered by Bosch motors, which are also synonymous to performance in the e-biking parlance.    
Also Read:
What Other E-Bikes Companies  in the US?
Aside from some of the best e-bike brands that were put on spotlight above, many other makers come as top tiers. Many traditional bike companies have started designing and producing electric bikes as demand for such vehicles steadily grows due to inevitable factors—environmental causes, cost effectiveness, convenience, space saving reasons, and others.
Some other electric bike brands in California get into the top makers list. One of them is Specialized, which is enriched by its bike-making experience that traces back to 1974. The most notable from the brand are its mountain electric bikes that instantly deliver superior electric bike riding due to its mountain-bike design.
Pedego spells fun as its e-bikes are stylishly colored to turn heads. The brand's cruiser, city, and commuter e-bike models are being raved about by users. The company's 5-year warranty says so much about its confidence in its electric bike models.
Also Read:
From being a traditional bike maker when it started in 1895, Schwinn has evolved to become an e-bike-centric maker. The company currently boasts of 13 e-bike models in its product catalog. Cost effectiveness and beginner-friendliness are traits that are usually associated with the name.
No other maker can be more American compared to Electric Bike Technologies. The vibe of the young brand emerges in its models. The company claims that it knows by heart the wants and needs of US-based modern bikers.
Lastly, Electric Bike Company makes itself unique by enabling its users to freely personalize their e-bikes. Also a relatively young brand, it has 6 e-bike models presently, most of which coming with front basket attachments to give that utilitarian American feel that's reminiscent of vintage bike models. The brand's models are also more budget-friendly compared to its rivals, though it emphasizes that quality is never compromised.   
Also Read:
Best Electric Bike for Hilly Commute – Must-Know Tips
Are Chinese Electric Bikes Any Good?
China is the most populous country in the world. For quite some time, its people have been facing challenges in daily mobility. This is why the popularity of electric bikes is just logical across the Chinese mainland.
With that said, it just follows that many electric bike manufacturers in China have also spent years of research and development in producing electric bikes that would make transportation for their people more convenient and more practical. Tough competition also abound in their local e-bike market.
Most aficionados would agree that Chinese electric bikes are just fine. However, most of those items still pale in comparison to their American designed  counterparts, which are mostly more meticulous and are usually carefree. US electric bike brands also always opt for the best components not just from its home base but also from other sources and producers across the globe.
Another edge of the American e-bike makers is the power. Bikers in the US tend to be more passionate as many of them regard their electric bikes more as tools of passion whereas the Chinese counterparts are more inclined on the function, which is to transport them from point A to point B in any given day.  
Which E-Bikes Use Bosch Motors?
A motor is basically the heart of any electric bike system as it is the powerhouse that pumps energy for the ride's mobility. Germany's Bosch is part of the big three motors for e-bikes—with rivals SunTour and Shimano completing this elite circle. Many e-bikers look for electric bikes that come with Bosch motor because they perceive the brand to be the most reliable for its advanced technology.
Among the most popular electric bike brands in USA, Electra and Haibike boast of using Bosch motors to power their vehicles. Other American e-bike brands that have some models that are powered by Bosch are Trek (UM5), Schwinn (Vantage), Benno, Priority Bicycles, and Yuba Bikes. 
Bosch has been powering many e-bike brands for more than a decade now. It is also popular in other electric bike makers in other countries. Because of its advanced and more complex technology, Bosch motors significantly add up to the overall tag price of models that use the motor brand.
The motors from Bosch are powerful. Those are capable of facilitating welcome assist to electric bikes' pedal strokes. This way, Bosch motors facilitate a more naturally feeling ride—more like a power push instead of speed surge mechanism.
What to Look for in an Electric Bike
Now that we've covered "where" to get quality e-bikes, let's dive deeper into "what" makes a good electric bike. Below are a few things you might want to consider when shopping for a new e-bike.
1. Power Output (Motor Rating)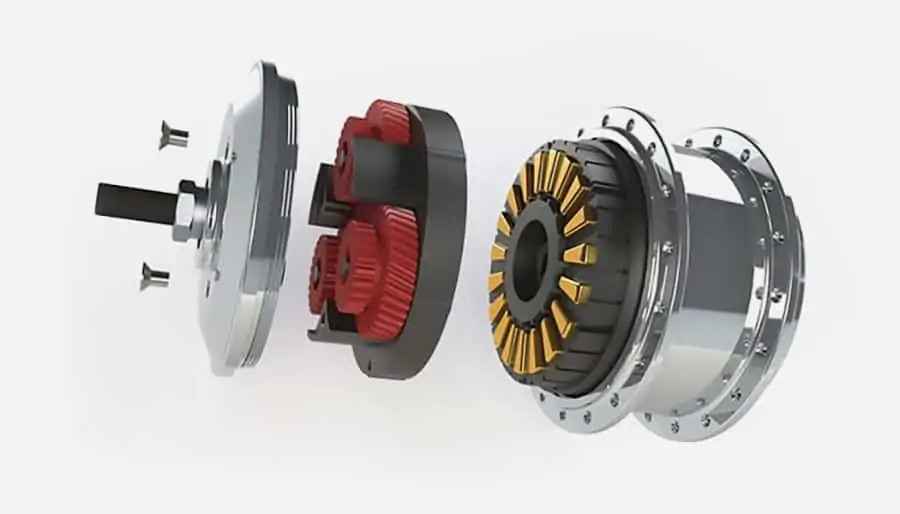 Photo created by swytchbike
Every electric bike comes with a power rating (usually measured in Watts). The higher this number, the more power said electric bike will be able to put out.
E-bike motors can be grouped into three major classes – low, medium, and high-powered. Low-powered electric bikes — usually with power ratings between 250 & 350 Watts — are ideal for light riding. They are not powerful enough to climb steep gradients nor transport heavy loads.
Also Related:
Hub Motor VS Mid Drive Motor – Which One to Pick?
Higher-powered electric bikes on the other hand — typically equipped with 750-1000W motors — are better adapted to heavy-duty riding. So, if you're going to search for a great e-bike online, make sure it meets your requirements "powerwise".
Also Related:
E-bike 500w vs. 1000w: The Battle of the Motors
2. Battery Capacity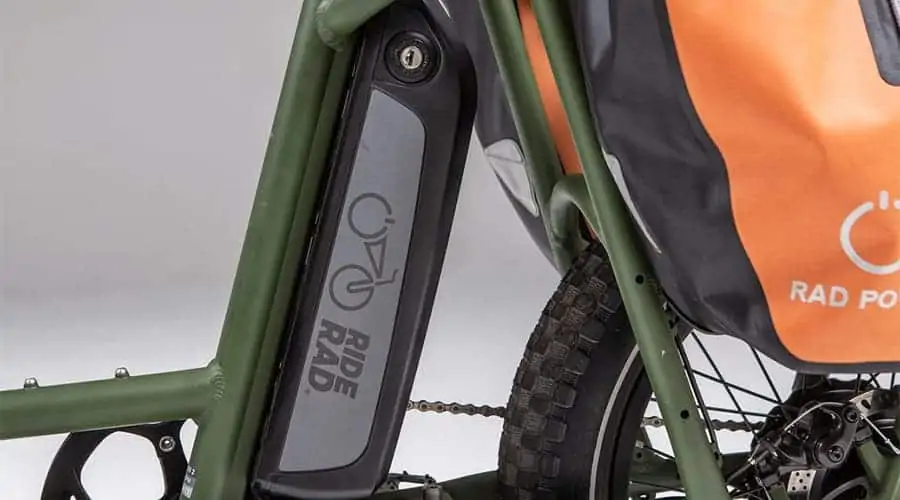 Photo created by radpowerbikes
The last thing you want to do is pedal a 50-pound-plus machine five miles to your home without motor assistance; your legs will make you pay. In order to avoid such a situation, purchase an e-bike with a reliable battery.
Lithium-ion batteries have evolved since they were first introduced into the power sector in 1991. Today, there are e-bike battery packs that can store up to 20,000 mAh of current.
Don't lower your standards. As long as you're sure you'll be covering long distances with your e-bike, don't settle for just any bike, buy one with a long-lasting battery.
Read our guide on electric bike batteries here
3. Weight and Weight Capacity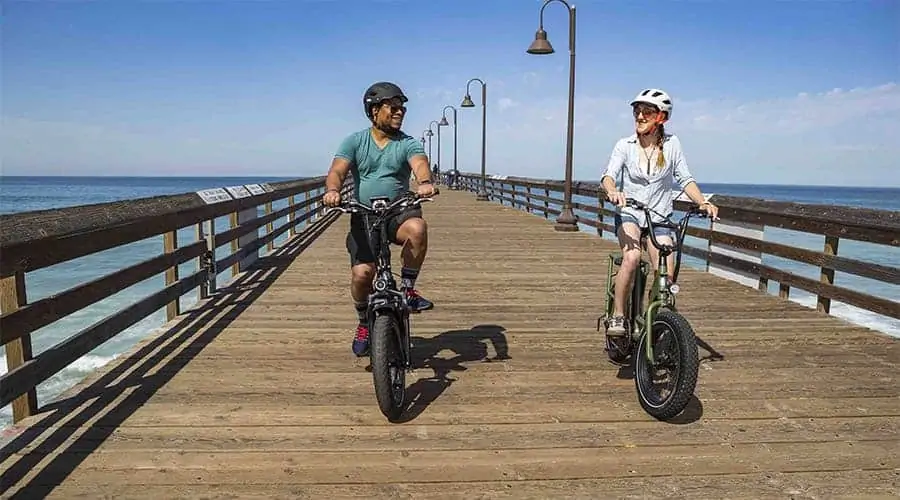 Photo created by radpowerbikes
Electric bikes are usually 40 – 50% heavier than traditional bicycles. Their motors and batteries make them weigh more than their rider-powered counterparts.
That said, choosing the right e-bike for you will also depend on how much weight you're comfortable dealing with. If you constantly have to carry your e-bike up a flight of stairs, it's probably best that you purchase a lightweight electric bike.
These are not usually as powerful as heavier e-bikes, but with a mid-drive system, they should be able to overcome almost any resistant force.
Another metric you need to pay keen attention to is a bike's maximum payload capacity. These numbers represent the manufacturer's rating of how much weight the e-bike can support and still operate at optimal performance.
E-bike weight limits can range between 220 lbs and 350 lbs. It's only natural that heavy riders go for electric bikes with higher weight capacities as it ensures that they get the most out of their rides.
Read our guide on electric bikes weights and riders weight limits here
What Is the Most Reliable E-bike Motor

In most cases, a reliable e-bike motor is one that is efficient and durable. Cycling enthusiasts often refer to mid-drive motors as the most reliable and efficient e-bike drive system.
This is because they integrate with the bike's gear system and can be easily adapted to any riding condition. Need to go faster? Switch gears and let the motor take care of the rest. The same applies to situations where riders need to travel up steep inclines.
However, with companies improving on their hub-drive technologies, we're starting to see hub motors that are torquey enough to compete with even the best mid-motors. So, it's safe to say a reliable e-bike motor must have the following characteristics;
A decent enough power rating

Enough torque to flatten hills

Must be durable (maybe even come with a long warranty)
Some of the best e-bike motors include;
What Is the Most Dependable Electric Bike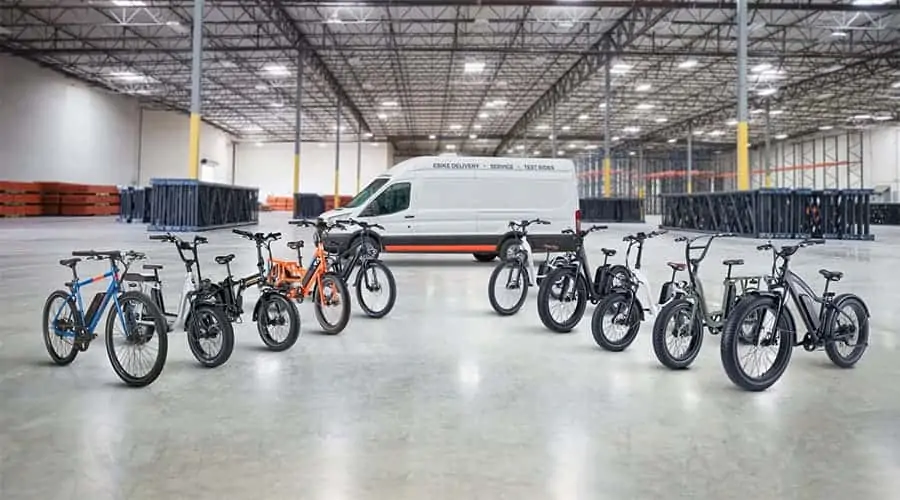 Photo created by radpowerbikes
Reliability is one of those qualities that everyone hopes for in an electric bike. No one wants to purchase a $1500 electric bike and end up spending ×2 of that amount replacing faulty components.
This is why we've put together a list detailing some of the most reliable electric bikes on the market. These award-winning e-bikes are made up of high-end parts and are guaranteed to give you the best bang for your buck.
Also Related:
Best Electric Bike Under $1500 | Think Can't Get Quality for Less?
What Is the Best Value for Money Electric Bike
If you don't have too much money to spend but want to get the best out of your e-bike purchase, check out our picks of the best value for money e-bikes.
Also Related:
Best Electric Bike Under $800 – Never Over Pay for Entry Level Ebike
Recent Topics