If you're looking to cut down on your carbon footprint, save time and money on your daily commute, or just enjoy the freedom of a fast and agile bike, the KBO electric folding bike may just have some of the key features you need.
We know it's fast, has good mileage, a powerful motor, and an advanced gear system. Still, is that enough to make it the top choice for cycling enthusiasts?  In this review, we'll take a closer look at the bike's key features, specs, and user experience to help you decide if it's the right choice for you. So, let's get started!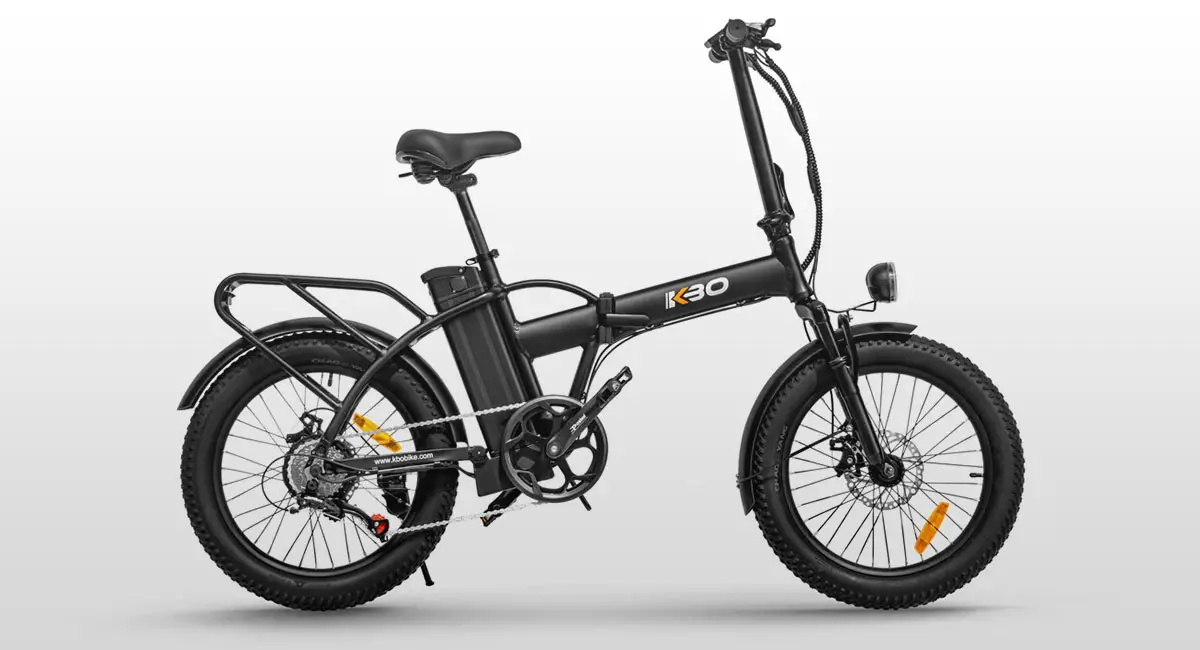 Testing Evaluation
Tested against similar models within the same category
Main Features:
Riders Weight Limit | 275 lbs (125 kg)
Motor | 500W Brushless Gear Motor
Range | Up to 60+ Miles per Charge
Battery | 36V, 15.6Ah Lithium-ion Battery
Speed | 20 – 25 MPH
The Complete Breakdown of the Specs and Features of the KBO Folding E-bike
The KBO folding e-bike is a unique and versatile mode of transportation that offers the convenience of folding for easy storage and transportation. In this breakdown, we'll explore the full range of specs and features that could potentially make this bike a top choice for urban commuters and adventure-seekers alike.
From its powerful electric motor to its lightweight frame and durable tires and even the basic or underwhelming features that have not gone unnoticed. Let's explore all of that. 
Motor and Power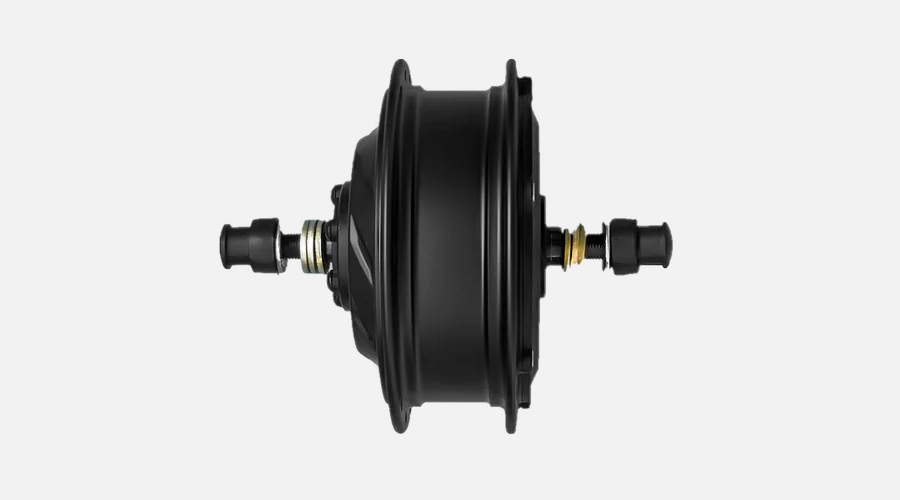 One of the major things the Founder of the KBO Flip promised when the e-bike first premiered were convenience, performance, and affordability. It's safe to say that the advanced 500W brushless geared motor delivers on the second bit.  
A 500W motor delivers enough power to jolt any e-bike to 20 to 25mph speeds. Plus, the KBO flip has performed well on trails, off-road tracks, and sandy beaches. This shows that the e-bike can easily navigate challenging and rough terrains with minimal effort.
In addition to the consistent performance, the motor also offers durability and longevity, making it a reliable power source for the KBO Flip. However, we have seen equally light e-bikes with up to 750W motors. That means more speed, better capacity, and equally more range. 
In the KBO Flip's defense, the 500W motor is reliable enough to achieve safe and enjoyable speed levels that potentially meet state-to-state by-laws. 
Range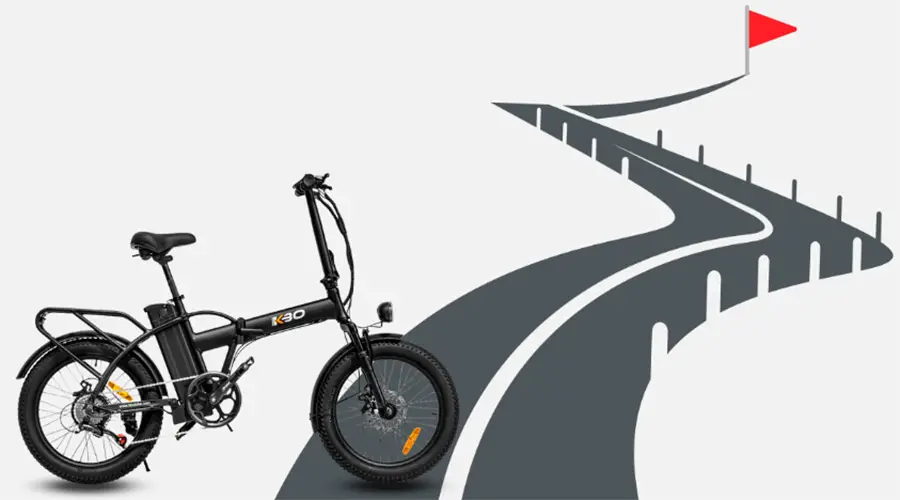 On the KBO website, the range is listed at 60 miles, however, that distance is practically achievable with pedal assist. With just pure electric cycling, the range would probably deliver 35 to 40 miles on a single charge. 
If you ride moderately, you should be able to achieve up to 50 miles on a single charge. That's pretty decent for work commutes, leisure rides around the block, or adventurous rides near home. Basically, if you are not using the throttle a lot or activating pedals assist a ton, the KBO Flip should deliver more than 30 minutes of battery-assisted cycling. 
Performance and Acceleration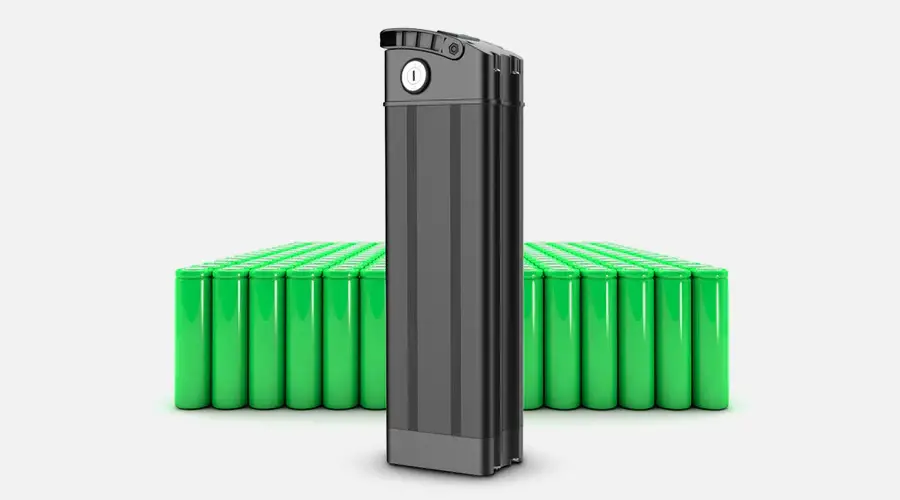 The KBO Flip has gotten a lot of good reviews in terms of its performance and capacity. The e-bike comes equipped with a 15.6Ah lithium-ion battery that delivers up to 35 miles of pure electric cycling when fully charged. Many fat tire or heavy e-bikes use 48 volts batteries, however, that also translates to a higher price. 
The 36-volt batteries may not deliver in terms of extra high amp hours, however, this 15.6Ah battery still promises up to 60 miles in range. For a not-so-heavy e-bike, the battery was equally smartly placed behind the seat. This makes the weight distribution more centralized and less tricky than other placements sometimes prove to be. 
In addition, the battery comes with a lockable and removable option. This is probably one of the perks of the KBO Flip's battery system. Users who prefer charging their batteries separately can do so.
The users that have extra space and no time to pull out and reassemble the battery can easily charge the battery while it's still attached to the e-bike.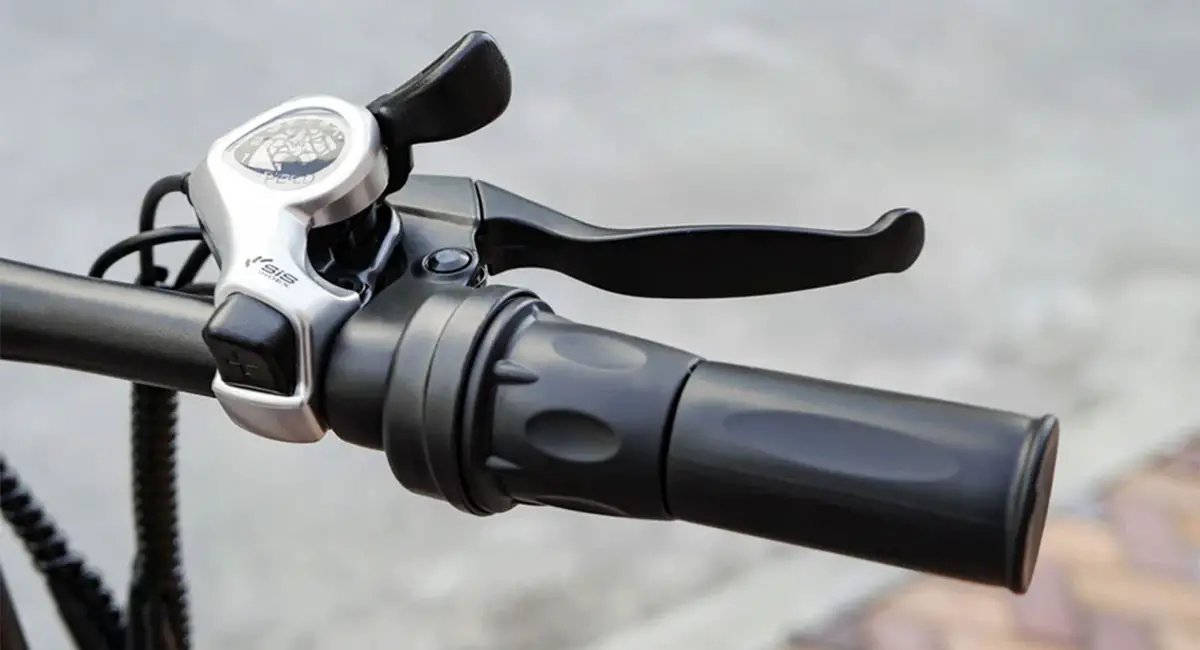 Another raving feature that got users talking is the twist throttle. In this age of constant innovation, manufacturers sometimes like to push limits. 
People prefer the simple twist throttle cause it's easy to use and practically mimics a power bike's acceleration system. Plus, this smart twist system requires a gentle 'half-right-twist' to get your cruise on. 
Talking about simplicity and easy accessibility, there's also a multi-functional backlit display that shows the odometer, speed level, battery level, and other vital features. You'll also find the controls for changing gears and powering on the e-bike right beside the display unit.
Weight Limit and Net Weight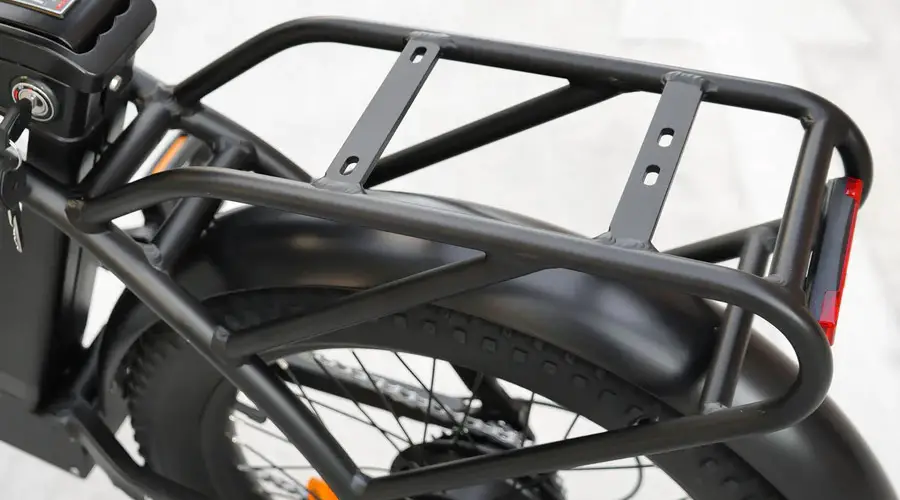 The KBO Flip E-bike weighs about 57 lbs which is about 25.8 kg. Most e-bikes weigh between 20 to 30kg, so 25 is neither too light nor excessively heavy. However, smaller riders may find it more challenging to carry this around. 
Additionally, the total payload capacity for the KBO Flip is 275 lbs, which is pretty decent for a foldable e-bike. There's also a sturdy integrated rear rack for extra haulage space.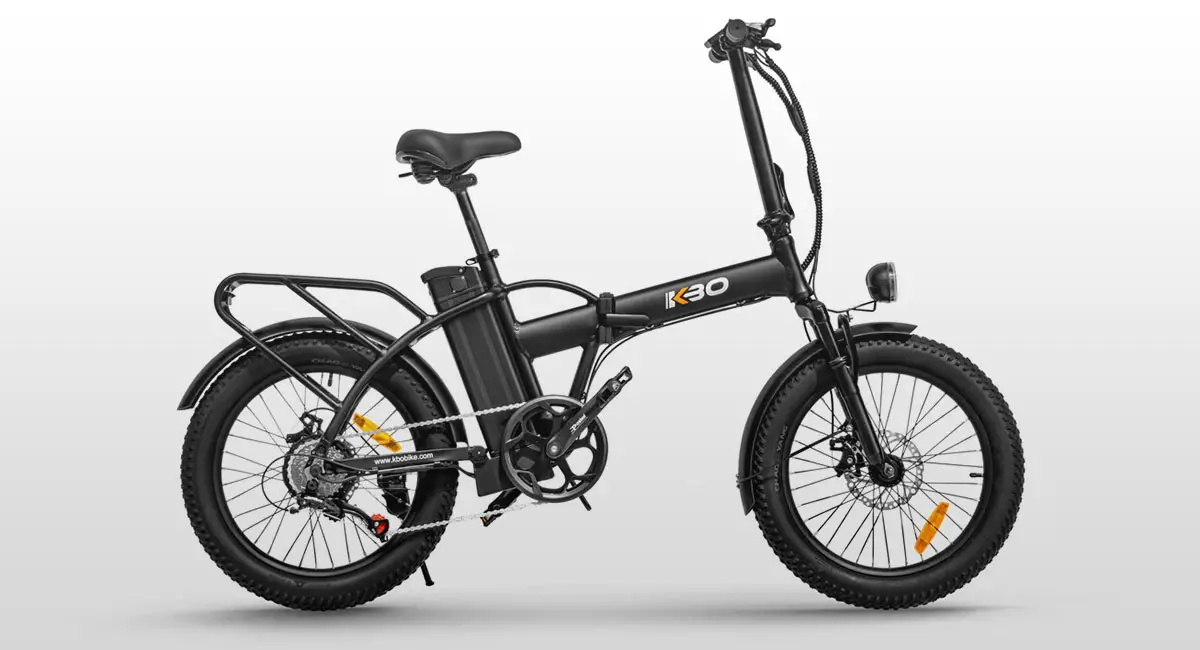 Testing Evaluation
Tested against similar models within the same category
Main Features:
Riders Weight Limit | 275 lbs (125 kg)
Motor | 500W Brushless Gear Motor
Range | Up to 60+ Miles per Charge
Battery | 36V, 15.6Ah Lithium-ion Battery
Speed | 20 – 25 MPH
Design and Engineering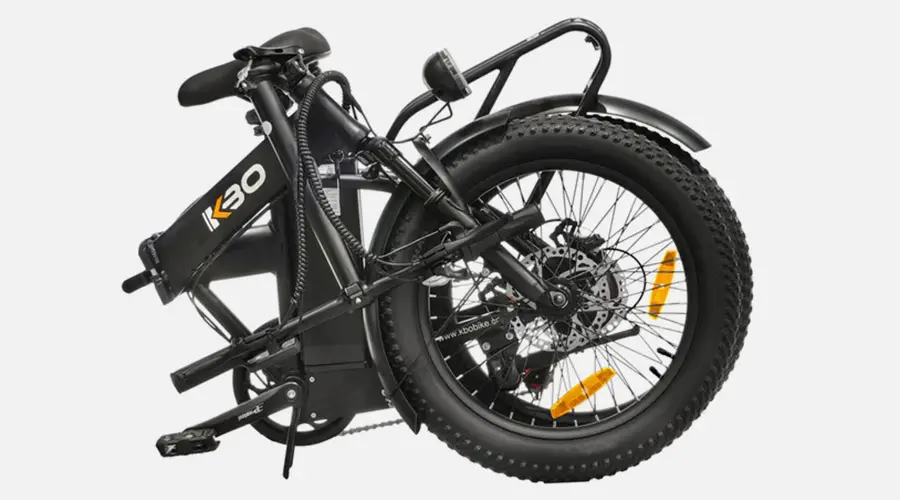 Let's talk about the design and general engineering of the KBO Flip E-bike. First of all, we've established that it's a foldable e-bike, which may give users the feeling that it's hard to assemble. Surprisingly, most users said the bike was easy to assemble, regardless of the wide design and folding parts. 
Beyond that, users were impressed by the quick-release levers that allow the frame to swing into its sturdy form. Plus, it only takes three simple steps to fold it back into its portable form. Both handlebars and the frame fold in to give a well-tucked-in form that can be in your car trunk, garage, or even under a desk. 
Moving unto the gear system, the KBO Flip comes with a Shimano 7-speed gear derailleur that makes changing gears on different terrains very instant. Most users have little to no complaints about the gear system for now.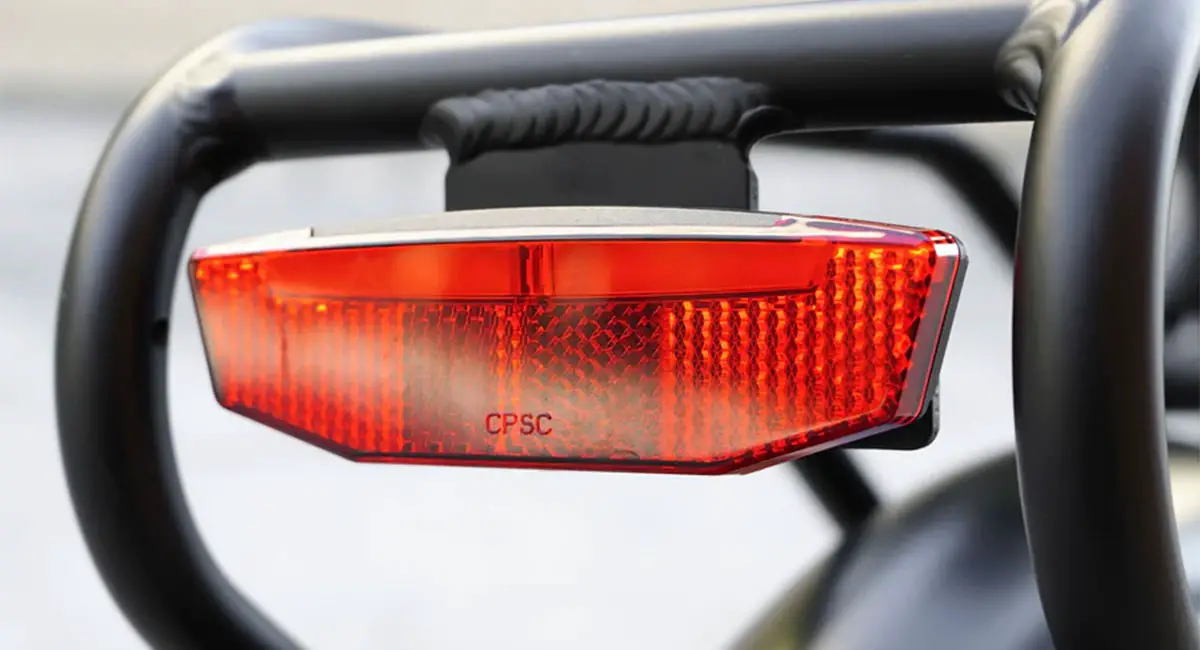 They also raved about the rear lights which come on immediately after you hit the brakes. That, plus the CPSC-certified headlight makes riding through traffic at night a little more safe and convenient. 
As mentioned above, the extra-wide design helps to keep the e-bike well-balanced, and also makes riding on rough terrains more comfortable. Most of the KBO Flip e-bike's specs and features seem to work well, however, some users did complain about the high build on the e-bike. 
Some riders found it slightly more challenging to climb onto the KBO Flip compared to, let's say, the KBO Ranger. 
Suspension and Tire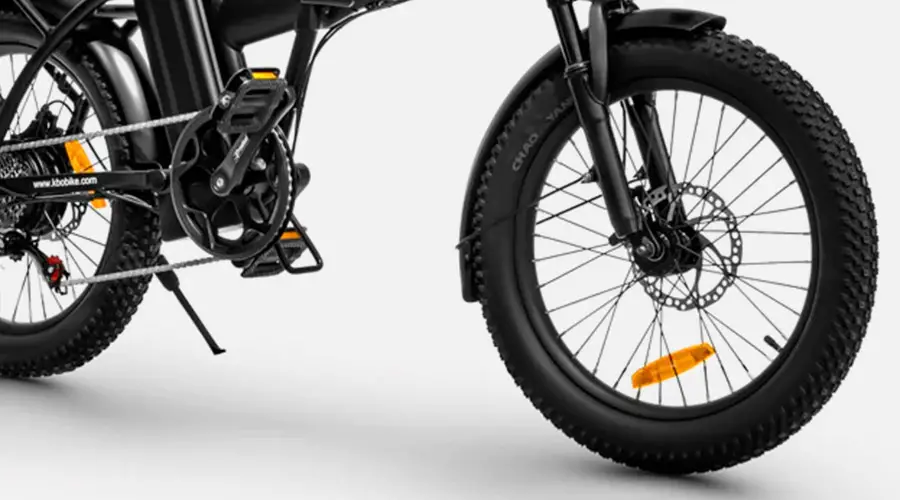 The KBO Flip Foldable E-bike sports two fat tires which are incredible options for commuters, city riders, and adventurers alike. The 20" x 3" fat tires have a wider tire surface that's supposed to help the e-bike stay stable and maintain traction on all terrains. They tend to float or cruise through dirt roads better than thinner tires. 
In addition, the tires are reinforced with high-performance dual front suspension forks that help with traction and shock absorption. They work to make the ride, in general, more comfortable, and so far, most of the users can attest to this fact. 
Who is This Product For?
The KBO Flip is an affordable foldable e-bike for both commuters and adventurous bikers. It comes with an easy-to-assemble frame, a strong aluminum build, and sturdy and stable fat tires. Its wide yet sleek frame is suitable for riders between 5'1" to 6'2" inches in height. While it may not have a step-thru form, it's still relatively simple to mount, ride and operate. 
City commuters who are looking for an attractive and relatively lightweight e-bike with a decent payload capacity may want to jump on this one. The KBO Flip's powerful motor and relatively dgood range may also be great for commuters that need to go the extra mile without having to stop and charge. 
Who is This Product Not For?
Weighing slightly more than 25kg, the KBO may not be teh best option for cycling enthusiasts looking for an extra lightweight e-bike. Plus, fun-sized riders who prefer a step-thru design may want to check out options that are smaller and easier to mount.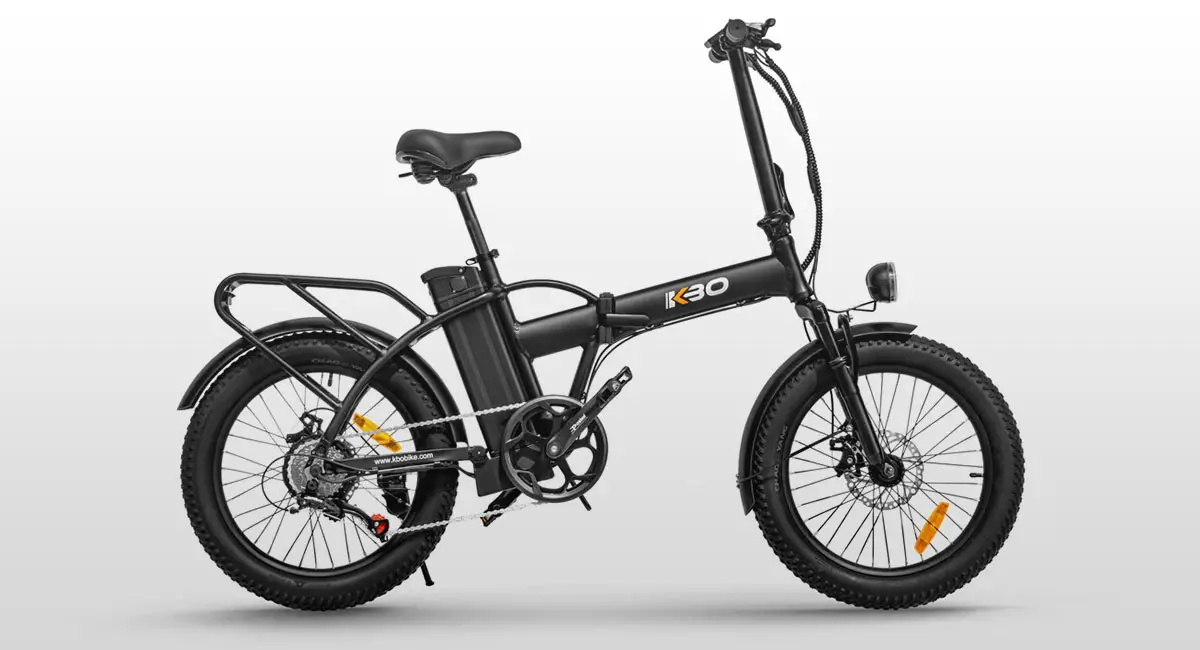 Testing Evaluation
Tested against similar models within the same category
Main Features:
Riders Weight Limit | 275 lbs (125 kg)
Motor | 500W Brushless Gear Motor
Range | Up to 60+ Miles per Charge
Battery | 36V, 15.6Ah Lithium-ion Battery
Speed | 20 – 25 MPH
Recent Topics