Ride1Up is known for manufacturing high-end, budget-friendly electric bikes for riders of all experience levels. In this article we're going to be taking a closer look one of their entry level models – the Core-5.
Often referred to as a "stealth" e-bike because of its unique aesthetic features, the Ride1Up Core-5 is a high-powered electric bike designed for multiple purposes. Highlighted below are some of the bike's main features.
Features of the Ride1Up Core-5
Motor and Power
The Core-5 is equipped with a 500W hub-motor that can put out up to 750 Watts of power at peak performance. The bike's motor can also generate up to 60Nm of torque, making it suitable for climbing steep gradients and overcoming strong resistant forces like headwinds.
People who live in hilly or windy areas will find that electric bikes with geared hub-drive systems are better suited to riding in difficult situations than direct hub-drive systems.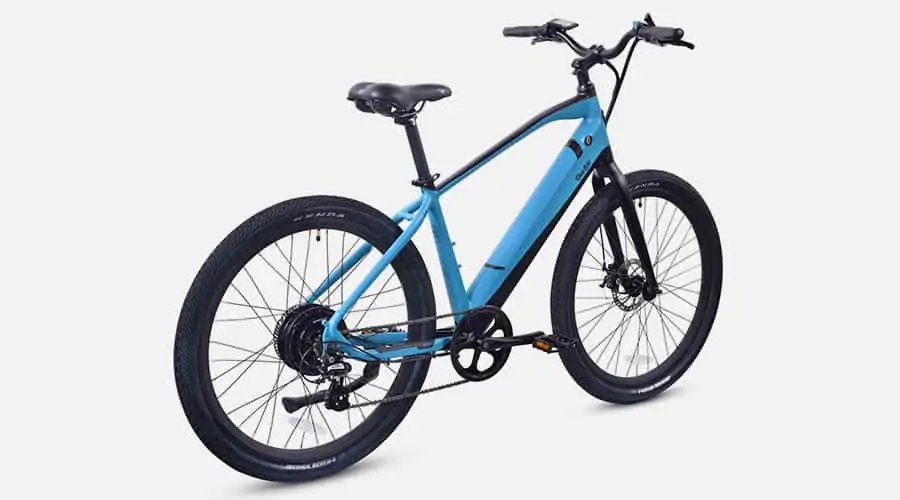 Range
According to estimates on Ride1Up's official website, the Core-5 is able to cover up to 40 miles (64km) on every full charge. The e-bike comes with a 48v 10.4 ah (499Wh) battery fitted into its frame.
In real-world range tests conducted by Electric Ride Lab team, the Ride1Up Core-5 was able to cover 43 miles in its lowest power setting and 19.5 miles in the highest pedal-assist mode. No off-road and an even road conditions under which this test was carried out, however, keep in mind that the bike's range could fluctuate due to factors like rider weight, terrain type, wind direction, etc.  
Speed
The Ride1Up Core-5 is a Class 2/3 electric bike. It is equipped with a thumb throttle that propels the bike up to a set speed limit of 20 mph.
Switching to the highest level of pedal assistance should provide enough electrical boost to reach speeds of 28 mph before the speed governor restricts the flow of current to the motor.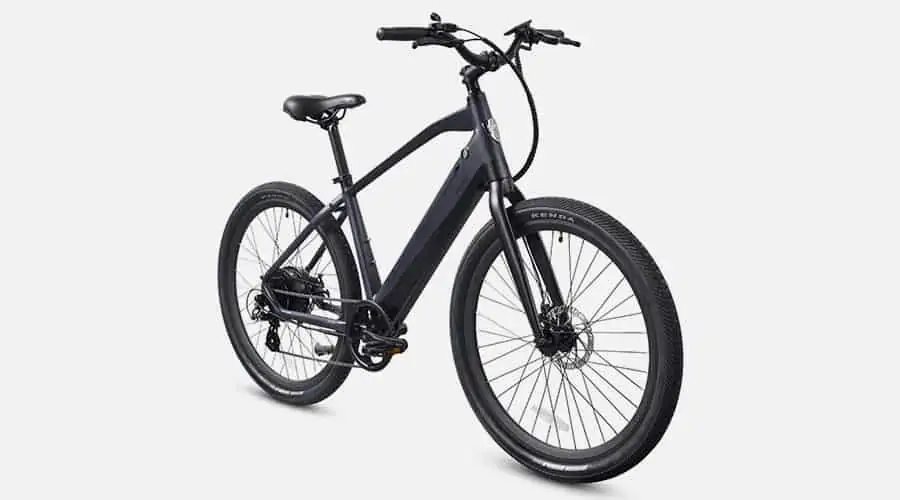 Ride Smoothness
The Ride1Up Core-5's front forks are rigid and it doesn't come with a rear suspension. Riding on rough terrain might not be as comfortable on the Core-5 as it would be on an e-bike with telescoping forks.
This is because the Core-5 isn't designed to absorb feedback from large road irregularities. Riding on paved roads shouldn't be a problem though. In fact, the bike's lack of telescopic forks makes it accelerate slightly quicker than other regular electric mountain bikes we have tested before.
Weight Limit and Net Weight
Surprisingly, the Ride1Up Core-5 tips the scale at just 49 pounds/22 kg (almost 10 lbs/4.5 kg below the average for electric bikes in its class). Not only does the Core-5 weigh less than most e-bikes in its class, Ride1Up also did a good job in designing the bike's frame to look like that of a regular bicycle.
Don't mistake the Core-5's lightweight feature for weakness though. The e-bike can support up to 275 lbs of weight, making it ideal for heavy riders.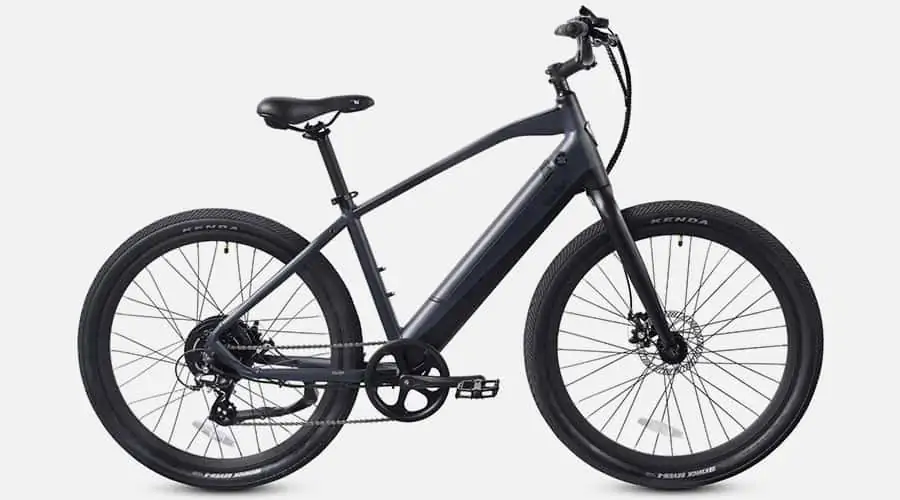 Portability
The Core-5 isn't that much different from other Ride1Up models in terms of size. The bike's height (from the base of the wheels to the handlebar) is 42 inches and its total length (from one wheel to the other) is 70 inches.
Most bicycles — electric and regular — come with these same specifications or slightly different measurements. However, the one thing that sets this electric bicycle apart from most mid-range e-bikes is its downtube.
Ride1Up designed the Core-5's down tube to look a little less bulky than what we're used to seeing on regular electric bikes. The Core-5's battery is so neatly packed into the frame, you'll confuse the bike for a traditional bicycle.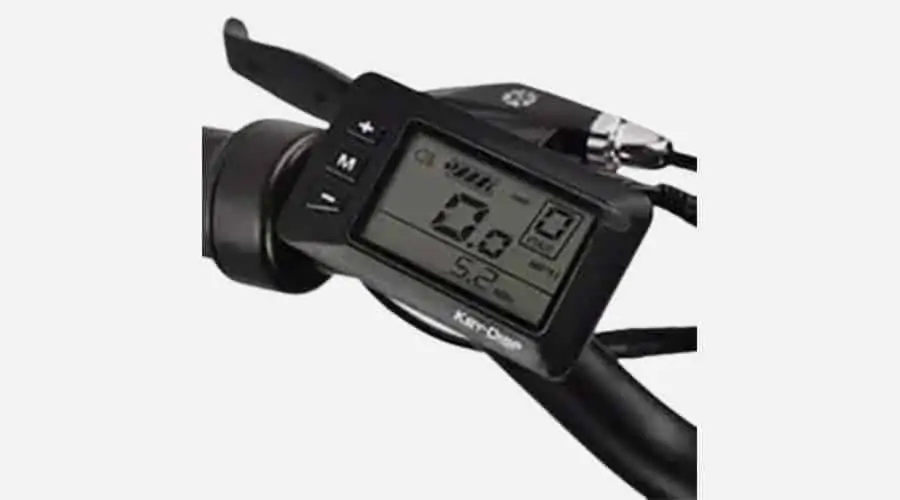 Display and Controls
The Ride1Up Core-5 comes with a backlit LCD meter that displays the bike's speed, total mileage, pedal-assist level, battery power remaining, etc. Riders can also access the bike's advanced settings from this device.
You can extend the number of pedal-assist levels to 9 and set power consumption for each level. Riders can also increase the bike's speed limit and tweak the wheel's settings from the LCD meter.
The LCD meter also features a backlight option. If it's not a daytime and you can't really see what is being displayed on the meter's screen, the device offers three different degrees of backlight brightness to help illuminate the screen.
The video below is an in-depth tutorial on how to operate the Ride1Up Core-5's LCD display.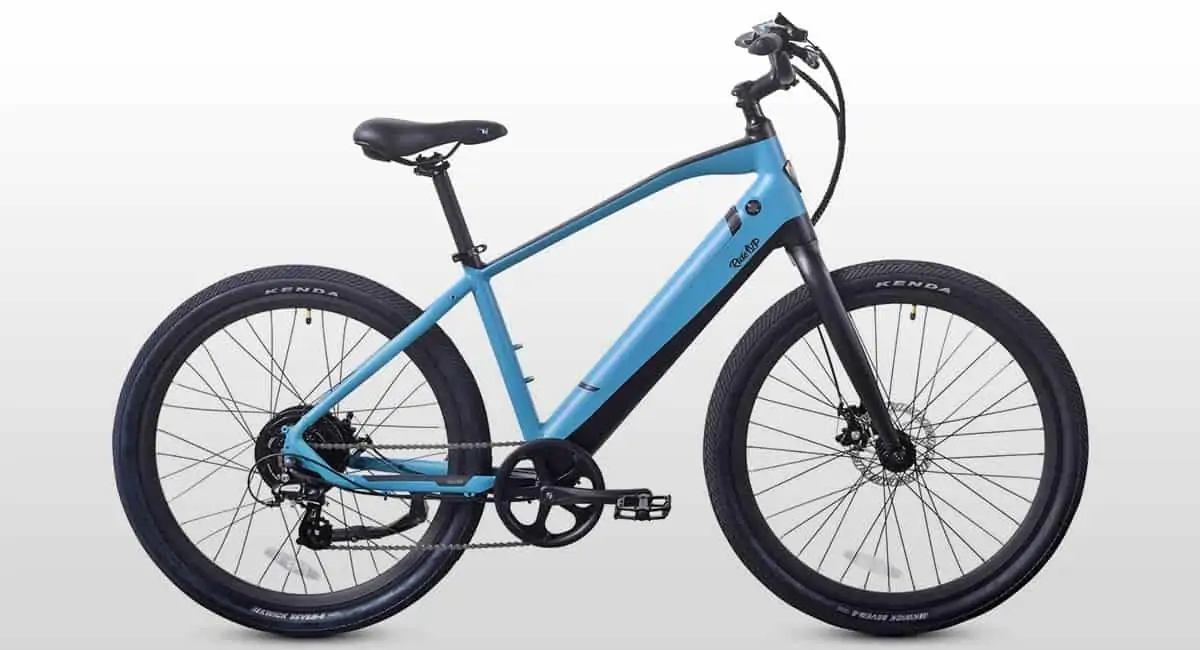 Testing Evaluation
Tested against similar models within the same category
Main Features:
Riders Weight Limit | 275 lbs
Motor | Powerful 750W Geared Hub Motor With 60nm Torque
Range | 20-40 Miles – Real World Test (19-43) Miles
Battery | 48V10.4ah Reention Eel Pro LG Cells, Smart BMS
Speed | 28 mph Pedal Assist and 20 mph Throttle
Water Resistance
The Ride1Up Core-5 is rated for ingress protection against dust particles of all sizes (dust-tight) and low-pressure water jets from any direction (IP65). This means it can be washed with a low-pressure nozzle and will perform just fine in the rain.
But you have to be careful though, the bike (or areas on the bike where there are electronic components) is not designed to be completely submerged in water. So, avoid large puddles of water and ensure that you keep the bike indoors if you live in a flood-prone area. 
Suspension and Tires
As mentioned earlier, the Ride1Up doesn't have an actual suspension system. It is equipped with rigid forks in the front and has no suspension in the rear. 
The bike comes with 27.5 by 2.2-inch all-terrain Kenda tires. Within the tires, just under the tread, are layers of aramid and ceramic particles designed to protect the tire against punctures.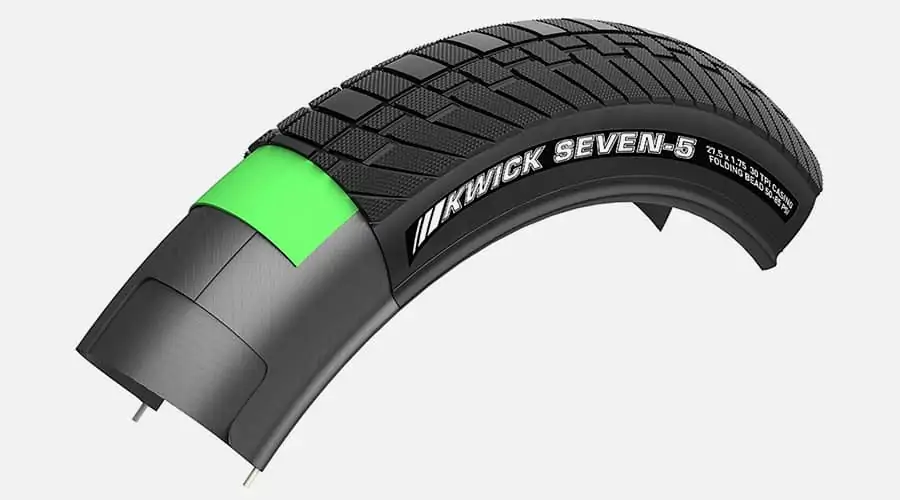 Climbing ability
The Ride1Up Core-5 possesses moderate hill-climbing ability. Its geared hub-motor can generate up to 60nm of torque and it is fitted with a 7-speed transmission system.
The bike's throttle-only mode might not be as efficient as a mid-drive e-bike's so you might have to pedal to travel up very steep inclines. But this shouldn't be a problem as riders can easily switch to a low gear in order to make pedaling easier.
Pros & Cons of the Ride1Up Core-5
Pros
It is a budget-friendly electric bike
The Ride1Up Core-5 retails for just $1045 MSRP. That's way cheaper than most 750W electric bikes available on the market today.
Ride1Up also offers interest-free financing for the Core-5. Potential buyers can pay for the e-bike in 4 interest-free installments. Riders also get the opportunity to test the Core-5 out for 30 days and if they're not satisfied with its performance, they can return the bike for a full refund. 
Pros
It is a portable electric bike
The Ride1Up Core-5 weighs about 49 pounds without any added accessories. Besides just being lightweight, the bike frame's tubing is designed in such a manner people might not even be able to tell that it's an electric bike.
Its frame is more compact than the bulky ones we're used to seeing and testing on popular high-powered e-bikes. 
Cons
It comes with very few accessories
The Ride1Up Core-5 is a pretty basic electric bike. It doesn't come with a headlight or a brake light which would have been a nice-to-have since most aftermarket lights don't integrate with e-bikes' electrical systems.  
Fenders are another accessory that Ride1Up failed to install on the Core-5. It's not like the bike won't function properly without these accessories, riding is just safer and more comfortable when you have them installed.
For instance, riding in wet conditions will most likely get you covered in mud and dirt if your bike doesn't have fenders. This shouldn't have an effect on the bike's performance, however, it will affect the way your coworkers look at you throughout the day. 
Cons
It has a small battery
The Ride1Up Core-5 might not be suitable for long-range travel. Its battery capacity is a bit low compared to other models offered by the same manufacturer. 
If you're in the market for an electric bike that can cover more than 43 miles on a single charge, perhaps the Ride1Up Core-5 might not be what you're looking for.
Table Comparing the Ride1Up Core-5 to other 750W e-bikes
| Product Name | Weight | Suspension | Price | Max. Payload Capacity |
| --- | --- | --- | --- | --- |
| Ride1Up Core-5 | 49 lbs (22 kg) | No suspension (rigid forks) | $1045 | 275 lbs (125 kg) |
| Radcity 5 Plus | 65 lbs (29 kg) | Front forks only | $1999 | 275 lbs |
| Pace 500 | 49 lbs | No suspension (rigid forks) | $1499 | 300 lbs (136 kg) |
| Radrover 6 Plus | 73.4 lbs (33.3 kg) | Front forks only | $1999 | 275 lbs |
| Aventon Level | 62 lbs (28 kg) | Front forks only | $1799 | 300 lbs |
Who's the Ride1Up Core-5 For
Beginners, urban commuters; Pretty much anyone looking for an electric bike that can take them from point A to B. It's also a good e-bike for racing.
Who's the Ride1Up Core-5 not For
The Ride1Up Core-5 is not an ideal electric bike for off-road riders and hunters. Its components are not designed to tackle the rigors of riding on rough terrain.
Upgrades and Accessories
The Ride1Up Core-5 is a pretty stripped-down bike, but it does come with some cool accessories. Pre-installed on the Core-5 are a pair of water bottle bosses, an adjustable heavy-duty kickstand, and a chainstay guard.
Warranty and Shipping
Ride1Up only ships to addresses in the US and Canada. They charge an extra $275 for orders made from the two non-contiguous US states (Alaska and Hawaii) and $100 for orders made from Canada. Delivery time in the US usually ranges between 2 and 7 business days depending on the customer's location (the closer your address is to their warehouse, the earlier you should receive your order)
They also offer a limited one-year warranty on all purchases made from their official website or from authorized retailers. Riders can claim this warranty only if the bike comes from the manufacturer with faulty or defective components.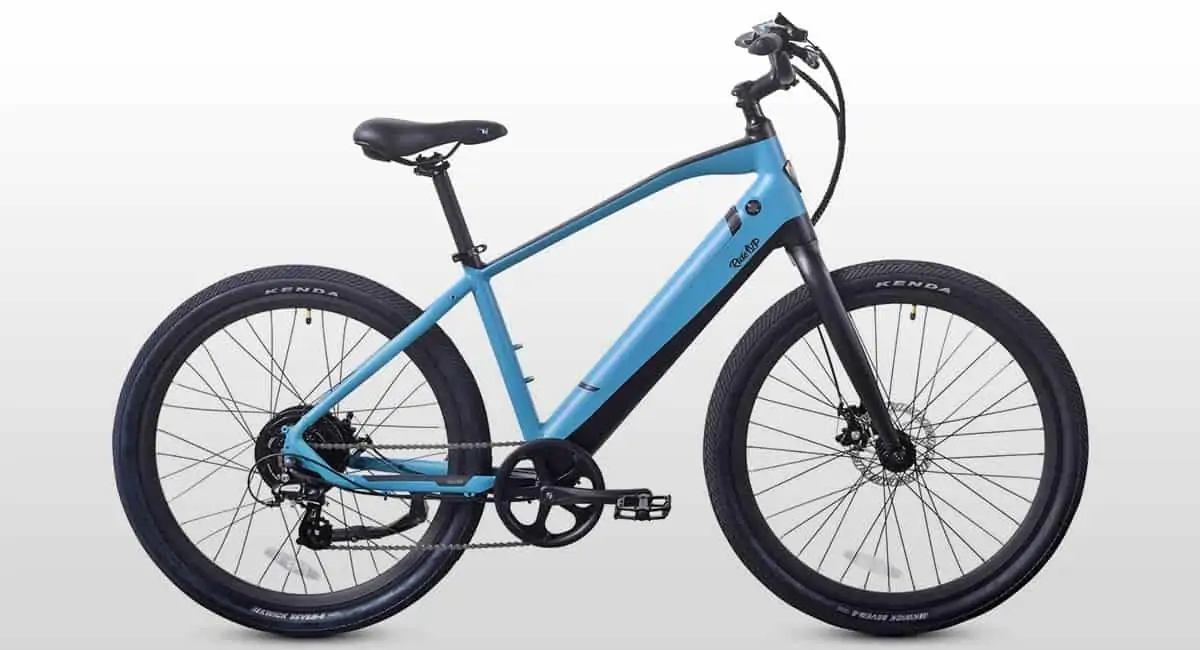 Testing Evaluation
Tested against similar models within the same category
Main Features:
Riders Weight Limit | 275 lbs
Motor | Powerful 750W Geared Hub Motor With 60nm Torque
Range | 20-40 Miles – Real World Test (19-43) Miles
Battery | 48V10.4ah Reention Eel Pro LG Cells, Smart BMS
Speed | 28 mph Pedal Assist and 20 mph Throttle
Recent Topics