Turboant, an electric personal mobility manufacturing company, recently released its one of its first e-bikes – the Thunder T1/Nebula N1.  The fat-tire eMTB (electric mountain bike) comes with an external (Thunder T1) or internal (Nebula N1) 672 Wh Samsung lithium-ion battery that powers it to cover up to 60 miles on a single charge. 
We have tested this ebike on various terrains and in this in-depth review, we will cover the Turboant Thunder ebike special features, pros, cons, who is it for and most importantly who isn't for.
At the end of this article you should know if this high-performance e-bike is a good fit for your riding style. 
After reading the review, if you think this ebike is worth your money, you can check best price here.
Features of T1/N1 fat-tire electric bike
1) T1/N1 Ebike "26×4"  fat tire
The T1/N1 comes with 4-inch-wide puncture-proof tires (which are 30-40% wider than tires commonly found on normal mountain bikes). If you're looking for a pair of wheels that can be ridden under any condition (season or terrain), fat tires are a more versatile option to conventional 2 to 3-inch wide tires. 
Advantages of fat tires on the T1/N1 Ebike
i) They provide more grip than slimmer tires
Especially when you reduce their air pressure. On contact with the ground, a fat tire's patch size increases. This improves balance (grip) and gives riders more confidence when turning into sharp corners. 
ii) They are better at mitigating shock than normal bike tires
Because of the way they're designed, fat tires engulf and roll over surface irregularities. So, instead of bouncing off bumps and sending vibrations to the rider, fat tires grip bumps by retreating into themselves and then, instead of just bouncing off immediately, push back slowly as they roll over the bump.
This is generally how most MTB tires work. However, fat tires have more room to expand.
2) T1/N1 Ebike Front suspension forks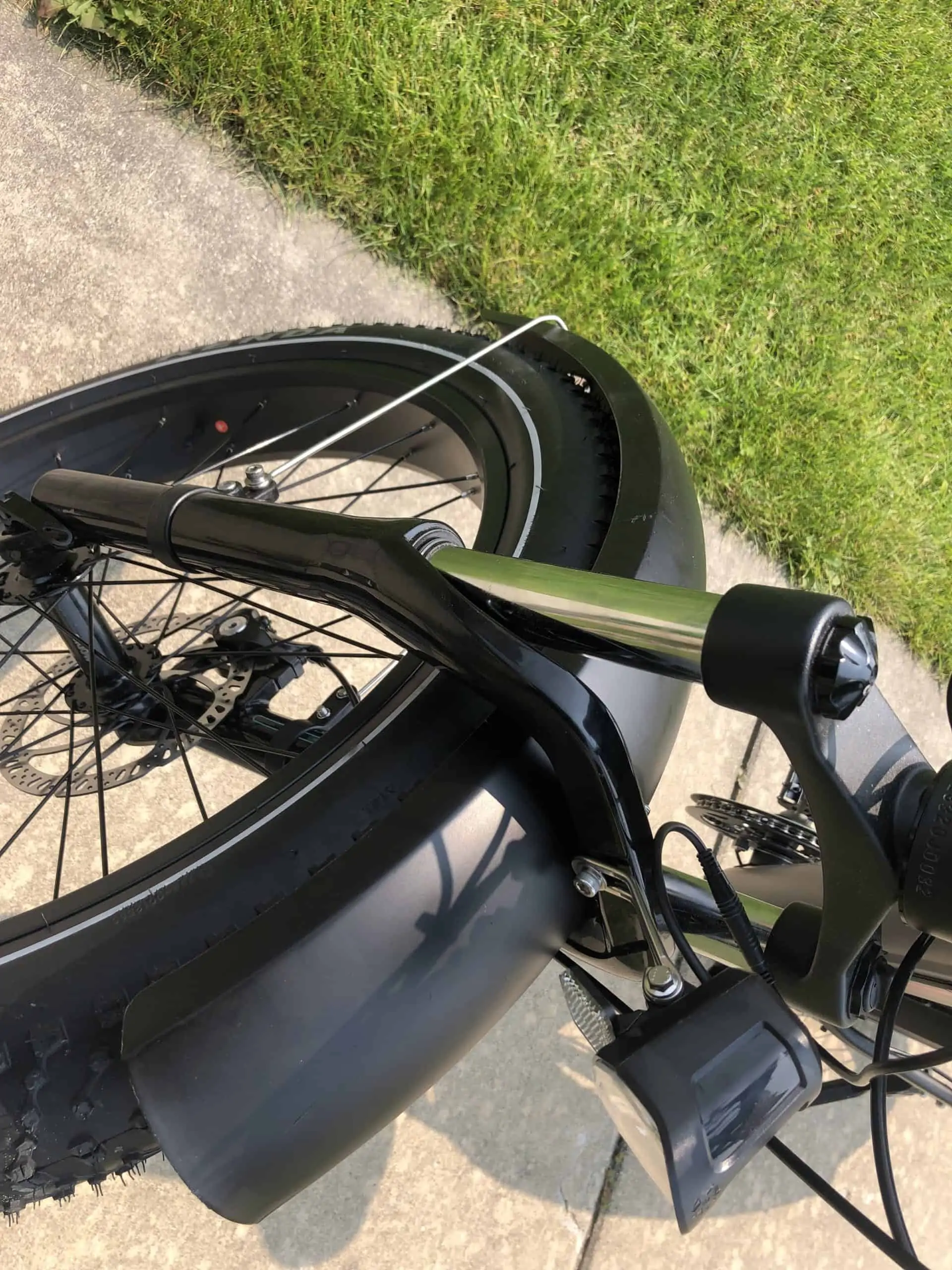 Off-road riding can be very bumpy. For this reason, mountain bikes are designed with suspension systems to smoothen out bumpy rides. 
Riding on unpaved surfaces can turn out to be very uncomfortable especially if your electric bike doesn't have a suspension system integrated into its frame. Suspension forks give the wheels room to react to bumps without necessarily rocking the bicycle's frame.
When suspension forks compress as a result of the bike's wheels colliding with or rolling over irregularities, they absorb the energy from the bump. Now, instead of expanding quickly like coil springs (which might cause a jerky feeling), they expand slowly, damping the energy from the bump. 
The Thunder T1/N1 is rigged with hydraulic front forks that improve overall riding experience.
3) LCD display
The Thunder T1/N1 is equipped with a LCD kit that displays battery blocks, speed, pedal assist level,  mileage, etc. Riders can control how much boost they receive from the bike's motor by switching between five different levels of pedal assistance.
The lowest and most conservative level, 1, requires more effort from the rider to propel the bike. This level utilizes very little power from the battery and extends the bike's range.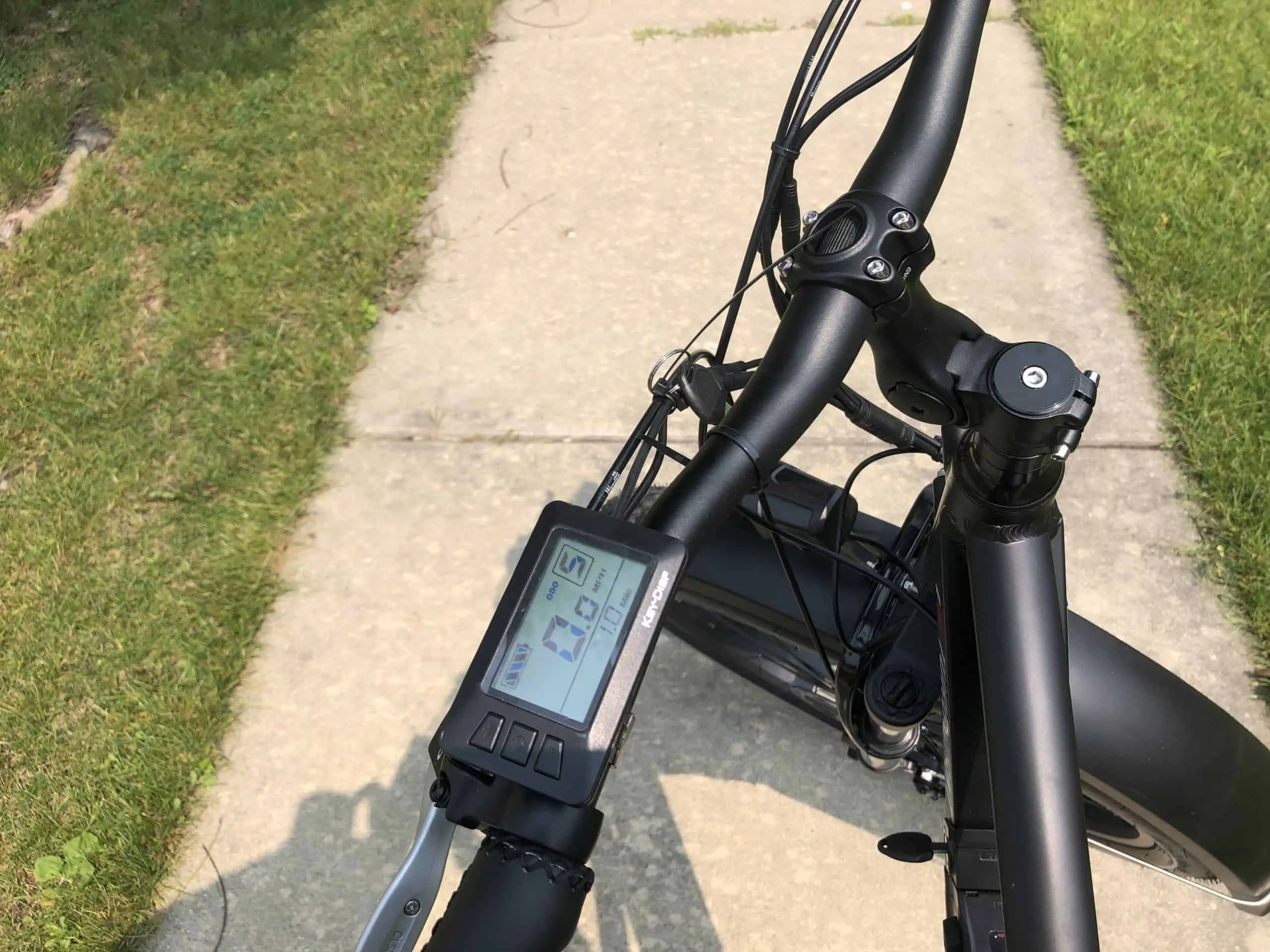 Level 5 is the complete opposite of level 1. Using this setting provides the rider with ample power to climb steep hills and reach top speeds. However, using all that power will drain the battery at a quicker rate.
Specifications of the Turboant Thunder T1/ Nebula N1 Fat tire electric bike
| | |
| --- | --- |
| Features | E-Bike specifications |
| Power | 750 W with 80 Nm max torque |
| Range | 60 miles |
| Top speed | 30mph () |
| Front and rear lights | Yes |
| Suspension system | Hydraulic forks |
| Max rider capacity | 264lbs (120 kg) |
| E-bike weight | 70 lbs (33kg) |
| Battery capacity | 48 V × 14 Ah |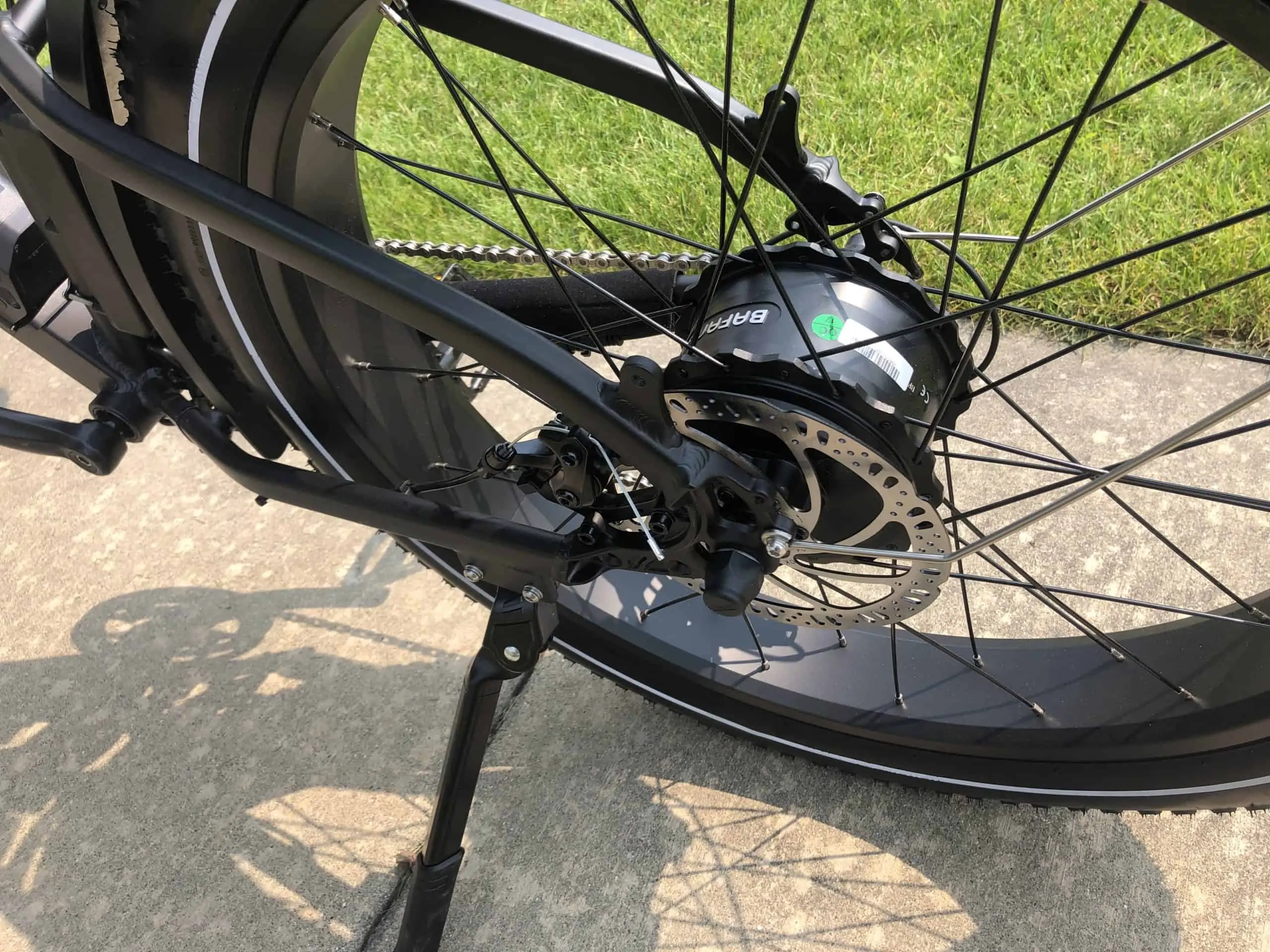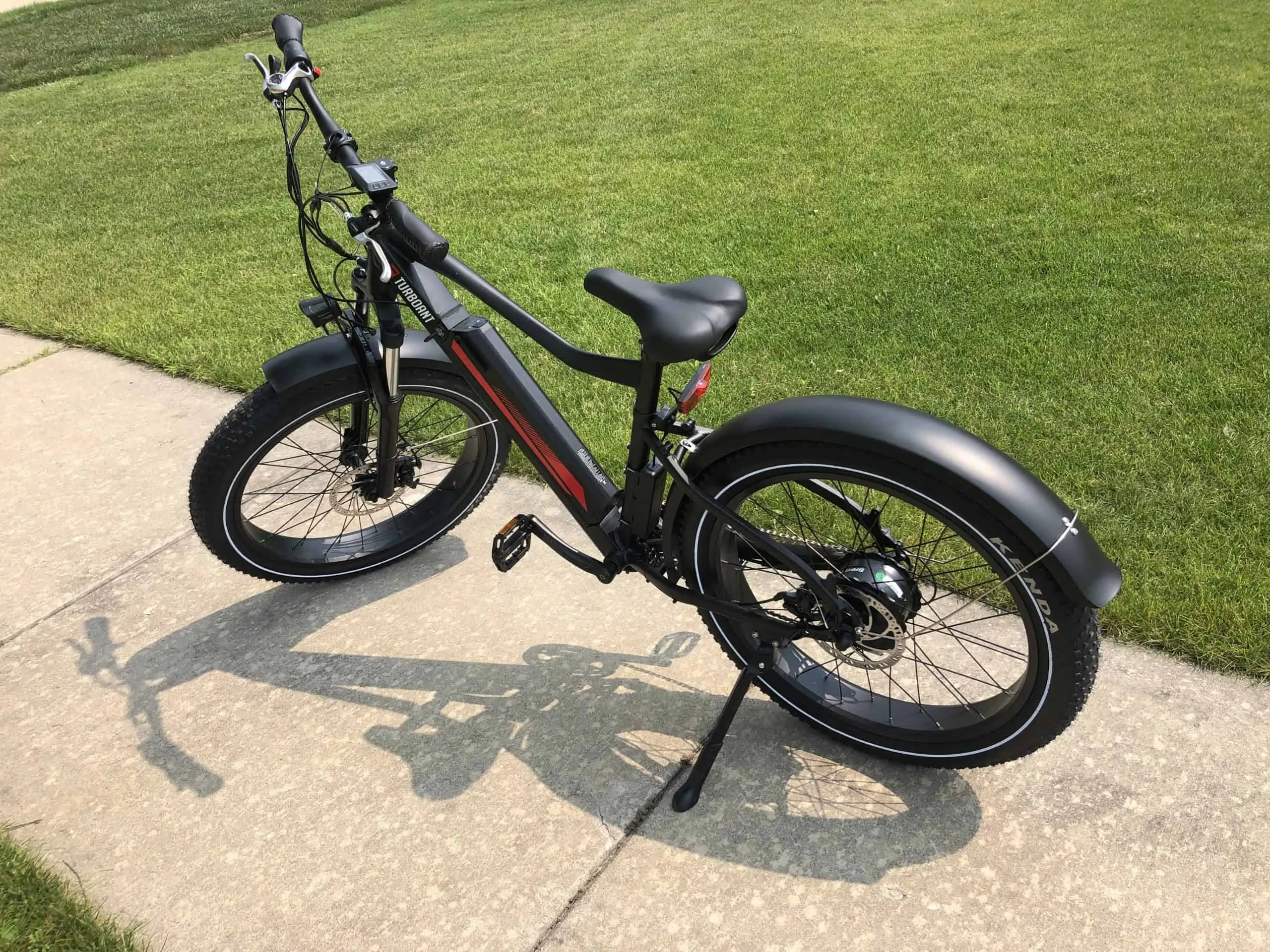 Testing Evaluation
Tested against similar models within the same category
Main Features:
Riders Weight Limit | 264 lbs
Motor | 750 W with 80 Nm Max Torque
Range | 60 miles
Battery | 48V, 14Ah Samsung and LG Lithium-Ion Battery
Speed | 30 mph
Pros of Turboant's T1/N1
1) It's a good off-road electric bike
 Unlike conventional eMTBs (electric mountain bikes with normal tires) that absorb shock using only one system (suspension forks), the Turboant T1/N1 will ensure an even smoother ride with its hydraulic front forks and 4-inch wide tires.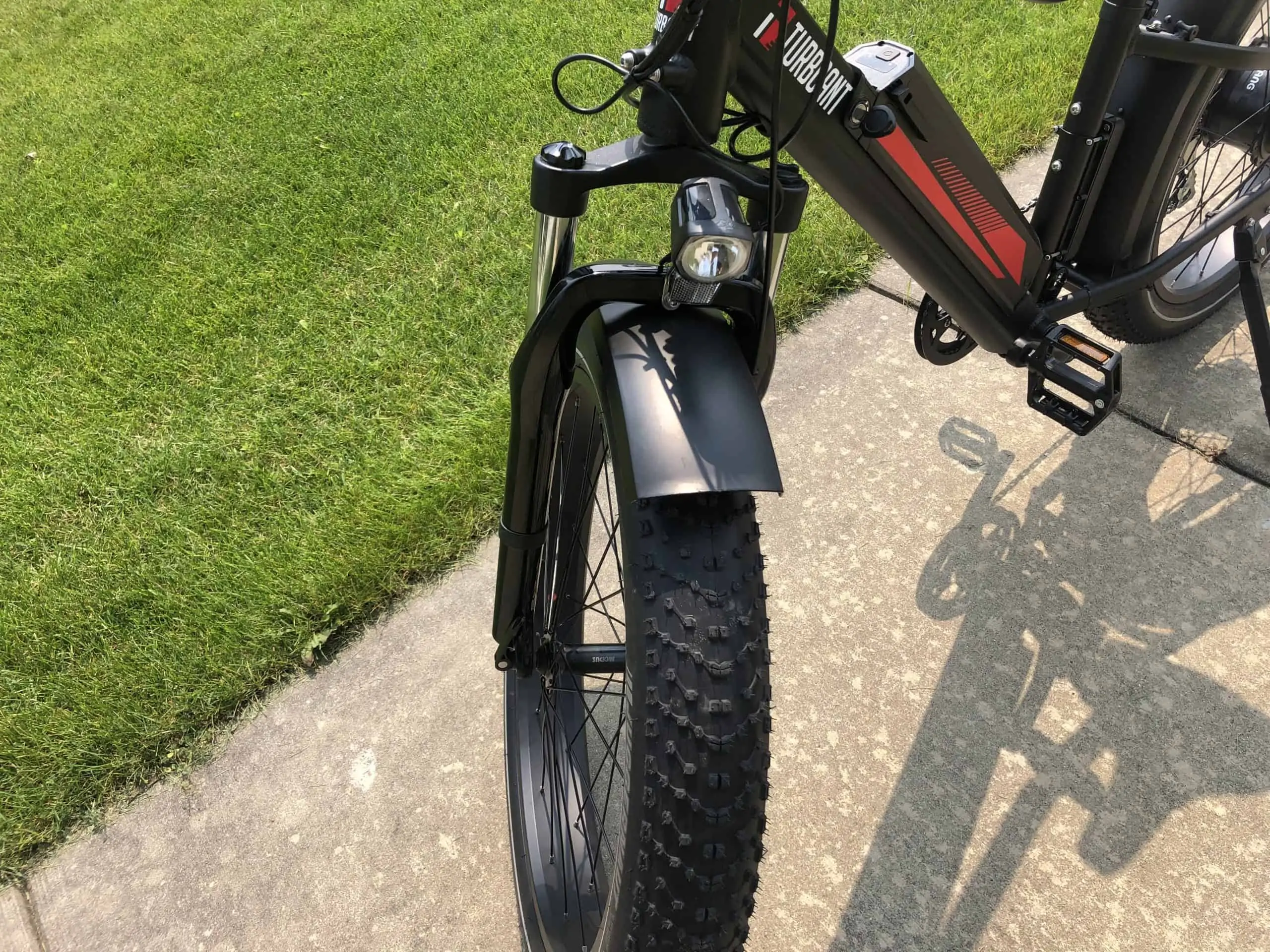 So, if you're in the market for a good off-road electric bike, you might want to consider the Turboant T1/N1. It has excellent shock mitigation capabilities.
2) It can be ridden on any surface
This is just one of the many advantages of riding a fat bike – you can ride them on any surface. Wet surfaces, muddy terrain, rocky terrain, paved surfaces, snow, etc fat e-bikes like the Turboant T1/N1 have better grip than normal e-bikes and as such aren't subject to as much slip. 
3) It is ideal for heavy riders
There are a couple of reasons to believe the Turboant T1/N1 passes as a heavy-duty e-bike other than just basing its strength on the 264lbs "Max rider capacity" reported by the manufacturer (some manufacturers might say their bikes can support up to 260lbs, however, it's not until you go through the specifications of each component that you realize their claims are actually far from the truth).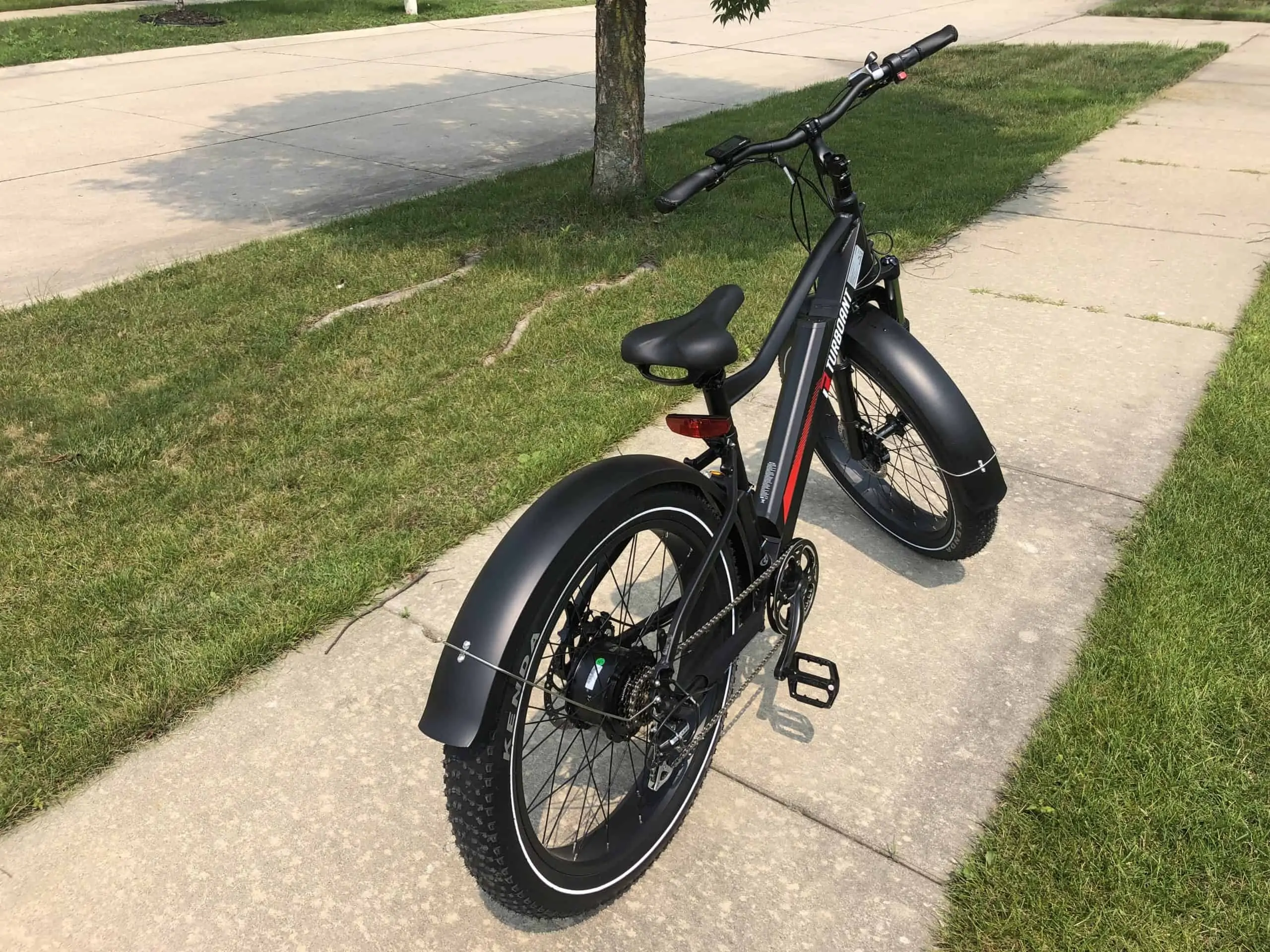 The first is its frame. The Turboant Thunder T1/Nebula N1's frame is crafted from aluminum alloy (a type of metal that has a higher strength-to-weight ratio than steel). The second reason is its wheels.
Apart from them being fat and providing better grip, they have 32+ spokes. These prove that the Turboant T1/N1 will indeed be able to support heavy riders.
Cons of the Turboant Thunder T1/ Nebula N1
1) It's very heavy
This (the bike's weight) doesn't matter much since the bike is motorized. However, if your battery ever runs out of power, this 72-pound beast is not something you want to pedal without assistance.
And then there's the common problem associated with riding a fat bike – increased rolling resistance. In a nutshell, never leave the house without this electric bike fully charged.
2) Increased rolling resistance
Due to the width of the Turboant T1/N1's tires, cyclists are more likely to experience higher rates of resistance (drag) than they'd usually experience when riding on slimmer tires.
And with fat e-bikes, it's not just the tires that are slightly wider than usual. The bottom bracket, the stem, the forks, etc. A fat e-bike's entire frame is adapted to accommodate the tire.
If you're looking for an e-bike with insane acceleration, something a bit more aerodynamic might be a better fit. 
Who's this bike for
 If you're an off-road rider looking for an electric bike that can handle the rigors of descending steep and rocky mountain trails, you might want to consider the Turboant Thunder T1/Nebula N1. 
Also, if you don't want your riding options limited to dry surfaces only, you might want to give this all-terrain fat tire electric bike a try.
Who's this bike not for 
The bike is just not aerodynamic enough for professional cycling. The tires and frame will cause massive amounts of drag while riding even if you use the throttle.
If you're a professional cyclist, or an aspiring cyclist, finding a much slimmer ebike with less drag will be better suited to your riding style.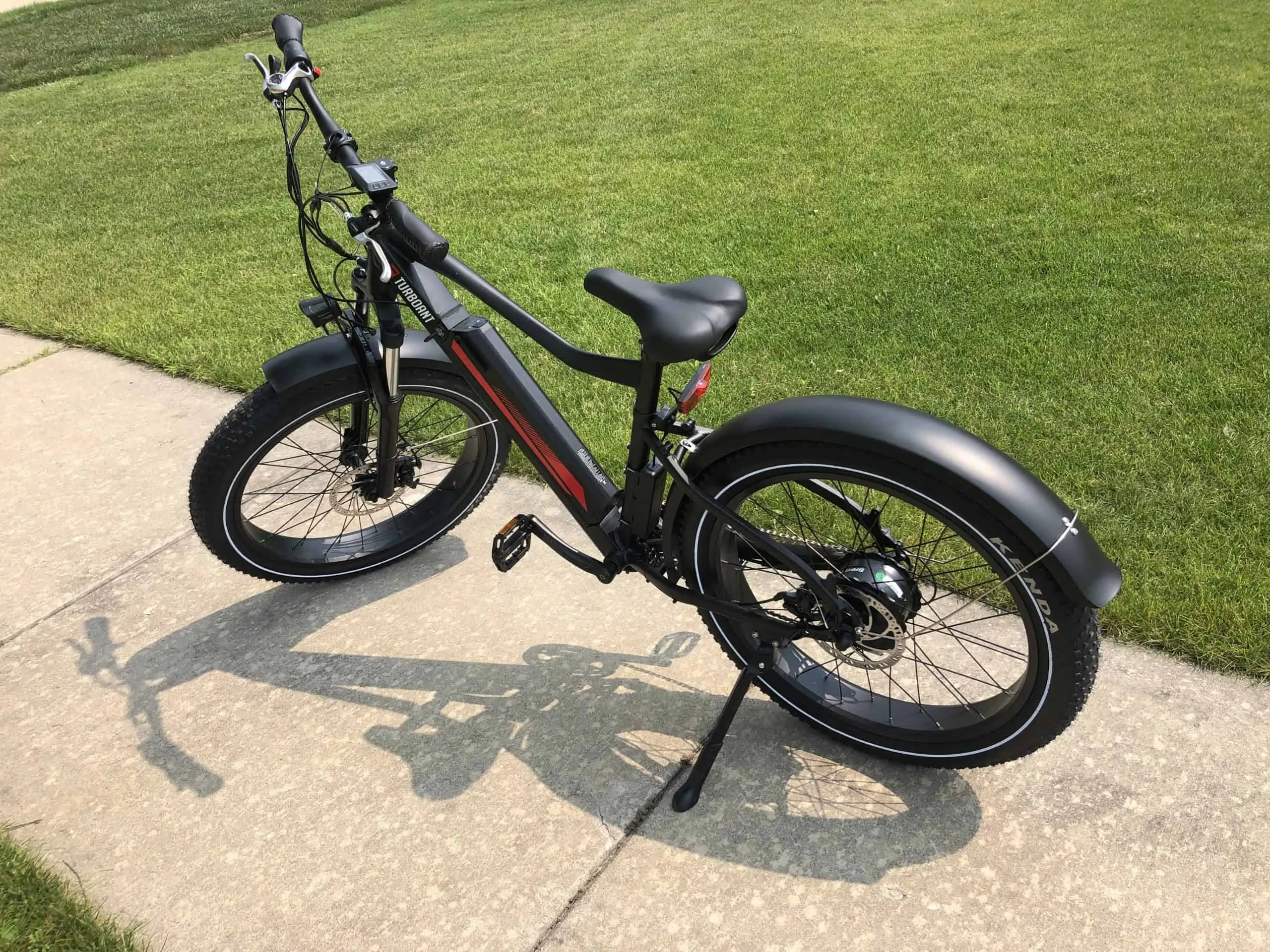 Testing Evaluation
Tested against similar models within the same category
Main Features:
Riders Weight Limit | 264 lbs
Motor | 750 W with 80 Nm Max Torque
Range | 60 miles
Battery | 48V, 14Ah Samsung and LG Lithium-Ion Battery
Speed | 30 mph
Recent Topics