The Levy Plus electric scooter is an updated version of the original Levy scooter, made for this year. With thicker 10 inch tires and detachable battery, the Levy Plus has features you wouldn't see in every other electric scooter This wouldn't be the first choice for many veteran riders or off-road enthusiasts. However, as a city commuting vehicle, you might be able to have some fun with the Levy Plus.
People who need an alternative to city commuting from using the bus or train want a scooter that is both efficient and easy to get a hold of. Levy's newest scooter is cheap in price, yet with a 20 mile range in a single battery, with a 350W motor, the Levy Plus makes the ride last long yet smooth for even the beginners.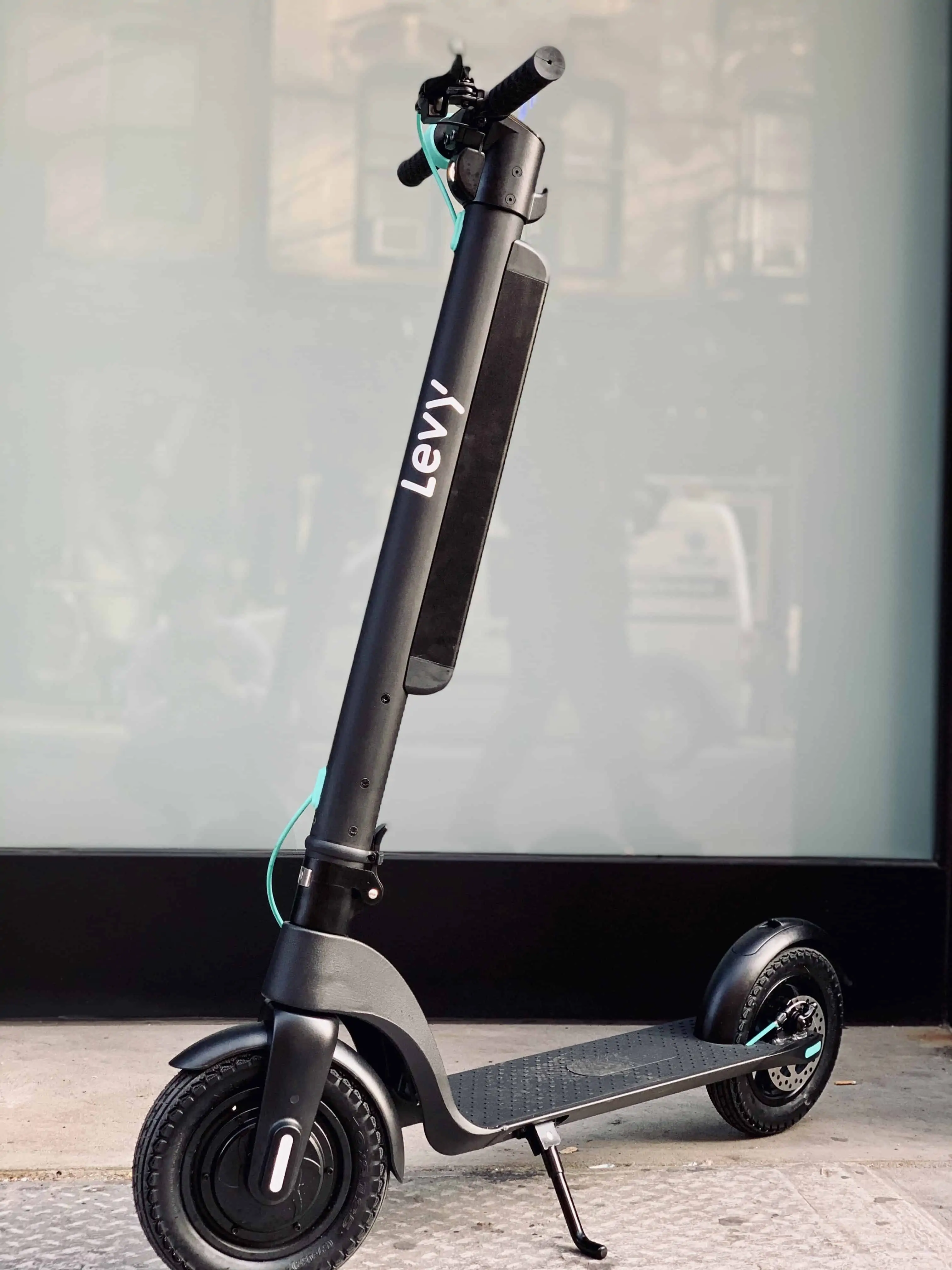 Product Specifications
As far as comparing the Levy Plus to other top brand scooters, it may seem like there isn't much going on with its size. However, it makes up for its size with performance on the streets and the small and lightweight build makes it part of its charm.
Standing at just 46 inches in height and having an easy to fold mechanism, this will make transporting and carrying easier for those who want a lightweight scooter that is less than 40 pounds and not as clunky as other options out there.
| | |
| --- | --- |
| Weight (standalone) |   30 lbs  |
| Battery  |   36V, 12.8aH  |
| Range  |  20 miles  |
| Speed  |  18 mph  |
| Dimensions (Unfolded)  |  46in x 41 in x 5.5 in  |
| Weight Capacity  |  230 lbs  |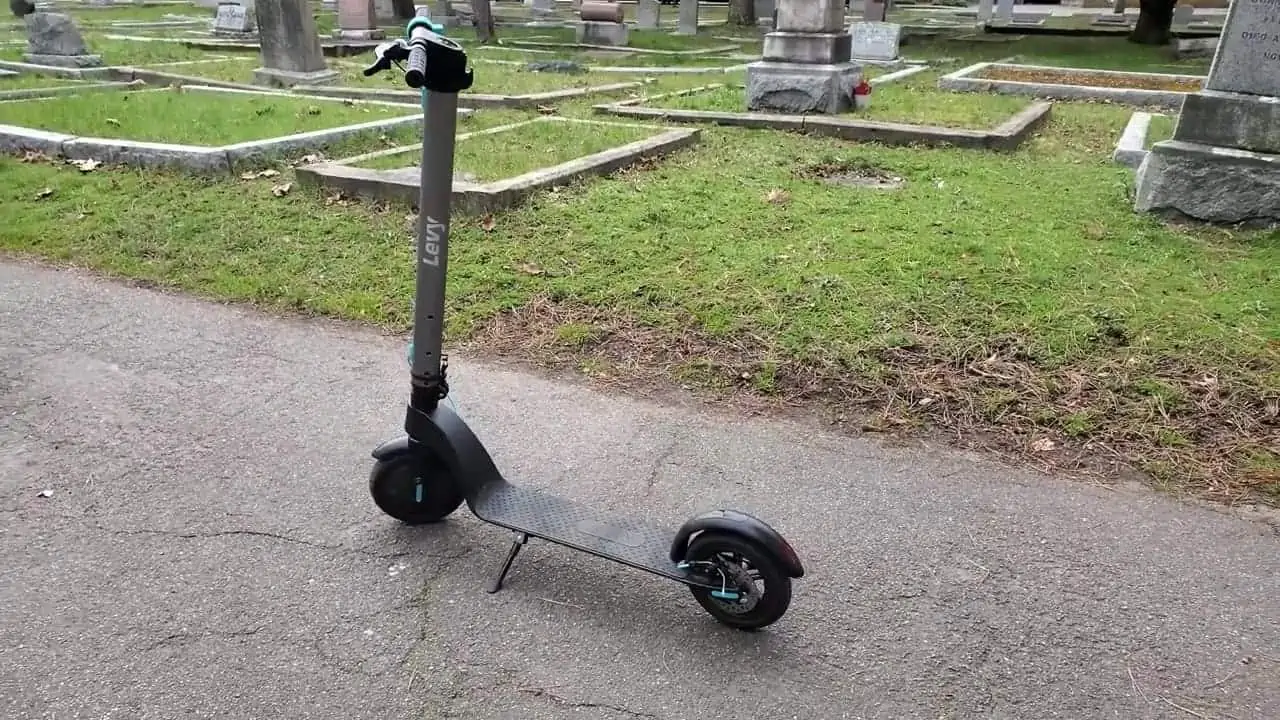 Levy Plus Features
While the Levy scooter may not be as large or as sturdy as other scooters out there, the Levy Plus makes up for it with its simple yet innovative functions. What's more is that unlike the base Levy, the Plus has some features that makes it better. Let's take a look at some of them.
Weight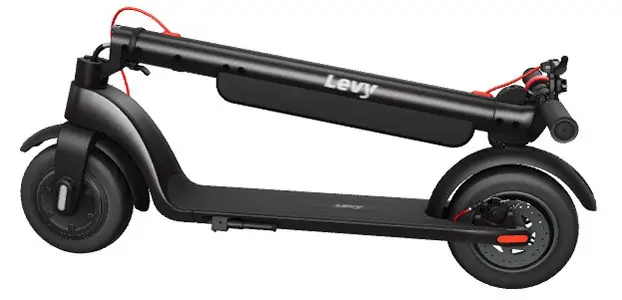 The weight of the scooter is around 30 pounds, including the battery pack attached to it. What makes this weight handy is that when folding it, it can be easily carried by one person when transporting through a set of stairs or loading it while on a train or a bus.
Despite its standalone weight, that doesn't mean it can't support heavy riders. The 230-pound weight capacity really offers this up to riders of all shapes and sizes. As long as you don't try and push your luck on a steep hill, it will take you just about anywhere.
Speed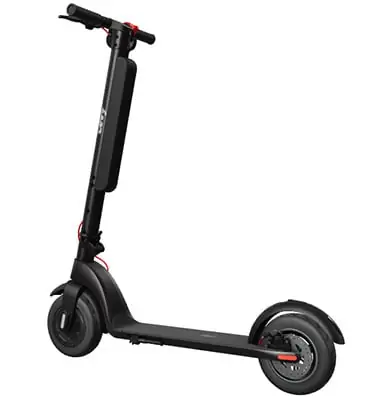 The maximum speed of the Levy Plus is approximately around 18 mph, which is a reasonable speed when in urban surroundings. Now yes, this does mean it's slower than what most would consider a typical city traffic speed, however this is perfect for going a few miles from home or making a stop at a store.
Depending on the weight of the rider, going up a small incline of 10% you would be able to get through it easy. However don't expect to clear any mountains with this electric scooter.
Size
Standing at a short 46 inches, the Levy Plus almost looks like a futuristic electric scooter while keeping the style of  older models of the early 2000's.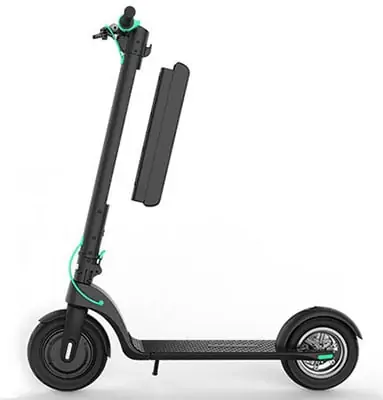 Battery
What really sets the Levy Plus apart from other scooters isn't just the battery it comes with it, but what it can do. In a charge time of 3 hours, you would be able to enjoy a trip up to 20 miles on a single charge. However, the most useful function of the battery is that it's swappable.
The battery is easily detachable with a simple button press, which can be useful if you have another battery on hand to swap it in while the other is charging. As the battery itself only weighs 3 pounds, this gives you options in charging and changing batteries to make the ride last even longer.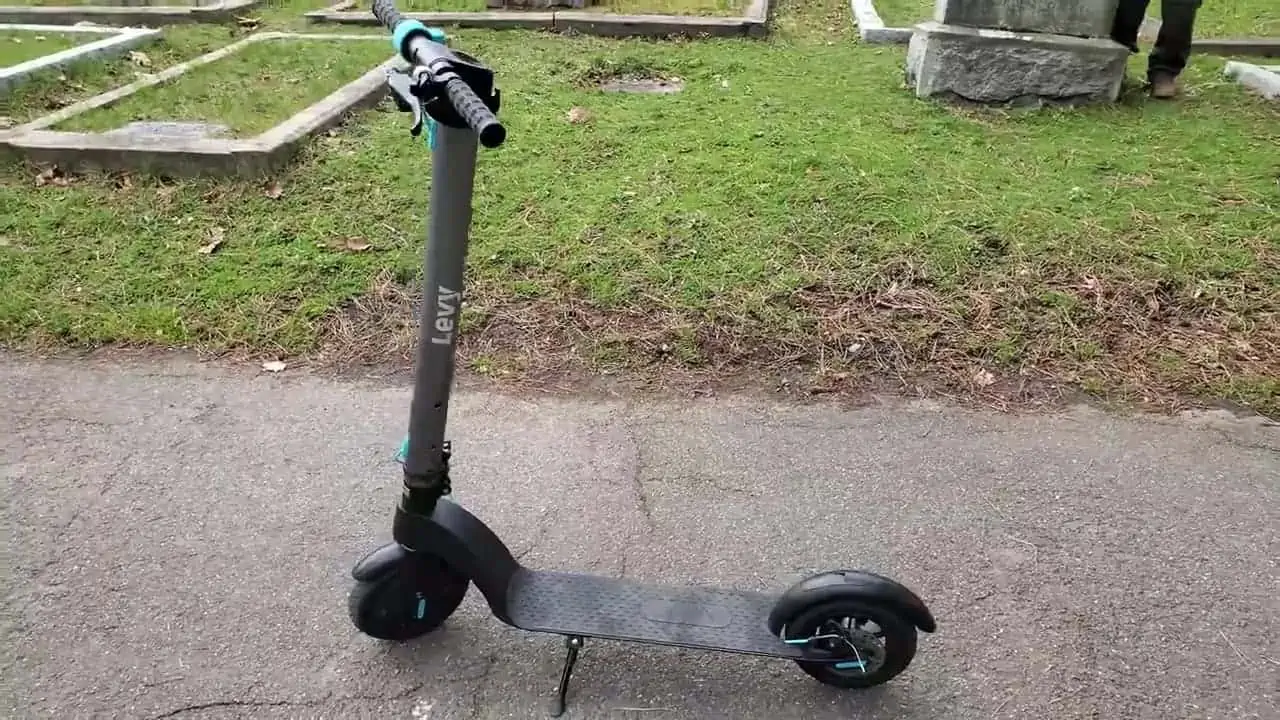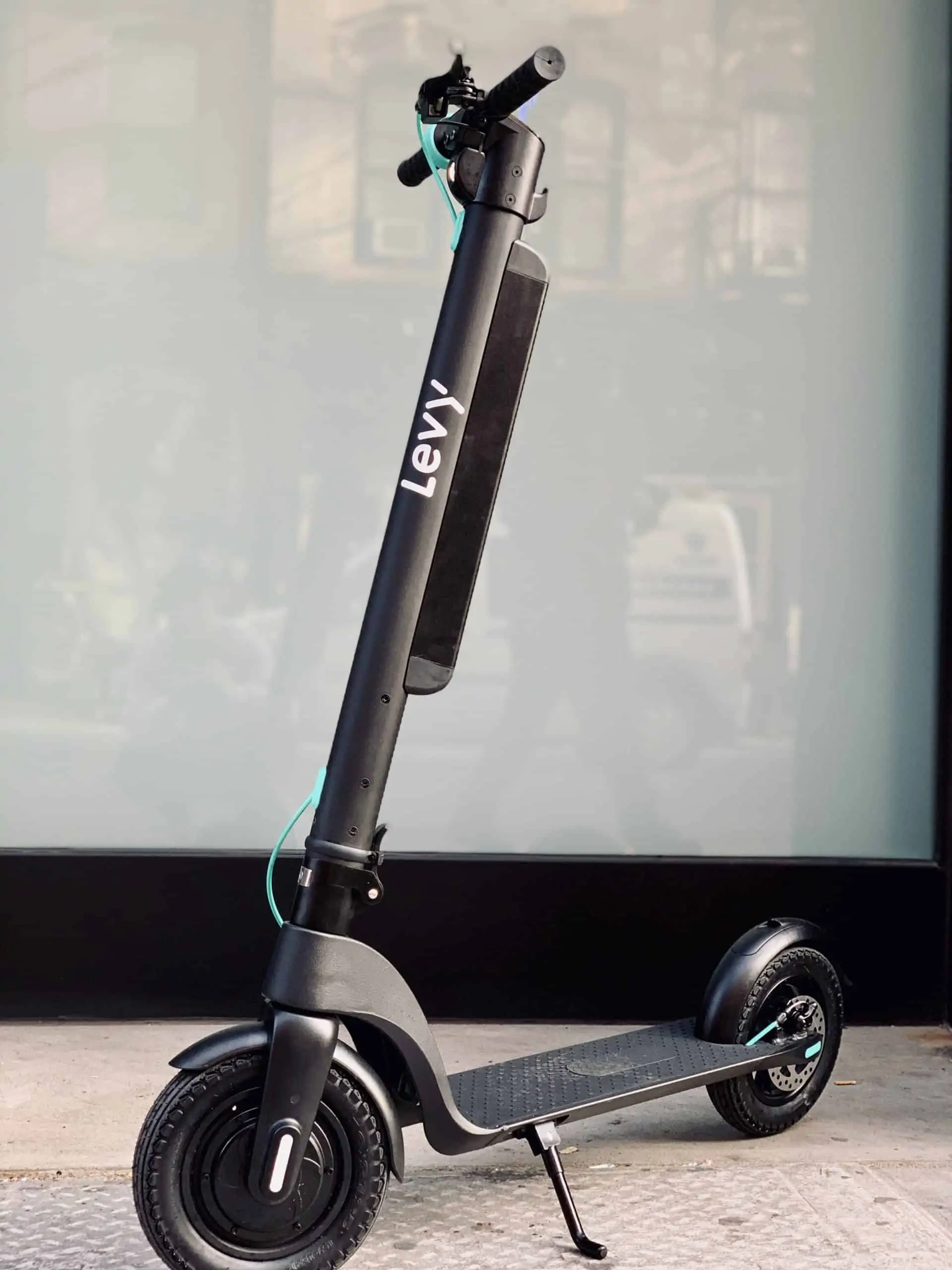 Testing Evaluation
Tested against similar models within the same category
Main Features:
Riders Weight Limit | 230 lbs
Motor | 350W Front Motor
Range | 20 miles
Battery | 6.4aH, 230wH Panasonic Battery
Speed | 18 mph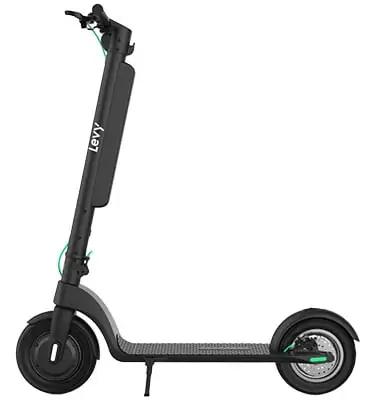 Safety
One of the most important part of any electric scooter is that the ride is as safe as it is smooth. Fortunately, Levy cut no costs giving two options to come to a full stop. The disc brakes are made to make the stops as fast as you accelerate. As an added bonus, the rear fender also has a manual braking system, much similar to older scooters.
Special Features
The folding mechanism is a safety latch that can be unhooked within a matter of seconds and folded back to be used for going up steps or transporting in cars. Along with that, the headlights are bright enough to be seen at night, making night time riding that much safer.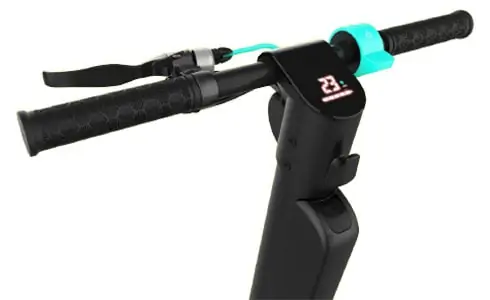 Besides the detachable battery pack, the tires have been upgraded from the original 8.5-inch tubeless tires to pneumatic 10-inch inner tube tires. This new set allows the ride to be much smoother and comfortable on smooth surfaces and roads.
The LCD display is placed at the middle of the stem, making it easy to notice the bright numbers and lights from a glance. While the accelerator is a thumb trigger, it's also on the same side as the mode buttons, giving you three different modes to use. Between Beginner, Eco, and Sport, you can decide how fast or efficient your ride can be every time.
Pros and Cons of Levy Plus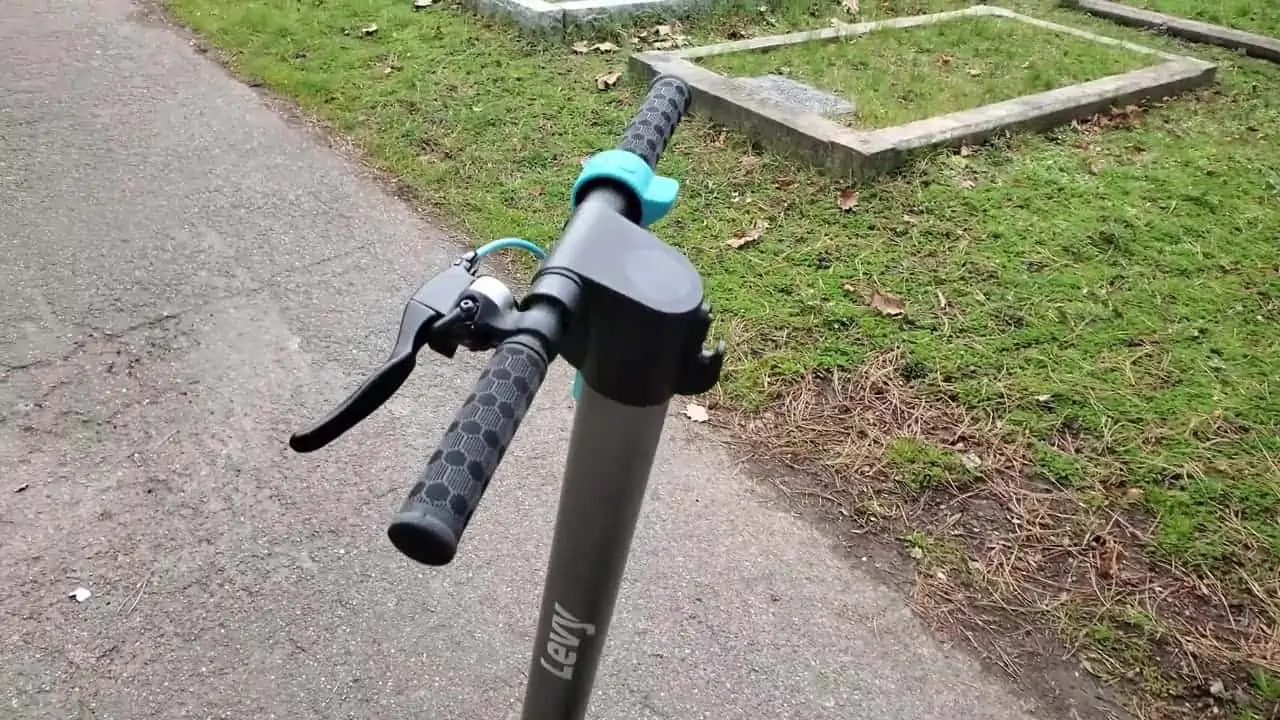 Before it sounds like we're selling out this scooter as being the be all and end all for electric scooters, there are a number of things to consider when looking at the Levy Plus. Because there are more than a few points to make about it before considering purchasing it.
Pros
The Levy Plus has much going on for it as a city commuter and a good starter for anyone who wants to get into electric scooters. It's light, reasonably cheap, and innovative in more than a few key things.
Weighs 30 pounds, making it easy to carry around
Battery pack can be swapped for a new one at any time
Easy folding mechanism
Disc brakes and rear braking system
Simple LCD display
Cons
Now while there are many high points about the Levy Plus, there are some low ones too. First off, the 18-mph speed cap might not be the best choice for high speed  travel, and the battery limit will also need to be taken into consideration for range.
You could carry an extra battery in a backpack or a travel bag, though that would have to be purchased separately. Even further onto this, the thumb throttle doesn't have quick throttle responsiveness when you accelerate, meaning you wouldn't feel it right away. 
The Levy Plus also is mostly recommended for inclines between 5% and 10%, and depending on weight, you may have to push it with a kick.
Short range in comparison to sporty electric scooters
Folding mechanism doesn't include handlebars being able to fold
Throttle has a delay in  feedback
Not meant for off-road travel
Speed is less than what is typical for city traffic
Who Is This Electric Scooter for?
If you're a beginner who's looking for a good starter electric scooter, or need something practical for city travel, you might want to consider the Levy Plus.
The weight of being just under 30 pounds makes this very easy to carry with in between trips. With the battery pack being detachable and if you're willing to carry more battery packs, you can extend the ride at your leisure.
Who Is the Electric Scooter NOT for?
If you are someone who is looking for a speed demon that can keep up with fast electric scooter or to be all terrain on every surface, you're probably not going to want the Levy Plus. This isn't meant to be a recreational vehicle you take for races or going on rocky hills if that's what you're after.
If you are also an experienced veteran rider, I can't recommend it as a serious machine. At 18-miles, you won't be able to ride this all day without having to stop for a 3 or 4 hour charge time for the battery. Not to mention the tires are only made for smooth surfaces, yet are not meant for racing.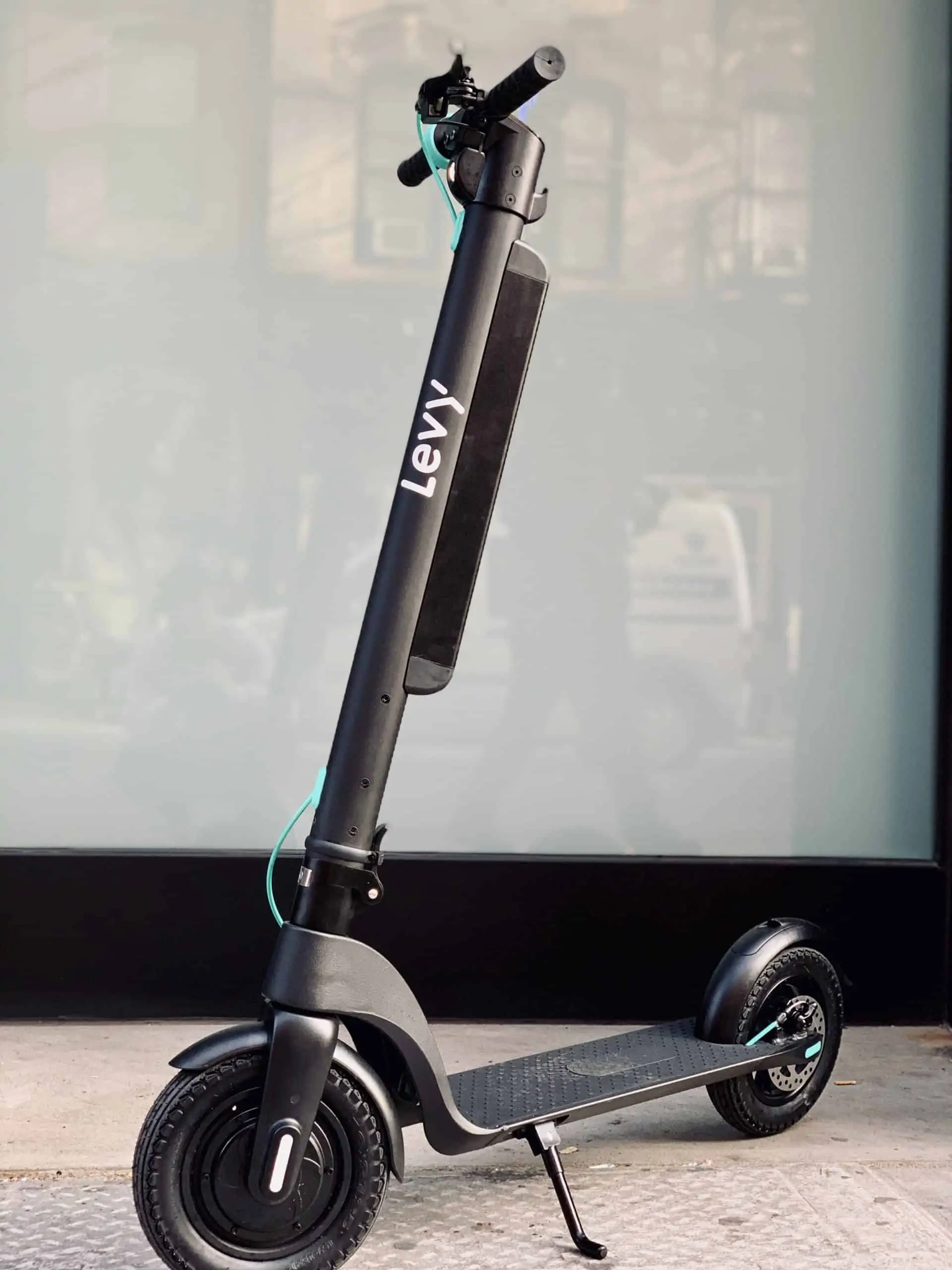 Testing Evaluation
Tested against similar models within the same category
Main Features:
Riders Weight Limit | 230 lbs
Motor | 350W Front Motor
Range | 20 miles
Battery | 6.4aH, 230wH Panasonic Battery
Speed | 18 mph
Recent Topics