Varla Scooters offers a range of electric scooters to suit different needs and preferences, including the Varla Eagle One and the Varla Pegasus. With a growing community of riders and a commitment to innovation and quality, Varla Scooters is poised to continue disrupting the electric scooter market for years to come.
In the spirit of further innovation and expansion, we hear that two new e-scooters will soon be launched; the Varla Falcon and Wasp Electric Scooters. They promise to be a little bit different from what we're used to with the other models like the Eagle One and Pegasus.
These up-and-coming sleek e-scooters promise to be the perfect blend of form and function, combining top-of-the-line technology with a stylish and modern design. With their supposed high-performance motors and long-lasting batteries, the Falcon and Wasp e-scooters promise to be the ultimate mode of transportation for urban commuters, weekend adventurers, and everyone in between.
These two e-scooters are more than just a mode of transportation – they are a statement. They represent a new era of sustainable mobility, where the convenience of personal transportation meets the need for environmentally responsible solutions.
What's the Varla Brand All About?

Varla Scooters is a company that was founded in 2019 by a group of electric scooter enthusiasts who were not satisfied with the quality and performance of the electric scooters available in the market.
They decided to design and build their own high-quality electric scooters, which would provide riders with a smooth and comfortable ride, as well as an extended range.
Features of the Falcon Electric Scooter
Rumors reveal that the Falcon Electric Scooter rocks a sleek and innovative, yet simple design. While we don't have all the details on performance and ride quality, there are a few features to look out for in the Falcon Electric Scooter.
Speed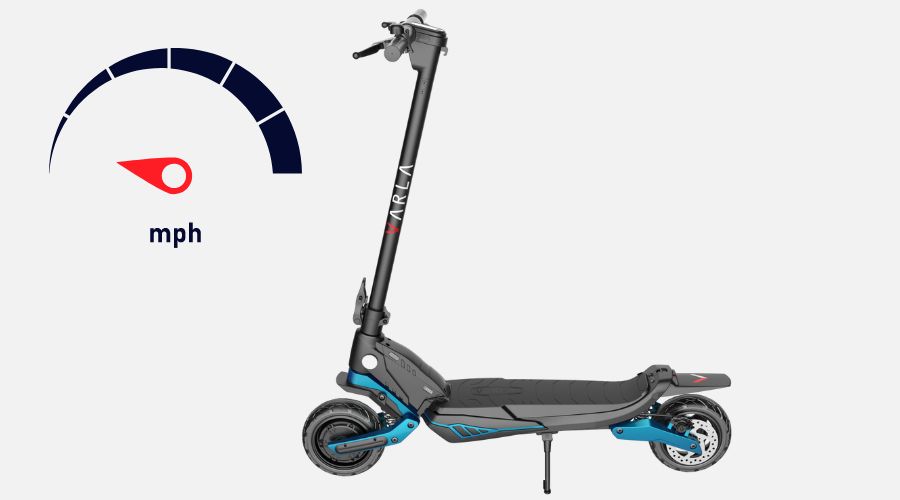 Different states in the US have regulations guiding the use of e-scooters and e-bikes. For example, the New York Department of Transportation states that e-scooters may be ridden on streets and bike lanes at no more than 30mph. This limit is well within the speed the Falcon Electric Scooter promises.
The Eagle One E-scooter dazed users with up to 40mph in speed, so many would expect that the Falcon would deliver even more in terms of acceleration. After all, the Falcon is one of the fastest animals alive. However, Varla decided to keep the e-scooters speed at 22 mph. This may sound a bit underwhelming for e-scooter enthusiasts that are expecting more in terms of speed.
Range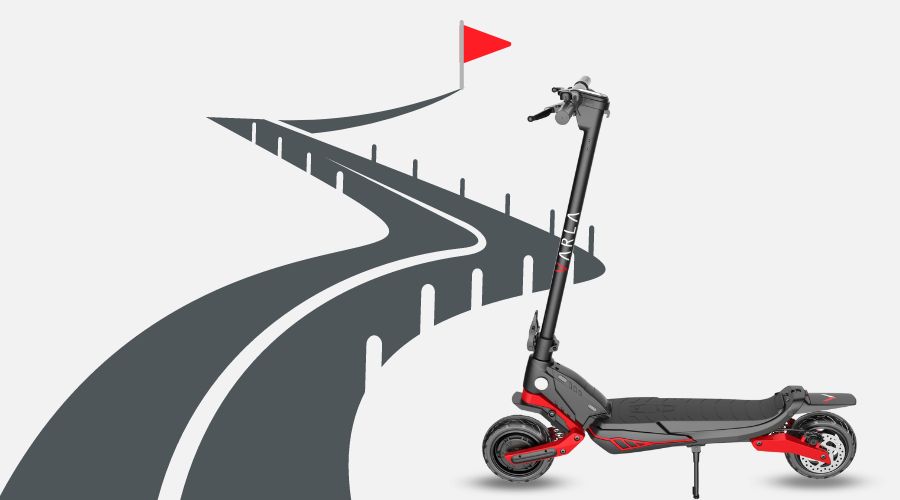 The average e-scooter may be able to ride for 25-40 miles on a single charge. Varla has been known to satisfy customers with ranges from 28- 45 miles. However, it seems the Falcon delivers numbers a little lower than one would expect from the brand. With 25 miles in a single charge, the Falcon falls a little short, especially when compared to other Varla models.
However, 25 miles is pretty decent for city commuters who are looking to run errands, visit friends, or simply ride to work/school and back.
Weight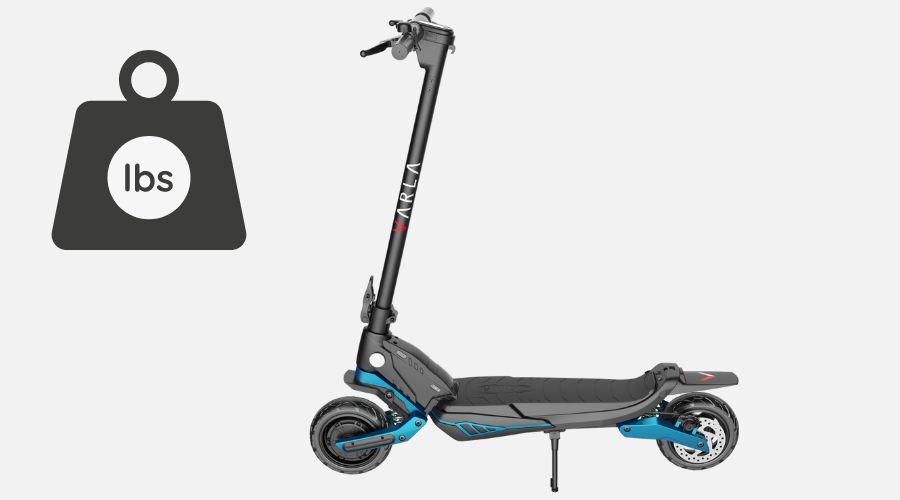 It seems Varla has changed things up a little bit in terms of their e-scooter weight. We saw the Pegasus weigh 66 lbs, while the Eagle One Pro weighs up to 90 lbs. The latter e-scooter is also relatively new, so it's interesting to see that the falcon weighs a lot less.
For riders who were eagerly waiting for a lighter option that's also easier to move around, the Varla Falcon may just be the answer. It weighs only 50 lbs, which is about 16 lbs lighter than the Varla Pegasus City Commuter.
Payload Capacity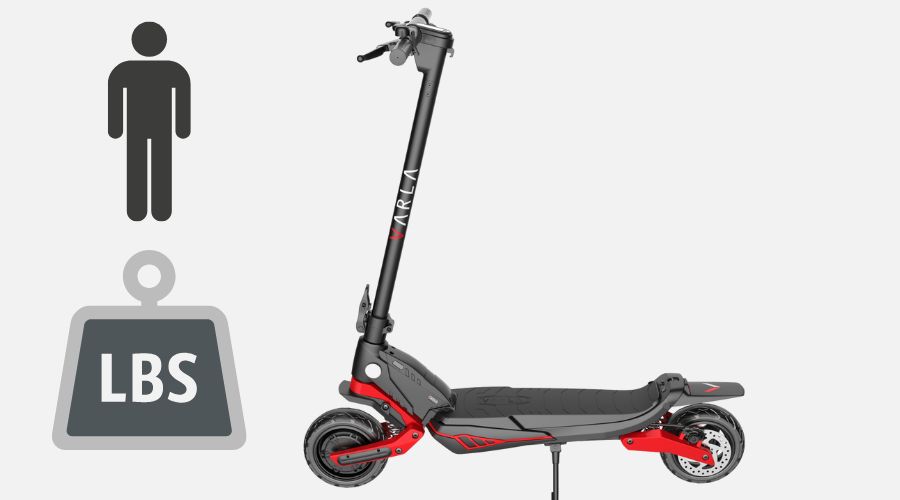 For an e-scooter that weighs less than 60 lbs, it's quite impressive to know how much the Falcon can carry. For those who consider themselves heavy riders, we are sure the new Varla E-scooter's payload capacity will surely interest you.
So here's the scoop, the Falcon Varla allows a maximum weight of 265 lbs, which is about 120kg. Ultimately, it seems the Varla Falcon is built more for light to medium-weight riders. Still, if you're looking for an e-scooter that will take on more weight, there is always the Varla Eagle one, which allows up to 330 lbs.
Tires and Suspension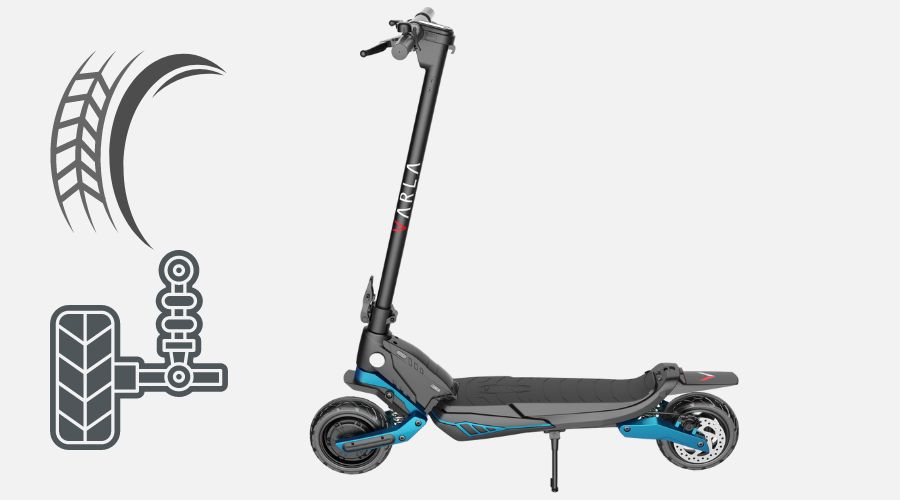 We can all agree that when it comes to tires and suspension, the Varla brand knows its wheels. Take the Eagle One Pro, for example, the e-scooter sports 11-inch air tubeless tires with a grooved surface. It also comes reinforced with an explosion-proof surface and plus dual hydraulic brakes.
While awaiting more information on the Varla Falcon, we can say that the e-scooter comes with two reinforced tubeless tires and dual hydraulic suspension.
Battery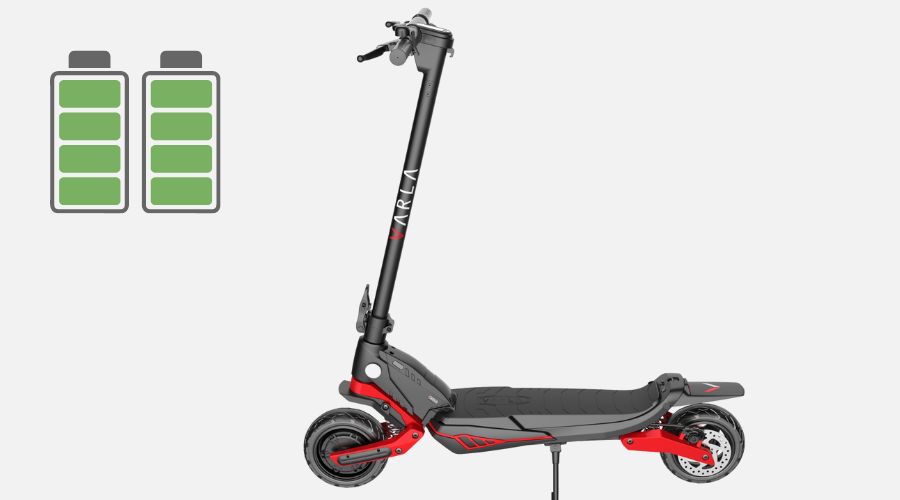 One of Varla's flagship e-scooters, the Eagle One Dual Motor showed us a little bit about how the brand sees power and capacity. The 52V 18.2Ah battery was able to allow a range of 40 miles on a single charge.
The Eagle One pro stepped things up a bit and took that capacity to 60V 27Ah with a max range of 45 miles on a single charge. So, how does the Varla Falcon compare to these top models? First of all, let's start with its rated capacity; the 48V 10.4Ah battery allows a max charging voltage of 54.6Ah and a nominal voltage of 48V.
It's safe to say that Varla had to tone down on the battery capacity (size) in order to achieve the phenomenal lightweight frame of the Falcon.
Brakes and Throttle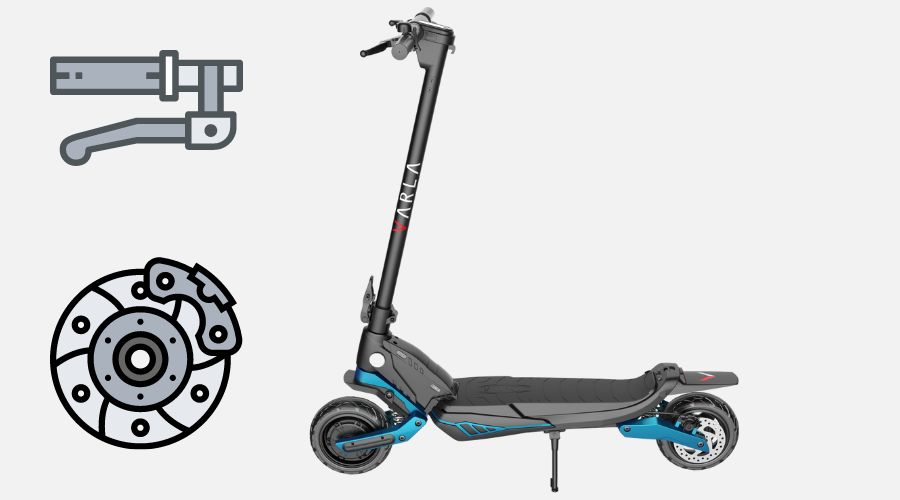 The Varla brand has generally stuck to hydraulic disc brakes, especially with the Eagle One and Eagle One Pro. So, did they stick with the status quo or change things up? Well, a little bit, similar to the Pegasus Dual motor, the Varla Falcon sports both an electronic and disc brake.
It will certainly be interesting to see how this performs in comparison to the Pegasus or Eagle One E-Scooters.
Water Resistance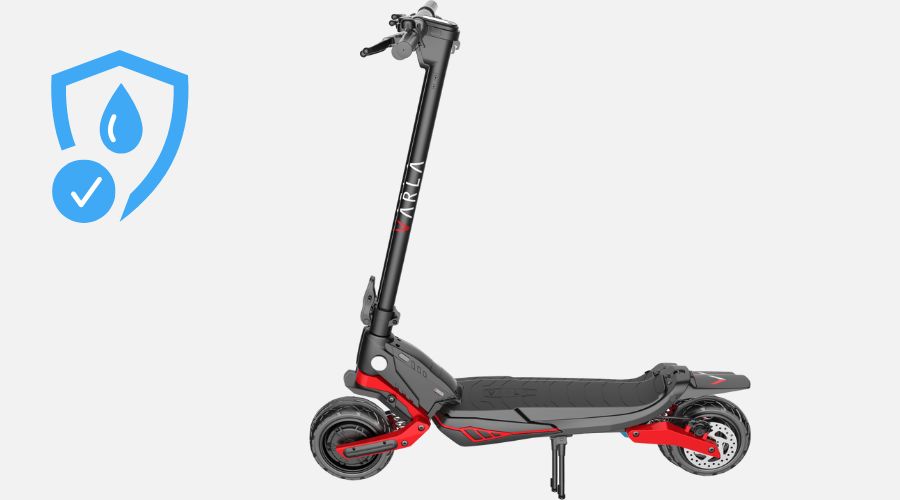 There's nothing as daunting as riding around on a fairly sunny day watching the clouds threaten to release droplets of rain. While most e-cooters may not promise high IP ratings that can survive deep-water submersions, most of them guarantee continued performance even after light showers of water.
The Varla Falcon is no different, with an IP54 rating, it guarantees protection from light drizzles, water splashes, dust, and guided washing.
One of the major advantages of the falcon e-scooter should certainly be its weight. Riders are always looking for lighter alternatives they can easily carry around and store. It seems this is exactly what the Falcon will bring to the table. Even more, than its weight advantage, the Falcon also has a moderate max speed.
This may seem like a downer at first, but if you take into consideration how unsafe higher speed levels can be, 22 mph may sound a lot better. The electronic and disc brake combination would also be another feature we will like to see play out.
Combining both disc brakes and electronic brakes ensures the excellent braking power disc brakes guarantee and the weight and maintenance benefits of electronic brakes.
Features of the Wasp E-Scooter
Just like the Falcon e-scooter, the Varla Wasp rocks some distinct features from what we are used to. Let's explore some of the outstanding features the e-scooter promises.
Motor
If you thought that the Varla Falcon played it a bit safe in terms of their motor and capacity, the Wasp may surprise you further. With a 350W capacity motor, the Wasp may just be the one of first of many Varla e-scooters with such energy efficient motors. Maybe it's best to look away from the numbers for a minute.
A 350W motor may not compare in power to a 750W motor, but at least the Wasp e-scooter still guarantees efficient performance, and a climbing capacity of 7°.
Speed
There's no doubt that more brands are trying their best to reduce overall carbon footprint. While there's no official quote on this concerning the Was e-scooter yet, we do believe that some features were traded off to ensure this. Think about it, the Varla brand is known for delivering e-scooters with top speeds of 45mph, however, the Wasp delivers a safe 18.6mph.
For teens, young adults and seniors who prefer to ride at a safe yet effective pace, this is one Varla e-scooter to consider.
Battery
It may be too early to conclude on Varla's new design and engineering for it's e-scooters. However, going by the specs of the Wasp, one may think the new plan is power yet energy-efficient e-scooters. The reason is simple, the Wasp e-scooter incorporates a 36V 7.5Ah battery.
From that capacity alone, you may be asking how many miles this sleek e-scooter is able to achieve on a single charge. Well, let's find out in the next section.
Range
Every e-scooter has a range limit that depends on how long the battery can last. The ca[pacity of the Wasp's battery may not be fully determined until you take a test ride. However, the Varla brand does give us a figure to rely on depending on various riding conditions.
Generally, the Wasp e-scooter should be able to achive up to 15.5 miles on a single charge. That seems pretty decent for simple errands and fun runs that aren't so far from home.
Tire
The Varla Falcon and Wasp may be launched in the same period, however, the brand simply tried their best to ensure there were some significant differences. Take the tires for example, the Falcon sports tubeless tires, while the Wasp sticks to pneumatic tires similar to the Eagle One.
Weight
Let's make this a little fun, were you expecting the varla brand to go higher or lower in terms of the Wasp's overall self weight? Remember, the Falcon did weigh less than older models like the Eagle One and Pegasus City Commuter. So, it does make sense that the Wasp would go in that same direction too, right?
Well, if you said lower, you guessed right. The Varla Wasp weighs a minimal 33.07lbs which is about 15kg. It's maximum payload capacity sits at about 264.6, which is pretty decent considering the Varla Wasp's weight.
How the Falcon & Wasp Electric Scooters stack against the Varla Pegasus and Eagle One.
| | | | | |
| --- | --- | --- | --- | --- |
| E-scooter Model | Varla Falcon | Varla Pegasus | Varla Eagle One | Varla Wasp |
| Top speed | 22mph | 28mph | 40mph | 15.5mph |
| Picture | | | | |
| Max range | 25 miles | 28 miles | 40 miles | 18.6 miles |
| Max load | 265 lbs | 280 lbs | 330 lbs | 264.6 lbs |
| Wheel Size | 9 inches | 9 inches | 10×3 inches | 8.5 inches |
| Motor | 500W motor | 2x500W motor | 2x1000W motor | 350W motor |
| Tire | Tubeless Tire | Puncture proof vacuum tire | Pneumatic tire | Pneumatic tire |
| Throttle | Thumb throttle | Thumb throttle | Trigger throttle | |
| Brake | Electronic + Disc brake | Dual disc brakes | Dual Hydraulic brake | Rear fender auxiliary and mechanical brake. |
Recent Topics