I've been riding my Blink S2 board for about two years now and when I saw the new Teamgee H5 37″ electric skateboard come out I was pretty stoked about trying it out and doing a Teamgee H5 review. I've been riding electric boards for a little over four years and I've become pretty spoiled in what I want and look for.
So, I can say that it's pretty hard to impress me when it comes to riding new boards! For the price, this electric skateboard didn't disappoint. Let's take a look at what comes with the board, as well as the specs, how it rides, overall comfort, as well as the functionality of the board.
Package Overview (What Comes in the Box)
Remote
Charger
Skate Tool & Allen Key
Red Lights
USB Cable
Teamgee H5 Blade Electric Skateboard 
The Remote
I absolutely love the remote that it comes with. It has an LCD screen on the remote that tells you the battery life of both the remote as well as the board itself. The screen also tells you how fast you're going, albeit, it's in kilometers and I was hoping that it would be in MPH instead, but it's something that I'm ok with. There is also an odometer reader on the remote. Not sure how accurate it is, but it's definitely a nice thing to have when riding around.
I rode around for a couple of weeks and found that I can get a good three or four rides out of it before having to charge the remote. The remote has a very comfortable grip, feels good in the hand, and it also comes with an LED light for when it gets dark (which I found to be very helpful). The LED light was pretty bright, I would say as bright as the flashlight on your phone, if not brighter.
The layout of the remote has an on/off button. It has the forward throttle and reverse feature, and it also has a high/low-speed function on the side. I found the remote to be very simple and elegant, everything is right there, easy to use. The strap on the remote was extremely sturdy. It came with a tightening slip on the strap to make sure that you can tighten it to your wrist and it won't fall off while riding.
Teamgee H5 37" Electric Skateboard, 22 MPH Top Speed, 760W...
UI certification E503354, 0. 59 inches thick, The...
37 inches longboard, 8. 7 inches wide, weighs 14....
Powered by high-performance 380W x 2 motors giving...
Made from 10 ply Canadian Maple and 1 ply...
Includes wireless remote control with LCD screen...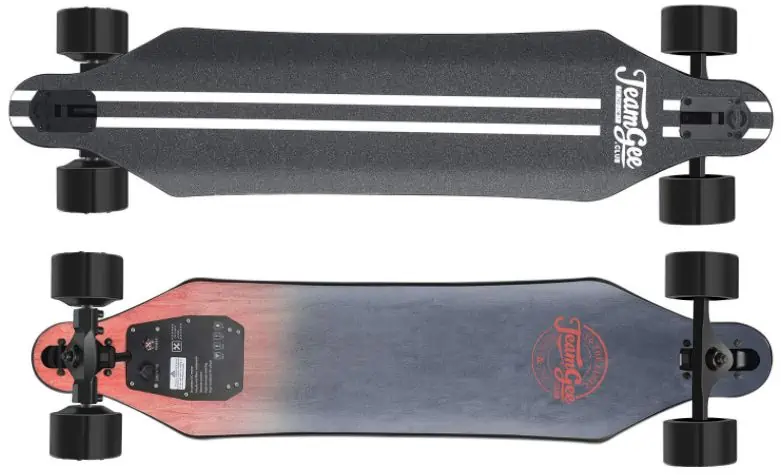 Testing Evaluation
Tested against similar models within the same category
Main Features:
Riders Weight Limit | 220 lbs
Motor | 760 watt Hub Motor
Range | 11 miles
Battery | 36V, 3.5Ah Lithium Battery
Speed | 22 mph
Teamgee H5 Blade Specs
Design
The Teamgee H5 board has a drop through design which allows you to mount the trucks through the bottom of the board and mount it on the top. This will let you ride closer to the ground for a smoother ride. It also gives the board a more stable feel when riding around and carving, that way you don't feel like you're going to drift, fall off, or wobble around.
It's advertised that this board can ride hills up to 25% inclination and I could ride hills up to 20% inclination with no problem at all. I didn't experience much of a dip in performance when riding hills.
Motors
It comes with two HUB motors, each motor is 380 watts (760 watts total). It can go up to 10 or 11 miles in distance and the top speed goes to around 21 – 22 mph (35km/h).
Battery
The battery was one of the most impressive features on the board. It's a lithium battery (super lightweight), that's installed inside the board itself. It makes it feel and look like a regular longboard, but it's actually an electric skateboard!
Size and weight
The board was maybe half an inch in thickness, making it one of the thinnest, sleekest boards on the market. It's 38 inches in length and 8.7 inches in width. The board only weighs 14.5 lbs, making it very easy to carry around with you wherever you go. The maximum weight capacity for the board is 200 lbs (90kg).
Wheels
The 90mm wheels make the board a more comfortable and sturdy ride than most other boards that come with only 80mm sized wheels. When you loosen the trucks to get a more nimble feeling (which you pretty much have to do on any board), you're likely to experience wheel-bites. If you want to stop wheel-bite from happening, I'd suggest getting some risers, tightening your trucks, or getting smaller wheels. I found risers to work the best for me.
What's the ride like?
It's made from 10 ply Canadian maple and 1 ply fiberglass, for a smooth and comfortable ride. I could ride the board on grass as well as going up hills and found every part of my ride to be a very enjoyable experience. Sometimes the brakes would be a little bit jarring when trying to slow down, but other than that I was very happy with the ride and how smooth everything was.
Max speed
Although the top speed is advertised as 22mph, this depends on a lot of different factors including rider weight, terrain, incline etc. I've managed to hit the max speed, but I've seen a few users (who were closer to the max rider weight) say that they maxed out at about 19-20mph. Max rider weight is 200lbs – anything over that and battery life/speed etc. will be affected.
Teamgee H5 vs H9, H6 & H8
What are other riders saying?
I read a lot of Teamgee H5 reviews from other users before writing this (you can find lots of real reviews on the official website and on Amazon.com). Most people agreed with my assessment of this board – for the price it's a good board and worth the investment.
I was surprised to find one reputable tech website didn't rate it particularly highly, but I understood the ratings when I saw that it was being compared to $1000+ boards such as the Evolve and Boosted models (not a fair comparison at all). Compare it to boards in its own price range ($400-600), and you'll find that this stands up favorably against its peers. 
This electric skateboard is comparable in price to decent boards such as the Wowgo, Meepo, Ownboard, or Verreal. That means you can finally get a slim-line board of around the same quality as a non-slim-line board for the same price.
Conclusion
It's not the fastest electric skateboard on the market, nor does it have the longest range (there are skateboards that are double the price that obviously offer better specs). However, for a moderately priced board the H5 is a pretty good investment.
The board is much more of a leisurely cruiser board than it is a performance board. It's by far the best-looking board I've ever ridden. It blends in smoothly with other longboards and looks completely unassuming. This board isn't designed for going fast or top-speed, it's going to be much better for the laid-back rider who likes to cruise around and enjoy a smooth, comfortable ride.
If you're looking for a slim-line electric skateboard that has a sleek feel to it, the Teamgee H5 board definitely delivers. This board is best for beginners or intermediate riders. If you're already an expert or have been skating for a while you're probably better off with a faster and better performing board like the top of the range Boosted.
The H5 is modestly priced and it offers a great combination of aesthetically pleasing looks as well as comfortable, leisurely riding. If you want to experience riding a longboard with all the pleasures of having an electric board, then I would highly recommend the Teamgee H5 electric skateboard. It has the best of both worlds and everything you could ask for in a mid-range electric board.
Teamgee H5 37" Electric Skateboard, 22 MPH Top Speed, 760W...
UI certification E503354, 0. 59 inches thick, The...
37 inches longboard, 8. 7 inches wide, weighs 14....
Powered by high-performance 380W x 2 motors giving...
Made from 10 ply Canadian Maple and 1 ply...
Includes wireless remote control with LCD screen...
I hope you found my Teamgee H5 review useful – if you have any comments or questions though please feel free to post below. Thanks for reading!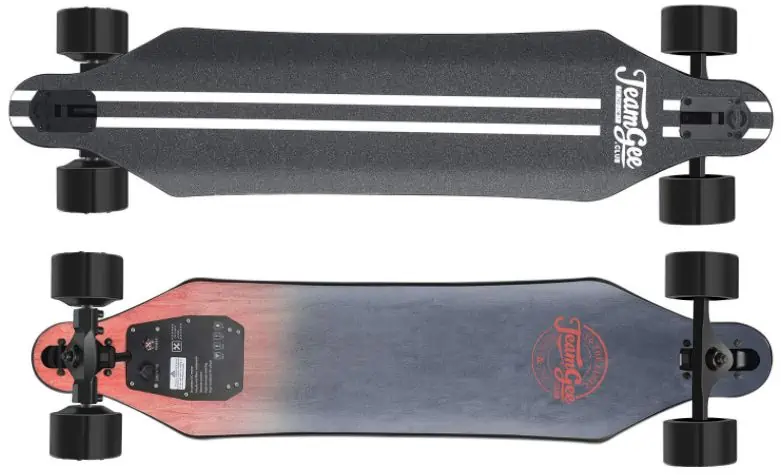 Testing Evaluation
Tested against similar models within the same category
Main Features:
Riders Weight Limit | 220 lbs
Motor | 760 watt Hub Motor
Range | 11 miles
Battery | 36V, 3.5Ah Lithium Battery
Speed | 22 mph
Recent Topics