Are you looking to purchase an electric bike but still aren't sure if a pedal-assist or throttle-assist bike is the best for you? The truth is both assist systems have their strong points and are somewhat similar in their application (since they both assist a bike in propulsion).
However, the differences they share play a determinant role in how they're used and where they are allowed. Don't worry, this post will give you all the information you need.
Pedal Assist vs Throttle 
What Are the Main Differences Between Pedal Assist and Throttle
The only time a pedal-assist electric bike receives boosts from the motor is when the rider pedals. With pedal-assist electric bikes, the electric motors will not propel the bike until pedal-assist sensors detect activity from the rider.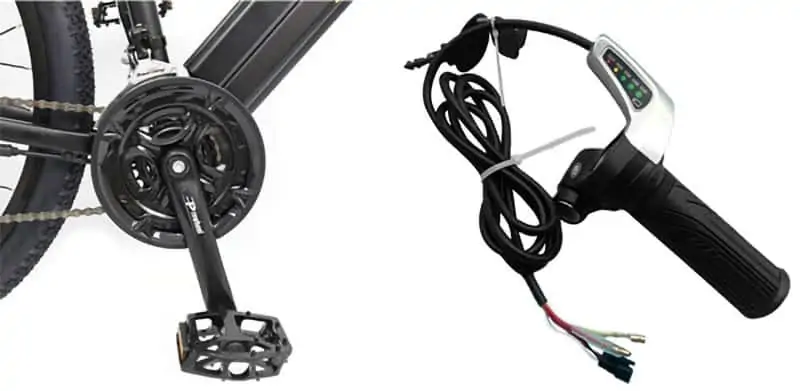 A throttle-assist feature on the other hand lets the rider engage the bike's motor using a finger or twist throttle. Unlike pedal-assist, a throttle-activated e-bike does not require pedaling, it provides power to the rider on demand.
| Pedal-assist | Throttle |
| --- | --- |
| Only provide electric power when the rider pedals | Provides power up to the predetermined limit at the push of a button. |
| Has activity — torque and cadence — sensors | Since it doesn't require input from the rider, it doesn't assess activity |
Is Pedal-assist Better Than Throttle
There's no one-size-fits-all answer to this question. Determining if pedal-assist bikes are better than those with throttles depends on each rider's needs and style. 
A cyclist recovering from a knee injury will find pedal-assist e-bikes better than throttle-assist e-bikes. The reverse will be the case for someone who isn't such a big fan of bikes but likes to ride and have fun.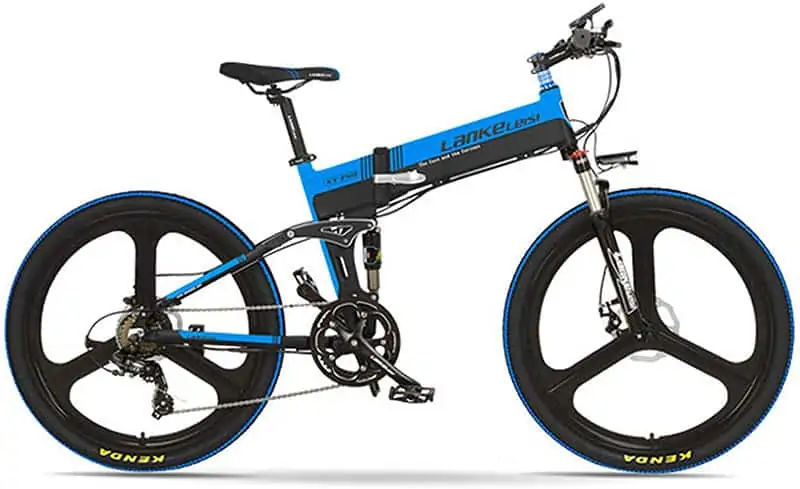 Why Do Most E-bike Brands Choose Pedal Assist Over Throttle
There are few reasons why E-bike brands prefer manufacturing bicycles with pedal-assist over those with a throttle.
Local Laws and Regulations:
In most jurisdictions (Europe and most states in the U.S.), pedal-assist cycles (pedelecs) are still considered bicycles since they require input (Pedaling) from the rider. 
Throttle-assist bicycles on the other hand are usually classified as motorcycles and in most cases require that the rider be a certain age (like California), the rider wears protective gear, and some even require that the bike (or motorcycle – according to the law) be registered. 
Restrictions to Where You Can Ride Throttle Electric Bikes
In New York, it's illegal to ride throttle-powered electric bikes. In other states they're not allowed in parks, bike paths, etc. – pretty much anywhere conventional and pedal-assist bikes are legally allowed to ride.  
Eventually, you find that there are too many restrictions on throttle-assist electric bikes than there are on pedal-assist variants. What's the point in buying something you're not allowed to ride in the places you want to go to?
Are Pedal-assist Bikes Worth It?
As I mentioned earlier, an e-bike will only be worth the cash spent on it if it meets (or exceeds) the rider's needs. For couriers who have to deliver items to different locations, they might find using throttle assist electric bikes more convenient than pedal-assist. 
For cyclists looking for a more natural and intuitive ride, a pedal-assist bike might just be up their alley. So, it depends on your definition of "worth it". 
When Should I Use Pedal Assist?
1) When You Want to Cover More Miles
Using pedal-assist saves battery power – this depends on the level of assistance the rider receives from the motor though.
Switching to conservative pedal-assist levels will require more effort from the rider to propel the bike. This also means the e-bike will require less power from the battery pack, extending the bike's mileage. 
2) When You Want to Get a Workout
With power-on-demand rideables (like throttle-assist bicycles) the motors do all the work completely eliminating human effort (unless you consider holding or twisting the throttle effort). 
Riders who like to go for a ride every weekend to exercise their muscles might find that pedelecs, while motorized, offer almost the same features as traditional non-motorized bikes – just tweak the bike's assist level to the lowest as I mentioned earlier and you'll be riding an almost non-motorized bicycle. 
3) When You Want to Ride on Mountain Bike Trails
Throttles are not allowed on mountain bike trails. Some states in the U.S however, allow pedelecs to use MTB trails. So, if you are a mountain biker who's considering purchasing an electric bike, one that's pedal-assisted might be the best option for you.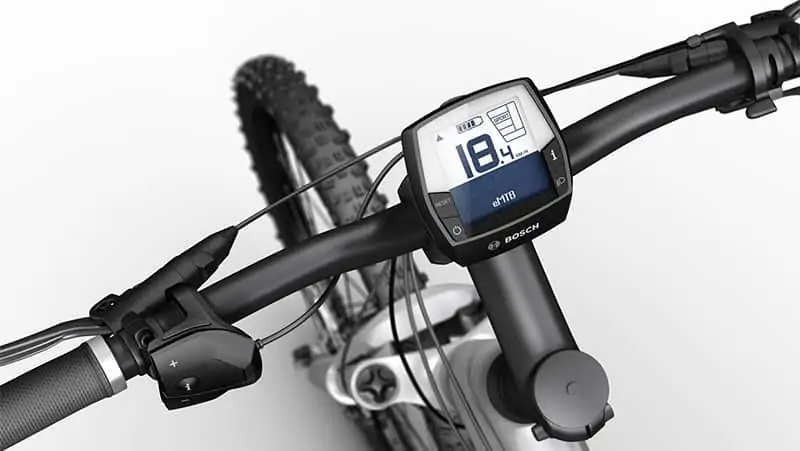 How Do Electric Bike Throttles Work
Usually, there are three types of throttles – thumb, twist, and half-twist throttle. When pushed on (or twisted), the throttle engages the e-bike's motor by sending signals to the controller. 
So, unlike pedal-assist bikes that require the rider to pedal before electric power is "controlled"  from the battery to the motor, throttles — because they are directly connected to the controller — provide power to the rider on-demand. 
No need to pedal, just twist the throttle and the bike's motor will receive power from the battery and propel the bike.
Best Electric Bikes With Throttle and Pedal-assist
Editor's 1st Choice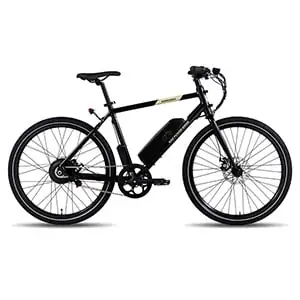 Overall Rating:
Max Load: 275-lbs
Range of 45+ miles
Top speed of 20 mph
Editor's 2nd Choice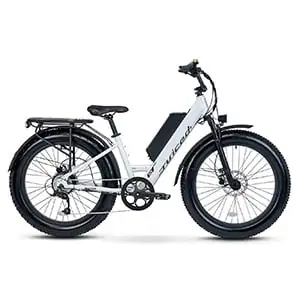 Overall Rating:
Max Load: 275-lbs
Range of 70+ miles
Top speed of 28 mph
Editor's 3rd Choice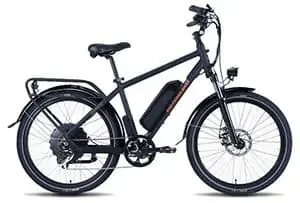 Overall Rating:
Max Load: 275-lbs
Range of 45+ miles
Top speed of 20 mph
1) Radmission
This 500W e-bike from Rad Power Bikes can cover up to 45miles on a single charge. The Radmission 1 comes with a LED control panel that lets riders select from four different levels of pedal assistance.
It's also equipped with a twist throttle, front-facing headlights, brake lights, and is available in high and mid-step frame designs.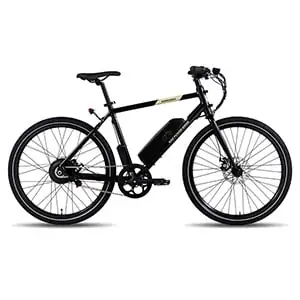 Main Features:
The Motor: 500W
The Speed: 20 MPH
Range: Up to 45+
2) Juiced Ripcurrent S Step-through
The Ripcurrent S Step-through is a Class-3 (you can link to the e-bike class article here) electric bike that uses both torque and cadence sensing pedal-assist systems. It also comes with a thumb throttle that powers up to 20mph. 
It is equipped with a 750W bafang hub motor that generates up to 1300W at peak power. The Juiced Ripcurrent S Step-through's massive 52V/19.2Ah battery can power the e-bike up to 70miles on a single charge.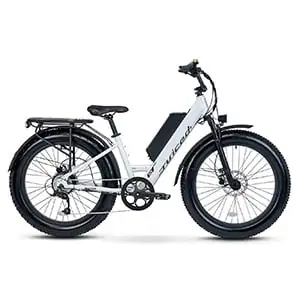 Main Features:
The Motor: 750W
The Speed: 28 MPH
Range: Up to 70+
3) Rad Power Bike's RadCity
If you're in the market for a commuter e-bike, the Radcity's features might meet your requirements. Radcity is an electric bike that can provide up to 750W of power in pedal-assist mode.  
Riders can also conveniently transport items on the integrated rear rack using the bike's thumb throttle. It is equipped with front suspension forks to smoothen rides on uneven terrain. 
Main Features:
The Motor: 750W
The Speed: 20 MPH
Range: Up to 45+
Recent Topics