No products found.
Electric scooters have become increasingly popular lately. You can now find them at almost every corner around town. They are great for commuting and short trips, plus, they are affordable and environment-friendly.
But what if you want something even better? Something that has all the features of an e-scooter, plus a portable and foldable design? Well, now you can get the OTD L2-H portable electric scooter! 
This electric scooter is perfect for those who live in crowded cities because it folds up easily and is easy to carry. It also comes with one of the widest decks you're probably ever going to find on a commuter e-scooter. 
To top it all off, the OTD L2-H is available to riders at an affordable, budget-friendly price. In this article, we'll go through some of the OTD L2-H's features and find out how well it stacks up against e-scooters in its class.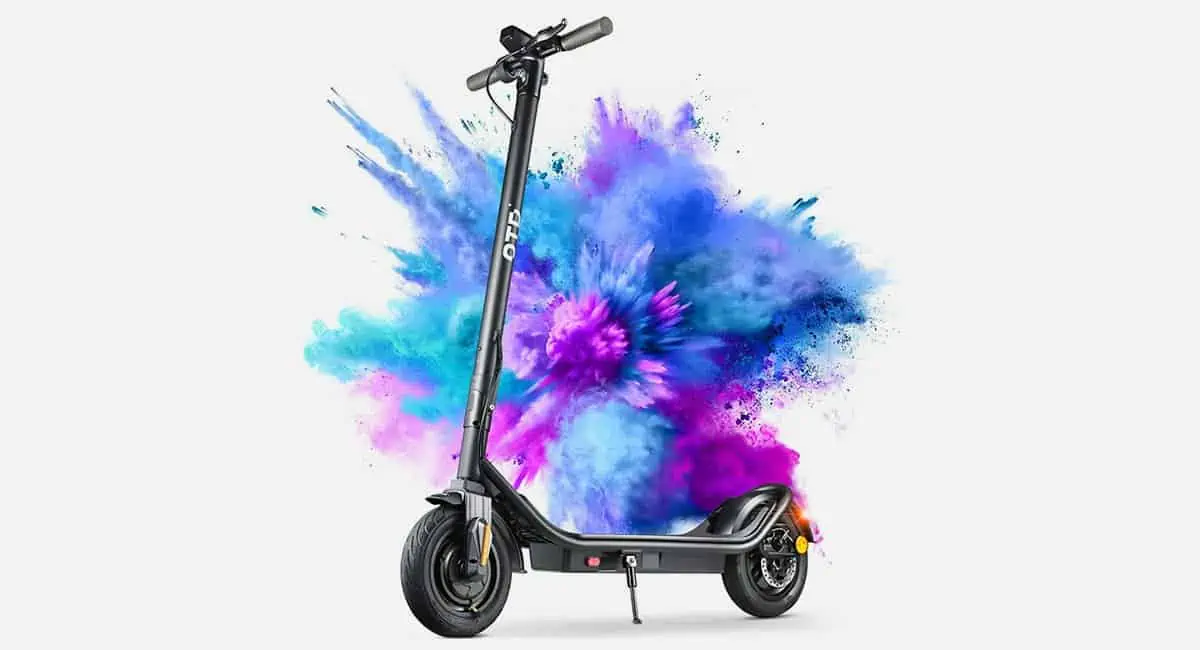 Testing Evaluation
Tested against similar models within the same category
Main Features:
Riders Weight Limit | 264 lbs (120 kg)
Motor | 500W Brushless Motor
Range | Up to 22 Miles per Charge
Battery | 36V, 10.4AH Lithium-ion Battery
Speed | 15.5 MPH
Features of the OTD L2-H
1) A 350W Brushless Hub-motor
No products found.
The OTD L2-H comes with a 350-Watt high-speed brushless motor fitted into its front wheel. This electric motor can reportedly generate up to 500 Watts of power at peak performance, propelling the scooter up 15-degree inclines and powering it to top speeds of 15 miles an hour.
2) A High-capacity Battery
No products found.
You'd be surprised to find that this e-scooter, albeit low-powered, can cover up to 22 miles on a single charge. This is all thanks to the 36V 10.4Ah Lithium-ion battery integrated into the e-scooter's deck.
3) Dual Braking System
The OTD L2-H utilizes a disc-braking system and an electronic braking system to provide riders with enough stopping power when traveling at high speeds. The electronic brake comes with ABS and regenerative braking functionalities. 
4) An Integrated Display Device
No products found.
This lightweight electric scooter comes with a pretty basic control panel attached to its handlebars. The device displays the scooter's speed, charge level, speed mode, and a headlight on/off indicator. 
There are three speed modes available to riders. The first one, "S" with a bright white color on the display, propels the scooter to a max speed of 9 miles per hour.
The second speed setting, "S" with a bright yellow color on the display, gives riders access to more power until they hit 12 mph. The last and highest speed mode ("S" with a bright red color on the display) is what drives the e-scooter to its top speed of 15.5 mph.
5) Portability 
The OTD L2-H's frame is made out of Carbon Steel; a highly durable and wear-resistant material. It weighs about 39.9 pounds (18.1 kg) and can support up to 264 lbs (120 kg) of load.
The scooter's frame also folds down to a compact size, making it easier and more practical to transport around.
Pros of the OTD L2-H
Pros
It Comes With Bright Lights
Front and rear lights are two components that come standard with most electric scooters. However, in most cases, these lights aren't always as effective as advertised. 
They're either too dull or not mounted high enough up the stem to illuminate far ahead of the rider. Not the OTD L2-H's. This e-scooter's bright headlight is located just under the device's control panel and can reportedly project beams up to 15 meters ahead of the rider. 
Pros
It Is Equipped With Shock-absorbing Tires
No products found.
While the OTD L2-H doesn't come with a dedicated suspension system, its large pneumatic tires help smoothen out rides on bumpy terrain. They do this by retreating into themselves as they ride over surface irregularities as opposed to riding over them as solid tires do.
As a rule of thumb, always ensure that the tires are not inflated to their max. 
Pros
Its Deck Is Wider Than the Decks of Most E-scooters in Its Class
The OTD L2-H is probably the only low-powered electric scooter you'd find on the market today with an ultra-wide deck. Riders can comfortably rest both their feet on this scooter's 8-inch wide platform.
There's also an abrasive sticker laid on top of the deck to minimize slip. 
Table Comparing the Otd L2-H's Deck Size to Platforms of Other Electric Scooters in Its Class
| E-scooter Name | Deck Width | Motor Rating |
| --- | --- | --- |
| | 8 inches | 350 Watts |
| | 6.5 inches | 350 Watts |
| | 7 inches | 350 Watts |
| | 6 inches | 350 Watts |
| | 6.5 inches | 350 Watts |
| | 7 inches | 500 Watts |
Cons of the OTD L2-H
Cons
It Costs More Than the Average Entry-level E-scooter
The OTD L2-H retails for about $650, which, when compared with the prices of other scooters in its class, seems a bit expensive. For instance, the Hiboy S2 — a much more popular 350W electric scooter — costs just under $500 and it is equipped with most of the components that come standard with OTD L2-H.
It's not just the Hiboy S2 that's more affordable than the OTD L2-H; Fluid's CityRider, another 350-Watt e-scooter, also costs considerably less than the 39-pound scooter. Plus, there are dozens of cheaper alternatives available on sale at Amazon.
Cons
It Has No Dedicated Suspension System
Neither of this e-scooter's ends is cushioned with a heavy-duty suspension system. The only component that provides some form of shock mitigation on this e-scooter is its pneumatic tires – but even those are limited in their ability to absorb vibrations from large bumps.
The OTD L2-H is designed solely for riding on paved roads where tiny debris won't be too much of a problem for its large wheels. 
Cons
The Device's Display Is Too Basic
It doesn't even have an odometer. All it displays is speed, battery blocks, speed setting, and a light indicator. If you're used to riding electric scooters with more advanced display meters, consider purchasing a higher-end machine – the OTD L2-H isn't for you.
No products found.
Who's the OTD L2-H For?
The OTD L2-H is a great electric scooter for students that are looking for personal transportation devices that can conveniently drive them around campus. It's also a very good scooter for commuting to and from work (as long as you stick to riding on paved roads).
Another demographic of riders that this e-scooter will be perfect for is teenagers. It meets all the criteria necessary for it to be considered a good electric scooter for teenagers.
Who the OTD L2-H Is Not For
This electric scooter is not designed for drag racing and/ off-road riding. It is not fast enough to compete with electric scooters like the Wolf King, neither is it powerful enough to tackle very rough terrains.
So, off-road riders and heavy-duty users, stay away from this entry-level electric scooter.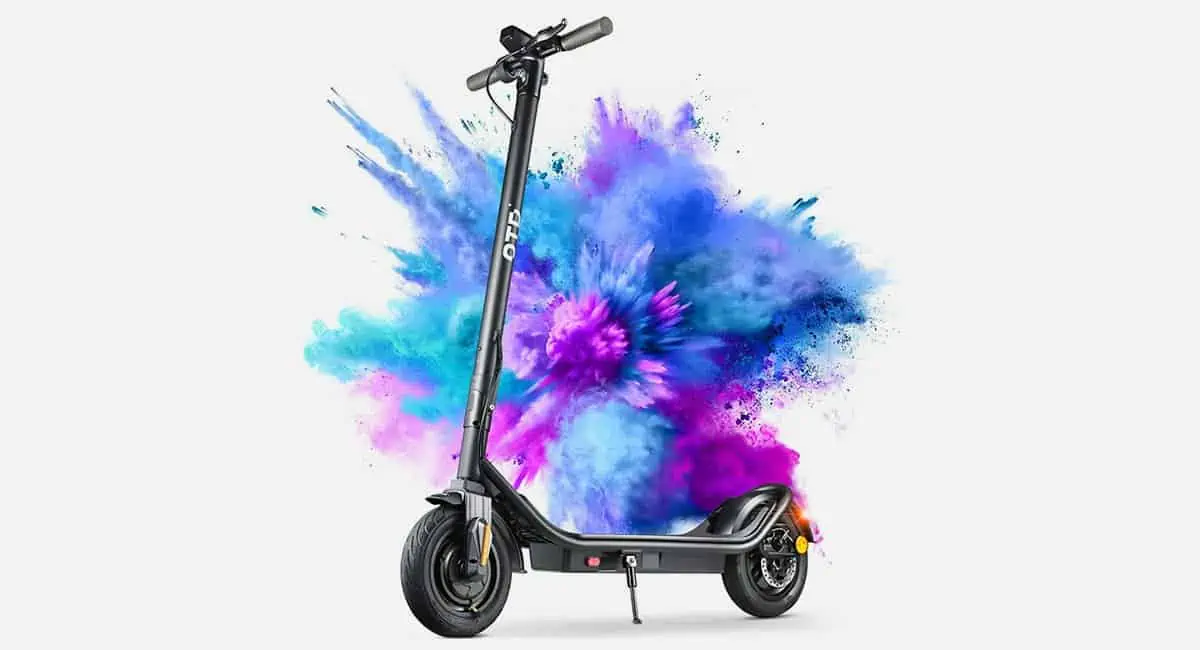 Testing Evaluation
Tested against similar models within the same category
Main Features:
Riders Weight Limit | 264 lbs (120 kg)
Motor | 500W Brushless Motor
Range | Up to 22 Miles per Charge
Battery | 36V, 10.4AH Lithium-ion Battery
Speed | 15.5 MPH
Recent Topics