If you are looking for an electric scooter that has top-notch features and is also pocket-friendly, you may want to consider the Microgo M5 Pro electric kick scooter. In creating this model, the manufacturer attempted to provide all the features you will love in an entry level electric scooter.
What To Expect From The MICROGO M5 Pro Electric Kick Scooter
No products found.
Microgo M5 Pro electric scooter comes with several controls on the handle that you can use while riding. It has two thumb buttons – one at the right and the other at the left. The right thumb button serves as an accelerator while the left thumb button serves as the power brake (Note that the power brake controls the front tire while the hand brake controls the rear tire).
Unlike the Microgo M8, the M5 Pro has a bell (the equivalent of a horn) on the handle that you can use to make way for yourself by alerting pedestrians while on the go. You can also connect the scooter to an app on your iPhone or Android phone for more options and control.
The Microgo M5 Pro also comes with a cruise control function which kicks in faster – unlike previous models. Just riding at a steady pace for about 10 seconds triggers the cruise control function which allows you to enjoy a hands-free ride.
No products found.
Product Specification
Before you finally decide on a brand to patronize, you'd have to take a little time to know the exact qualities of your desired electric scooter. If you are a meticulous buyer, you might find yourself comparing specs with a few other brands before you finally make a pick.
However, it might prove a little difficult if you don't know exactly what to look out for and that's what we intend to help you out with. Here are the specifications of the Microgo M5 Pro electric kick scooter.
| Specification | Value |
| --- | --- |
| Speed | 19 mph |
| Motor Watt | 350 W |
| Maximum Range Per Charge | 18.5 miles |
| Weight Limit | 220 lbs |
| Unit Weight | 34.2 lbs |
| Battery | 3000 Ah Lithium-ion |
| Tire Size | 8.5 inches |
No products found.
Product Features
Pneumatic Off-Road Wheels
No products found.
With this excellent design, the tires are very pressure-resistant and do not require constant inflation. The off-road tires also provide a smooth gliding experience, no matter the kind of surface you happen to be riding on.
These tires can also be used under extreme weather conditions like snow and rain. They are also very simple to detach and install, and these could be done very easily by anyone who owns one.
Double Brake System (Electric + Disc)
The front wheel of the Microgo M5 Pro is controlled by the left throttle which is the electrically powered brake. On the right side of the throttle, you will find a disc brake; this controls the back tire. The double braking system enables you to come to a complete stop quicker and with fewer jerks.
LED Dashboard
No products found.
The Microgo M5 Pro has a well-lit dashboard that displays all the necessary information about your scooter while it is in use. You can view your current speed and speed mode and make necessary adjustments if you have to. You can also see what's left of your battery (which is displayed in percentages).
You can toggle between the different functions by simply touching the LED screen. The headlights and cruise control indicators are also displayed. The dashboard provides you with the perfect avenue to be aware of everything that goes on with your electric scooter.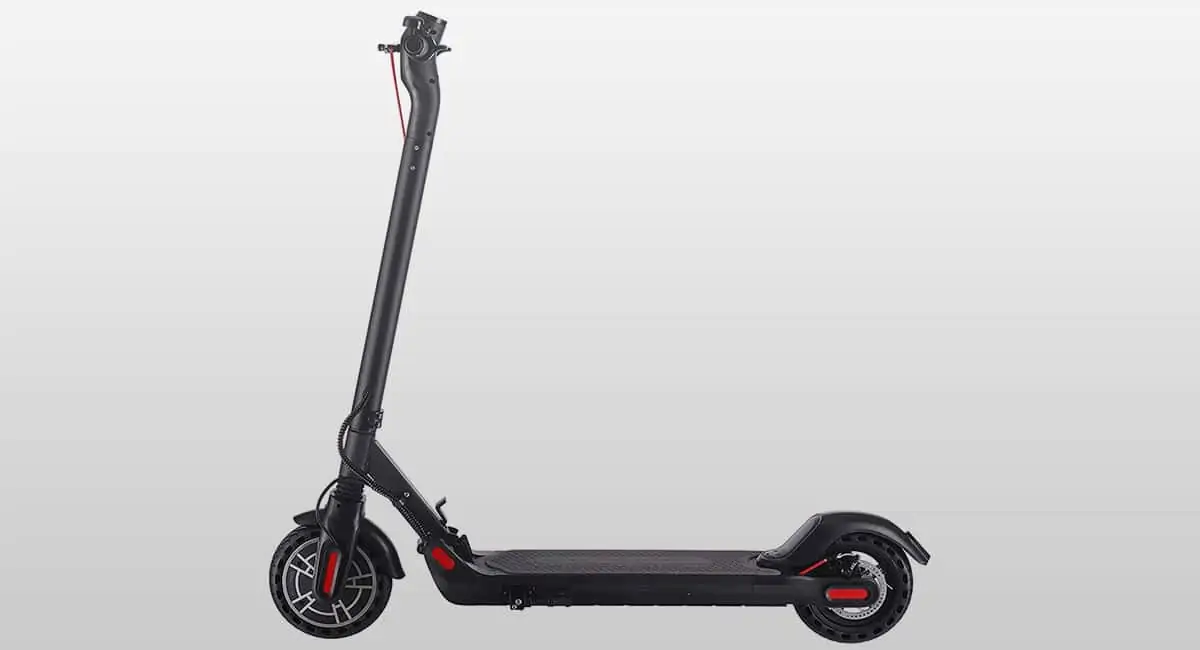 Testing Evaluation
Tested against similar models within the same category
Main Features:
Riders Weight Limit | 220 lbs
Motor | 350 Watt Brushless Motor
Range | 18.5 miles
Battery | 3000 Ah Lithium-ion
Speed | 19 mph
One-Step Folding
No products found.
The Microgo M5 Pro Kick Scooter can be folded neatly for increased portability. In case you are commuting in stages, you could fold it up and place it in another vehicle and it will fit very snugly. The folding also comes in very handy if you have a breakdown or if you run out of charge.
This feature also eliminates the risk of having your scooter stolen as you could take it into your work building without any hassles. That way, you get to keep an eye on it at all times. To fold your scooter, simply press the red button and then push it down. Very easy.
Build-in Lighting System
No products found.
The Microgo M5 Pro was designed with your safety in mind and that is why it is all lit up. From brake lights to headlights and down to the blue LED sidelights, the Microgo M5 Pro kick e-scooter makes sure you are never overlooked while on commute.
It imperative to use your lights while riding at night. Plus, if you genuinely want to enjoy your scooter for as long as possible, you should take all safety precautions.
Trendy USB Port
No products found.
The Microgo M5 Pro comes with a USB charger port so you can charge your mobile phone anywhere and anytime. This totally eliminates the panic you feel when your phone is running low on charge.
3-Speed Mode
The speed modes are calibrated into three: 9 mph, 12 mph, and 19 mph which signify the low-speed, medium-speed, and high-speed modes respectively. Of course, I do not need to remind you not to go at break-neck speeds, especially as a beginner.
Also if you go faster, your ride time invariably gets shorter. Always ensure to leave enough charge for an extra 5-mile in either direction.
No products found.
Pros and Cons of Buying a MICROGO M5 Pro Electric Kick Scooter
Pros
The Microgo M5 Pro is very easy to operate and is perfect for beginners. The almost elementary and simplistic design means you could learn how to use it in one glance (or two). The size allows for ease of movement, especially when navigating in between other road vehicles.
This e-scooter is environmentally friendly and you can cut down on your gas consumption. It also has one of the easiest folding techniques for scooters in its range.
Very easy to operate – even for a beginner
Night enough to ease movement
Environmentally friendly
Very easy to fold.
Cons
The Microgo M5 Pro may not be very affordable for all as it costs hundreds of dollars. And even though it is considered a great mode of transport, it can't go up very steep inclines.
The maximum load the Microgo M5 Pro can safely bear is about 220 pounds, which is about 100kg. People who weigh much heavier might find very limited options available when looking to buy one.
Some people may find it expensive
Not a good fit for people heavier than 220 pounds
Can't climb very steep inclines.
No products found.
Who Is This Product For?
The Microgo M5 Pro is perfect for short commuting purposes and so workers will find it useful. It is also wonderful for beginners who mostly struggle with figuring out how to ride a regular e-scooter. With the M5 Pro, you spend less time figuring out how to use it and more time actually enjoying your ride.
Who Isn't This Product For?
Generally, anybody can ride the M5 Pro e-scooter, however, it is not meant for anyone weighing over 220 pounds.
No products found.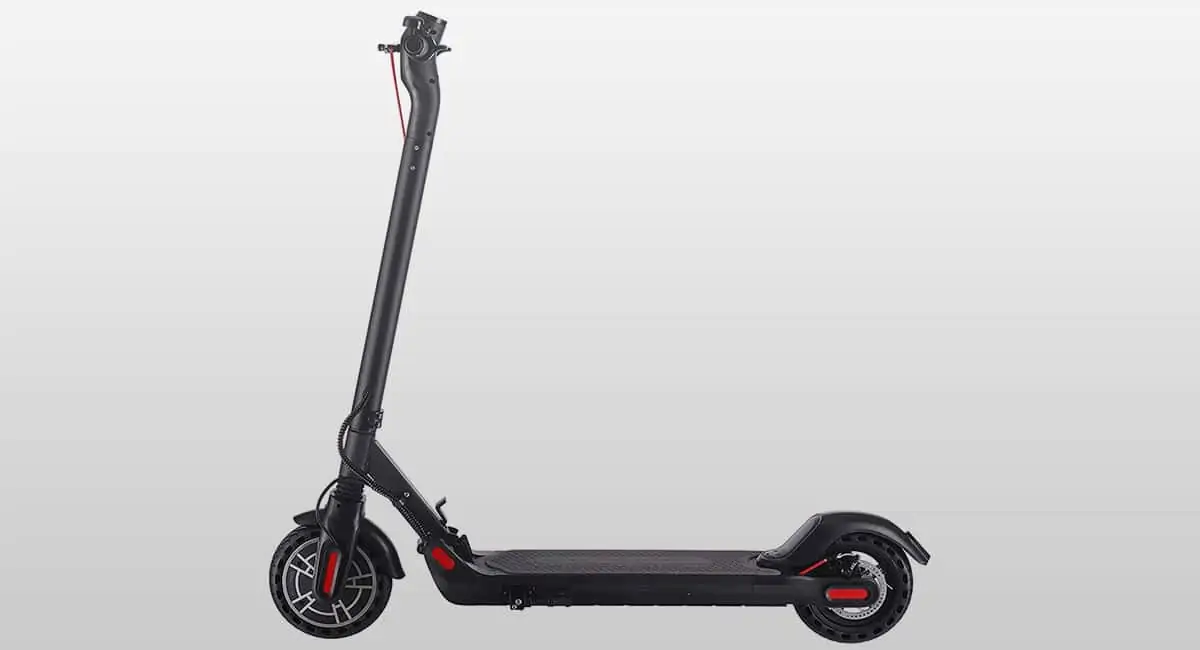 Testing Evaluation
Tested against similar models within the same category
Main Features:
Riders Weight Limit | 220 lbs
Motor | 350 Watt Brushless Motor
Range | 18.5 miles
Battery | 3000 Ah Lithium-ion
Speed | 19 mph
Recent Topics