People are often looking for a new means of city commuting that is outside of taking a bus or carpooling to work. Electric personal vehicles have made a huge resurgence since COVID, offering a huge range of people getting around in the safest way possible.
When it comes to an electric scooter, people often want something simple and effective. Maybe this new electric scooter will appeal to those wanting to ride around in the city without needing an instruction manual on which button does what. This is what Turboant's M10 Folding Electric Scooter offers.
Product Specifications
The newest in Turboant's electric scooters, the M10 was designed with a simple and lightweight design for commuting. Apart from being more affordable than most electric scooters on the market today, the M10 also has an easy folding mechanism and is light enough to carry with one arm.
While there isn't much in terms of looks, it is more about substance than style for the M10. Despite how small it looks, the M10 can carry a rider up to 220 pounds and reach speeds of up to 20 miles an hour.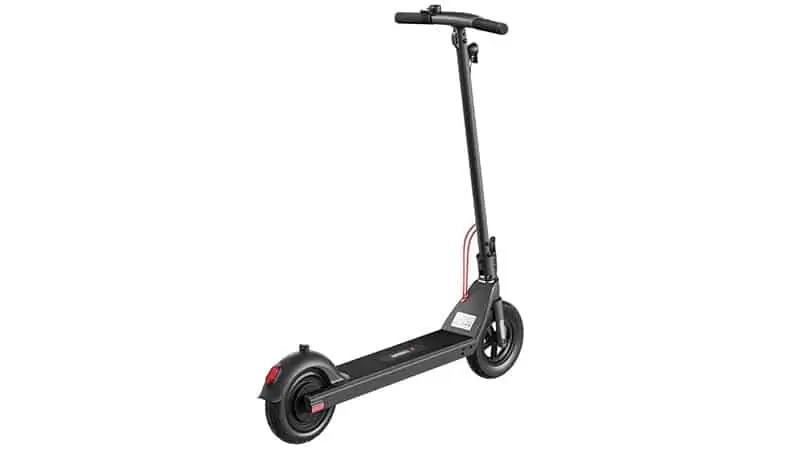 | | |
| --- | --- |
| Weight (Standalone) | 29.8 lbs |
| Unfolded Size | 42.1 in x 16.9 in x 46.1 in |
| Weight Capacity | 220 lbs |
| Motor | 350w |
| Battery | 36v, 7.5Ah (non-detachable) |
| Top Speed | 20 mph |
Product Features
Just like any electric scooter, the M10 has some special features and mechanics that make it stand out from its competitors. The folks at Turboant made the design to be as easy and efficient as possible for anyone who is looking for an electric scooter that has the power and speed they need, without feeling heavy to carry or difficult to maintain.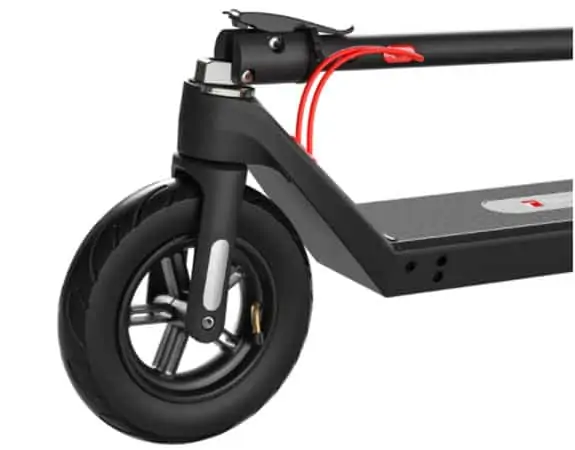 Tires
The M10 has two 10-inch inflatable tires, made with strong rubber. These tires made the ride feel smooth when going on pavement or on concrete. With these tires, you can feel little to no bumps when going at top speeds.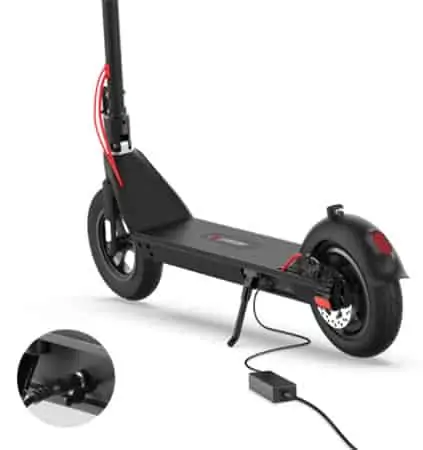 Battery
Housed in the M10 is a 36 watt 7.5 Ah battery that is non-detachable but has a relatively short charge time of 5 hours. With a range of 18 miles on a single charge, you might be able to have enough power to go from home to work and still have enough for the return trip home.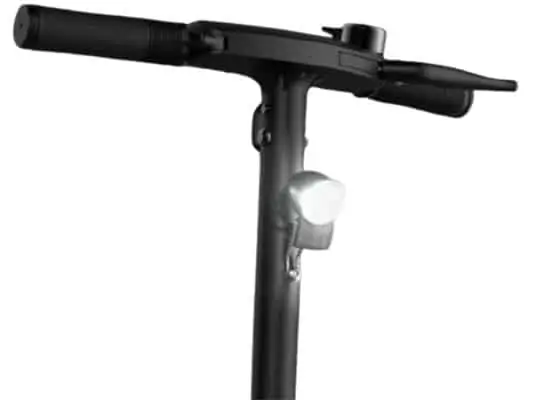 Lights
While not the most groundbreaking, the headlights on the M10 are bright for nighttime riding. Outputting at 2 watts, the LED headlamp shines the way, so you know exactly where you're going when it's dark outside.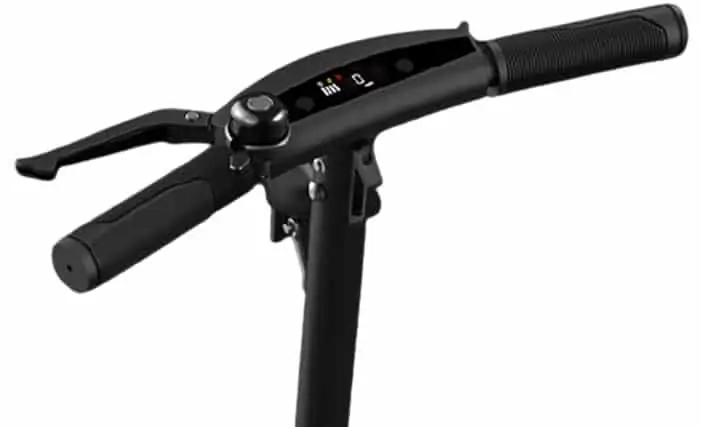 Speed
One important feature of the M10 electric scooter is the three-speed modes available. Beginner mode has a speed cap at 6 miles an hour, eco mode is 9 mph, then sport mode goes at the top speed of 18 to 20 mph depending on the weight of the rider.
Apart from the speed modes, the M10 also has cruise control that allows you to keep the speed at a constant rate till you apply the brakes. This is special because it gives you the option to not keep your finger on the throttle at all times.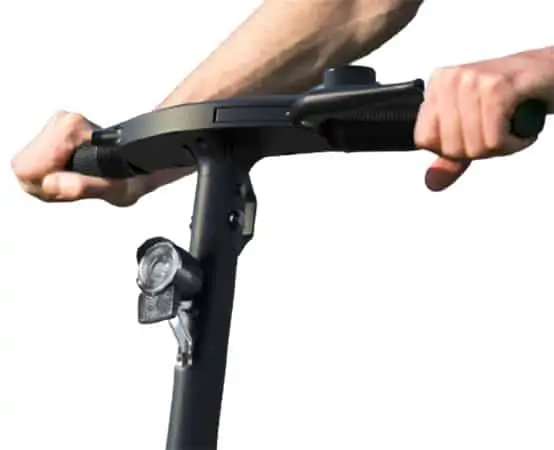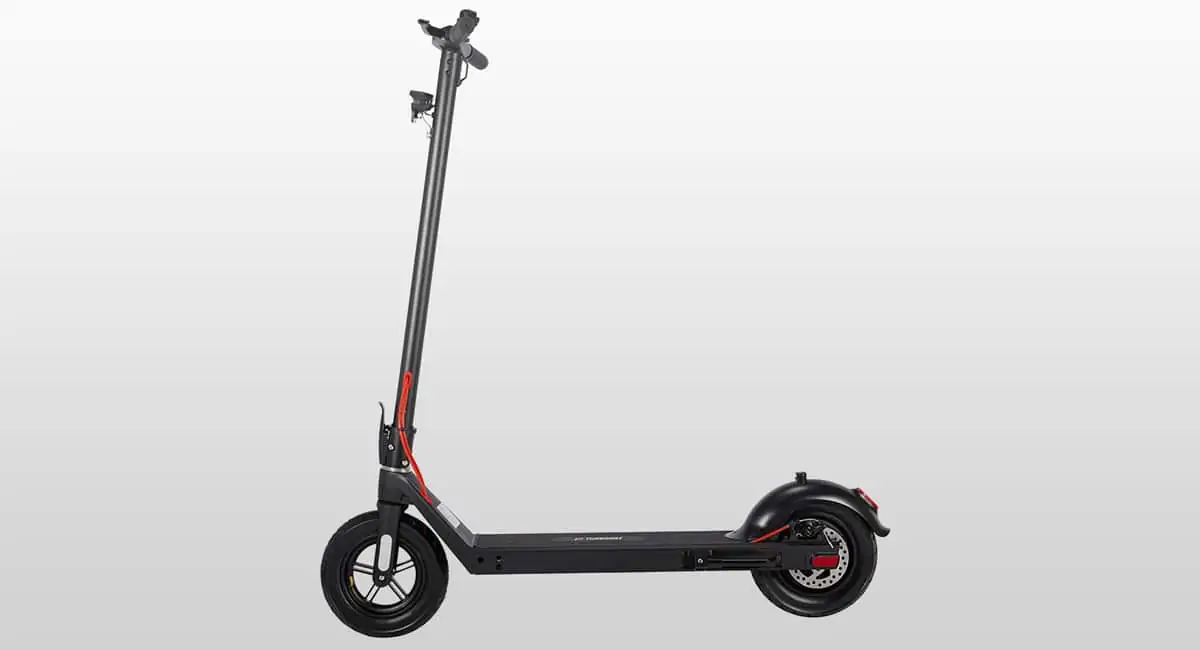 Testing Evaluation
Tested against similar models within the same category
Main Features:
Riders Weight Limit | 220 lbs
Motor | 350 Watt Rear Hub Motor
Range | 18 miles
Battery | 36V, 7.5Ah (non-detachable)
Speed | 20 mph
Brakes
Having good speed on an electric scooter also requires good brakes to come to a complete stop when need be. Thankfully, the M10 has 2 braking systems on offer, between the electronic braking system and one built on the rear wheel.
The brake handle is connected fairly easily, yet not too bulky to the point where it's hard to get to it without getting your hand off the handlebars. Also, during our testing we found the brakes respond very well and slow to a stop as fast as you can accelerate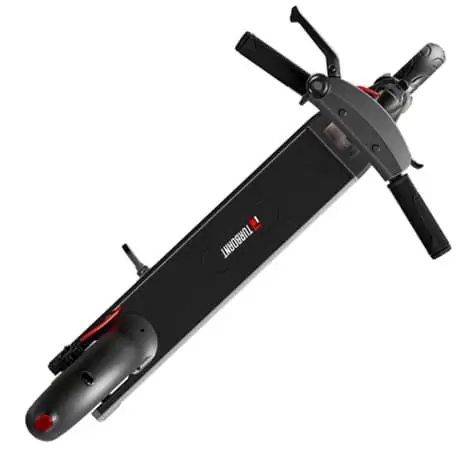 Weight
One of the most notable features of the M10 is its weight. Weighted at just under 30 pounds, the M10 can be carried by one person with ease and is compact enough when folded to fit in the back of a car or stored in a closet.
Being able to carry an electric scooter in between rides is a feature most riders for city commuting are looking for. This might be a good choice for those who want a lightweight electric scooter that still gives enough power to carry them through the day.

Special Features
At the handlebars, the LCD display on the stem takes up a majority of the space, showing speed, speed modes, lights, and range. There's also two buttons on each side for changing speed modes and cruise mode.
The throttle is designed to be ergonomic and comfortable, just a small gap from the handlebar so you don't need to change your grasp or have to hold it in an uncomfortable position.
The M10's most useful feature is the folding mechanism to fold and unfold within a matter of seconds. The stem has a self-locking ring that locks in place when unfolded. When you're done with the ride, just push the ring outward and it folds and locks in place for carrying and storage.
Pros and Cons of M10 Folding Electric Scooter
There are many innovative and useful functions that Turboant's electric scooter has to offer. However, there are a few things to consider when looking at a city commuting vehicle, as there are some downsides that have to be taken into consideration.
Pros
As it has been established previously, the M10 is a very lightweight electric scooter that is perfect for traveling. The three modes for speed give you options on how fast or slow you want to go, as well as having a cruise control option.
Its simple design and folding mechanism might appeal to those who don't want something too complex for an electric scooter. As well as being easy enough to maintain.
Ergonomic throttle and brakes are comfortably placed
Light enough for one person to carry
Cruise control gives the option for speed consistency
Weight capacity allows heavier riders to use it
Cons
While the M10 is very simple in design and looks, there are also a few things that keep it from being simple. The M10 can't be modified and the battery pack is non-detachable. Which means if you do run into any problems with the battery, it might need to be serviced by a technician.
Another downside is that you would have to start it with a kick rather than from a standstill. While this is the case with most electric scooters at this range, we prefer a twist and go feature.
Tires aren't meant for off-road riding
Battery is non-detachable
Can't start up from a standstill
Limited on how much of an incline it can climb.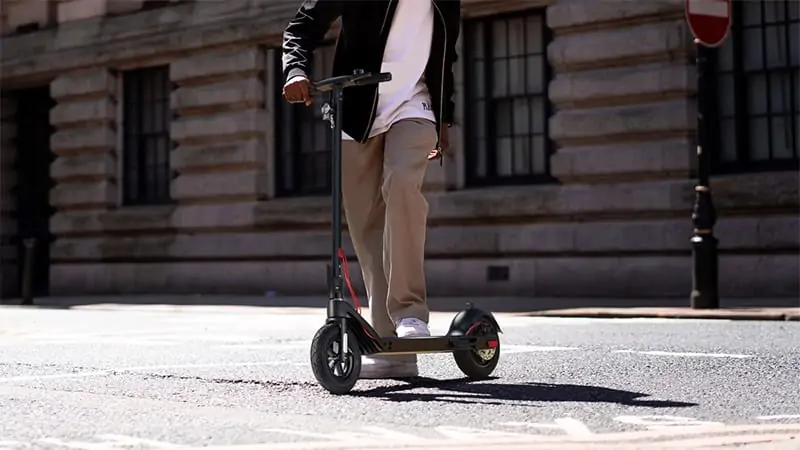 Who Is This Electric Scooter For?
With all that it has to offer, the M10 electric scooter might appeal to those who want a simple and light alternative means of traveling around the city without worrying a heavy escooter to carry around.
This could also be a good starter electric scooter for beginners. The M10 was designed with simplicity in mind, and it shows that while simple, it's very effective in delivering an enjoyable ride.
Who Is This Electric Scooter NOT For?
Even though the M10 is very easy to use and ergonomic in shape and utility, it really isn't for everybody. It's not going to appeal to those who want to go faster than 20 mph or want the option to go off road on grass, rocks, and dirt.
While it can support riders weight up to 220 pounds, don't expect it to go hit the maximum 20 mph speed while carrying a heavy weight rider. Weight can affect how fast the M10 can go so while it does have many perks, this electric scooter might not be for you if you're looking for more speed or riding on rough terrain.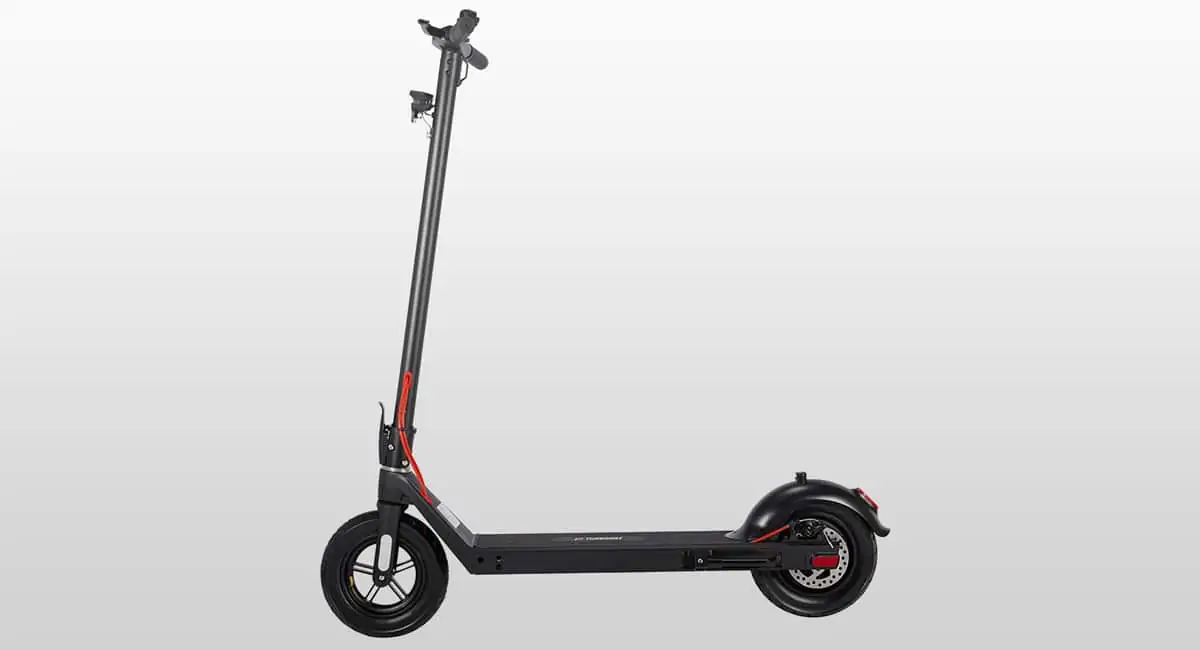 Testing Evaluation
Tested against similar models within the same category
Main Features:
Riders Weight Limit | 220 lbs
Motor | 350 Watt Rear Hub Motor
Range | 18 miles
Battery | 36V, 7.5Ah (non-detachable)
Speed | 20 mph
Recent Topics