The Lectric XP 2.0 has been one of the top-selling e-bikes in the US since its release in 2021. It has been praised as being a good value for the money, offering a lot of features for the price. However, there are some issues with this model that need to be addressed before you commit to purchase.
We've taken a look at the problems with the Lectric XP 2.0 and found that while it does offer many great features, it also comes with some drawbacks. So if you're considering buying this model, read on to learn more about the cons of this ebike so you can decide if it's the right option for you.
Also Related:
Cons of the Lectric XP 2.0
The Bike Won't Work Without the Key in the Ignition
You're probably thinking "Well, that's a good thing right? I mean a key ignition prevents one's electric bike from getting stolen easily, right?". Well, yes, but not to the point where the feature is almost impractical, as is the case on the Lectric XP 2.0.
The Lectric XP 2.0 comes with its ignition under its frame i.e. under the single tube that extends from the bike's front end to its rear end (it's usually located on the handlebars of other e-bikes). This means that riders would have to reach under the bike, plug the keys in, push it up, and then twist it to power the ebike on.
Once powered, the key has to stay in the ignition, dangling off the bike as you ride along. I really don't know why Lectric chose to install the bike's ignition under its frame. It makes starting the bike less convenient for riders who have tender joints.
Also Related:
The Bike's Battery Takes a While to Charge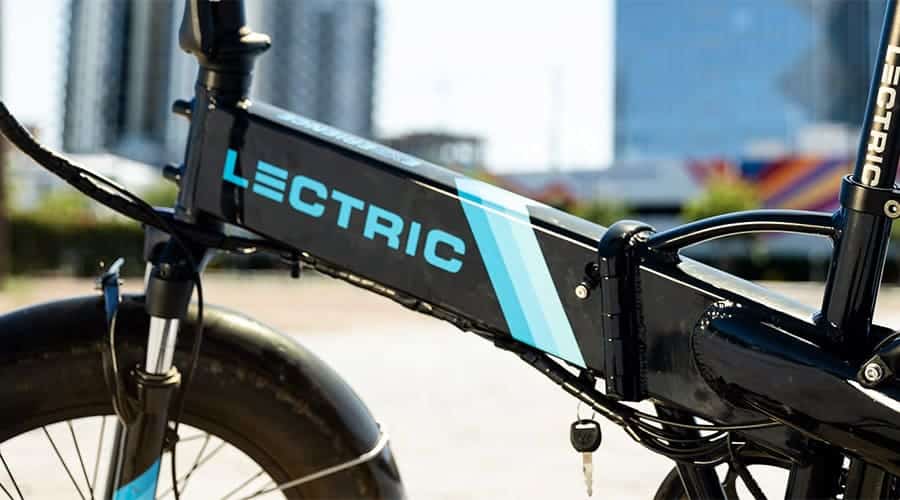 The Lectric XP 2.0's 48V 9.6Ah (460.8Wh) battery takes about 6 hours to fully charge from empty. I personally feel like that's a very long time to charge a low-capacity battery considering the fact that there are higher-capacity packs that take less time to fully recharge.
For example, the Aventon Aventure, a 720Wh (48V 15Ah) electric bike, takes about 4 – 5 hours to charge to full capacity while Juiced's Ripcurrent S, an electric bike with a battery that has two times the capacity on the Lectric XP 2.0, attains a full charge under 8 hours. 
It's Not the Best Off-road E-bike
The Lectric XP 2.0's suspension fork only allows about 40mm of travel. That's an awfully short range if you plan on riding over large bumps. 
The bike will perform well on paved roads and light trails. However, I won't advise hitting hard trails with this e-bike; its components (and not just its suspension) are just not designed to handle the rigors of riding under such conditions. 
Also Related:
It Tends to Unfold Itself When Folded
The bike doesn't come with a mechanism that prevents it from folding out when folded, so you might have to hold it together when you carry it.
This isn't a serious gripe though as riders can easily purchase velcro straps to hold both halves of their ebikes in place after they have folded them.
Poor Lighting
You will need to purchase and install a brighter headlight on your Lectric XP 2.0 if you plan on riding it at night. The headlight that comes standard on the bike doesn't project long enough beams to illuminate far ahead of the rider. 
The rear light, on the other hand, does not flash when the brakes are applied. They both help with being visible at night though.
Also Related:
It Is Heavy
Regardless of how many halves the Lectric XP 2.0 can fold into, it is still a weighty electric bike. It weighs 64 lbs and, as I mentioned earlier, isn't any more practical to carry when it's folded than when the frame is fully extended.
Riders looking for a less heavy folding e-bike might want to check the XP Lite out. It weighs 46 lbs and is smaller (in terms of size) than the XP 2.0.
How Long Does the Lectric XP 2.0 Last
The Lectric XP 2.0 is a durable budget electric bike. Riders should be able to get at least 1000 miles out of the Lectric XP 2.0 before having to replace any of the e-bike's major components. 
It may not be fitted with some of the higher-end components that come standard on other foldable e-bikes, but it sure does know how to take a beating. It says on the manufacturer's webpage that this e-bike can support up to 330 lbs of weight (the rear rack alone can hold up to 75lbs of weight); well, the good news is the bike's actually durable enough to hold up that much weight. 
Just keep in mind that you might have to tighten the brake cables every now and then; especially if you're a heavy rider. And there's also inflating the bike's fat tires when they lose pressure.
 Overall, this e-bike should be able to last up to two years if you take proper care of it. 
Also Related:
Can the Lectric XP 2.0 Get Wet
The Lectric XP 2.0 can get wet but I wouldn't advise submerging it in water. Each of the bike's electronic components is designed to the IP65 water-resistance standard, which means that they're shielded against ingress from dust (and other solid particulates) and water from pressurized nozzles. 
So, it's safe to ride your Lectric XP 2.0 under light rain and maybe even hose it down when it's dirty (just make sure it's not a high-pressure nozzle).
Does the Lectric XP 2.0 Have a Removable Battery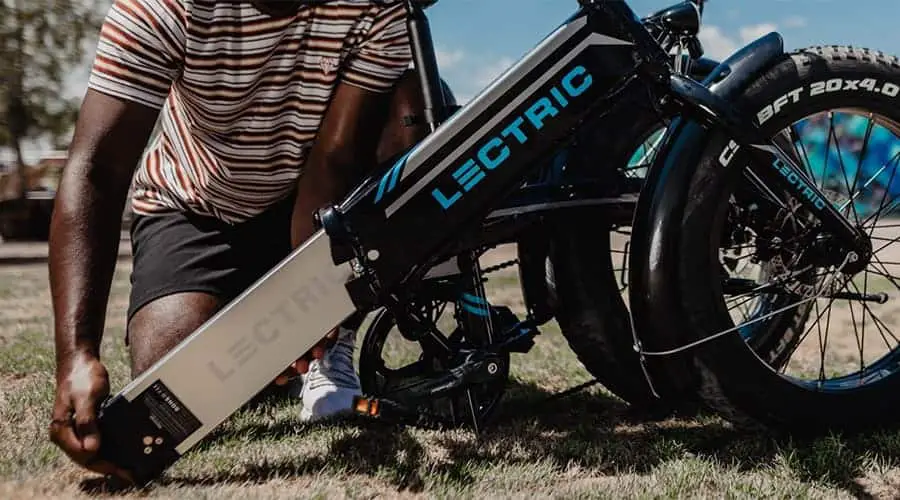 The Lectric XP 2.0 comes with a removable battery that fits into the frame. The bike's battery can be removed by undoing the huge clamp that locks both halves of the frame in place. 
Users can even purchase spare batteries from Lectric and swap them out with drained packs to extend their bikes' range. 
How Long Does It Take to Charge the Lectric XP 2.0
It takes the Lectric XP 2.0 about 6 hours to charge full after the battery has been completely drained. To cut that time by half, you might need to purchase a faster charger.
Recent Topics