Are you looking for an affordable two-wheel electric scooter that offers the same balance and comfortability as a 3 (or 4) wheel e-scooter while still packing enough power to reach top speeds of 30mph.
The Kugoo M4 Pro combines the speed of a high-performance e-scooter, the balance and comfortability of a mobility scooter, and the control system of a high-end e-bike to facilitate an all-around riding experience.
Now, before we get ahead of ourselves, it's not like the Kugoo Kirin M4 Pro is crafted from alien tech fresh out of Stark industries, following our test of this unit, its features might not appeal to everyone and its use case is not for every lifestyle out there.
Before making a purchase, first find out if this electric scooter is right for you. 
Keep reading!
Features Of The Kugoo Kirin M4 Pro 
1) A Comfortable Ride.
Riding a 30mph — or 40, maybe even a 50mph — electric scooter is cool, however, riding at such high speeds while on your seat? Now that's a different kind of cool.
The Kugoo Kirin M4 Pro comes with a dismountable seat that literally allows riders to "sit and enjoy the ride" on their electric scooter.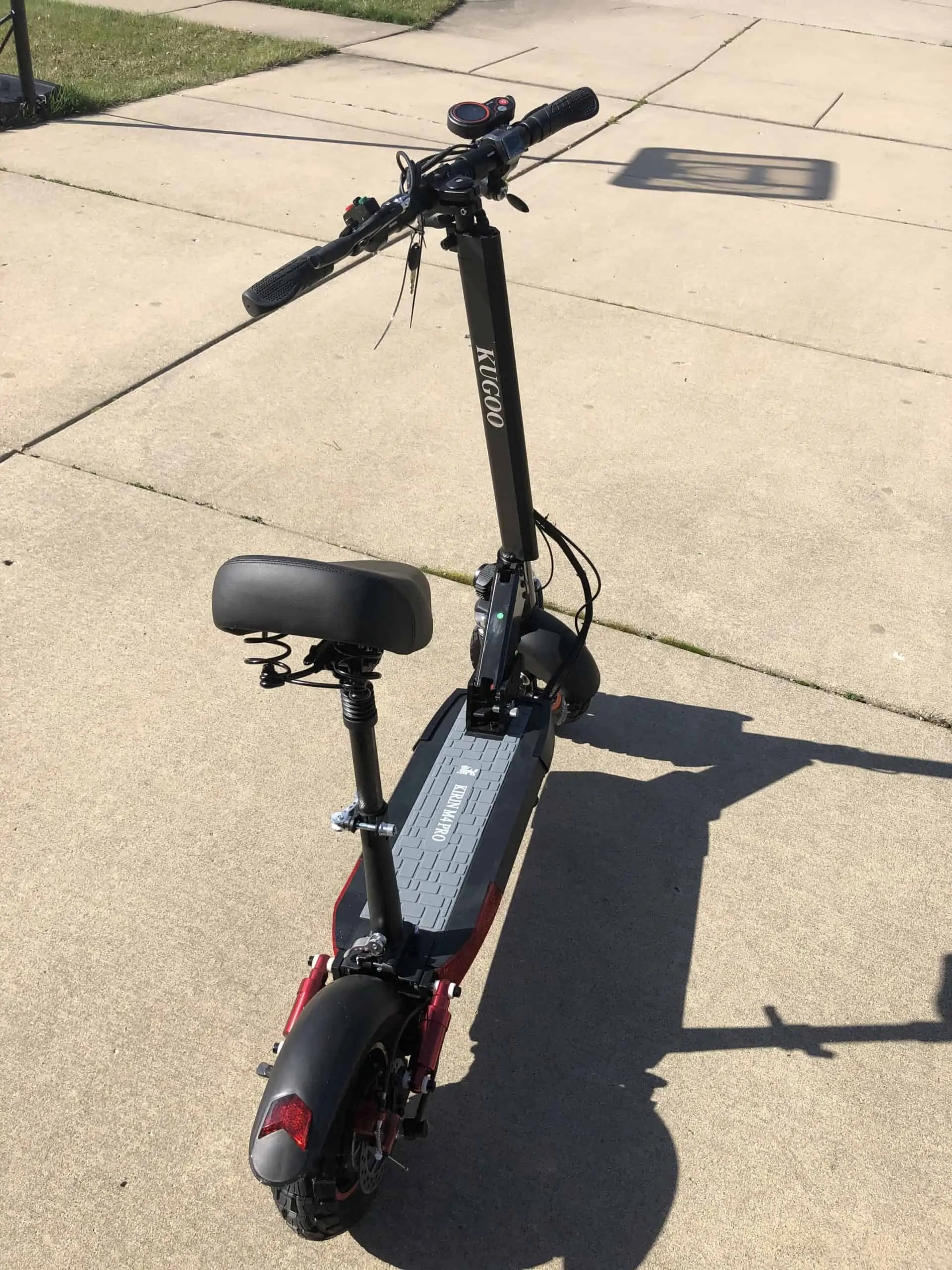 Equipped with an adjustable handlebar, a wide deck, and a smart control feature, this e-scooter promises an almost futuristic riding experience.
Just sit back and enjoy!
2) Smart Control & Display Feature That Takes The Guesswork Out Of Riding.
Kugoo isn't one of those e-scooter brands that pitch a 20mph electric scooter as a 30mph e-scooter – after all, it's not like everyone who buys it can tell it's a rip-off.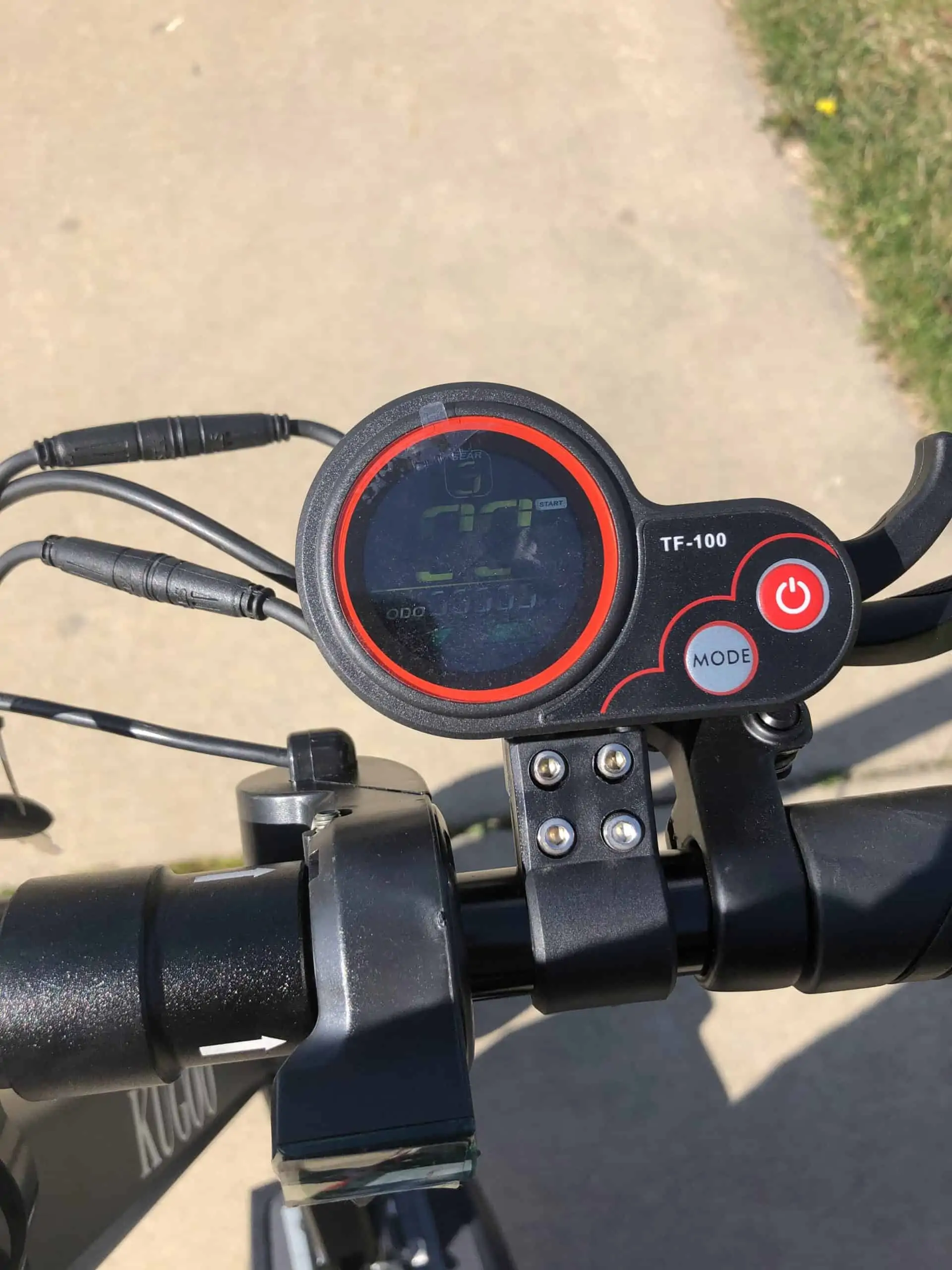 Equipped with an LCD unit that displays battery level, total miles covered, current speed setting (and a button that allows you to switch between modes), and travel speed, the Kugoo Kirin M4 Pro gives riders more control over their riding experience.
Now you can tell how much speed you're traveling at and how much battery power you have left, informing you on whether or not you need to charge your e-scooter before taking it out for a spin or embarking on long-distance rides. 
You never have to worry about your Electric Scooter running out of power in the middle of nowhere, far from home, just outside Pennywise's habitation.
3)  An E-Scooter For Any Terrain 
The Kugoo Kirin M4 Pro is regarded as one of the best off-road electric scooters because of its new-generation dual (front and rear) suspension shocks, which absorb bumps even at high speed.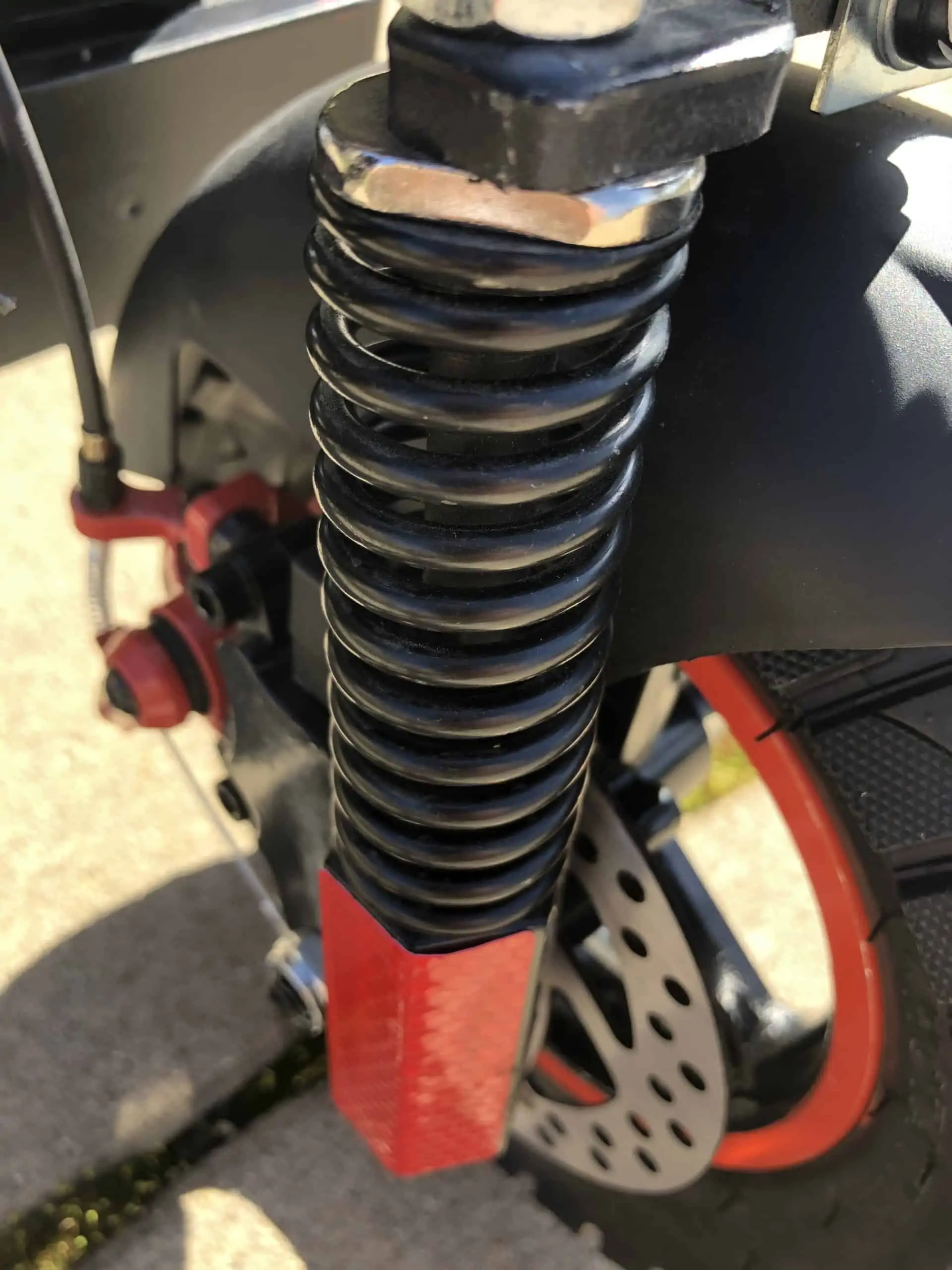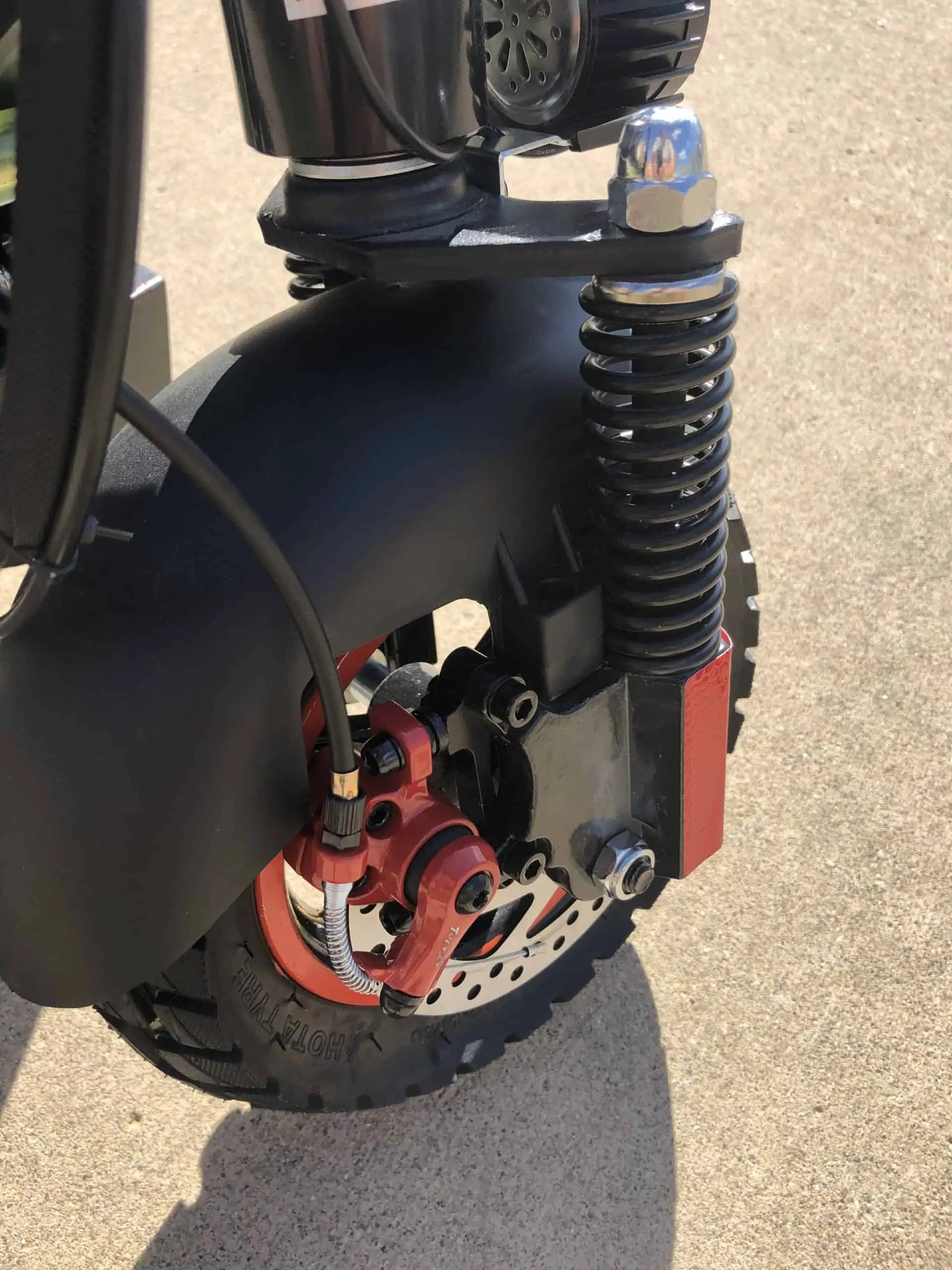 And this extraordinary stamina isn't based on its high-caliber shock mitigation system only – Its 10-inch wear-resisting pneumatic tires — usually found on forklifts and other heavy-duty vehicles — can guarantee a smooth ride even on rocky and uneven terrain.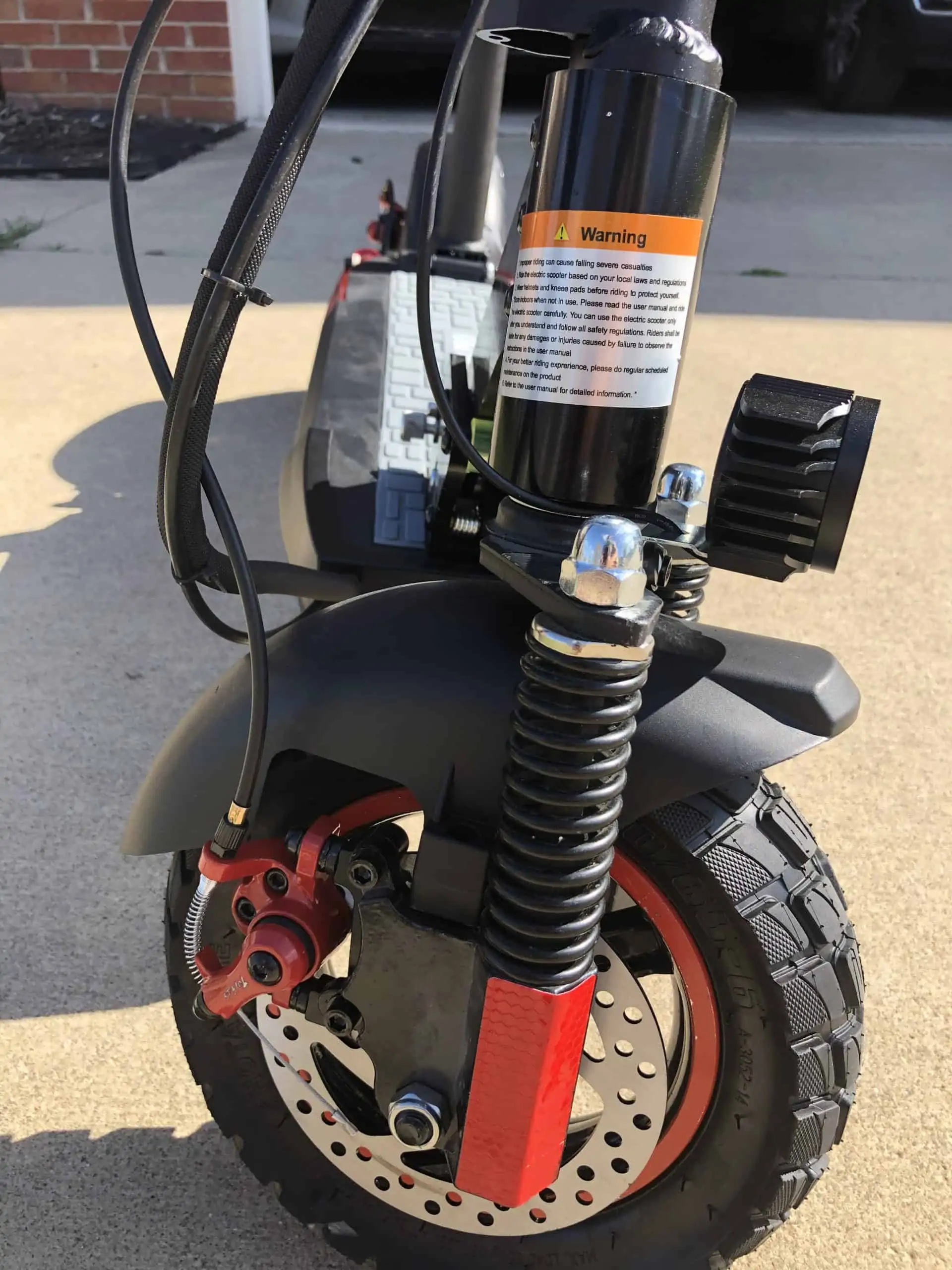 While its 10° hill-climbing ability might not sound so impressive to e-scooter enthusiasts and off-road riders, in my opinion, it still ranks up there as one of the best off-road e-scooters. I mean check out the terrain this YouTuber is testing his out…while seated!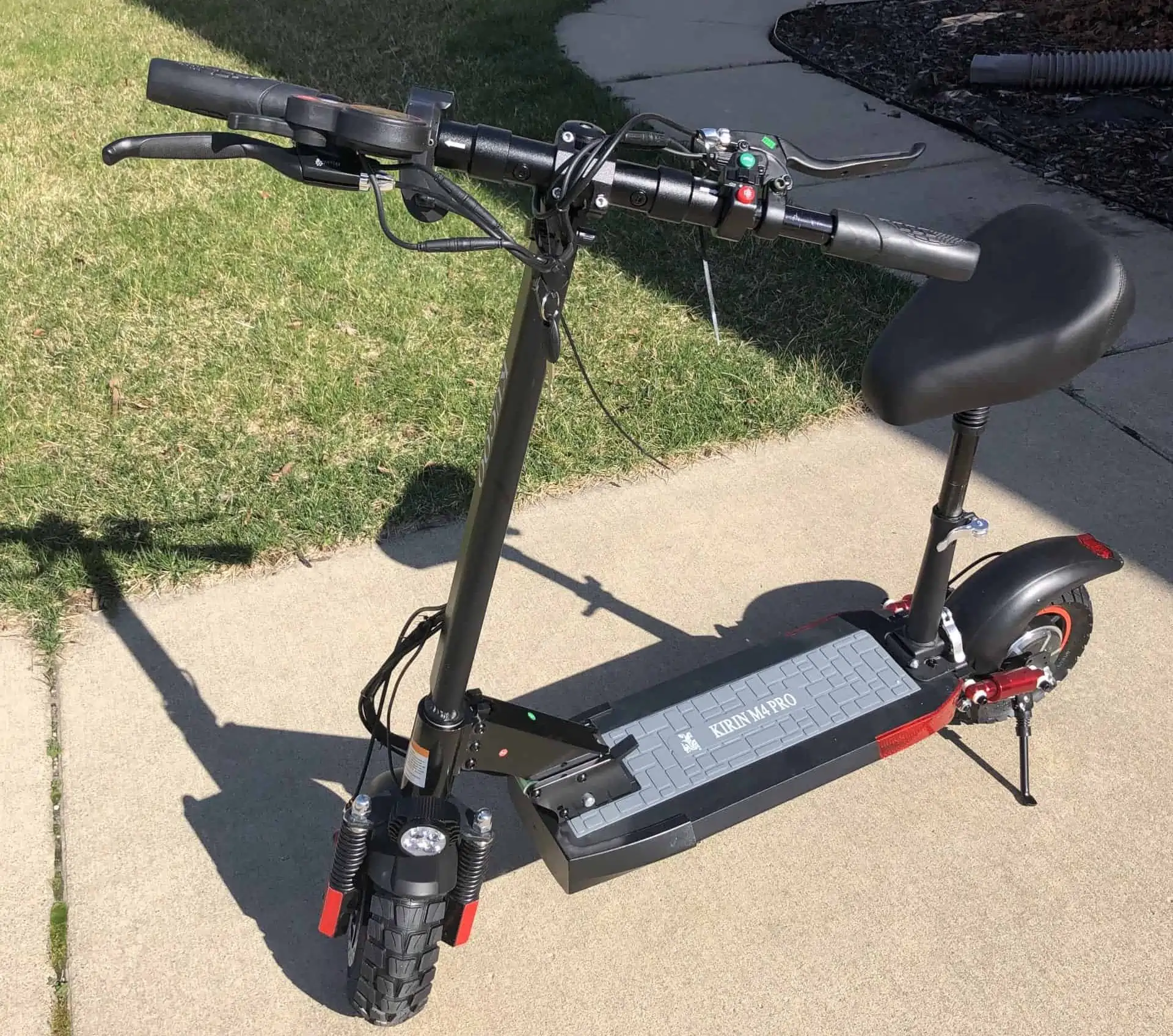 Testing Evaluation
Tested against similar models within the same category
Main Features:
Riders Weight Limit | 330 lbs
Motor | 500W Brushless Rear-wheel Motor
Range | 28 miles
Battery | 48V, 528Wh, 11Ah Lithium Battery
Speed | 28 mph
Specifications Of The Kugoo M4 Pro
Maximum speed

28mph (45km/h)

Maximum power output

500W

Control System

LCD display 

*Seat

Yes

Folded dimensions

 114 x 39 x 60cm

Charging time

8 hours

50lbs (22.6kg)

Maximum load capacity

330lbs (150kg)

Lights

-Front and rear lights

-Deck and indicator lights

Maximum range on a full charge

40 miles (65km when set to the most conservative speed option)
Pros Of The Kugoo Kirin M4 Pro Scooter 
1) For its features, it's inexpensive
Considering the Kugoo Kirin M4 Pro's features, I'd argue that this high-performance scooter is well underpriced at $700 per unit.
With prices of high-performance e-scooters typically ranging between $1000 and — in some cases — $7000, you will be getting the best bang for your buck if you purchase Kugoo's M4 Pro.
2) It is suitable for older riders: 
As I mentioned earlier in this post, the Kugoo M4 Pro is a high-performance e-scooter and a mobility scooter in one.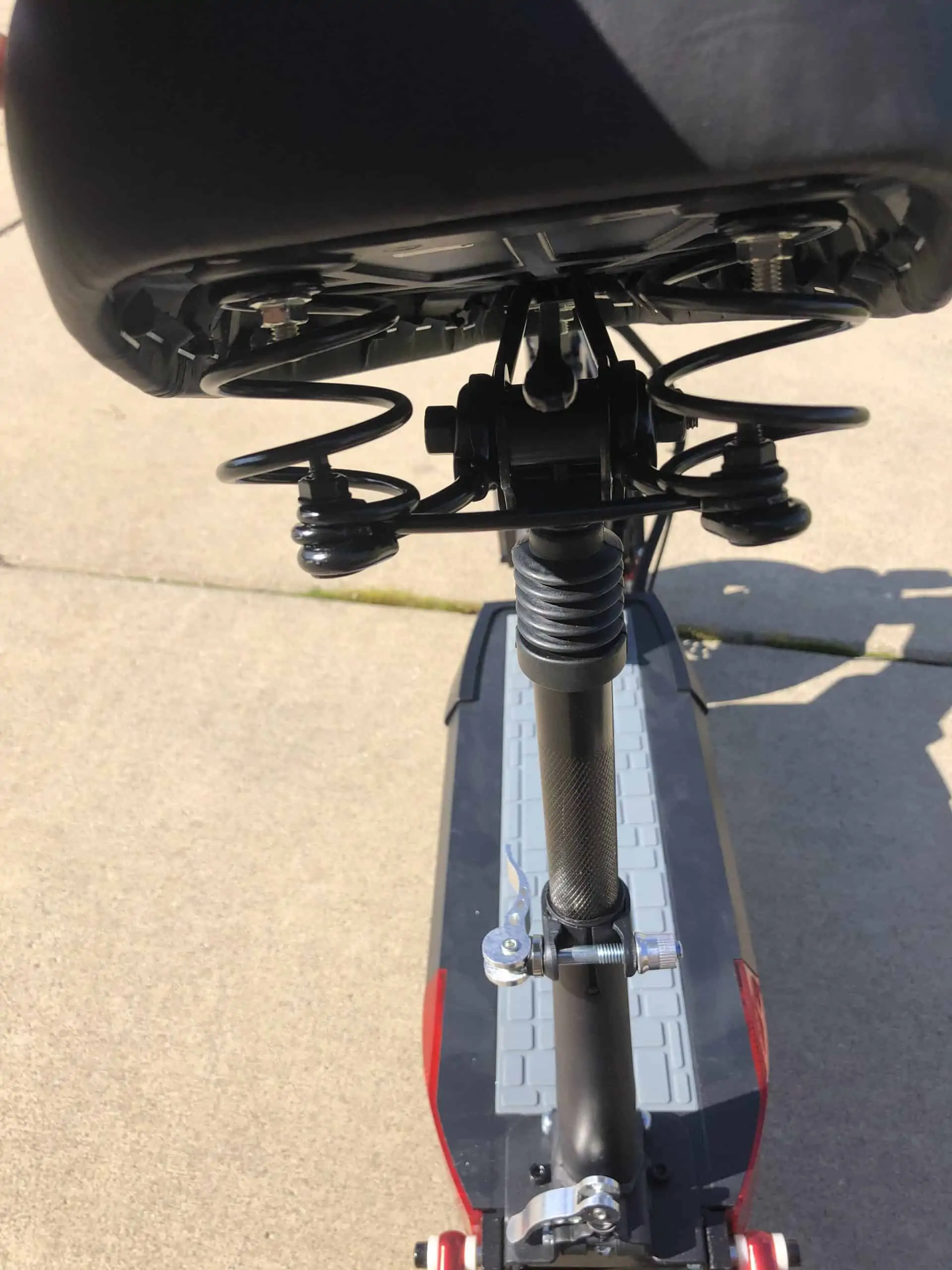 With its adjustable handlebar height, high-grade suspension system, and shock(bump) absorbing saddle and seatposts, you can sit comfortably throughout your ride – even on bumpy terrain (as seen in the youtube video above).
This is what makes it the best electric scooter for seniors and handicaps – It doesn't wobble (its frame is well balanced) and it offers the comfortability of a 4-wheel scooter with a seat.
Cons Of The Kirin Kugoo M4 Pro 
1) Wobbly Frame:
Some users reported experiencing wobbles while riding their Kugoo Kirin M4 Pro.
However, most of these riders later reported that this issue was fixed after a few bolts were tightened around the areas joining the stem to the front wheel. We did not notice any wobbling while testing the unit. 
2) The Kugoo M4 Pro is not portable enough to be carried around. 
While it is regarded as lightweight when compared to other high-performance e-scooters (because its frame is crafted from an aluminum alloy), it isn't the best option for riders who commute by e-scooter.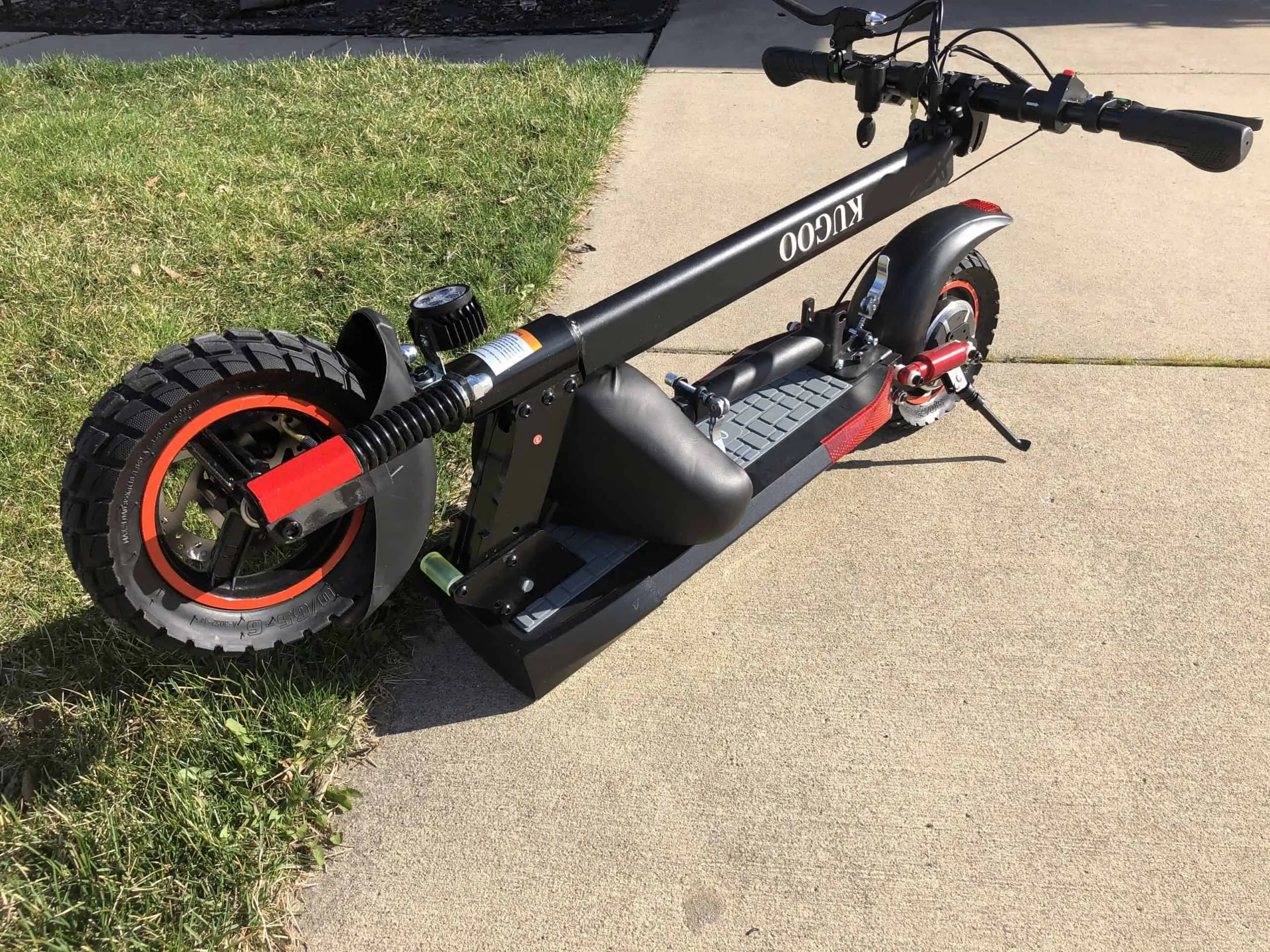 Weighing 22kg (49.8lbs) (somewhere around the weight of a filled water dispenser bottle) and spanning over 114cm (44.9 inches) when folded, I don't think anyone would be comfortable carrying this beast around – unless, of course, you're Clark Kent!
Who's The Kirin Kugoo M4 Pro For?
It is a good fit for off-road riders.
For riders looking for balance between comfort and speed.  
If you're someone that suffers from a medical condition where you can't stand for long periods but wish to experience the perks of riding a powerful electric scooter, you might want to consider the M4 Pro.
Who's The Kirin Kugoo M4 Pro Not For?
People who commute by e-scooters and thus have to carry their e-scooter around might find lighter, more portable, models a better alternative to the Kirin Kugoo M4 Pro.
Kugoo M4 VS Kugoo M4 Pro 
While the standard Kugoo M4 and the M4 Pro are very alike in terms of physical appearance, their individual specifications prove that a lot of research was put into the M4 Pro to improve on the standard M4's flaws.
With an improved and more convenient folding mechanism and greater battery capacity, the upgraded features of the Kugoo Kirin M4 Pro outclasses the standard M4 by a wide margin. 
Table outlining the differences between the standard Kugoo M4 and the M4 Pro
| | | |
| --- | --- | --- |
|   | Kugoo Kirin M4 | Kugoo Kirin M4 Pro |
| Power | 500W | 500W (up to 600W) |
| Maximum speed | 21.7mph (35km/h) | 28mph (45km/h) |
| Maximum load capacity | 286.6lbs (130kg) | 330lbs (150kg) |
| Scooter weight | 53lbs (24kg) | 50lbs (22.6kg) |
| Maximum range on a full charge | 18.6 miles (30km) | 40 miles (65km) |
| Charging time  | 5 hours | 8 hours |
| Deck | Frosted platform | Rubberized platform providing more traction. |
| Battery capacity | 11Ah | 13Ah +  |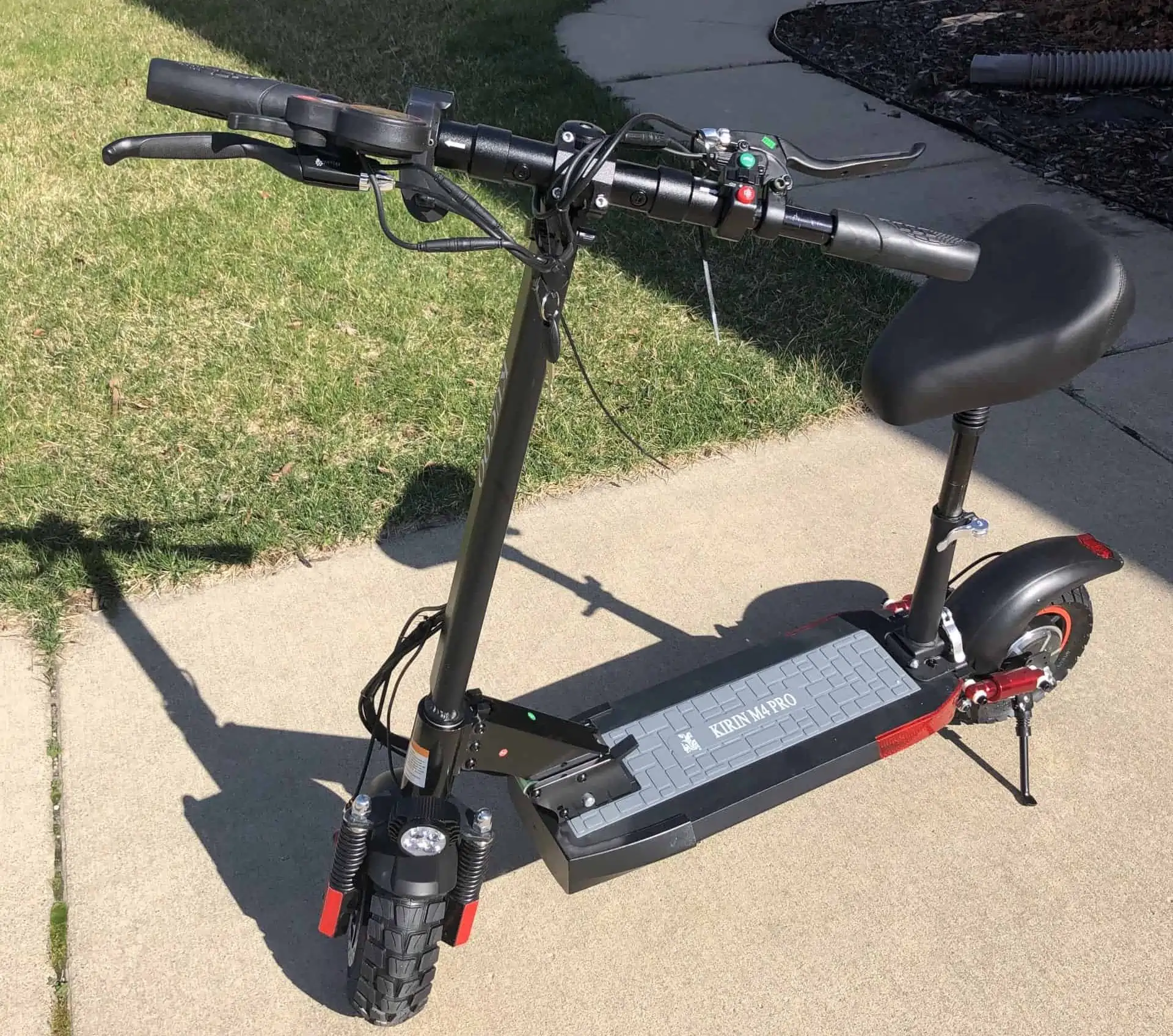 Testing Evaluation
Tested against similar models within the same category
Main Features:
Riders Weight Limit | 330 lbs
Motor | 500W Brushless Rear-wheel Motor
Range | 28 miles
Battery | 48V, 528Wh, 11Ah Lithium Battery
Speed | 28 mph
Recent Topics