Your daily commutes don't have to be boring or exhausting. Fly at speeds of up to 25 mph on the newest electric scooter from KUGOO is a new level of excitement. The KIRIN G1 is a waterproof, durable, high performance electric scooter designed to carry you up steep hills and over bumpy terrain. 
There's a lot of different  electric scooters available on the market that I have tested, but in this article I'll walk you through what I liked and didn't like after taking the KIRIN G1 for a long ride. In this article, I hope you would be able to tell whether the KIRIN G1 is the right fit for you. 
Let's dive in…..
Product Specifications
The KIRIN G1 electric scooter is powered by a 500W DC, brushless motor and long-lasting lithium battery. The Waterproof XP67 scooter is foldable, operates at three different speed modes, and has a climbing ability of up to 24 degrees.
Even more product specifications can be found on the product website: KUGOO KIRIN G1 Folding Electric Scooter
| | |
| --- | --- |
| Max Speed | 25 MPH |
| Motor Watts | 500W |
| Range | 25 Miles |
| Weight Limit | 264.55 Lbs. |
| Unit Weight | 48.5 Lbs. |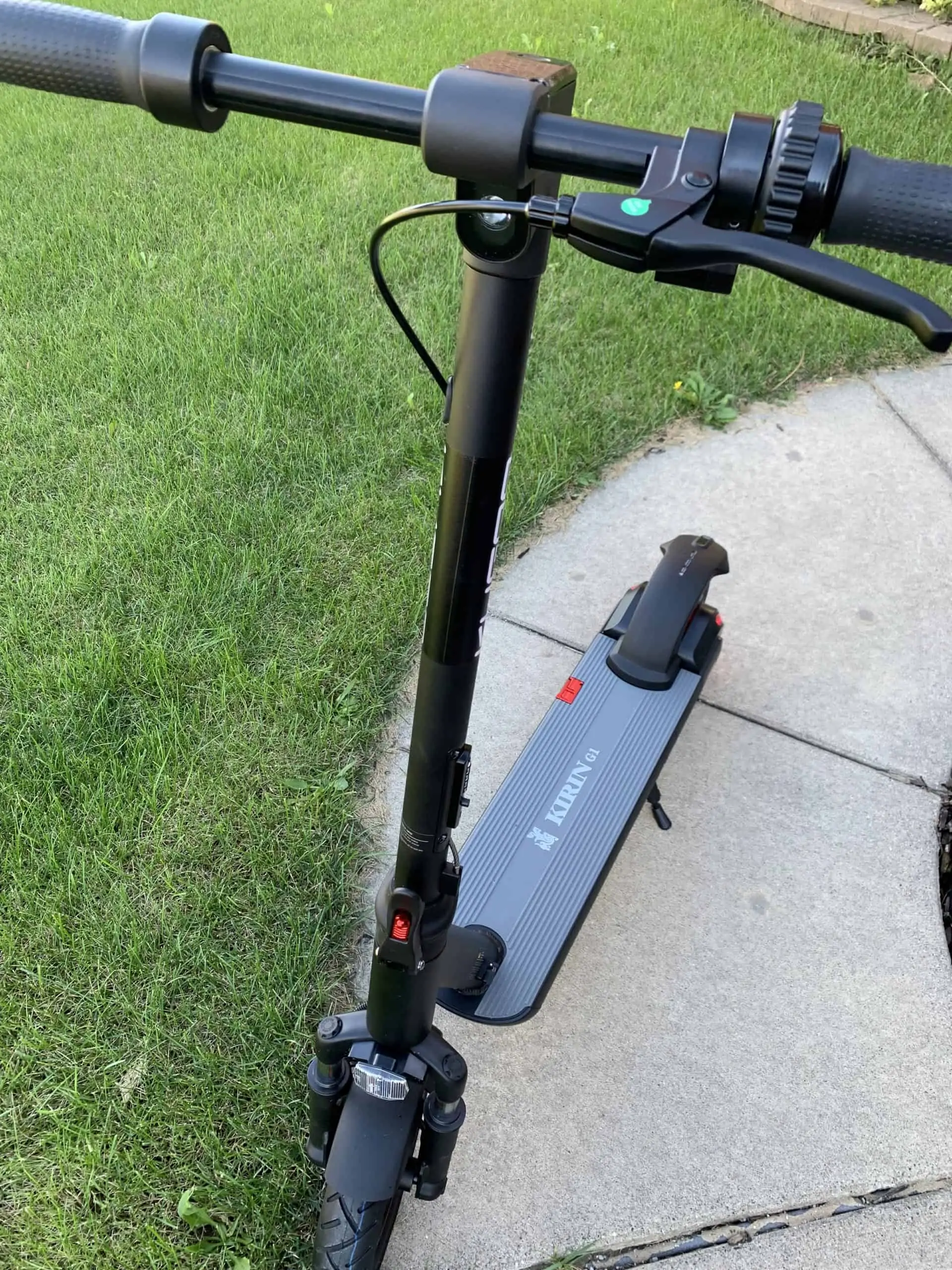 Product Features
The KIRIN G1 electric scooter has a variety of features that set it apart from the competition. Below is a list of my top five favorite attributes unique to the KIRIN G1.
1. 13 Ah Lithium Battery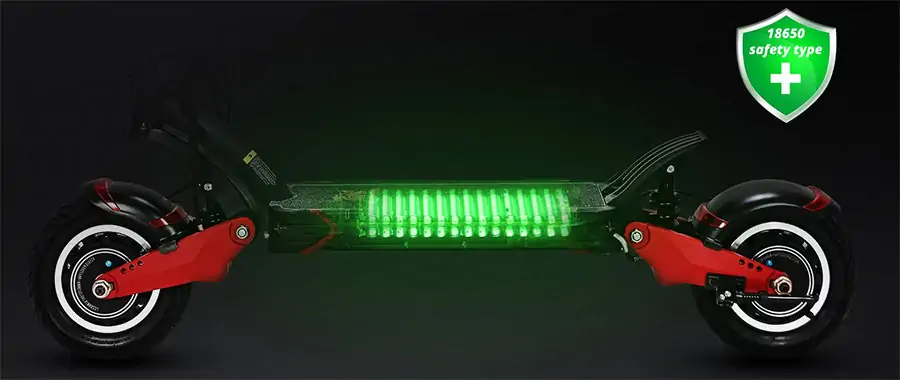 The KIRIN G1 is powered by a 13 Ah Battery. The high-capacity battery consists of 18650 cells, is more durable than most, and only takes 2.5 to 4.5 hours to be fully charged up.
A single charge allows riders to travel a range of almost 25 miles, making it ideal for those of you who are looking to travel long distances.
While lithium batteries do have many advantages, the batteries must be stored in a cooler temperature environment, as they are at risk of overheating, aging, and overcharging.
2. NFC Unlock Function
Before riding, the electric scooter must be unlocked by an NFC card. The NFC card, which can be stored easily on your key ring, is simply pressed to the  electric scooter's screen after the  electric scooter is powered on.
This extra level of security prevents anybody without an NFC card from riding off on your KIRIN G1, making it a great choice for those concerned about theft and seeking theft prevention solution.
3. 500W Motor + Speed Modes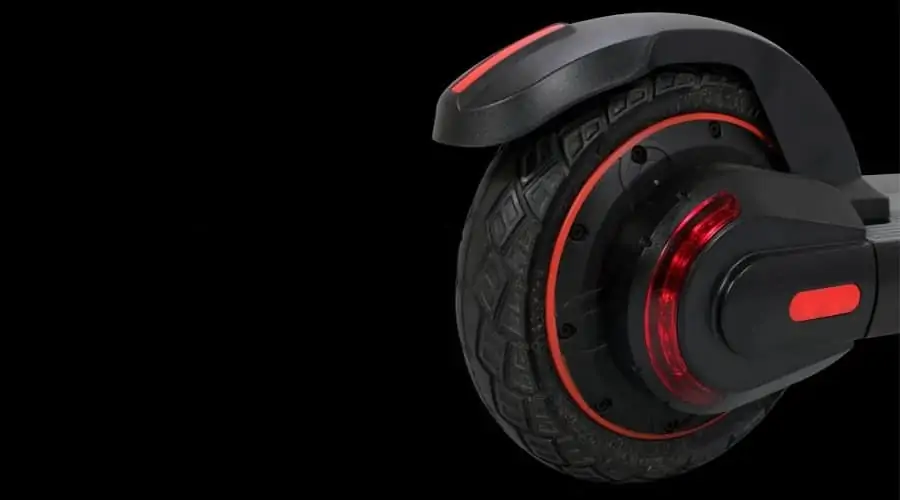 The KIRIN G1 is powered by a 500W, DC brushless motor located on the rear wheel of the  electric scooter. It has three Speed Modes: ECO Mode (energy saving – 18km/h), D Mode (standard – 25 km/h) and S Mode (sport 40km/h).
The motor allows the electric scooter to safely carry a 260 pound load up a 24-degree incline.
4. Dual Braking System
The KIRIN G1 uses both a front wheel hub brake and a rear wheel EABS electronic brake system. Having not one, but two types of brakes lower the number of potential failure methods, making the electric scooter just that much safer.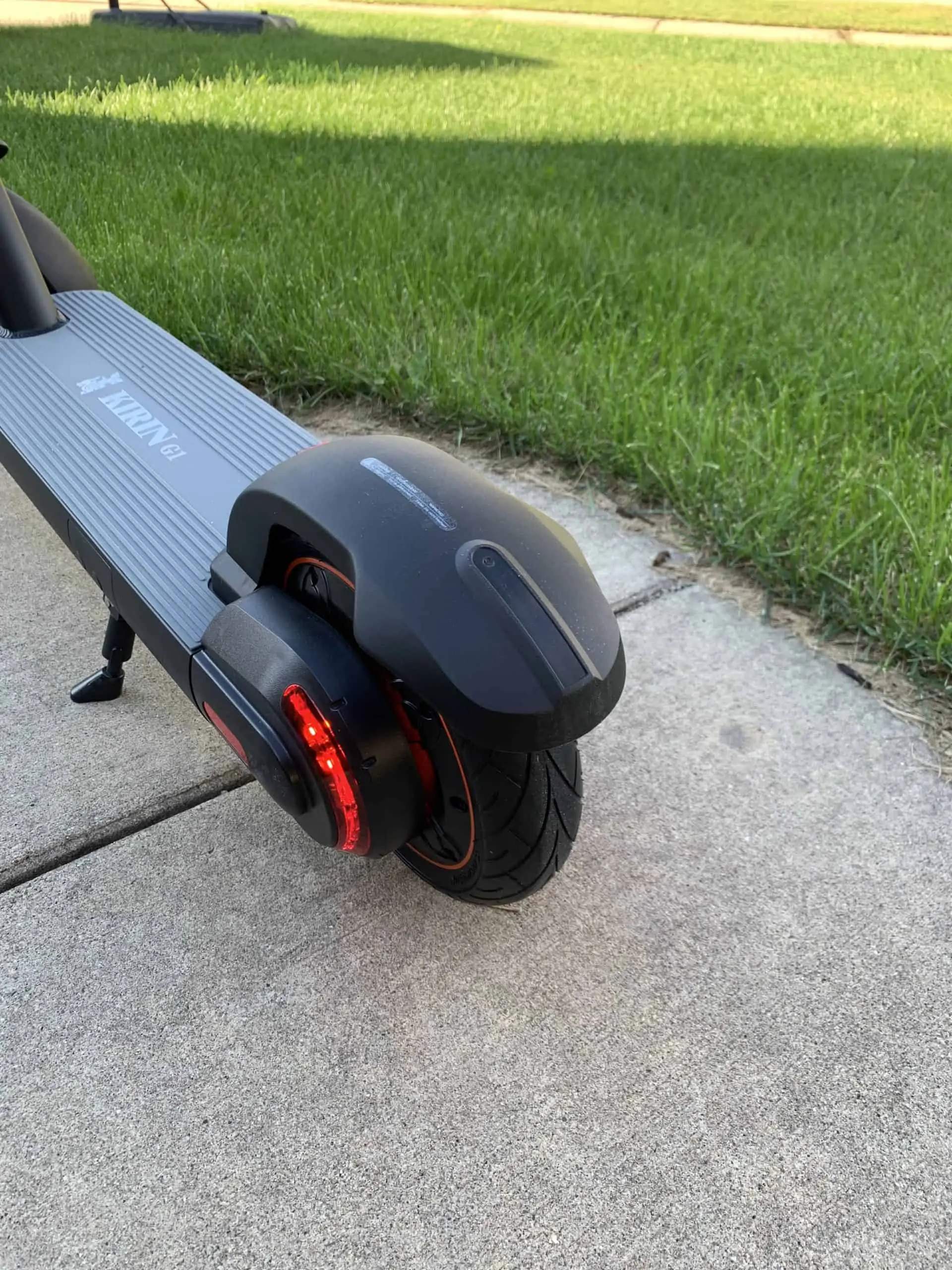 With the disk brake on the front wheel, and electric brake on the back wheel, the listed braking distance of the KIRIN G1 is about 13 feet. This slightly changes based on many factors such as terrain, weight of the rider, ..etc
I was able to stop at 15 feet which is not far off from what the folks at KUGOO are claiming.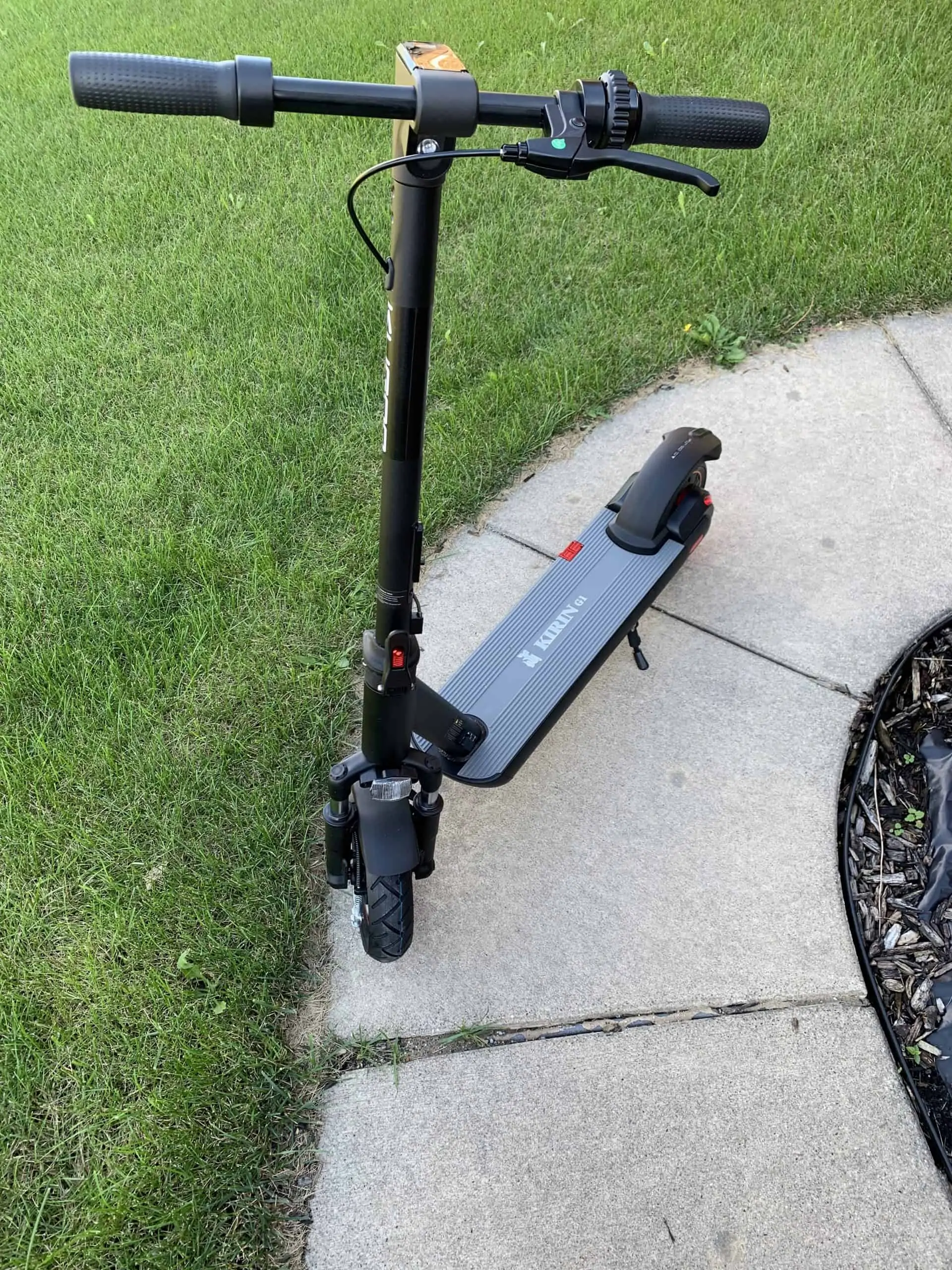 Testing Evaluation
Tested against similar models within the same category
Main Features:
Riders Weight Limit | 264.55 lbs
Motor | 500W Motor
Range | 25 miles
Battery | 13 Ah Lithium Battery
Speed | 25 mph
5. 10″ All-Terrain Tires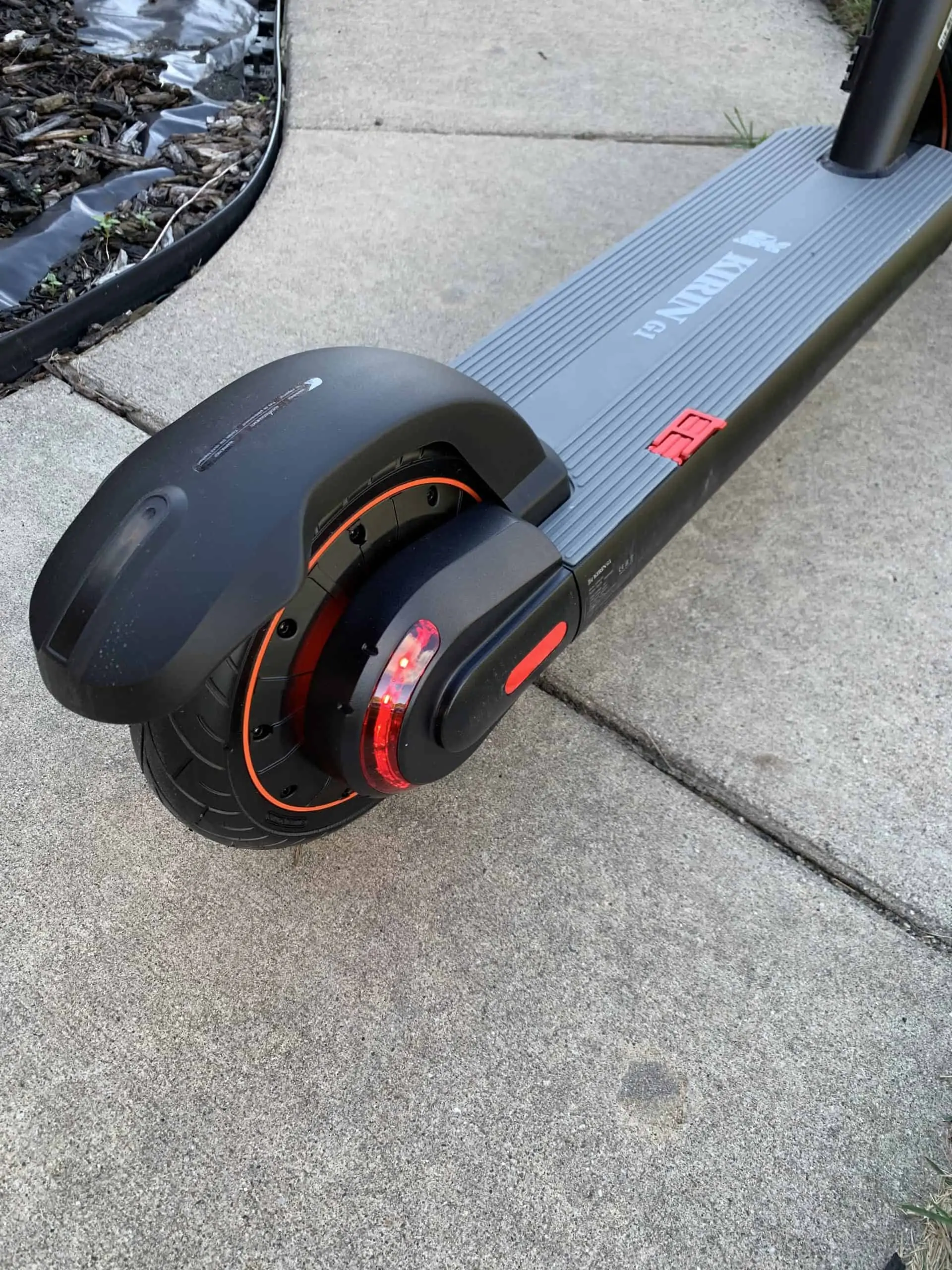 Whether it's an electric scooter, skateboard, or bike, the quality of the tires can often make or break the ride. Luckily, the KIRIN G1's 10-inch tires allow for a smooth, comfortable journey.
The front wheel is a pneumatic tire, attached to the electric scooter dual suspension which can easily absorb any bumps in the road. The rear wheel, a solid, honeycomb tire, is built to carry you over rougher landscape.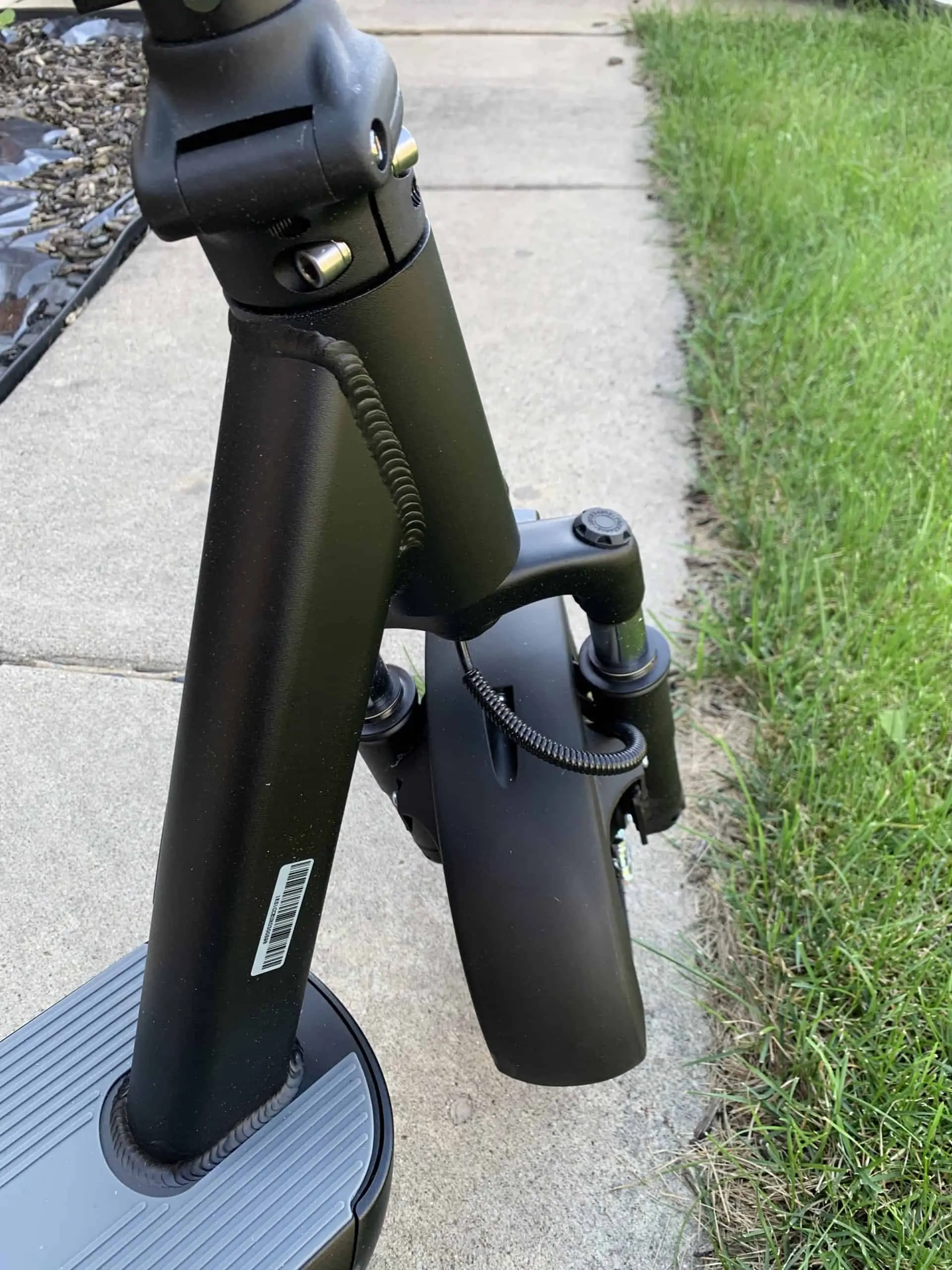 Pros KUGOO KIRIN G1
Pros
Safety, Security and Storage
If safety is one of your top priorities, the KIRIN G1 safety features may grab your attention. All KUGOO products go through a strict inspection assembly line before leaving the factory and come with a 6-month warranty against any material defects and battery failures.
In my research, I found that KUGOO has published a series of extreme durability tests. To test the safety of the KIRIN G1, KUGOO drove it into a swimming pool, dropped it from a balcony, and even simulated various kinds of crashes.
Even though I did not go through the trouble and do the same with the unit I tested, but this goes to show how durable the construction build is for this electric scooter.  The KIRIN G1 is composed of an aluminum alloy + PC material that provides sufficient insurance for your riding safety, making the  electric scooter both RoHS and CE Certified.
The  electric scooter is even safe for those who like to ride at night. The bright, front and rear headlights that are built into the  electric scooter ensure that every car or passerby sees you coming. On the off chance that they don't, the KIRIN G1 handlebar comes with a manual bell.
Another benefit of the KIRIN G1 is the electric scooter's built-in anti-theft mechanisms. Not only does the  electric scooter need to be unlocked by an NFC Card, but it also comes with an integrated security lock on the pole. The lock utilizes a mechanical code to secure your KIRIN G1 to a bike rack, tree, or nearby pole.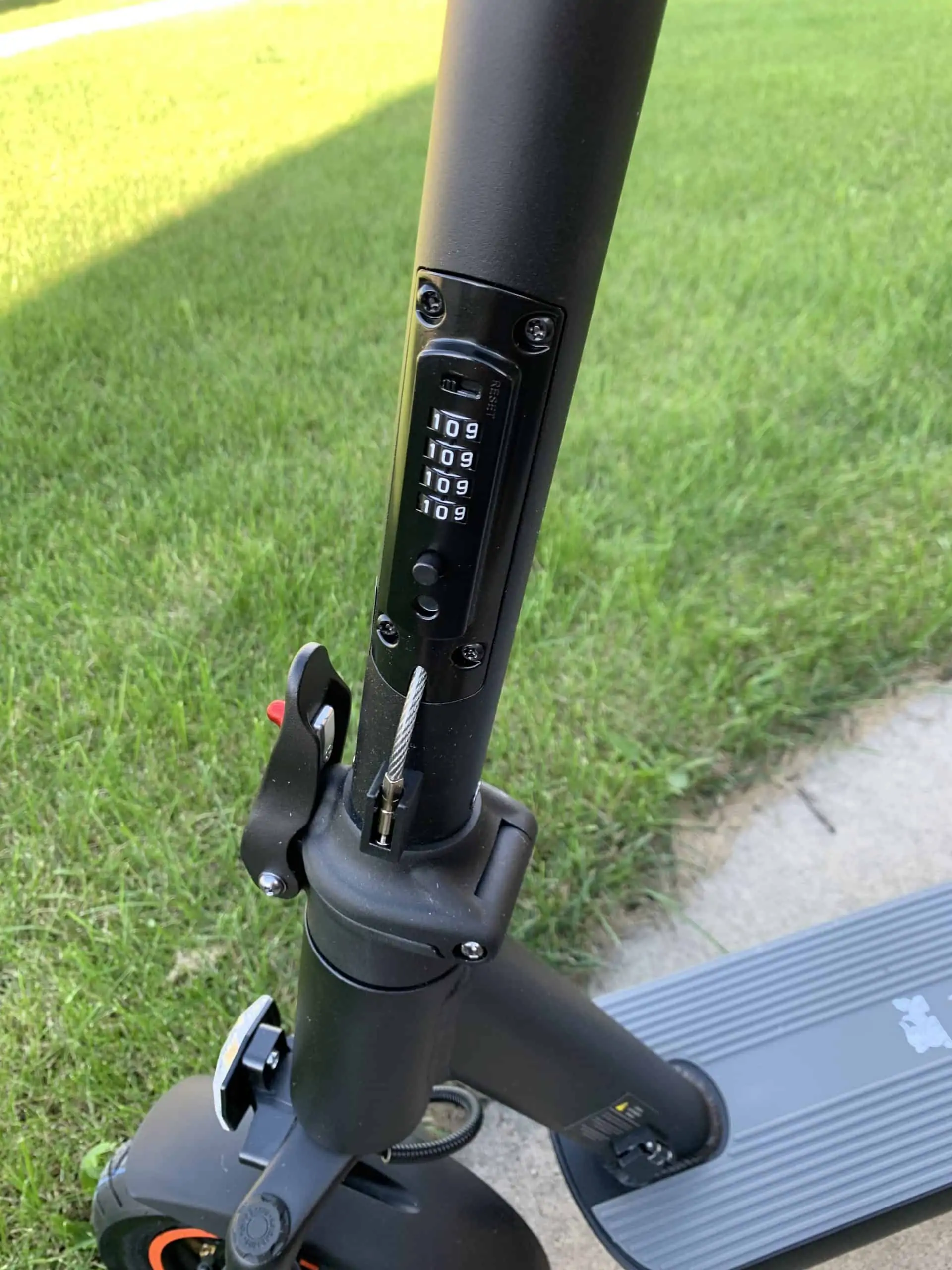 Finally, The KIRIN G1's folding mechanism makes it optimal for storage in small places. The handlebars of the electric scooter can be folded parallel to the base, allowing the  electric scooter to fit in your car or closet at home.
Cons KUGOO KIRIN G1
Cons
Price, Weight, Shipping
Priced at around $1,000, the KIRIN G1 is clearly not the cheapest option of electric scooters. There are a variety of different brands and models that are less expensive than the KIRIN G1.
Many KUGOO buyers opt for the S1 Folding Scooter, which has a lower maximum speed, mileage range, and battery capacity then the G1, but costs a third of the price.
And while the folding mechanism on the KIRIN G1 makes the electric scooter easier to store and carry, it is still rather difficult to lift. After folding the pole parallel to the deck of the  electric scooter, I did not see that the pole connects to a locking mechanism that keeps the e-scooter secure in that folded position.
Unfortunately, the electric scooter weighs almost 50 pounds, making it tough to carry long distances. Lastly, while KUGOO does have a wide distribution channel across North America and Europe, shipping to the US is only guaranteed when ordering off the official KUGOO site.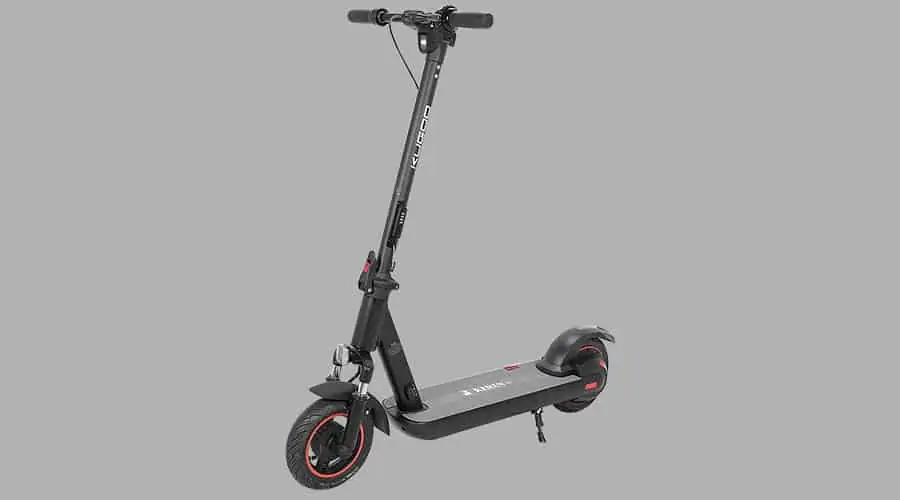 Who This Product Isn't for
If you've never ridden an electric scooter before, the KIRIN G1 might not be your best option. This high-quality electric scooter is an investment, and it is important that you establish electric scooters as a safe, usable option for you before jumping to the KIRIN G1.
Be sure to ask yourself, "How often will I really ride this?" before dropping a grand on a new electric scooter. Additionally, if you are not comfortable lifting up to 50 pounds, I would look into lighter, more portable  electric scooters.
Who This Product Is for
The KIRIN G1 is known for its durability. So, if you're looking to ride an electric scooter for your daily commute, the KIRIN G1 will work for you.
This electric scooter is built to last, making it the perfect choice for riders intending to go off-road, or teenagers who may handle the  electric scooter less gently. 
Again– if you are an experienced rider looking for a dependable electric scooter the KIRIN G1 is a practical and functional option.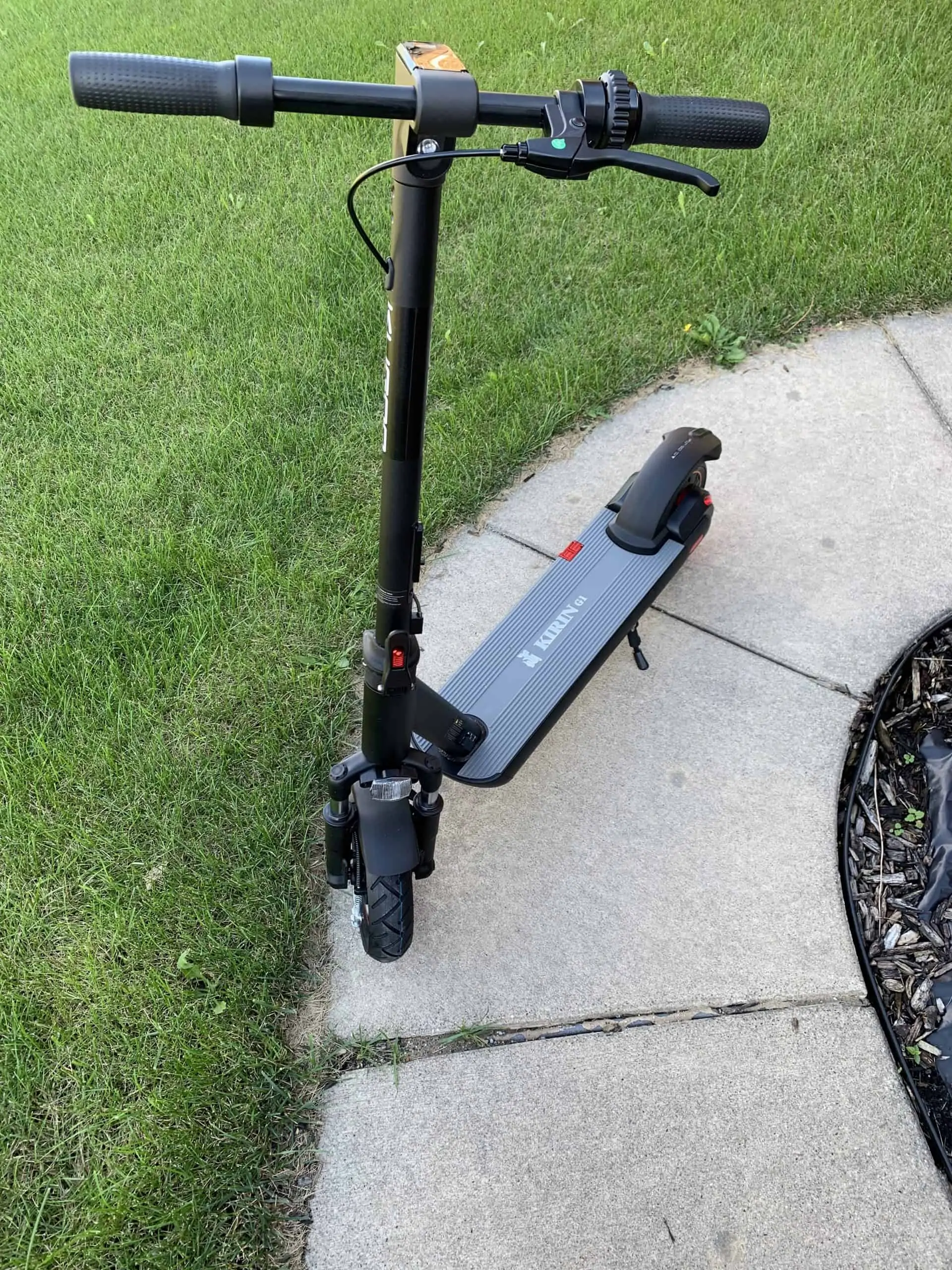 Testing Evaluation
Tested against similar models within the same category
Main Features:
Riders Weight Limit | 264.55 lbs
Motor | 500W Motor
Range | 25 miles
Battery | 13 Ah Lithium Battery
Speed | 25 mph
Recent Topics