Hoverboards use your weight to determine a safe speed and direction of motion. Thus, getting a hoverboard suited for your weight is critical. Failure to do it may result in falls, slower speeds, faster degradation, cracking of the outer shell, or even burning out of your Hoverboard's motor.
So,
Which are the best hoverboards for heavyweight adults? Well, the leading specification to look out for is the weight limit. This article is about hoverboards that I confidently recommend for all adults and more so heavyweight adults.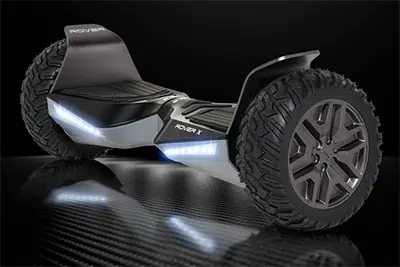 Testing Evaluation
Tested against similar models within the same category
Main Features:
Riders Weight Limit | 260 lbs (118 kg)
Motor | 800W Dual Independent Motors
Range | Up to 10 Miles per Charge
Battery | UL 2271 Certified LG Firesafe Battery
Speed | 10 MPH
Get $50 Off! Use Code: ORDER50
Other Great Options
Product Name
XPRIT 8.5'' All Terrain Off-Road Hoverboard w/Bluetooth...
Gyroor All Terrain Hoverboard, 8.5" Off Road Hoverboards...
GYROOR Warrior 8.5 inch All Terrain OFF ROAD Hoverboard with...
Preview
Product Name
XPRIT 8.5'' All Terrain Off-Road Hoverboard w/Bluetooth...
Preview
Product Name
Gyroor All Terrain Hoverboard, 8.5" Off Road Hoverboards...
Preview
Product Name
GYROOR Warrior 8.5 inch All Terrain OFF ROAD Hoverboard with...
Preview
Also Related:
Hoverboards Buying Guide – Everything You Need To Know
Hoverboard Weight Limit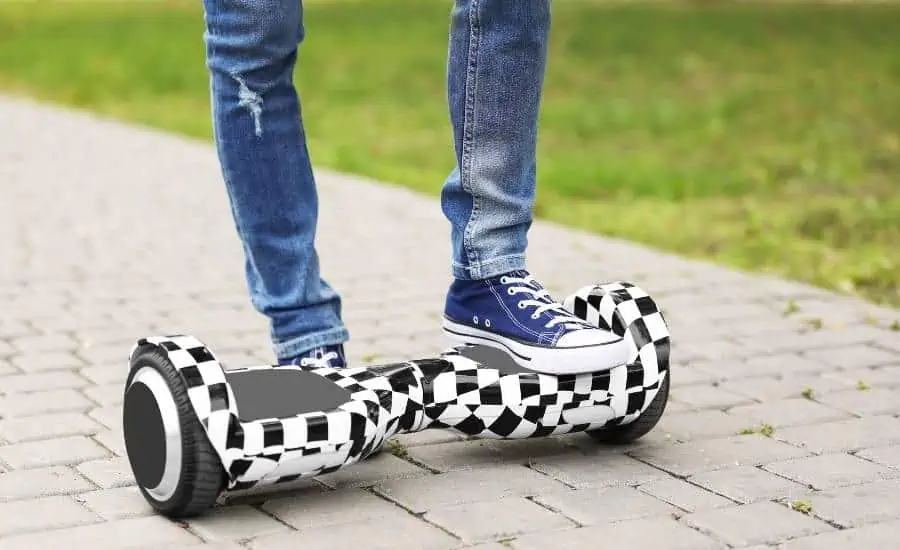 Photo Credit: canva
How Much Is The Max Weight A Hoverboard Can Handel?
Hoverboards are made to be versatile; they can cater to kids or large and heavy adults. The weight that a hoverboard holds varies, but most popular boards are in the 220 lbs range. As for the maximum weight, some hoverboards handle up to 420 lbs capacity, an engineering achievement I appreciate.
How The Max Weight Limit Is Determined? 
The max weight is tested and certified by the manufacturer to ensure it's safe and within spec of each Hoverboard.
Below are the factors that determine the weight limit of a hoverboard
The material of the outer shell – polycarbonate, aluminum or ABS material.

The battery capacity.

The output of the motor.

Wheel size.
Hoverboard Minimum Weight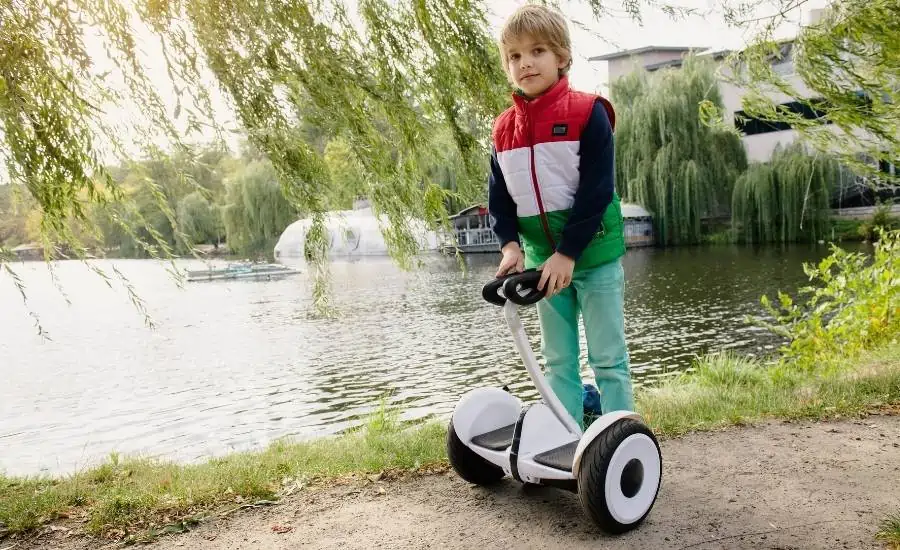 Photo Credit: canva
Each Hoverboard has to have a declared minimum weight. A weight of less than 44 pounds cannot be detected by hoverboards. As mentioned above, these boards use your weight to determine speed and direction; that's why hoverboards are rated with 44 pounds weight minimum.
Also Related:
How Much Does A Hoverboard Cost? Up To Date Prices In 2023
6 Best Hoverboards for Heavy Adults
Looks like you're on the lookout for a heavy-duty hoverboard? Below I have reviewed several models suited to handle heavy and large adults. To save you the hassle, I have categorized them into different weights categories.
#1 Best Hoverboard for 200 Lbs Adults
Hoverboards that can handle 200 pounds weight have 6.5-inch tires. They are designed to reach a speed of 7.5 mph.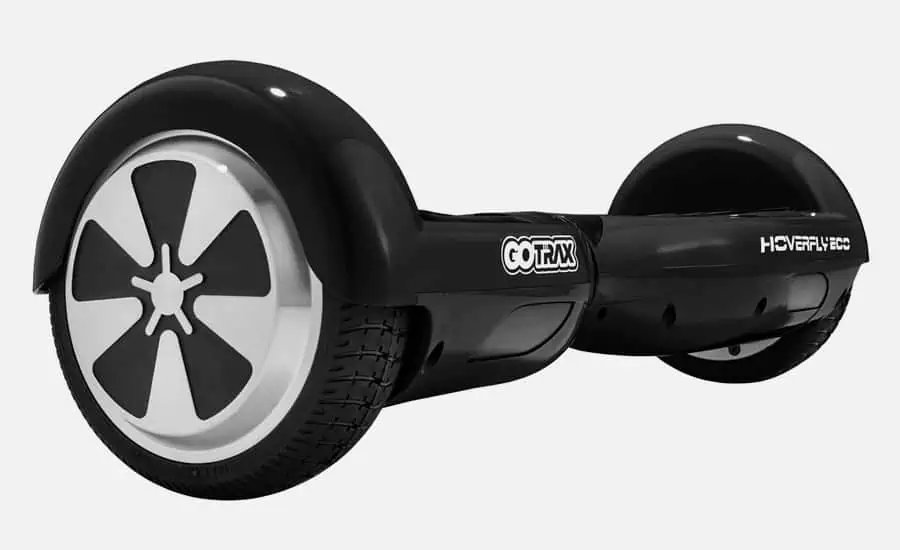 The GOTRAX Hoverfly features solid construction that enables it to withstand a lot of abuse, be it your weight or other misuses. It's affordable, lightweight, and easy to use. Despite being an entry-level hoverboard, the 200-watt motor can handle 220 lbs with ease. The 6.5″ solid rubber tires ensure you get no punctures. It is also very stable on flat surfaces, a welcome feature for plus size people who are afraid of falling. The stability is also aided by its self-balancing mode making it a good hoverboard for beginners.
Its top speed of 7.4mph can be achieved safely because of its Hoverzon Aegis Armor smart battery management system. It takes only 1.5 hours to charge the battery.
Among its downsides are; It only connects to your phone via a beta app (no Bluetooth), and it's neither IPs4 waterproof nor suited for offroad use.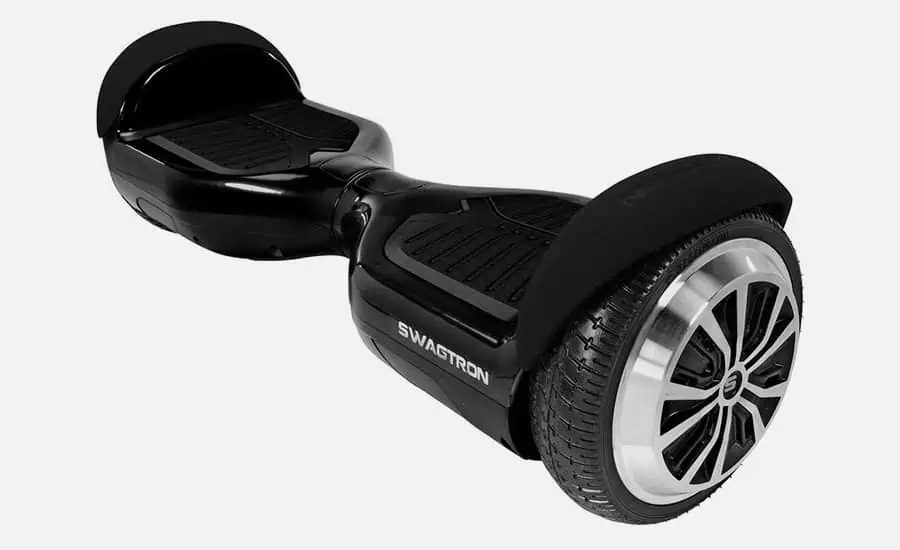 It is a reasonably priced board powered by a 300-watt motor. It hits a top speed of 8 mph on a flat surface using its hard rubber, puncture-proof tires that have aluminum rims. It's very sturdy and made of ABS, making it durable.
Heavy adults might think it's hard to use this board; however, it has reliable and non-slip foot pads, which gives you stability, control, and balance when riding. Some exciting features about this board include:
It's battery charges for only an hour.

It has a Self Balancing Mode.

On hills, it has a climbing capacity of up to 30% inclination.
It has a safety stop technology for smooth stops after battery drainIt is UL 2272 certified meaning it has passed all electrical safety testsIts main limitation is it is not suitable for off-road rides.
Also Related:
Best Off Road Hoverboard 2023 | Quality, Durability, Value & FUN!
#2 Best Hoverboard for 250 lbs Adults
8.5-inch hoverboards have wheels that are more durable and sturdier enabling them to handle a weight limit of up to 260 pounds.
Gyroor F1 Hoverboard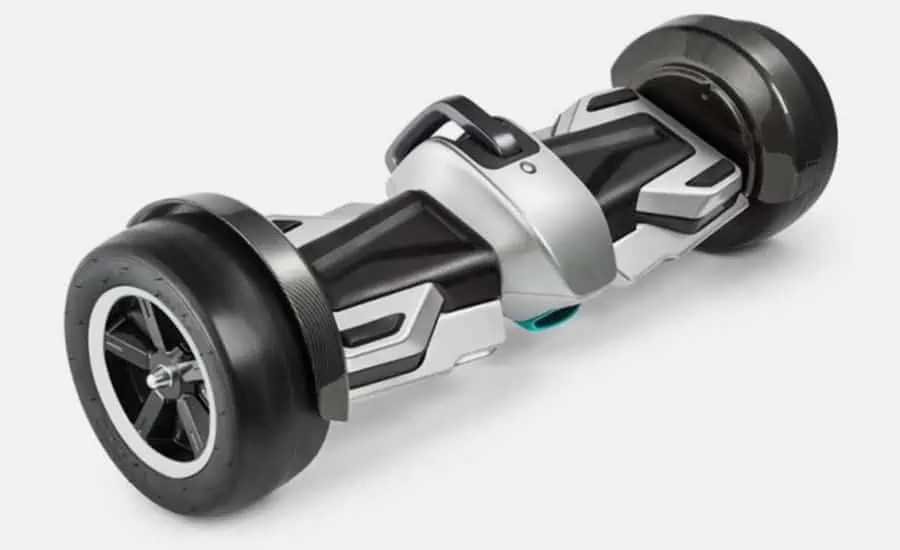 This Hoverboard was designed with inspiration drawn from F1 Cars. It can handle the toughest of terrains and has a weight limit of 260 pounds. I would recommend this Hoverboard if you are looking for extra features and sturdiness.
It is the fastest Hoverboard for heavy persons. As an adventurous rider, I can admit its top speed of 12 mph speed is thrilling. A 700-watt motor allows you to ride on 8.5-inch sleek and smooth tires that handle different surfaces powers it.
The overall build quality is a plus. It's made of both ABS and aluminum. As for portability, it is easy to handle and carry.
What's more? The battery is removable, and not a must to carry the whole Hoverboard for charging.
Lastly, one can connect to the board via a smart app and play music aloud using its Bluetooth speakers.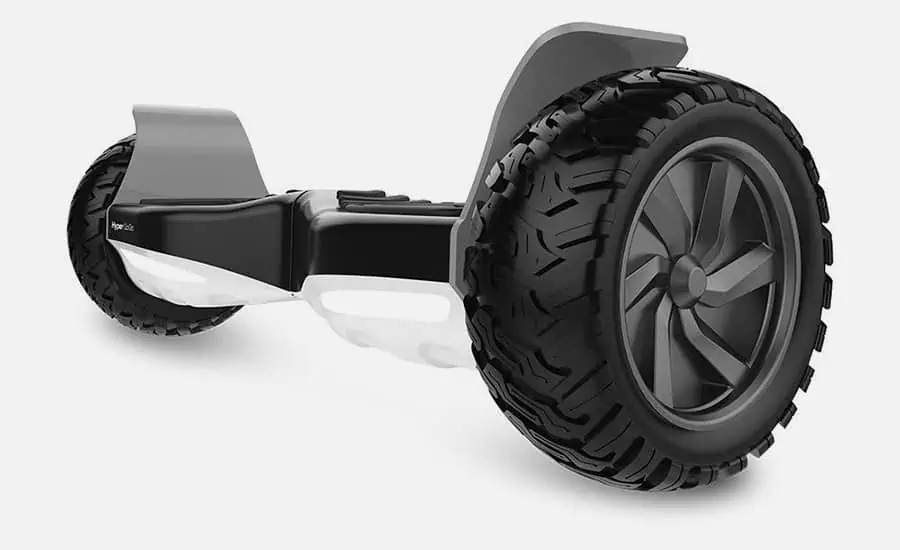 Another sturdy and robust self balancing scooter that can handle over 250 pounds is the Hyper Gogo hoverboard. It's lightweight, safe, and tested to achieve UL2272 certification.
When put to the test, it came through: with its dual 400 watts. I could feel the power despite my heavyweight. It has metal fenders that help to avoid splashes and foot contact with its wheels. The motor can handle hills with up to 18% inclination with ease.
Its 8.5-inch alloy wheels gave me a great riding experience even on off roads, though it couldn't handle the roughest of terrains as advertised.
A great feature I found is its IP54 water resistance technology, which makes it both dirt and water-resistant.
As for connectivity, I was able to use its app to monitor speed and battery charge. One can enjoy music when riding using the inbuilt Bluetooth speakers.
Also Related:
How Long Does A Hoverboard Last? Expectations vs. Reality
#3 Best Hoverboards for 300 lbs Adults
Another heavy-duty board for heavy adults I tested is the Jetson V6 Smart Self-balancing scooter. Despite having a powering of 700watt, it handles heavyweight adults with ease. It is rated to handle a whopping 300 pounds with the help of its 8.5-inch rubber wheels. More so, it's smooth to ride and has a stable footing.
As for stability, the Jetson v6 features an active balance technology for ride stabilization. The battery lasted for 2 hours (15 miles) and took half an hour to recharge. How great is that? Its body is made of ABS plastic shell, and it's also flame and water-resistant.
Additionally, its Bluetooth speakers produce high-quality audio. You can control the Jetson v6 through its app to adjust speed and LED lights, monitor the battery, as well as play music.
The main cons are the high-pitched commands (I couldn't turn them off), and it's also heavy.
#4 Best hoverboard for 400 lbs Adults
Swagtron Swagboard Outlaw T6 Hoverboard
The Swagtron swag board Outlaw T6 is a heavy-duty (all-terrain hoverboard that can easily handle heavyweight adults). It's the first and only-as of now- the board that can handle over 400 pounds weight. Its body is made with ABS plastic and aluminum, which gives it much durability.
If you are worried about the grip, I found the non-slip pedals very secure when compared to other boards.
Its 10″ rugged tires- that are tubeless, air-filled, nylon-infused – are designed to handle rough terrains, from snow, grass, sand, gravel, and much more. It's IPX4 water-resistant, meaning you can use it when it's lightly raining.
It has undergone strict electrical and safety checks to ensure its safety; thus it's UL2272 Certified. The board can be conveniently accessed using its app to check battery level, speed, distance traveled, and hanging riding modes.
It can move on a 30% incline hill and achieve a top speed of 12mph on flat floors. The power of the boards comes from its twin 300-watt motors powered by its battery, which took me only 2.5 hours to charge. The battery lasts for up to 12 miles, which lasted about an hour when riding. Besides, the carrying handle is convenient for transportation.
Also Related:
Which is a Fast Hoverboard in 2023 and What is a Top Speed
Conclusion
Now I believe you've grasped how the weight limit should affect the decision of the Hoverboard you will be purchasing and which board is best suited to your needs. Some of the features that are convenient for a heavy person's Hoverboard include; anti-slip pads, a powerful motor, hill ride, big rubber tires, safe driving mode, and most important of all, a good weight limit. In addition, don't forget to go for a water-resistant and UL 2272 certified board- safety is crucial.
It would be great to hear from you which Hoverboard features you consider important in the comments. You can share this article on social media, or to your friends and family to ensure they don't go wrong when buying a hoverboard. You wouldn't want to be surprised by a wrong hoverboard for a gift.
Recent Topics