If you're a fan of Himiway then gather around cause there's a big announcement. According to recent reports, the popular e-bike manufacturer plans to unveil a new design with sleeker features, advanced technology, and a fresh color scheme. But why should you care?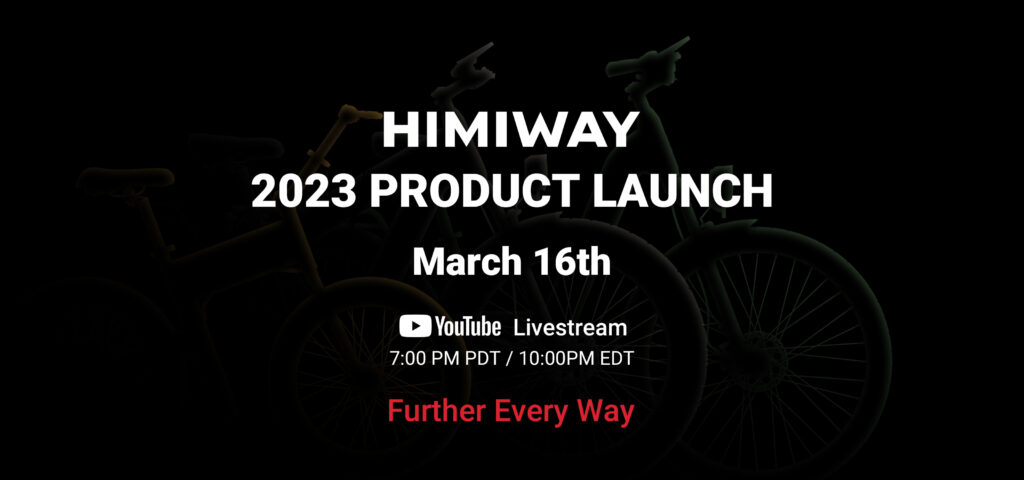 With e-bike sales projected to grow by 11.9% annually, companies like Himiway strive to stay ahead of the curve and deliver the best products to meet their customers' needs. We saw mega-performing models like the Cobra released in 2022, and it sure did not disappoint with the star-studded fat tires and industry-first 4-bar linkage suspensions. 
The question remains, what more can this brand bring to the table in terms of performance, comfort, speed, and innovation? In this post, we'll explore what Himiway potentially has in store for us with this new e-bike model.
Himiway E-Bikes: A Look at the Current Models
If you're already a Himiway fanatic, then you probably know a lot about some of their popular e-bike models. However, if you're relatively new to the brand, here are some interesting nuggets about Himiway. 
Himiway is a brand that specializes in manufacturing electric bicycles (e-bikes). They are based in California, USA, and have been in operation since 2017. They offer a variety of e-bike models that are suitable for different types of riding, including commuting, off-road adventures, and leisurely rides around town. 
Their e-bikes feature fat tires, which provide greater stability and traction on uneven surfaces.
In addition to their standard e-bike models, Himiway offers a range of accessories, including racks, fenders, lights, and more, to help riders customize their e-bikes to meet their needs. 
So far, Himiway has come up with some pretty eye-catchy and well-built e-bikes from the Cobra to the Cruiser. Let's explore some of the major features of these e-bikes below. 
Himiway Zebra
Motor- Powerful 750W gear hub
Battery- Removable 960Wh Samsung/Lg battery capacity and 52 5000mAh cells for convenient charging
Tire- Incorporates two 26-inch Kenda fat tire wheels for better traction
Design- 6061 Aluminium make
Range- 80 miles with pedal assist and 60 miles with pure electric power. 
Himiway Big Dog
Motor- 750W updated motor with added capacity to carry heavy cargo
Battery- 48V 20A battery
Tire- 20"x4" Fat Tires
Design- Mped build with multifunctional rack for easy haulage
Range- 60-80 miles on a single charge
Himiway Cobra
Motor- 750W geared hub motor
Battery- 48V 20A Samsung/Lg Lithium-ion battery
Tire- 26"x4.8" CST super fate tires
Design- Sturdy mountain bike with four-bar linkage and coil suspension with a pure 6061 aluminum frame.
Range- 80+ Miles
Himiway Cobra Pro
Motor- 1000W Bafang high-end mid-drive motor
Battery- 48V 20Ah Samsung/LG battery
Tire- 26" X 4.8" CST super fat tires
Design-Extra sturdy all-terrain e-bike with four-bar linkage and coil suspension. 
Range- 80 miles
Himiway Cruiser
Motor- 750W Geared hub motor
Battery- Removable 48V Samsung Battery
Tire- 26-inch Kenda fat tire
Design- Incorporates industry-level Shimano 7-gear shift system 
Range- 60+ miles
Himiway Cruiser Step-Tru
Motor- 750W Geared hub motor
Battery- 48V 17.4 Samsung/LG Battery
Tire- 4-Inch fat tires
Design- 6061 Aluminum frame with a twist throttle and sturdy rear rack.
Range-35-60 Miles per charge
Himiway Escape Pro
Motor- 750 Geared hub motor
Battery-Removable 48V 17.5Ah Samsung battery
Tire- 20" X 4" fat tires
Design- Moped-style 6061 aluminum frame
Range- 45-mile guaranteed ride per charge
Possible Design Changes
We believe that Himiway will only tread a short distance from its signature design models. Plus, if current leaks or rumors are anything to go by, we are certainly expecting exciting new features in terms of design and special features. 
The Himiway Cruiser is one of their latest releases and we saw two variations; the Cruiser and Cruiser Step Tru. The Cruiser came with a beefy and sturdy frame and 26-inch fat tires. There was also the thoughtful full beam front and rear light to make night visibility easier. 
However, while the Himiway Cruiser donned an all-black sleek look, the Cruiser Step-Tru mixed things up with white accents on some parts of the frame. Maybe we'll see more color options and not just a model that comes in one universal color. 
It would be nice for users who love the extra flair to have options like blue, red, white, and maybe even pink, no? We have seen Himiway switch things up just a little in terms of color palettes and intricate inclusions here and there. If this is an indication of anything, the new Himiway e-bike may rock an even sleeker look.
What we don't know is if this new ride will embody the same chunky build seen with both the Cruisers and older models as well. Still, it may excite you to know that the Himiway may lean to a more-streamlined frame, and that includes the handlebars. 
Yes, most of their e-bikes have a really buff and tough look, but it seems the brand is looking to stay true to a sturdy build while delivering a slimmer and more sleek look. As you know, Himiway is one of the top brands that pay microscopic attention to details. From the colo play to intricate design details on the pedals and tubes. 
So just as much as you, we are looking forward to some of those toe-tingling details. Even more, many are looking forward to some added advanced features. The Cruiser did satisfy many cycling enthusiasts' cravings with a multi-functional odometer. It also incorporated USB charging, a speedometer, and a wattmeter. 
However, with many e-bike manufacturers' embracing more technical features, it seems the Himiway may step things up a little bit. We are thinking of an upgraded motor from the usual 750W motor, to maybe a dual motor or one with more power. 
In terms of battery capacity, Himiway has done wonders using long-lasting Samsung batteries to guarantee at least 30-60 miles on a single charge. However, their batteries take a little more than a while to charge, so who knows, this new model may introduce even less charge time. Yeah, let's keep our fingers crossed on that one. 
We can say that there may be an improvement in terms of sensor functionality and accuracy, plus an advanced braking system.
Himiway has stuck to mechanical disc brakes over the years, so it may be nice to see them try another option. Maybe a close cousin like the hydraulic disc brakes, just because they tend to enjoy more stopping capacity and modulation. 
Himiway's Expertise in Long-Range and Fat-Tire E-bikes
Just when we thought we had seen it all in terms of Himiway's fat tire e-bikes, along came the Cobra and Cobra Pro with CSt super fat tires. These premiered as the biggest fat tires in the industry and were incorporated to deliver more grip and traction on off-road courses. The motor was also updated from the usual 750W to a whopping 1000W for superior power on even the toughest terrains. 
But it wasn't even the upgraded motor that impressed Himiway loyalists. The 80-mile assurance was certainly more than the cherry on top for avid adventurous who put the need for speed above all else. The Cobra, Big Dog, and Zebra all promise hours of cycle time with uncompromising performance thanks to their high-end Samsung batteries. 
Practically, e-bikes with lasting battery life, offer several advantages from extended range to greater versatility. There's also the benefit of improved efficiency, better performance, and potential cost savings. You'll also notice there's less need to keep charging the e-bike battery when it lasts longer. 
The reason is simple, increased power and range of e-bikes can make them a great choice for longer commutes, off-road adventures, and other activities. Additionally, they may be more environmentally friendly and require less maintenance and repair than models requiring more in-between charging.
Also, e-bikes with fat tires offer a good number of benefits, especially for adventurous cyclists or people that generally take various routes to their destinations. These benefits include improved stability and traction on rough terrains, better shock absorption for a smoother ride, and increased comfort and safety in different weather conditions.
Fat tires can also provide more confidence for riders on challenging surfaces such as sand, snow, or mud, making them a great choice for off-road adventures. Take the beach for instance, you'll notice that it's mostly cyclers with fat tire e-bikes that have full confidence to take a ride through such sandy terrains. 
So far, Himiway has managed to deliver impressive range, solid bike construction as well as versatility. It's hard to expect less with newer models, especially when they keep adding new features with each release. Whether it's motor with more capacity, bigger tires, or more battery power, we're certainly here for it. 
What's the bottom line?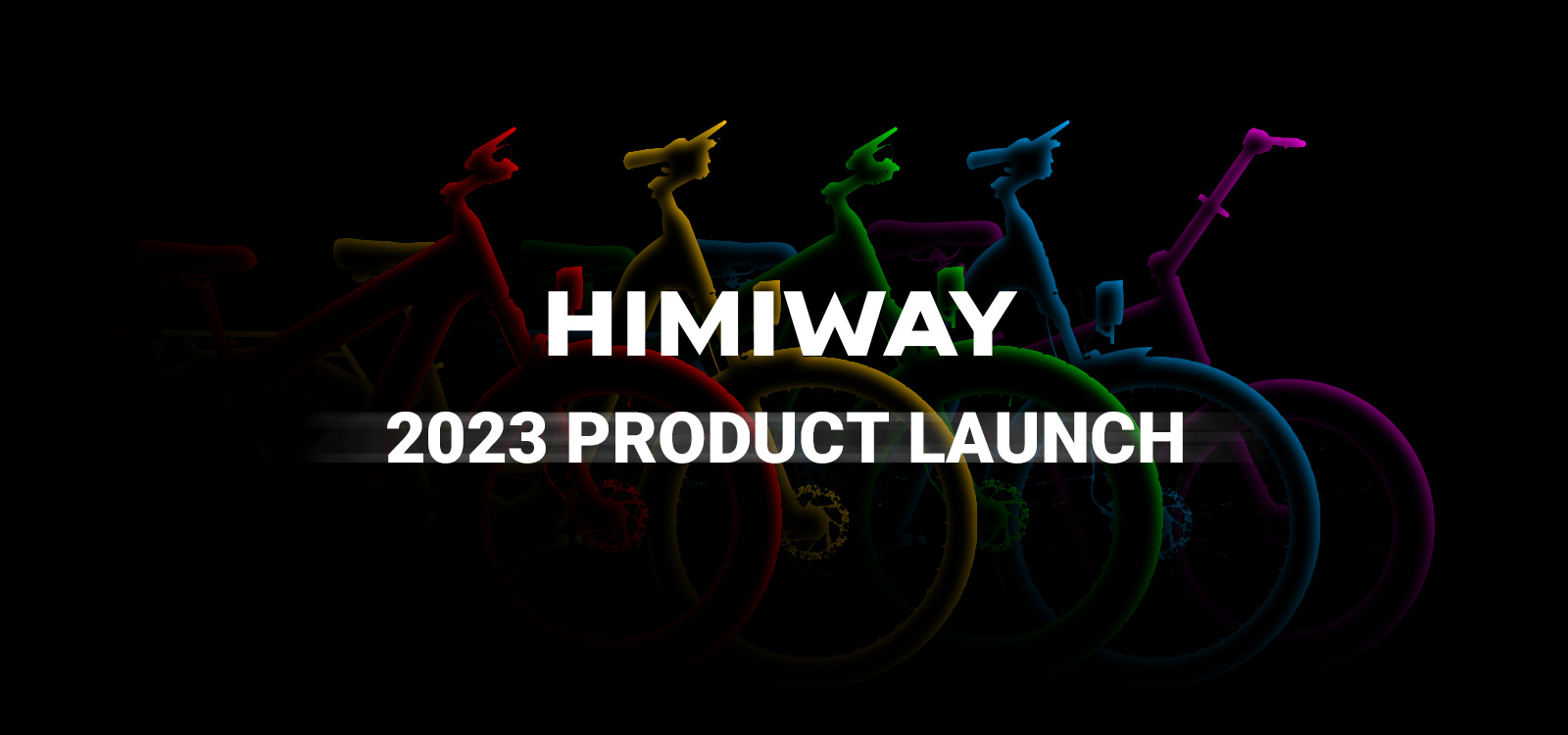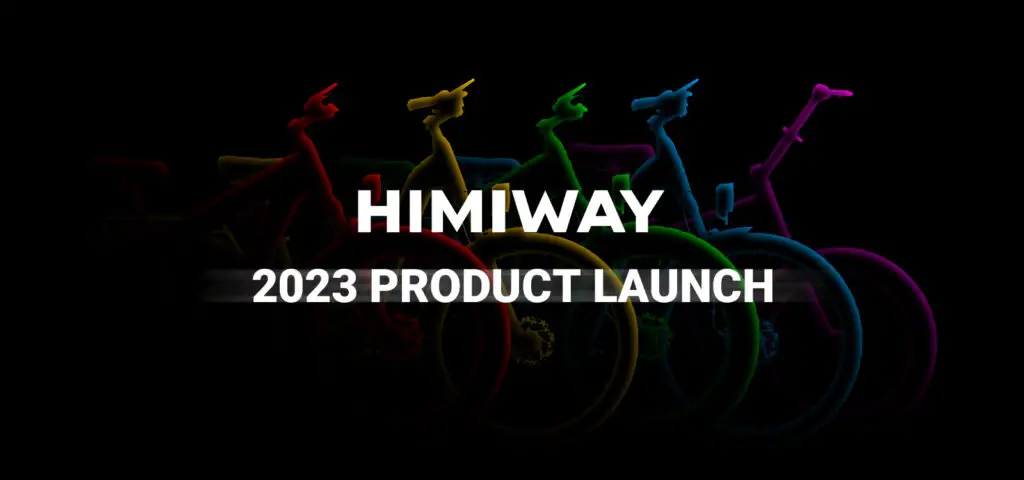 The Himiway e-bike brand is expected to introduce exciting new features to its new release(s) in terms of design and technicalities. The new e-bike may have a more streamlined and sleek look, with a potential upgrade in the motor and braking system plus, improved sensor functionality and accuracy. 
Himiway's expertise in long-range and fat-tire e-bikes has already been demonstrated with the Cobra, Big Dog, and Zebra models, so, we don't expect anything less. 
Check Himiway Facebook page or Youtube channel to learn more about this announcement
If the performance of the Cobra and Cobra Plus is anything to go by, we can almost bet on a new e-bike with comfort, balance, advanced specs, efficiency, and of course, an even sleeker design in the next few weeks. 
Recent Topics