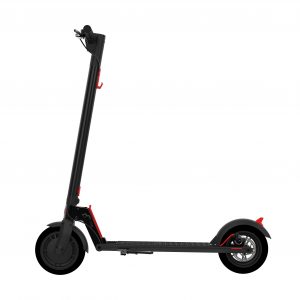 GoTrax hit the sweet spot of commuter scooters with the original GXL V1 which came out in 2018. At a very affordable price point, it quickly became one of the bestselling electric scooters of the year. There were, however, a few minor things that riders thought could be improved upon. Seeking to satisfy their customers, Gotrax released the new and improved upgrade, the Gotrax GXL V2, in 2019.
But how does it compare to the original – has it usurped the V1 as the best-in-class budget commuter scooter? Also, does it compare to other similar commuting scooters available today? Let's find out…
If you're in a hurry check it out here on Amazon. 
You might get this for a little cheaper at Gotrax official product page here
Gotrax GXL V2 vs V1 – What's different?
The V1 brought features like pneumatic tires, a rear disc brake, and the characteristically well-balanced weight range of GoTrax scooters to the table, but the V2 promises to do even better thanks to some slight upgrades.
Handbrake instead of a footbrake
The brake is hand operated now via a lever on the left handlebar, which is something we had all wanted on the V1. This tends to be a safer option than a foot brake because most people can brake with a shorter reaction time using a handbrake.
Sturdier rear fender and baseboard
If you had concerns that the rear fender on the original GXL was a bit flimsy, the V2 features a reinforced baseboard and fender back there. A few people had problems with the fender cracking and many felt it wasn't strong enough.
https://www.youtube.com/watch?v=6XXkP6VoYbE&t=151s
Other than what we mentioned above, the speed, range, max rider weight, size and more are all the same. Are these upgrades enough to crown the GXL V2 the king of commuter scooters at this price point? Let's continue with ur GoTrax GXL V2 review.
[thrive_link color='blue' link='https://hi.switchy.io/1Fbf' target='_blank' size='medium' align='aligncenter']Check the GXL V2 Best Price[/thrive_link]
Build Quality
The GoTrax GXL V2's build quality is quite impressive when you consider the price. At this price point you can't expect a top of the range electric scooter (especially as some on the market cost 5x more), but it is certainly sufficient for purpose. Being a commuting scooter, it needs to be durable and sturdy enough for daily use, and it is.
Fenders
The fenders are made from reinforced plastic, which feels as sturdy as it sounds. They won't scratch or break without a fight, and that's a good quality to have on a commuter scooter.
Foldability
Being a foldable scooter, you'd expect to have problems taking it down and setting it up, but that's not the case whatsoever. You may fiddle with the latching mechanism a little bit more than you'd like, but once you've figured it out, it holds the folded scooter firmly enough to carry around without issues.
Tires
The air-filled pneumatic tires are as good as it gets. Perfectly balanced and very capable of handling various terrain without a hitch.
The construction of the GXL Version 2 is damn near infallible, but what else does it have to offer?
Motor
It's good to see that the V2 comes with a 250 W brushless DC motor, which is the most powerful motor at this price range. Thanks to this motor, the V2 can clock a top speed of 15.5 mph and carry a maximum load of 220 lb. Not bad for the price!
There's the slightest of delays when you launch under full throttle, and going up steep inclines really robs you of any meaningful speed, but the GXL V2 makes up for these shortcomings with a low deck that allows it to function as a normal kick scooter in case you run out of juice mid-commute.
Range
The manufacturer-provided figures for the GXL V2's top range are 12 miles per full charge. Don't expect to run the whole 12 miles though. Your speed, the terrain, cold temperatures, and how frequently you stop will ultimately have a say over the scooter's maximum range.
You can put as many as 10 miles behind you riding conservatively, or as little as 6 miles per charge if you push it. However you look at it, 10 miles is a lot of miles to cover in a day, and so are 6 miles when they're covered in a hurry. Better than a "last mile solution" but not the longest range either.
Tires and Brakes
The two 8.5 inch pneumatic inner tube tires are one of the scooter's top features. Usually, these tires can only be found in high-end models, so it's quite nice to see them on a budget scooter.
The tires more than make up for the lack of any form of suspension by providing enough bounce to make the ride comfortable.
At the front, the GXL V2 has regenerative brakes, which are pretty decent, but not as cool as the hand-operated rear disk brake.
The scooter is ten times safer to ride thanks to the hand lever on the left, which ensures that your left hand is always poised above the brake.
Disk brakes are also uncommon at this price range. Electric scooters with disk brakes and pneumatic tires typically cost a lot more than what the Gotrax GXL Version 2 goes for — this is an indisputable mark of quality.
[thrive_link color='blue' link='https://hi.switchy.io/1Fbf' target='_blank' size='medium' align='aligncenter']Check the GXL V2 Best Price[/thrive_link]
Handlebars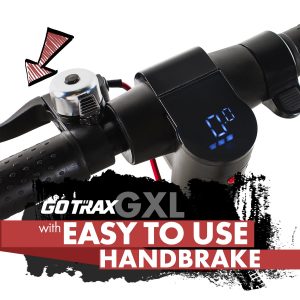 The handlebars follow the minimalist design of the scooter and feature some nifty stuff. First, there's a bright and gorgeous LED display for speed and battery information.
A thumb-operated knob on the right serves as the accelerator. The lights and gear button is at the center of the handlebars. It operates a small LED headlight at the front as well as lets you shift gears.
Design
Here's what we love about the design of the GoTrax GXL V2.
First, the manufacturer has tried to eradicate any excesses and redundancies. All the buttons and levers that the V2 comes with are absolutely essential — everything else is kept to a bare minimum to emphasize the sleek, minimal design of the scooter.
Second, the folding mechanism is perfect. It unravels from a compact portable bundle into a strong and sturdy scooter that's as solid as you like.
Transitioning it from its folded to unfolded state is a straightforward matter. You don't need to be well versed in mechanics to do it.
Interestingly, GXL V2 also scores highly when it comes to packaging. Too many times have we seen perfectly good scooters arrive damaged and dying due to flimsy packaging. That's not the case with the V2, which will impress you with its form-fitting case that keeps everything safe and brand new until opened.
Gotrax GXL V2 Specs
Unfolded – 43.8 x 17 x 42 inches
Folded – 39 x 6 x 14 inches
Weight – 26.4 lbs
Recharge duration – 4 hours
Tires – 8.5-inch pneumatic
Battery – 36V
Variable speed technology
Pros and cons
Smoother ride thanks to pneumatic tires
Safer thanks to hand operated rear disc brake
Easy to assemble and fold
Good build quality
One of the most affordable commuter scooters on the market
Some reviews point to poor customer service – some people have had issues with their scooter and Gotrax aren't the most responsive. Problems do seem to be rare though.
[thrive_link color='blue' link='https://hi.switchy.io/1Fbf' target='_blank' size='medium' align='aligncenter']Check the GXL V2 Best Price[/thrive_link]
Final verdict – Recommended
If you're in a bind because you don't know what scooter to get, the GoTrax GXL V2 should not be a hard choice to make.
An excellently built low-budget electric scooter that's fitted with luxuries like pneumatic tires and a hand operated rear disc brake is exactly what you'll get when you spring for this scooter.
Folded, it is small enough to fit under your desk at work, in the bus or train, and inside a large backpack or suitcase. Its size and foldable design address the demands of the urban landscape by allowing you to switch from walking to riding to kicking without a problem.
It may not be the most powerful electric scooter you've ever seen, but for the price, the GoTrax GXL V2  handbrake edition is a scooter worth your attention.
[thrive_link color='blue' link='https://hi.switchy.io/1Fbf' target='_blank' size='medium' align='aligncenter']Check the GXL V2 Best Price[/thrive_link]