Eovan is slowly becoming a well-known name in the electric skateboard space. The brand has been offering high-performance e-skateboards at affordable prices since it released its first model in 2017. 
However, we're sure that as an e-skateboard enthusiast, you want to know how well Eovan eskatboards ride and if they're really as durable as Eovan says they are. Well, in this article, we're going to be focusing on the Eovan brand, what it brings to the market and the quality of the products they produce..
We're also answering the following questions in this article:
Who owns Eovan? 
Are their products reliable? 
Where do they make their electric skateboards? 
Read to the end to find out more about Eovan and if their products are a good fit for your next electric skateboard buy.
Who Owns Eovan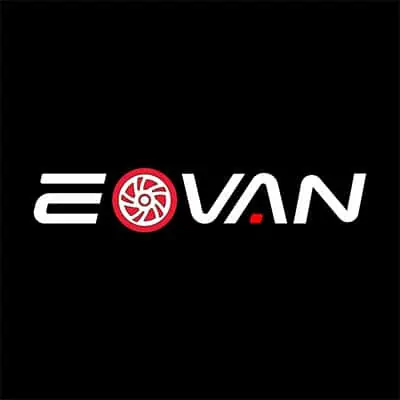 Eovan was founded in 2017 by a man named Peter Chen. The brand is a subsidiary of Shenzhen Yinuofan Technology Co., Ltd. company. The word "Eovan" stands for Electric, Optimum, Valor, Attractive, and Noble 
Why Did Eovan Exist
Before he founded Eovan, Peter Chen had always been a huge fan of high-performance vehicles (he even owned a sports car). He had always dreamt of creating a high-performance electric unite that would outclass others on the market.
However, It wasn't until he rode an electric skateboard — for the first time — that he decided to design his very own e-skateboard. But, things didn't go as planned and he was unable to find the components he needed to develop a high-performance board.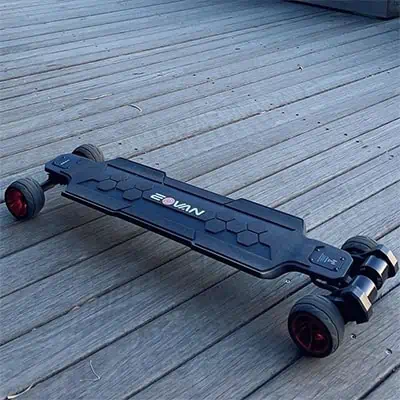 This drove him to seek out engineers who could design custom components for his dream e-skateboard. It took about a year to design the first custom electric skateboard. 
This prototype was equipped with an Electronic Speed Controller and its motors were designed from scratch by the team. This is how Eovan Tech started.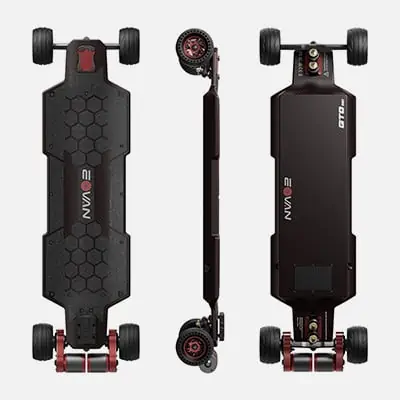 Today, Eovan is known for manufacturing high-powered, multi-terrain electric skateboards. The brand has tested and improved on its designs since its first generation of e-skateboards rolled out. 
Also Related:
Best Electric Skateboard for Beginners – Guide for First Timers
According to a post on the Eovan board official webpage; their designs "…are based on four main principles; speed, power, comfort, and quality."
Where Are Eovan E-skateboards Made
Eovan skateboards are manufactured in China by their parent company, Shenzhen Yinuofan Technology Co., Ltd.. This helps the brand ensure that they're able to offer their products to customers at affordable price ranges.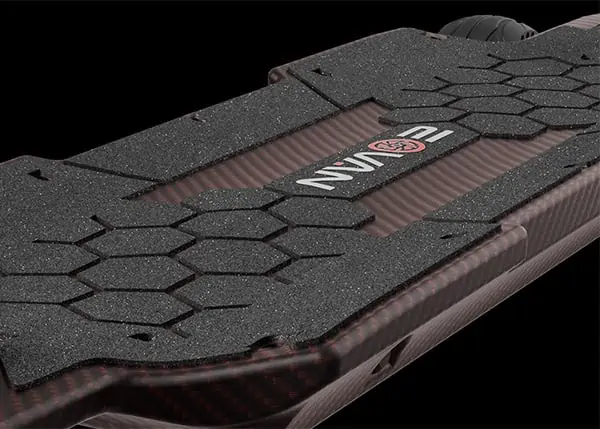 It also doesn't mean that products manufactured in China are of lower quality than those manufactured in the US or the UK (or other countries in Europe). On the contrary, China has some of the most advanced manufacturing processes in the world.
Most of the time, what determines the quality of products made in China is the specifications sent by brands to manufacturers; like in the case of electric bikes. 
So, for example, if RadPowerBikes wanted a Chinese manufacturer to equip a new line of e-bikes with higher-end components (say a battery with Samsung/LG cells as opposed to a generic battery) they'd include this in the specifications of the prototype. This would usually cost the brand more than if they chose a component from a generic manufacturer.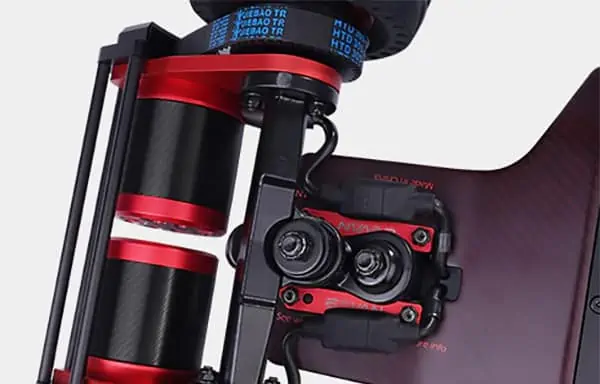 Eovan states that their designs are a result of multiple tests and improvements. The company also states that it is committed to designing powerful and quality e- skateboards. You will find out how reliable their products are in the next section.
Are Eovan E-skateboards Any Good
Eovan prides itself in the performance and durability of its boards, but are the brand's products really that good? We studied user reviews on Eovan products and what we found was pretty interesting.
Almost most users were satisfied with the performance and overall build quality of their e-skateboards. One customer was even surprised he didn't completely total his board after he crashed it at high speed. This shows just how durable and sturdy Eovan skateboards are.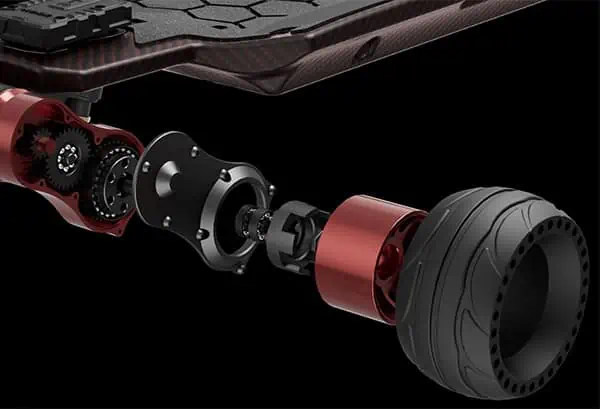 Nevertheless, we did come across some bad comments about Eovan boards online and the majority of them were complaints about their controllers (ESCs). Apparently, Eovan ESCs tend to get faulty after a few weeks — or months — of use.
However, this mostly happens when users try to recalibrate the tool or adjust some of its settings. If you find that your e-skateboard's controller is faulty or unresponsive, you can reach out to their customer support team for a replacement. 
Eovan extends a 6-month warranty to every initial purchaser of their electric skateboards. This warranty covers repairs and replacements for components that come defective from the manufacturer!
Also Related:
How Much Is An Electric Skateboard? Never Over Pay
What Makes Eovan Unique
Eovan designs some of the most affordable high-powered electric skateboards there are on the market.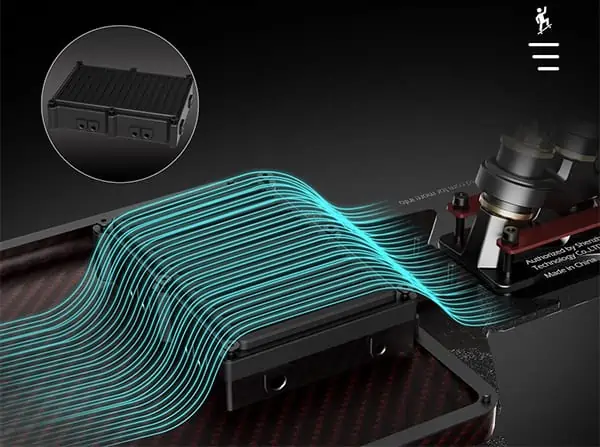 The brand's design incorporates a revolutionary new technology that enables them to move forward with ease while maintaining stability at high speeds. These boards also incorporate an innovative braking system that allows users to stop quickly without having to use their feet or hands.
The company also makes it easy for users to customize their orders to fit their riding styles. So, for instance, you can purchase street tires if you only plan on riding your e-skateboard on flat roads or off-road tires if you plan on taking your board off-road.
There's even a combination pack that comes with both street and off-road tires for riders who want to explore the best of both worlds. You can also choose the size and design of tires you want to be shipped with your board.
Their e-skateboards are built for heavy-duty purposes and they're available to riders at budget-friendly prices. Most performance electric skateboards usually cost between $2000 and $3000. All Eovan boards cost under $2000.
Also Related:
The Best Budget Electric Skateboards: Get Outside for Less
Comparison Between an Eovan Skateboard and Other High-performance E-skateboards
| Model | Motor Rating | Max Speed | Battery Capacity | Estimated Range | Payload Capacity | Price* |
| --- | --- | --- | --- | --- | --- | --- |
| | Dual 3500W motors | 37mph (60kmh) | 852Wh | 28 – 40 miles (45 to 65 km) | 286 lbs (130 kg) | $1599 |
| Meepo Hurricane | Dual 3500W belt-drive motors | 35mph (56kmh) | 725.8Wh | 31 – 44 miles (50 to 71km) | 552 lbs (250 kg) | $1799 |
| Ownboard Zeus | Dual 6374 3350W belt-drive motors | 37mph | 898.56Wh | Up to 46 miles (74 km) | 265 lbs (120 kg) | $1699 |
| Ecomobl ET | Dual 6366 2000W motors (no belts) | Up to 35mph | 576Wh | Up to 22 miles (32km) | 190 lbs (86 kg) | $1389 |
| Exway Atlas 4WD (2 in 1) | Dual 3000W motors | Up to 32mph (51kmh) | 518Wh (removable battery) | 26 miles (42 km) | 780 lbs (354kg) | $2499 |
| Ecomobl ET 2 | Dual 3050W motors (6374 planetary gear drive) | Up to 35mph | 768Wh | Up to 25 miles (40 km) | N/A | $1799 |
*Please keep in mind that the prices represented in the table below are subject to change.
All Eovan Products Models
Eovan GTS Carbon Super Street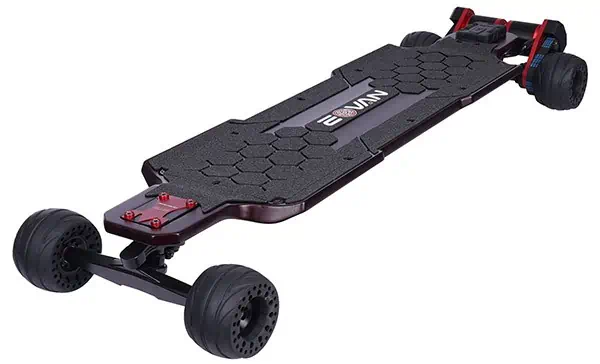 The Eovan GTS Carbon Super Street is a high-powered electric skateboard built specifically for cruising on paved roads. The board comes with two 3500W motors and is capable of reaching speeds of up to 37mph.
It is available in two wheel options; 105mm and 125mm diameter wheels. Both wheels are made out of rubber (as opposed to polyurethane) and are 66mm in width. It also comes with a very advanced controller.
Riders can tune the board's acceleration and braking power for each speed mode. The controller also comes with a safety button that allows you to lock some of its functions as you ride. 
Eovan GTS Carbon Super All-Terrain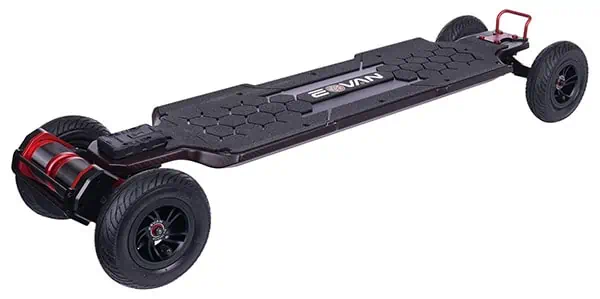 The GTS Carbon Super All-Terrain is very similar to the GTS Carbon Super Street. It also comes with 3500W motors but is available in more tire sizes/designs.
Riders can choose between 155mm tires, 175mm titanium silver electroplated wheels, 175mm graphite black aluminum alloy tires, and 175mm red aluminum alloy wheels for their order. Regardless of your choice, Eovan rubber tires have superior grip and are better suited for high-speed applications than regular polyurethane tires.
They are also better at smoothing out bumpy rides than polyurethane tires.
Eovan GTS Carbon Combination Pack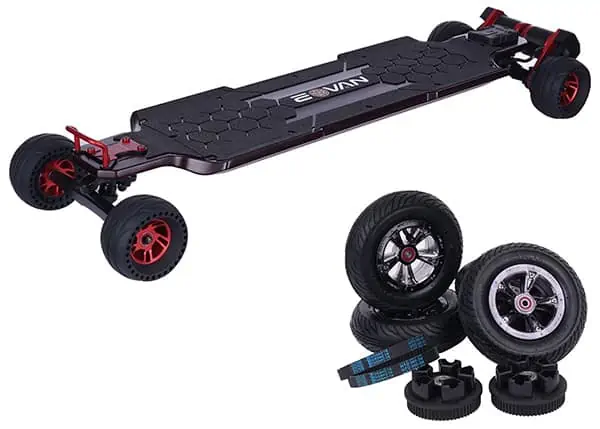 If you're looking for the best of both worlds, the Eovan GTS Carbon Combination Pack might be the perfect selection for you. It comes with both street and all-terrain tires, making it a more versatile option than the other two versions.
The electric skateboard included in this pack comes with an 852Wh Panasonic battery that guarantees up to 40 miles on a single charge. Like the Super Street and All-terrain models, it also comes with dual 3500W motors.
The board weighs around 30lbs (13.5 kg) and is also capable of supporting up to 286 lbs (130kg) of weight.
Final Thoughts
The electric skateboard market has grown rapidly over the last couple years. There are now several companies manufacturing and selling these vehicles. Most of them are similar in appearance, but some of them offer better features or higher-quality materials.
Eovan is a company that produces awesome electric skateboards. They manufacture their boards using high quality components and sell them at affordable prices.
Over the past few years, the brand has managed to create a niche within the marketplace by offering premium products at reasonable pricing. Visit their website and check out some of their products; you might find something you'll like.
Recent Topics