The e-bike market has exploded in recent years. Nowadays, there are just so many choices out there, It can be very exhausting to find the one that would fit your budget and lifestyle.

If you've ever come across the name "Cyrusher" while searching for reliable electric bike brands and are wondering if their ebikes are any good, you're in luck. In this article, we'll be taking a closer look at the founders of Cyrusher, the types of e-bikes they make, and the quality they produce.
The information contained in this article should help you decide if their products are right for you. So stick around and read to the end.
Who Owns Cyrusher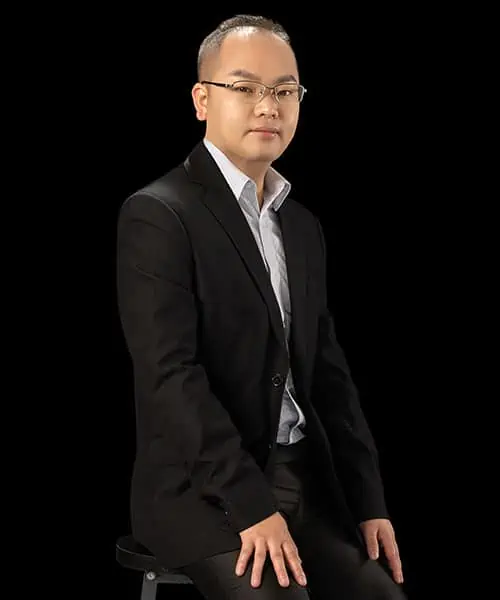 Harry Xie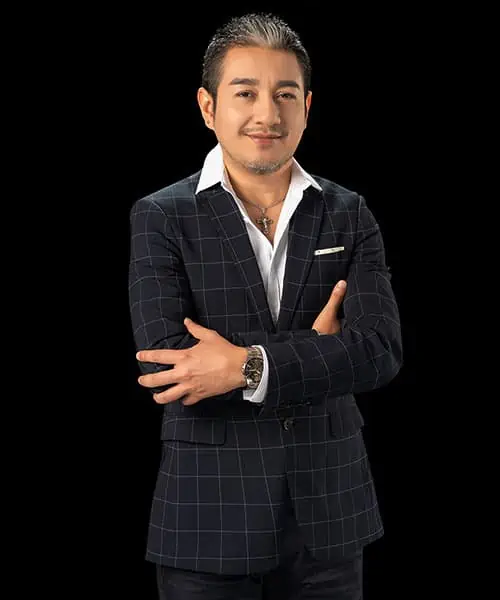 Nestor Sulu
Cyrusher is an electric bike brand that was founded in 2015 by two friends; Harry Xie and Nestor Sulu. A year before the pair started the company, Xie, an alumnus of Xiamen University of Technology, China, had been selling bike components to bicycle owners online. It was during this time that he discovered an opportunity in the market.
Xie found out that electric bikes sold abroad were very expensive and that he could close that gap by offering lower-priced e-bikes manufactured in his native country (China) to cycling enthusiasts who were looking for much more affordable options.
By 2015, the pair had already started shipping e-bikes internationally and, thanks to the increasing demand for electric bikes worldwide, their business was recording huge successes. However, they soon found that they had to expand their output to meet growing consumer needs, which drove them to establish their own factory in 2017.
Today Cyrusher has a headquarters in Shenzhen, China and over 10 fulfillment centers scattered across the globe.
Why Did Cyrusher Exist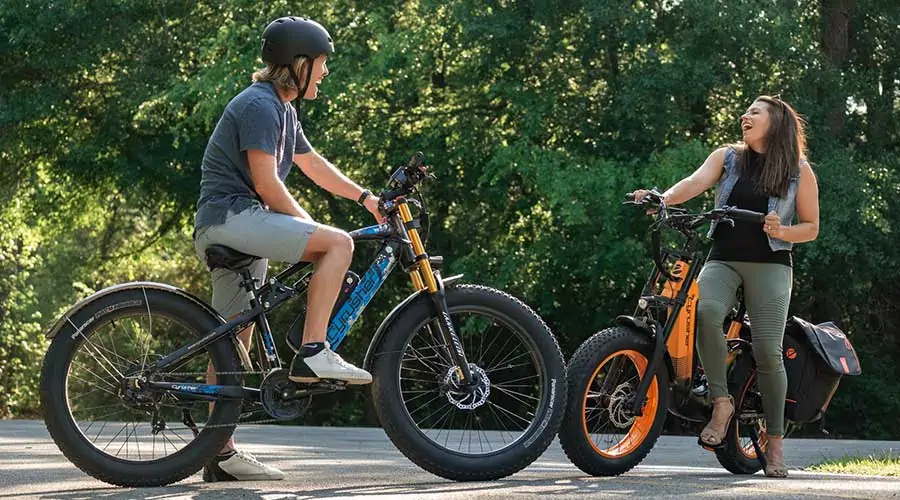 Cyrusher mentions that its mission has always been to provide the best all-around electric bikes to customers at affordable prices. The founders believe that electric bicycles should be accessible to anyone who wants them, regardless of age, gender, or budget.
Since its inception in 2014, the brand has managed to introduce six all-terrain electric bikes into the market and establish multiple service stations around the world. Their manufacturing plant in China currently produces around 6000 e-bikes every month.
They're also looking at adding other micro-mobility devices like electric scooters/skateboards, electric surfboards, etc. to their range of products so that they can offer a full suite of battery-powered solutions to environmentalists and people who are looking for alternative means of transportation.
Where Are Cyrusher Electric Bikes Made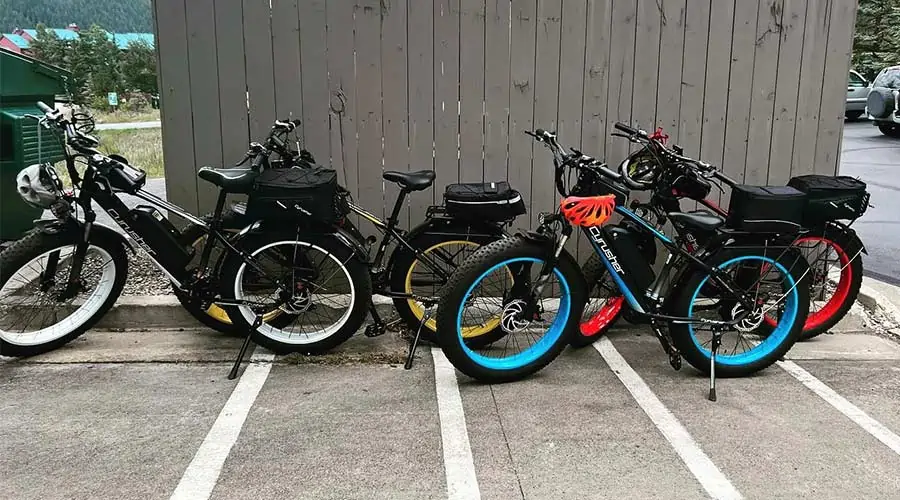 Cyrusher electric bikes are made in China. However, unlike most e-bike brands in the US that source their products from different manufacturers in China, Cyrusher e-bikes are designed and built in-house.
Cyrusher works with different suppliers to manufacture their products. They equip their electric bikes with high-end components from big names in the industry such as Bafang and Shimano. These ebikes are then shipped to the US for final assembly.
Also Related:
Best Electric Bike Brands Made in the USA
What Makes Cyrusher Unique
Cyrusher was born out of a passion for cycling. The founders believe that electric bicycles should be accessible to anyone who wants them, regardless of age, gender, or budget.
The company prides itself in producing high-quality affordable electric bikes designed to cater to the needs of riders of different profiles. In this section, we'll take a look at some of the things that set Cyrusher electric bikes apart from the competition.
Colorful Frame and Rim Designs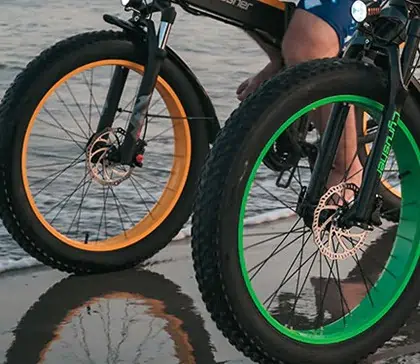 One thing that sets Cyrusher apart from other e-bike brands is how they design their bikes. All Cyrusher e-bikes come in a variety of different colors.
These colors include yellow, red, orange, gray, blue, green, white, etc. They also add colorful rims and different colored accents along the frames of their bikes to make them fit almost every taste. stand out even more. 
Fat Tires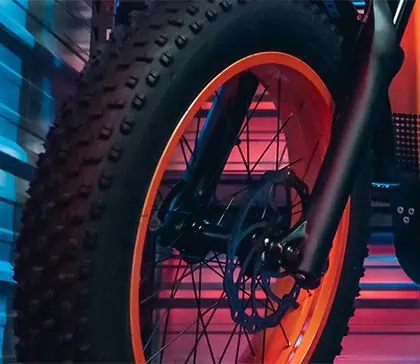 Every electric bike in Cyrusher's lineup comes with 4"-wide tires. One of the biggest advantages of fat tires is that they're able to float over almost any kind of terrain.
Because fat tires have a wider surface area than regular-sized tires, they are able to provide extra grip on rough and loose surfaces. So, whether you're an all-season rider, an off-road rider, or someone who lives in a very wet city, Cyrusher has an electric bike for you. 
Suspension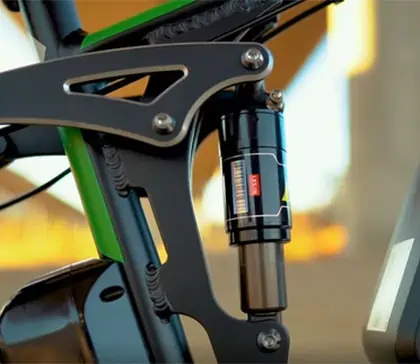 Another component that comes standard on all Cyrusher electric bikes is suspension. The brand equips every model in its lineup with at least one shock absorber.
They even make electric bikes with both front and rear suspension, making them one of the very few e-bike brands in the US that offer full-suspension electric bikes to customers at affordable prices.
They Make Foldable Full-suspension E-bikes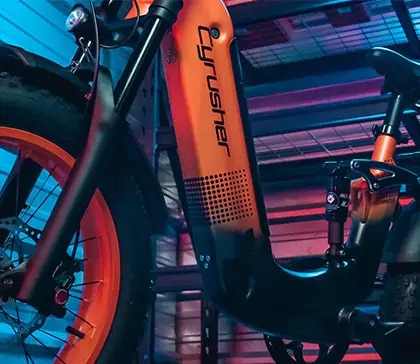 Collapsible e-bikes with both front and rear suspension? Now, that isn't something you see every day. We were pretty surprised when we found out that this company actually designs full-suspension foldable e-bikes.
We're not talking about those foldable e-bikes with front suspension and a suspension seatpost; we mean a collapsible e-bike with an actual rear suspension system. 
Also Related:
What Are the Different Classes of Ebikes and Which Ebike Class Is Best?
Are Cyrusher E-bikes Any Good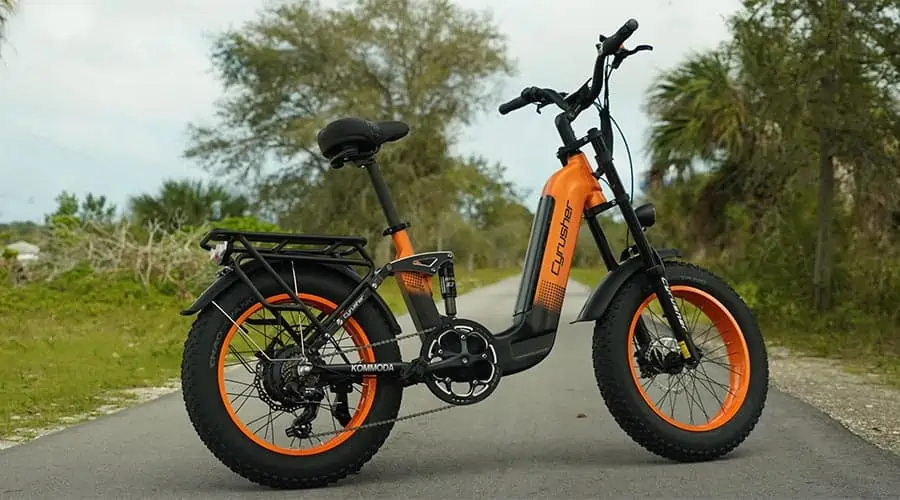 Cyrusher generally makes great electric bikes. The company's products are designed for urban commuting, touring, sport riding, and adventure riding.
They have an extensive line of e-bikes with different frame sizes, power levels, battery capacities, and wheel sizes and all their bikes are quality tested against international standards. 
Let's face it: buying anything online is risky. There's a huge chance your order could get damaged while it's being transported. What usually makes the biggest difference is how each manufacturer responds to a customer's request for the repair or replacement of a product that got damaged during shipping. And Cyrusher seems to be doing a decent job in that area.
Final Thoughts
Most of the electric bikes available on the market today are pretty much just copies of themselves. Brands just purchase the same e-bikes from China, re-brand them with their logos, and sell them to the public as "unique" products.
Cyrusher is not one of those brands. The fact that they build their own e-bikes allows them to experiment with different designs. And it's not just about aesthetics. Their e-bikes are also known to be very durable.
You can check out some of their electric bicycles by visiting Cyrusher.com. If you have any questions, reach out to their customer service representatives. They're quick to respond and will offer knowledgeable advice on anything you're unsure about.
Recent Topics