Are you budget conscious? Do you want to step up your cycling experience; without breaking the bank? Well the good news is that you don't have to shell out a pretty penny to hop on a cheap long range e-bike bandwagon. 
With the recent surge in popularity of electric bikes there is a full spectrum of reasonably priced and affordable electric bikes available that will give you the best value for the money.
Here is the top rated and cheapest long range electric bikes
Title
Rattan 350W/500W/750W Electric Mountain Bike 27.5/26'' Fat...
ANCHEER 350W Electric Bike 26'' Adults Electric...
ANCHEER 350/500W Electric Bike 27.5'' Adults Electric...
Preview
Range
40-50 miles (E-bike Mode) to 70-80 miles (Assisted Mode)
up to 22-40 miles per charge
Battery range of 29 to 50 miles.
Title
Rattan 350W/500W/750W Electric Mountain Bike 27.5/26'' Fat...
Preview
Range
40-50 miles (E-bike Mode) to 70-80 miles (Assisted Mode)
Title
ANCHEER 350W Electric Bike 26'' Adults Electric...
Preview
Range
up to 22-40 miles per charge
Title
ANCHEER 350/500W Electric Bike 27.5'' Adults Electric...
Preview
Range
Battery range of 29 to 50 miles.
Are budget long range electric bikes any good?
All e-bikes offer similar benefits irrespective of their prices. While offering an increased speed, and a convenient yet comfortable usage these ebikes mentioned above come with a decent range of up to 65 miles on a single charge. They are significantly cheaper as compared to any form of electric transport while being a safer and cost effective transport option.
Also Related:
Best Folding Electric Bikes Under $1000 – Budget-Friendly Options
What to search for in the best budget electric bike with a long range feature?
The best way to know which one best for you is to balance the features that are extremely important to you according to your needs within your budget.
Range 
The range of your e-bike is dependent on the amount of assistance needed and the terrain that is being ridden hence, it is crucial to choose a bike that offers enough range to help you reach your preferred destination. Most e-bikes offer a range between 20 miles and a little over 200 miles for the high end ones.
Battery 
One of the most important factors to consider before buying an e-bike is the runtime since it determines the amount of time you can use the powered product for. The greater the battery life- the further you will be able to ride the bike (The range). 
Speed
For regular usage an e-bike with a speed of 20mph is ideal however, it solely depends on your usage. 
Weight 
An e-bike weighing anything less then 20 kg or 42 lbs would be considered light weight making it easier to carry around and easier to navigate through pot holes and rough roads. 
Also Read:
What is a realistic budget for a long range electric bike? 
Electric bikes may cost anywhere between 400$ to 8000$ whereby the amount you should spend largely depends on your usage combined with what features you're looking for. Prioritize which features are essential to you and be prepared to miss out on some features if you are opting for the cheaper variants. By combining the initial price along with its maintenance and charging cost you will be able to decide your budget.
Long range E-bikes can be classified into 3 categories according to your budget;
Under 1000$: ideal for occasional use with a fairly lower maintenance cost 
Around 3000$: for daily usage and travelling over much longer distances
Above 3000$: specialized uses such as biking on mountainous terrains and excessive travelling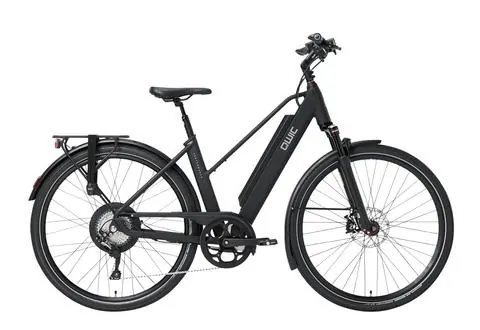 Should I buy a used electric bike?
It may be tempting to buy a second-hand e-bike at a fraction of its regular cost. However, these 'too good to be true deals' are extremely risky as they may come with a host of hidden problems like faulty motor, degraded battery, and rusty parts which are not covered by any warranty and require additional costs to be replaced.
Also Read:
Which electric e-bike motor is the best for a long range commute on a budget?
E-bike motors come in two main types depending on their mounted locations
Hub Motors
These are comparatively cheaper and are mounted on the center of the wheel of your bike.
They are the most cost effective of the two types and certainly fulfill their need. They don't require constant shifting of gears hence are easier to operate. However, they are difficult to drive up a steep mountain and add more weight towards the rear of your e- bike.
Mid Drives
Although more expensive these are mounted between the pedals making the added weight unobtrusive. Changing gears and riding up a mountainous terrain is a lot easier. They also have a fairly better range with a smoother ride quality. On the other hand, they require frequent maintenance adding further expense. 
Unless you intend to use your e-bike for the above-mentioned or any specialized purpose there is no need to spend an extra buck on a mid-drive motor.
Will electric bikes get cheaper in the future?
It is unlikely for e-bikes to become any cheaper in the foreseeable future because the cost of their raw materials is rising continuously along with the inflation of imports. Due to the increased demands in metals like lithium which are essential battery components hoping for a price drop in e-bikes may prove to be futile.
It is predicted that in the near future e-bikes will play an extremely important role in the leisure and transport industry with a triple digit increase in their numbers. People will be more inclined to use these e-bikes as an energy efficient and sustainable alternative as a means to prevent the probable energy crises in the future. 
Their exponential growth in the market has drastically increased consumer choice. The key features and performance attributes stated above along with your personal preferences will aid you in making an informed purchase decision suitable for you and your lifestyle.
Also Read:
Ancheer Power Plus E-Bike
Specifications
Motor: 250W
Range: 48 km (30 miles)
Weight: 45 pounds
Battery: 36V
Max Speed: 25 mph (40 km/hr)
Topping our list of the cheapest e-bikes in the market is the Ancheer Power Electric Bike.
It's certainly not a premier quality bike, what you get for the price is pretty good.
It's powered by a 250-watt battery, and while certainly not the most robust option, it offers just the right amount of power needed to ride in various terrains.
The motor isn't powerful either, and depending on your weight, you might probably need to pedal if you're moving uphill.
However, electric assistance makes tackling the hills much easier.
The best feature of the model is the placement and integration of the 36 V battery. Like the premium e-bikes, the battery on this model is seamlessly integrated into the bike, and it's not easily discoverable unless you've a keen eye.
This is because the battery is cleverly built and disguised as a thermos, so it's a challenge to tell whether it's a battery mounted bike.
The design on this e-bike is also pretty sturdy, thanks to the 100% alloy frame and a carbon fork. Both of the components extend greater strength, and durability on the Ancheer.
The performance is also quite impressive; the e-bike, for instance, has a reasonable pedal-assisted max speed of 25 mph (40 km/hr).
The 30 miles range is quite lean, but there's no limit to how far you can go since you can simply pedal it just like a traditional bike once the battery dies.
Also Read:
Pros
Reliable
Durable quality
Aesthetic
Cons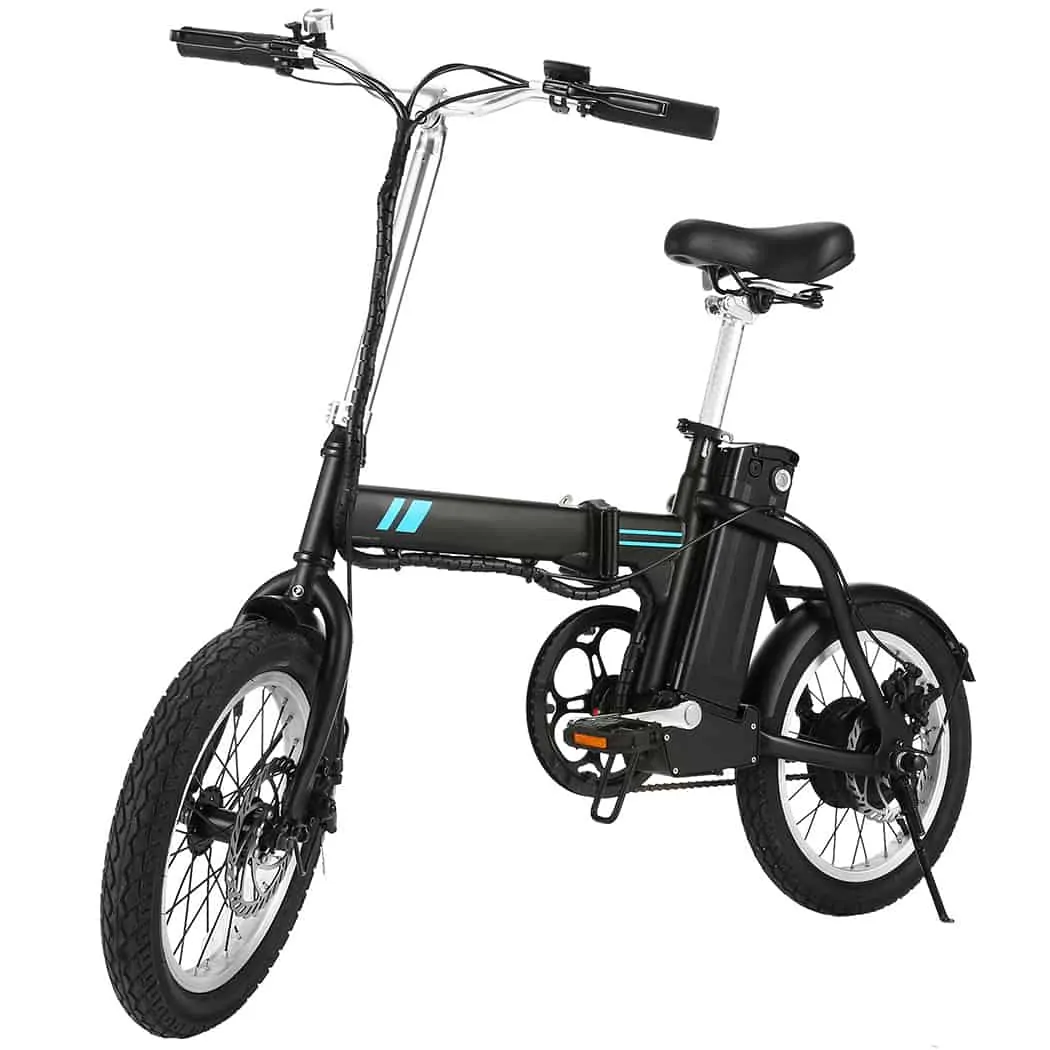 Learn More:
Cyclamatic Power Plus CX1
No products found.
Specifications
Motor: 250W
Range: 45 km (28 miles)
Max speed: 24 km/hr (15 mph)
Battery: 36 V
Aptly named the Cyclamatic Power Plus CX1, this e-bike is a step to the original Cyclamatic Power model.
A notable upgrade on the new model is the aesthetic design, complemented by a glossy finish and sleek lines on the fare,
But away from aesthetics, the folks at Cyclamatic have built this e-bike with convenience in mind.
From the ergonomic design to a detachable battery, every design element is built to offer users with awesome riding experience.
Both the motor and battery have also undergone some impressive upgrades, and this e-bike now boasts of a 21-speed gear system.
Riding the Cyclamatic Power Plus CX1 also feels awesome, and as soon you get on the pedals, the powerful 250W motor kicks, making your riding much fun.
The 26″ wide wheels also make the e-bike an ideal option for most terrains.
The 28-mile range is a bit on the lower side, and the top speed of 15 miles per hour is just what you need for your daily commute.
Unfortunately, this model lacks a throttle mode only, meaning you've to pedal.
Pros
Chic
Detachable battery
Fun riding experience
Cons
Recent Topics