Bike-sharing services are rapidly gaining popularity around the world, with more and more cities across the world adding them to their mobility offerings. The concept is simple: users can pick up a bike from one of the many stations and use it for as long as they need to get around town in exchange for a fee.
Bike-sharing programs have proven to be effective in alleviating traffic congestion across various cities throughout Asia, Europe and North America. In 2016, the United States was ranked behind only China and Italy when it comes to countries with the highest number of public use bicycle programs according to data collated by Statista.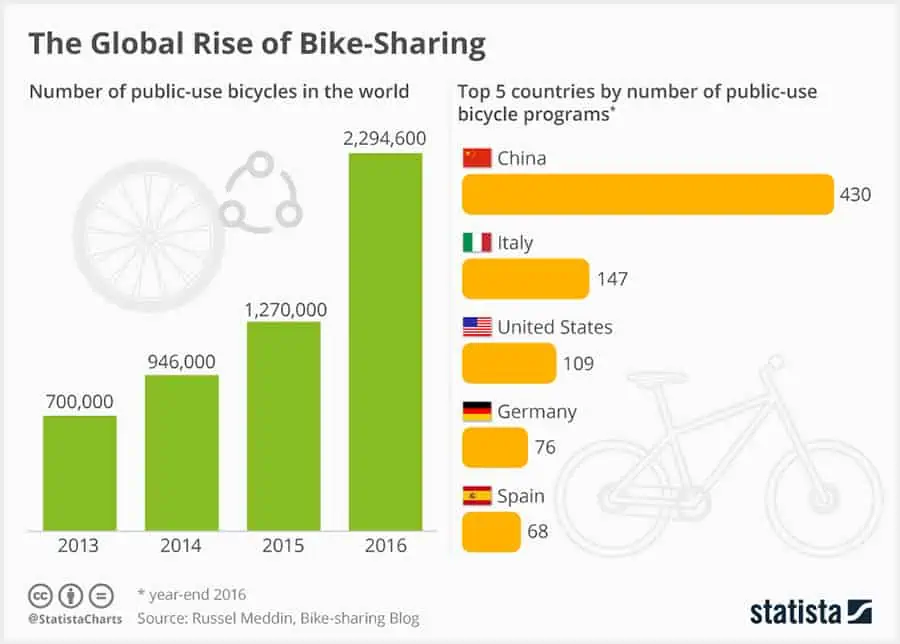 Source: statista
Despite these statistics, bike-sharing and other shared mobility services are yet to gain widespread adoption in the U.S. According to a survey conducted by German market and consumer data company Statista, bike-sharing had a 7.89% adoption rate among American adults in 2018.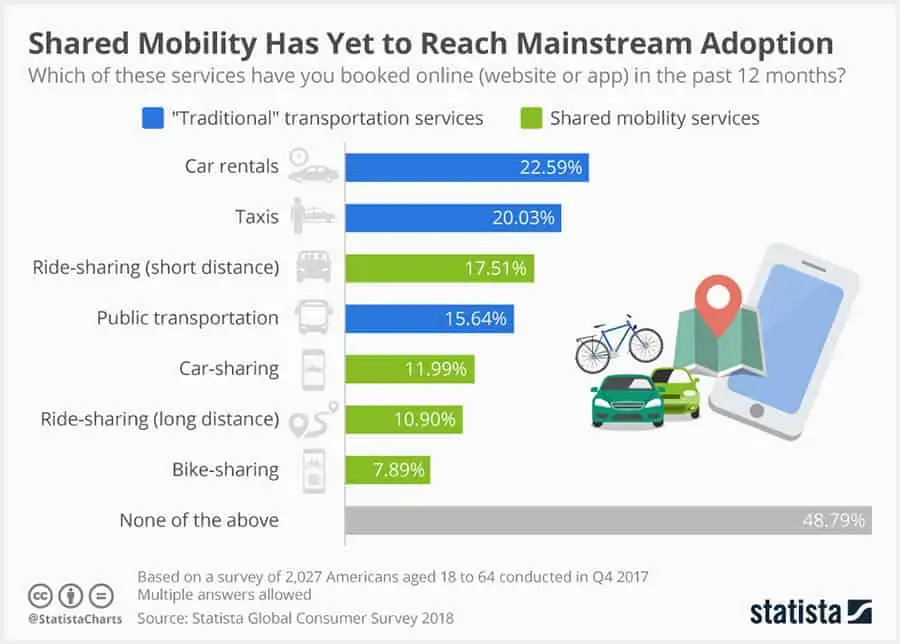 Source: statista
Notwithstanding, the future of bike-sharing looks bright. Companies like Uber and Lyft already offer bike sharing options in select markets. There's no denying that bike-sharing services will play an increasingly important role in urban transportation in present-day America going forward.
To put this into perspective, here are some of the most interesting bike-share statistics you should know about.
Also Related:
Electric Bikes Statistics [ Market Trends and Future Outlook]
1. Global Bike-sharing Made Significant Revenue Gains During the Coronavirus Pandemic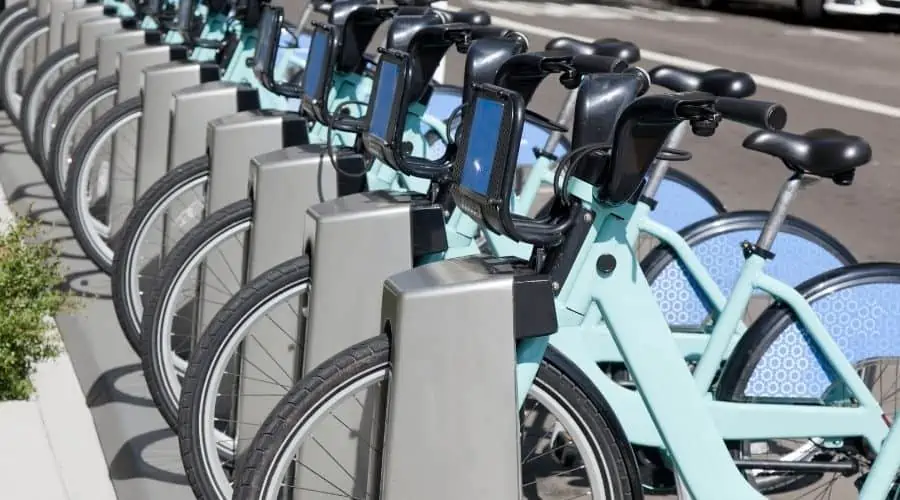 Source: canva
Mobility services was one of the badly hit sectors during the COVID-19 crisis. For the most part, people stayed home more due to stay-at-home orders and social distancing recommendations. This meant fewer trips were taken and less money was spent on rides. However, the global bike-sharing industry saw strong growth in 2020.
The bike-sharing sector recorded significant growth in its global revenues in 2020, despite the heavy losses incurred by other mobility services during the COVID- 19 pandemic.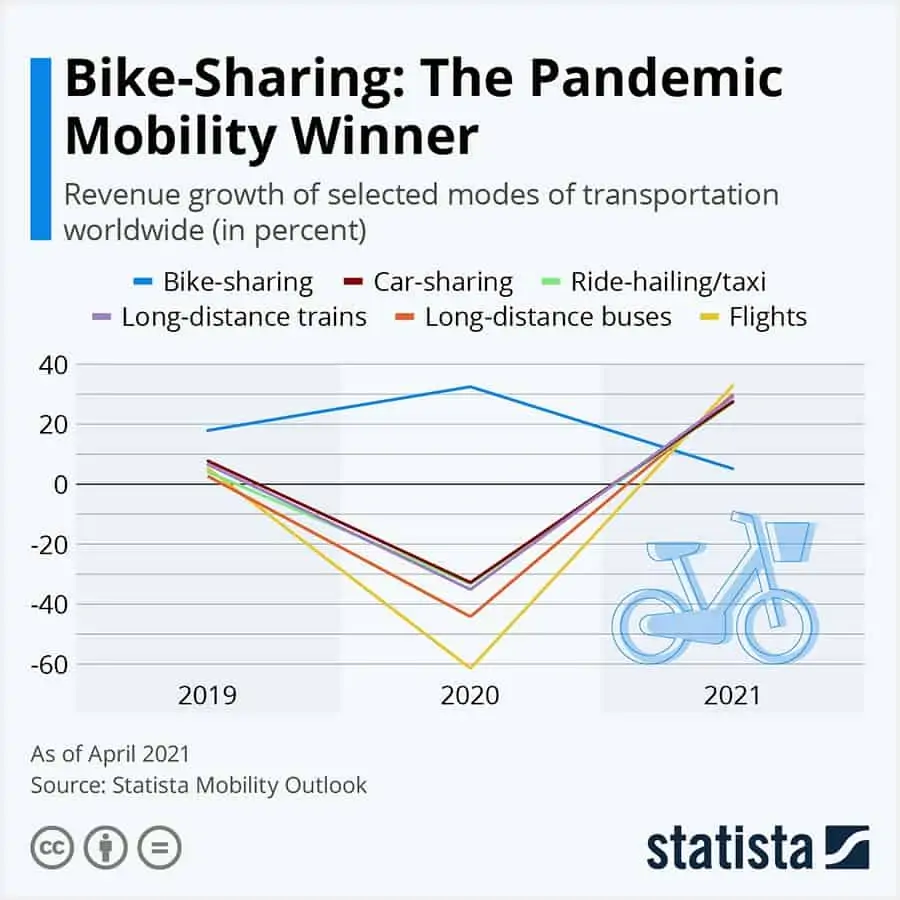 Source: statista
The gains were driven by the fact that governments worldwide implemented strict lockdowns and travel restrictions to slow down the spread of the virus. These measures helped reduce demand for taxis, buses, trains and cars but increased the usage of bikes. Bikes became the perfect mode of transport for getting around cities while staying safe. 
Interestingly, mobility services experienced higher revenue growth in 2021 than in 2020. This could be attributed to the fact that the lockdown period ended sooner in 2021 compared to 2020. The revenue gains recorded by the global bike-sharing sector in 2021 were a bit moderate compared to the previous year.
2. San Francisco Is the Most Bike-friendly City in the Country
San Francisco is unarguably the most bike-friendly city in America, despite having a hilly terrain. The ranking on bike-friendliness is based on factors such as the availability of cycling infrastructure, safety concerns for cyclists, climate, and the availability of bike-sharing services.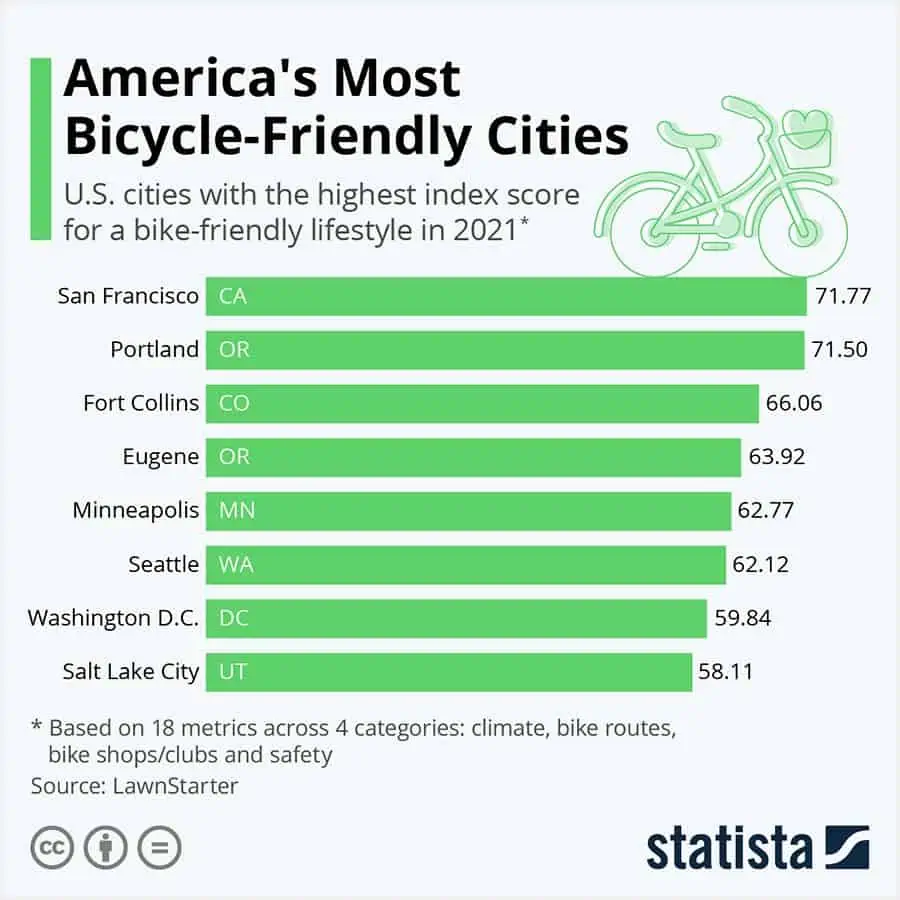 Source: statista
San Francisco's bike-share system is rapidly expanding to cater to the growing number of commuters who want to get around town without having to drive or take public transit. The San Francisco Bicycle Coalition has been at the forefront of advocating for a truly inclusive bike share network that reflects the needs of all San Franciscans.
Ford GoBike, a bike-share program run by Motivate, Inc., covers a significant portion of San Francisco. Motivate is currently spearheading a major expansion plan across San Francisco. Ultimately, Ford GoBike is expected to offer over 4,500 bicycles available across 320 stations.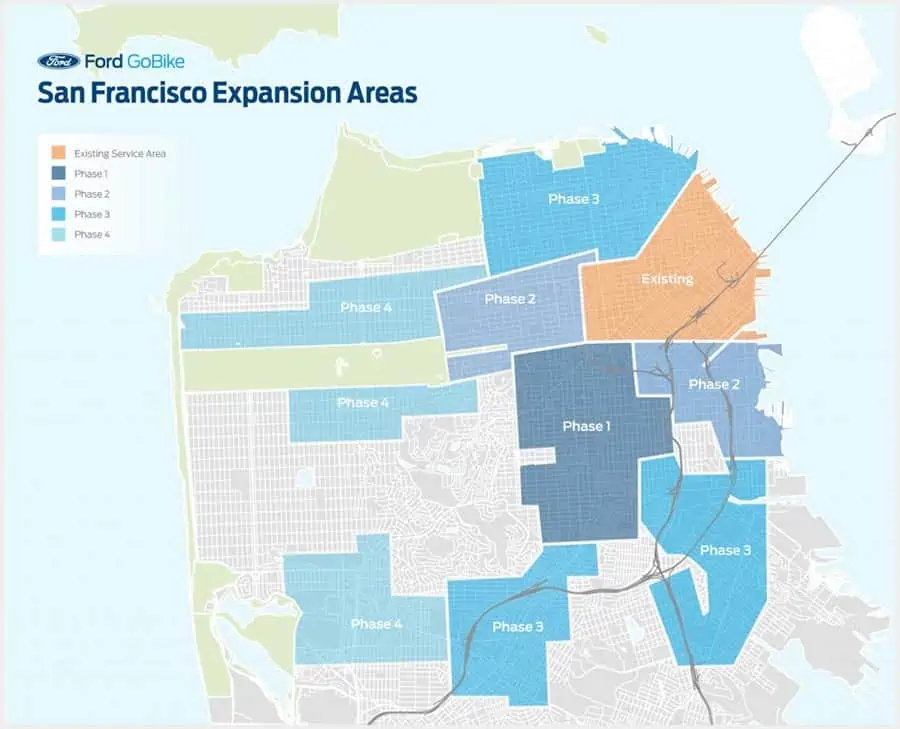 Source: sfbike
3. Motivate Operates the Largest Bike-share Systems in the United States
Source: motivateco
Motivate is the largest operator of bike-share programs in the U.S. In 2018, Lyft acquired Motivate in an effort to break into the bike-share market. The acquisition came on the heels of Uber, the company's main competitor, acquiring Jump – a multi-million dollar bike-share startup.
Motivate currently operates in major bike share markets across North America, where it runs innovative bike share platforms. The globally acclaimed U.S. bike-sharing company operates in partnership with local municipalities and cities nationwide that share their strategic vision for sustainable urban transportation. 
In addition to operating Ford GoBike in San Francisco, Motivate also operates Citi Bike in New York, Divvy in Chicago, Capital Bikeshare in Washington D.C., BIKETOWN in Portland, Oregon, and Nice Ride Minnesota in Minneapolis. Citi Bike is undoubtedly the biggest bike-share brand in the United States.
To put things into perspective, New York was ranked first in both June 2019 and 2020 rankings of the highest number of trips on docked bicycles. There's no denying that Motivate efforts towards improving its bike-share service have seen positive results. According to Lyft, Motivate bike-share programs accounted for 80 percent of all rides taken on shared bikes in the U.S in 2018 alone.
4. Income-based Subsidized Passes Have Become More Common in Recent Years
The cost of using a bike-share program can be expensive, especially for low-income residents. To help address this issue, many cities are implementing income-based subsidized passes to make bike share accessible to residents with low incomes.
According to National Association of City Transportation Officials (NACTO), 24% of American cities implemented income-based discount programs in 2016.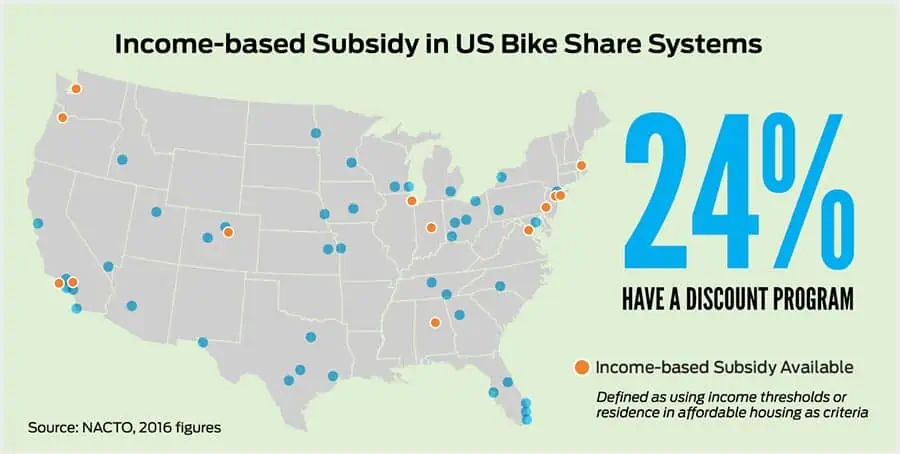 Source: nacto
Philadelphia's bike-share program, Indego, runs one of the most successful subsidized pass programs in the country. Indego's AccessPass program offers discounted monthly memberships to eligible Philadelphians. Cities such as Boston, Seattle, and Washington DC are also offering similar programs.
5. Dockless Bike-share Systems Are Becoming Increasingly Popular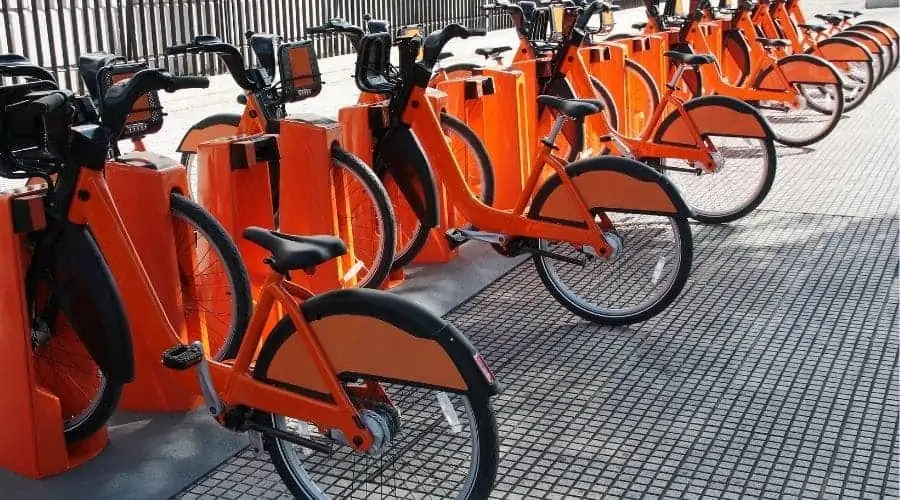 Source: canva
Dockless bike-share systems eliminate the need for docking stations or physical infrastructure. Instead of being tethered to a specific location, users simply unlock a dockless bicycle through an app. Once unlocked, the user can ride the bike wherever they want within city limits.
Dockless bike-share systems have gained traction in recent years with many believing that these systems will eventually replace dock-based systems. The major challenge facing dockless bike-share companies is poor inventory management. Notwithstanding, dockless systems outshine station-based systems when it comes to affordability and convenience.
While the number of dockless bike-share systems in the United States experienced a significant decline in 2020 due to COVID-19, the market has rebounded since then.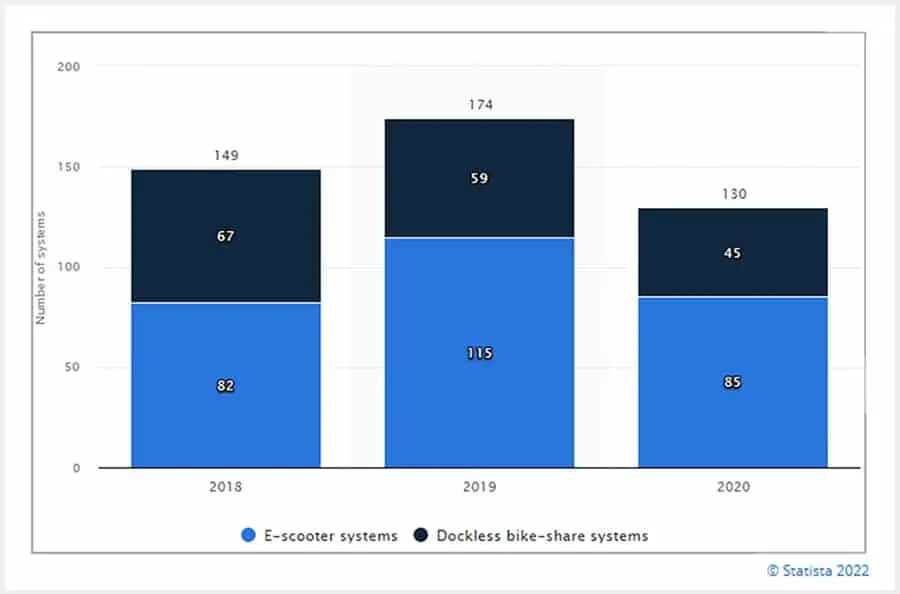 Source: statista
The key takeaway here is that while the dockless model may not be suitable for every city, it does provide a viable alternative to traditional bike-share systems.
6. Bike Share System Satisfaction Rates Continue to Increase
In a survey conducted by Statista in 2017, respondents were asked about their experiences with bike-share programs. Overall, a significant percentage of respondents have had a positive experience with bike-share systems. Specifically, 33% of respondents reported being "very happy" with their current bike-share system.
Additionally, 42% of respondents said that they were "rather happy" with their current system. Only 1% of respondents said that they were "rather unhappy" with their bike share system, while 4% were indifferent. This suggests that there is still room for improvement in terms of customer satisfaction.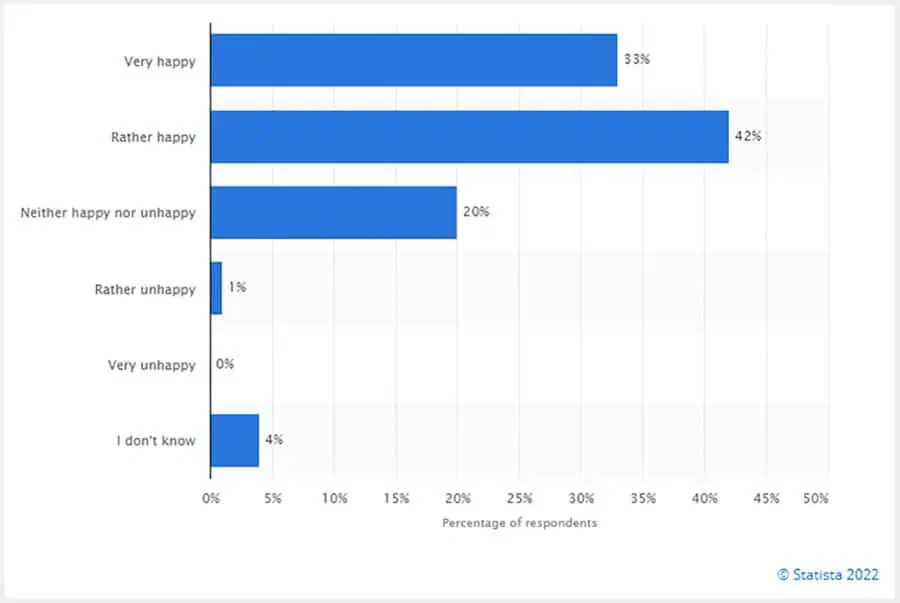 Source: statista
7. San Francisco, New York City, and Seattle Lead the Way in Terms of Largest Bike Sharing Cities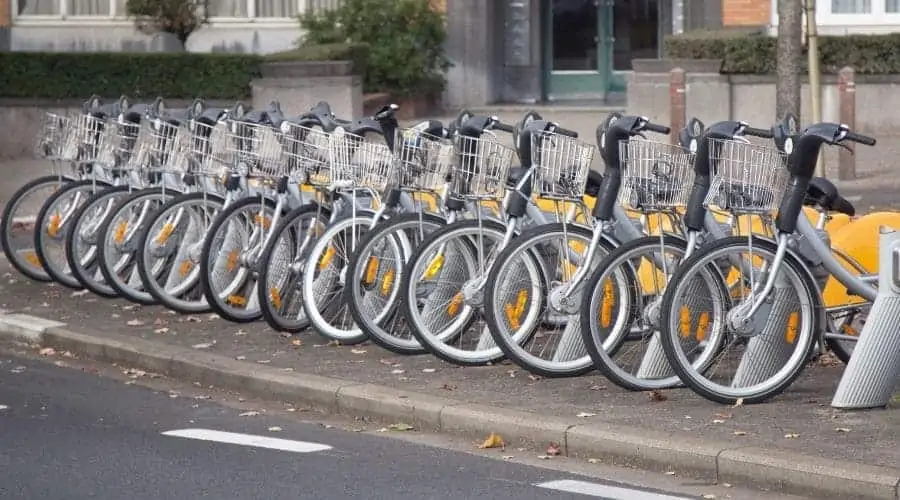 Source: canva
To date, three U.S. cities have seen the highest growth in bike-share ridership: San Francisco, New York, and Seattle. According to data released by Statista, each of these cities had up to 8,000 bicycles available in their respective markets in 2017.
8. People Have Different Reasons for Registering on a Bike-share System
Contrary to popular belief, most people register on bike-share systems for more than one reason. For example, some people use bike-share systems as a means of transportation while others use them as a form of recreation. In fact, according to a study, just over 40% of respondents were convinced to register for a bike-share program because they felt it was a more affordable option.
In addition, 36% of the American respondents said that they registered for a bike-share system because their friends and family members used the service. Furthermore, 23% of respondents said that registration on a bike-share program was an incentive not to pay for repairs. Lastly, only 18% of respondents registered for a bike-sharing system because of "poor public transport"".
The chart below is a representation of the survey results.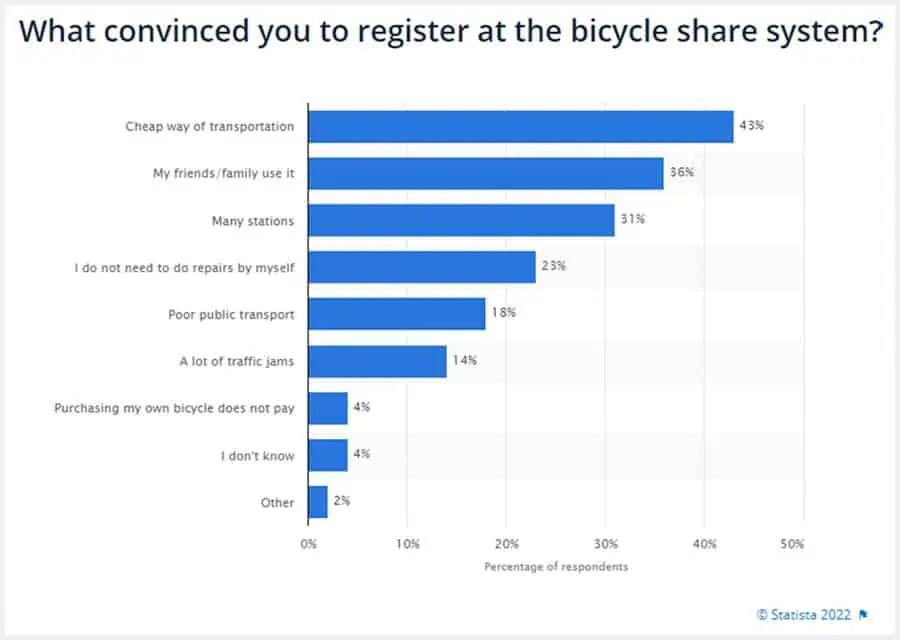 Source: statista
9. Electric Bikes Increase the Competitiveness of Bike-share Systems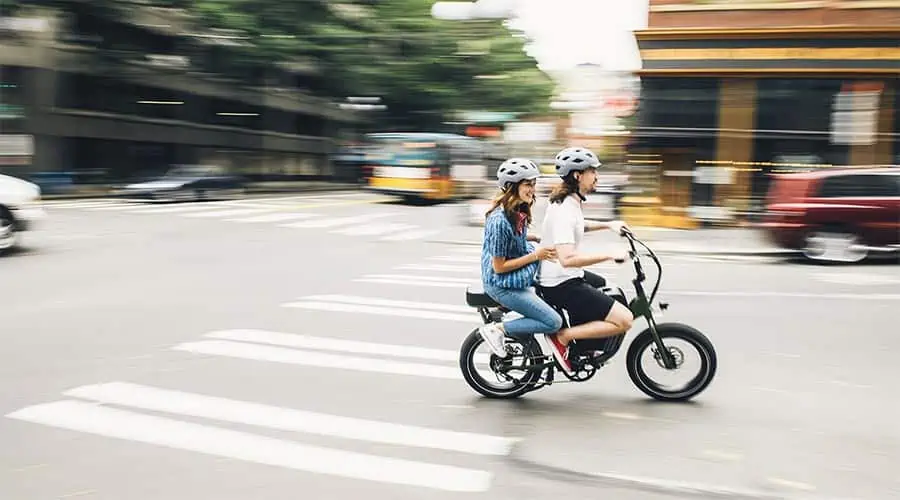 Source: canva
Bike-share companies are increasingly introducing electric-assisted models into their fleets. These types of vehicles can improve the performance of existing bike-share systems by increasing the speed at which users travel around the city. Additionally, the introduction of electric-assist bikes has increased the average speed of trips taken by bike-share customers.
While pedal-bikes are best suited for flat cities, e-bikes are better suited for hilly or mountainous regions. Electric bikes give users in mountainous areas more options and encourage residents to register for a bike share program. Essentially, implementing e-bike sharing systems can significantly drive up demand for new bike-share programs.
As of May 2018, there were over 1600 bike-sharing systems operating across the globe. For the most part, many cities are implementing bike-sharing programs to curb traffic congestion and environmental pollution.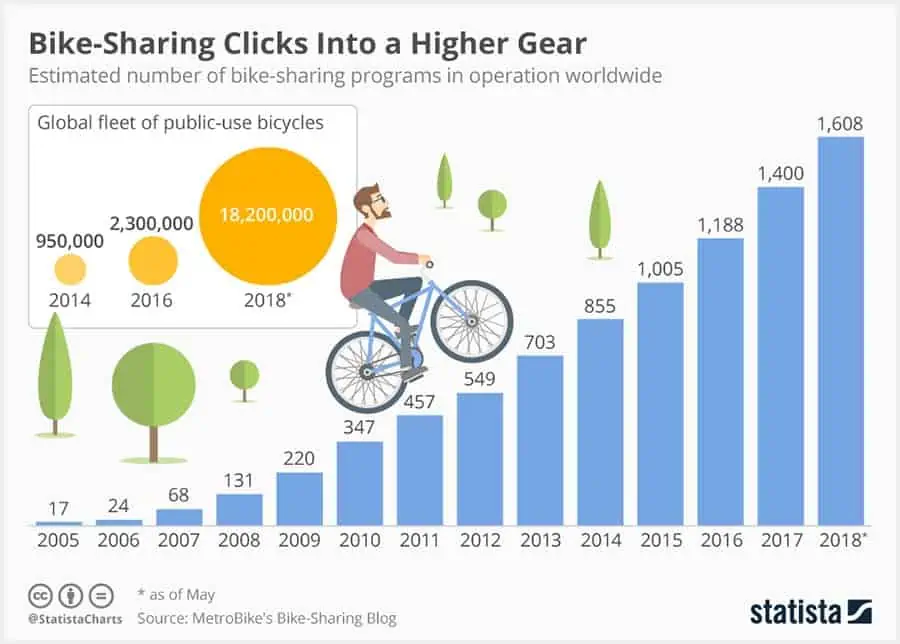 10. Lyft and Lime Are Two of the Biggest Players in the Ride-sharing Market
Lyft has gone on to become one of the biggest names in the bike-sharing industry. The company operates in eight major markets, and provides critical infrastructure for several other bike-sharing companies operating in those markets.
Lyft's bike share program features both traditional and electric bicycles that have been equipped with GPS technology. Users can rent bicycles through the Lyft app and unlock the bicycle using a code provided by the app. Once unlocked, the user can take the bike anywhere within the designated area.
Lime is another well-known name in the U.S. bike-sharing industry. The company serves users in over 50 metro areas spread across 26 states nationwide. Lime offers dockless bike-share services, where users can rent bicycles from any available station. Like Lyft, Lime also features conventional bicycles and electric bicycles.
Conclusion
Bike share programs offer a sustainable alternative to car ownership. They offer users the opportunity to explore different parts of the city without having to rely solely on automobiles. Bike-share programs reduce traffic congestion, air pollution, and fuel consumption. They promote active lifestyles and encourage people to get out of their homes and explore the world around them.
Conclusively, bike-share programs are an effective way to combat climate change and urban sprawl. Cities should implement these programs as soon as possible because they provide significant benefits for local communities.
The information contained in this article should be verified independently by the reader.
Recent Topics