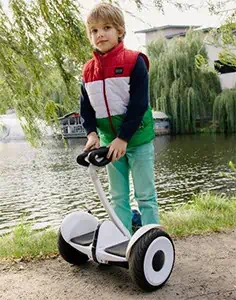 For those parents who are not geeky, finding the best hoverboard for a young kid can be an uphill task. There are so many types and brands on the market with varying features and quality, and thus, choosing the best one can get confusing.
Remember, specifications for a kids' hoverboards should be different from that of adults
In this article, we'll help you figure out what features give your kid the best experience and keep them safe too.
We have taken the time to find and review the top hoverboards for a 9 or 10-year-old kid.
Here are our Top Five hoverbaords based on our in depth review: 
SISIGAD Hoverboard, with Bluetooth and Colorful Lights Self...
Newest Generation Electric Hoverboard Dual Motors Two Wheels...
Best Price
SISIGAD Hoverboard for Kids Ages 6-12, with Built-in...
Best Choice
Jetson Hoverboard - Flash Hoverboard with Off-Road...
Swagtron T380 App-Enabled Hoverboard with Bluetooth Speaker...
SISIGAD Hoverboard, with Bluetooth and Colorful Lights Self...
Newest Generation Electric Hoverboard Dual Motors Two Wheels...
Best Price
SISIGAD Hoverboard for Kids Ages 6-12, with Built-in...
Best Choice
Jetson Hoverboard - Flash Hoverboard with Off-Road...
Swagtron T380 App-Enabled Hoverboard with Bluetooth Speaker...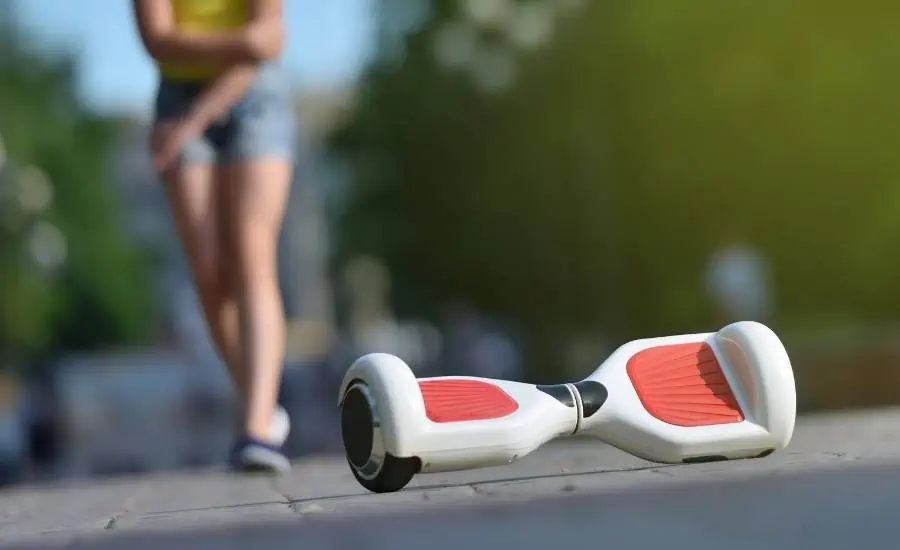 Photo Credit: canva
Next, we'll be looking at some facts and features such as safety, quality, accessories, and other critical information that is ideal for you and your kid to know before riding that hoverboard.
We picked these top five hoverboards based on:
Safety
User's Weight and Height
Quality
Speed
Let's dive in, 
There are several parameters that you should check out before purchasing a self-balancing board for your kid such as safety, speed, weight, additional features, and price.
So,
First, let go over some important tips to consider:
Also Related:
Hoverboards Buying Guide – Everything You Need To Know
Tips to Consider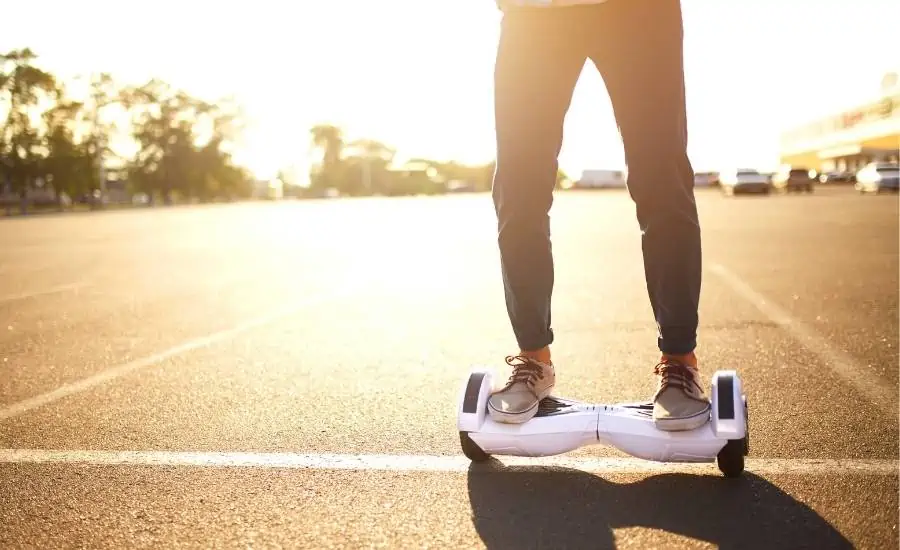 Photo Credit: canva
Safety
Most of brands today are certified by a well known testing laboratory known as Underwriters Laboratory (UL). Fortunately, Amazon allows only UL2772-certified models.
In addition, if your kid has never been on a hoverbaord, consider purchasing a model with a lower max speed because it is undoubtedly safer. 
Also Related:
Are Hoverboards Waterproof? The Truth About Water Resistance!
User's Weight and Height
What size of Hoverboard is Ideal for a 9 to10 Years Old kid?
The sizes of the hoverboard are often determined by the size of the wheel and battery. When it comes to a nine -to-ten -years-old kid, the ideal hoverboard should have approximately 6.5″ wheel size or smaller. This is because they're lighter, which makes it easier for children to carry. Also, the wheel small size makes it easier to maneuver around and enjoy the ride.
You would have to also consider the weight and height of the user. For instance, the ideal model for kids might not be suitable for adults. Also, those who weigh more might prefer specific models. Remember, weight impacts the longevity of the battery and operation range.
Quality of Battery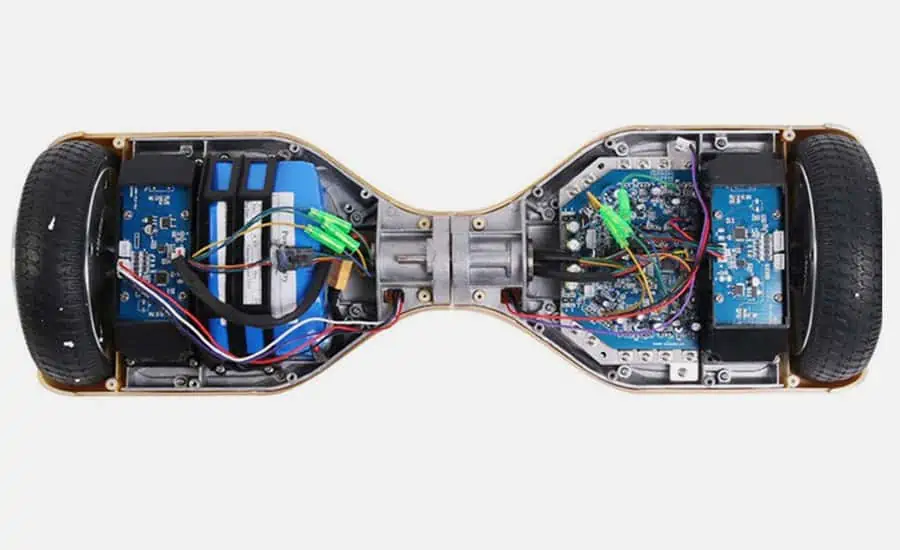 When purchasing the right hoverboard scooter, ensures it has a high quality battery. The size of the cells often determines the speed and power. Thus the larger the hoverboard, the better the batteries. Low-quality batteries have a short range, and hence you can't ride the hoverboard for long period of time. Also, remember low-quality battery is dangerous because batteries can cut out when the scooter is still in motion and cause injury to the user.
Speed
Speed varies depending on the model, but some hoverboards can reach up to 7 or 8 miles per hour. Before buying, consider the speed your kid is capable of handling. If you're buying for your kid for the first time, consider buying one that has a learning mode.
Also Related:
Which is a Fast Hoverboard in 2023 and What is a Top Speed
Out Top 5 Pick For The Best Hoverboard For 9 or 10 Year Old Kids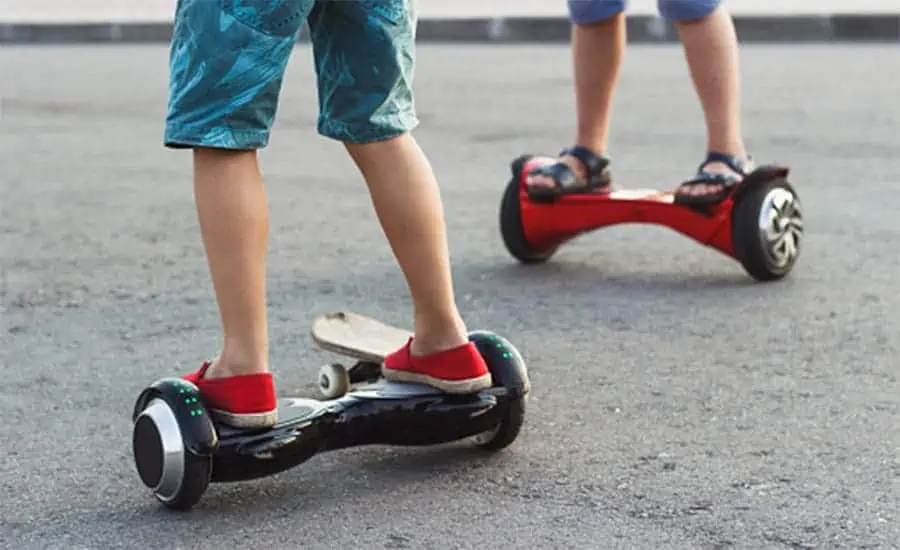 Photo Credit: canva
Our Top 5 Picks
#1
Lieangle 6.5″ Hoverboard
Rating:
#2
UNI-SUN Self Balancing
Rating:
#3
HYPER GOGO Hoverboard
Rating:
#4
CBD 6.5″ Hoverboard
Rating:
#5
Swagtron Swagboard Elite Hoverboard
Rating:
Also Related:
How Much Does A Hoverboard Cost? Up To Date Prices In 2023
#1. Lieangle 6.5″ Hoverboard
Lieangle hoverboard is a high-end model designed for both beginners and amateurs.
It comes with a powerful 200-watt motor and solid wheels, which makes it easy to learn and maintain balance. With a speed of 6 miles per hour, the hoverboard has over 6 miles range and can harbor a maximum of 200 pounds. 
It comes with two led lights and a 36 volt 2 amp battery.
When it comes to safety, the hoverboard is UL2272 certified and comes with a pedal designed to be an anti-skid so that you don't get tired quickly. Finally, this hoverboard is very lightweight, which makes it convenient to carry around.
LIEAGLE Hoverboard, 6.5" Self Balancing Scooter Hover Board...
Verified Safety Hoverboard: UL2272 Certified of...
6.5 Inch Wheels : High intensity Led headlights...
Hoverbaord Built-in Wireless Speaker: Built-in...
Easy to Use & Stable Control: The hoverboard easy...
Warranty: 3 months warranty. For any questions or...
#2. Tomoloo Hoverboard
Tomoloo is a brilliant hoverboard with a lot of high quality safety features, which makes it one of the best hoverboards for kids.
This self-balancing scooter can easily connect with your smartphone via Bluetooth. This allows you to immerse in high quality music from your phone and control the lighting effects of the LEDs with a mobile app. 
The scooter is suitable for long-range and multi-terrain rides, and thus your kid will always have a stable ride, whether on smooth or rough surfaces. Another impressive feature is its waterproof cap, which allows your kid to ride during the light-rainy days. The hoverboard has an impressive load-bearing capacity of up to 165 pounds at a speed of 7.5 miles per hour.
If your biggest concern is product quality and children's safety, this model is waterproof and fireproof. Also, it is certified by UL2272, and thus you're guaranteed that this self-balancing scooter will not heat up or catch on fire. Finally, it comes in a free hoverboard bag, which makes it easy to carry it anywhere.
Also Related:
How To Calibrate A Hoverboard In 5 Easy Steps
#3. Uni-Sun Hoverboard Self-balancing Scooter
With comic-strip style graphic design, the UNI-Sun hoverboard is stylish, kid-friendly and works well in all environments. This self-balancing scooter features a 6.5-inch oversize wheel that helps to keep your kid safe and stable in all types of terrains.
It has an in-built Bluetooth, which gives a fantastic riding experience while listening to any favorite tunes. The product uses lithium-ion batteries and has two 300 watt motor hubs that enhance longer battery life and quick charging option. 
It's two led light offer increased visibility during the night. It has a cruising speed of 9.3 MPH and can harbor 44-264 pounds at a go. The hoverboard is safety certified and complies with all the US safety regulations.
HYPER GOGO Hoverboard, Off Road All Terrain 6.5 inches...
SAFETY : 6.5 Inch hoverboard rubber tires deliver...
BLUETOOTH LINK:High quality bluetooth music...
Technology:The technology of the hoverboard...
SPECIAL DESIGN:High intensity RGB LED Illuminate...
PERFECT GIFT:This hoverboard should be a great...
#4. CBD Hoverboard
With two led front lights and flashing light, this hoverboard is nothing but a glittering star. It comes with large rubber tires that offer excellent stability to the hoverboard.
The tires are also sturdy and textured, which make them puncture-resistant, and you can easily glide on sloppy terrain without much difficulty. Its 6.5 inches wheel makes it light-weighted and easy to carry.
The speed offered by CBD is 9mph with a weight-bearing of 260lb. It features a built-in Bluetooth wireless speaker with great sound quality.
CBD Hoverboard for Kids Adults, Upgraded 6.5" Tires Powerful...
[ Self Balancing Easy Stable Control & Sturdy...
[ Suit Most Road & Strong Motor & High Quality...
[ UL2272 Certification Rechargeable Battery & Fast...
[Safer Speed & Longer Range] --- You can go at the...
[ Smart Bluetooth Music Speakers & LED Lights &...
#5. Swagtron Swag board Elite Hoverboard
Swagtron is a reliable, well built versatile hoverboard with plenty of power and new safety technologies.
One of its outstanding features its ability to use an internal gyroscope to power its movement, which allows you to control it based on the shifting of your body weight.
It is equipped with lithium-ion batteries and a 5-level battery indicator so that you can quickly know the battery level. This product provides a speed of up to 8 mph over an 11-mile range.
It has Bluetooth connectivity that allows you to play music as you roll along. The self-balance scooter comes with a mobile app that allows users to see information about the system, check out battery level, and adjust riding mode.
Another great feature of this product is that it has a learning mode for beginners, which allows first-time riders to get a feel of swag.
Also Related:
How Long Does A Hoverboard Last? Expectations vs. Reality
Conclusion
Gifting your kid a hoverboard will make their day unforgettable.
Self-balancing hoverboards are revolutionizing the world. It is an excellent way for having fun not only for kids but also for adults. When it comes to choosing the right hoverboard, the best type depends on who it's for. However, no matter what hoverboard you end up buying, ensure to pay attention to features such as safety, weight limit, speed, battery and over all quality.
Also, make sure it is UL2772-certified and fire-resistant. Most hoverboards are, however there are some that are not. Fortunately, Amazon allows only UL2772-certified manufactures.   
Recent Topics