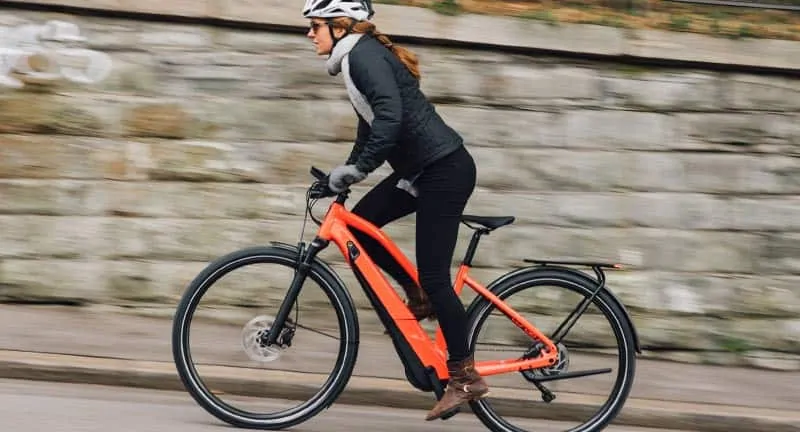 Short females often feel left out in the crowd of bigger riders because their size doesn't fit into the average frame especially 5ft women and under. They often don't fit into the standard sizes of many electric bicycles, which makes it difficult to find a bike that fits them well and feels right.
However, there are some excellent electric bikes for petite riders. These ebikes are typically more compact and light, which makes them easier to handle and maneuver. They also tend to offer better handling and control than larger models.
We have put together our top three choices that offer features such as compact frame design, lower seat post position, and adjustable handlebar positions.
Here is what we recommend
Editor's 1st Choice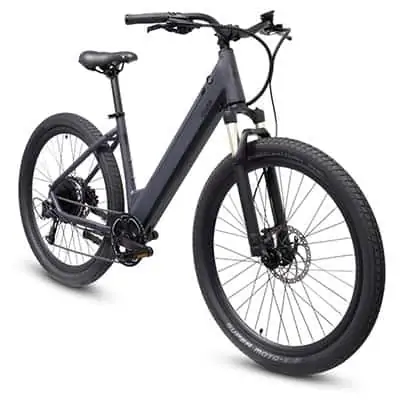 Overall Rating:
Payload Capacity: 275 lbs
Range of 30-50 miles
Top speed of 28 mph
Editor's 2nd Choice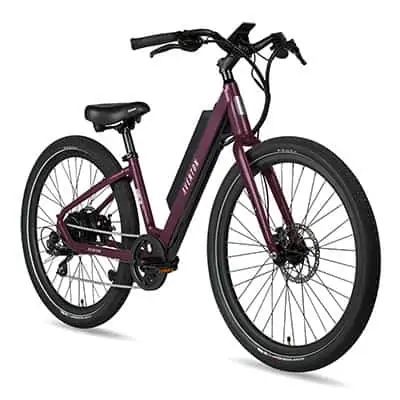 Overall Rating:
Payload Capacity: 300 lbs
Range of 35 miles
Top speed of 20 mph
Editor's 3rd Choice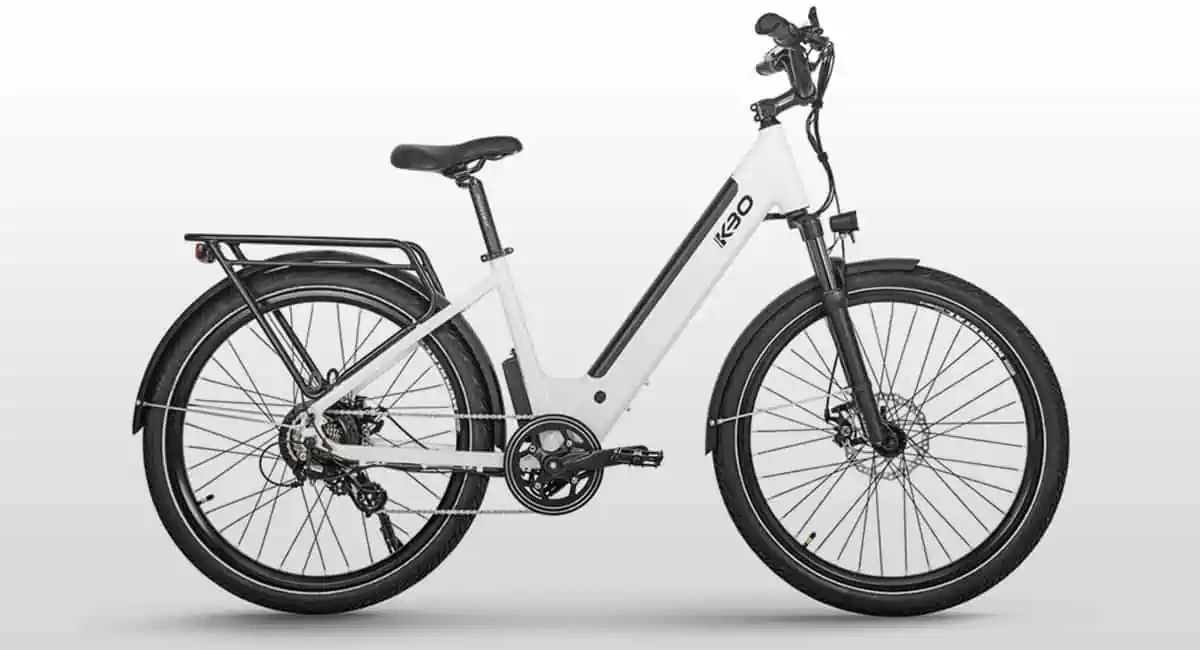 Overall Rating:
Payload Capacity: 300 lbs
Range of 55+ miles
Top speed of 20 mph
What Is a Good E-bike for a Short Woman?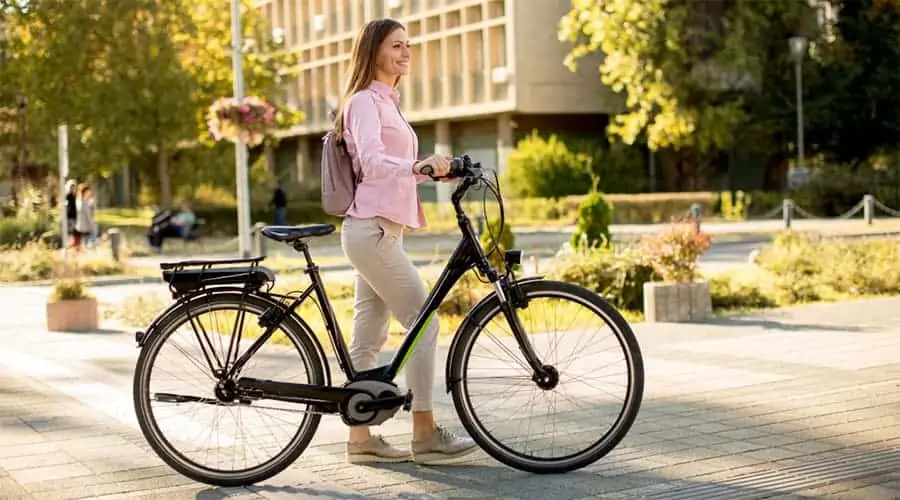 Photo credited by freepik
One of the features we recommend for e-bikes for short females is a step-thru frame. It's a good idea to have a bike that you can easily put your foot on and off of, but at the same time they need to be sturdy.
Also look at the seat height. It should be high enough so that you don't feel like you're sitting on a stool. If it's too low, then you'll find yourself hunched forward and not able to see where you're going.
Here is our best recommendations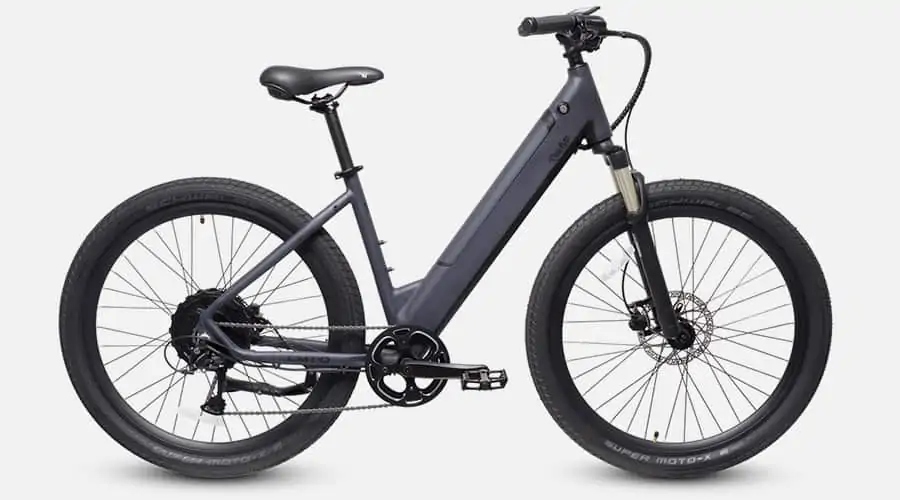 Overall Rating: 4.8/5
The Ride1Up LMT'D version is new, classy, and a lot faster. The heavy-duty 100nm heavy-duty motor was built for one major thing — optimal acceleration. It's stealthy, pleasing to the eyes, and suitable enough for your everyday commute or the occasional intense getaway, both on and off-road.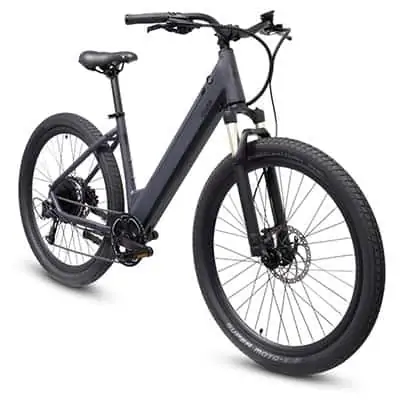 Ride1Up LMT'D
Main Features:
The Motor: 750 watt
Top Speed: Upto 28 mph
Range: 30-50 miles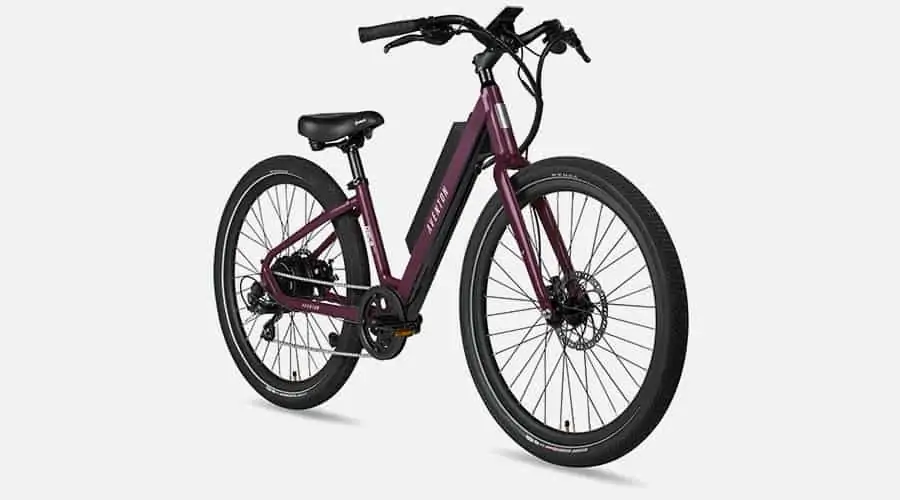 Overall Rating: 4.8/5
With 5 levels of pedal assist, the Pace 350 promises a 35-miles range and up to 20 miles per hour. Plus, with an overall weight of 46lbs, it's quite lightweight for an e-bike. Beyond its ergonomic build and comfortable seats, it's suitable for petite women from 4'11 upwards.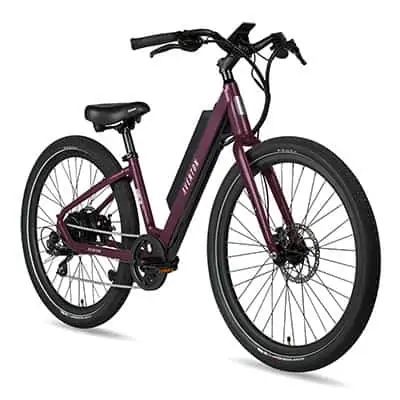 PACE 350 Step-Through E-Bike
Main Features:
The Motor: 350 watt
Top Speed: Up to 20 mph
Range: 35 miles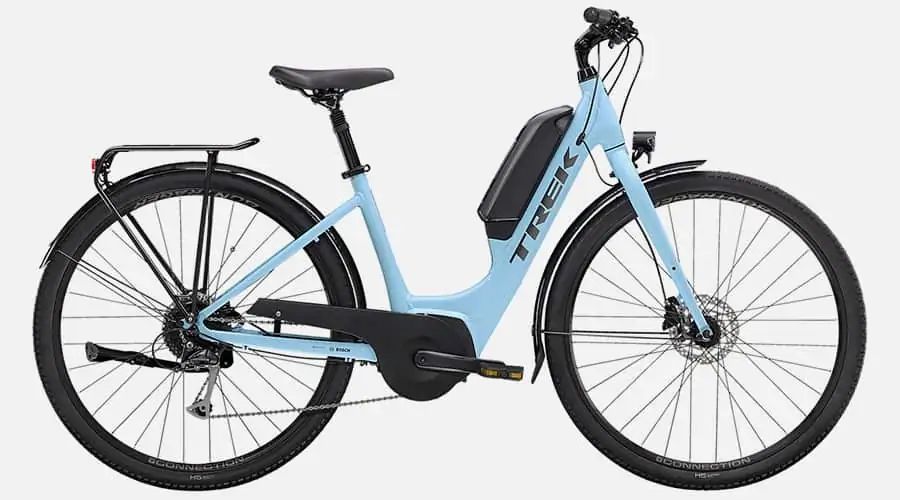 Overall Rating: 4.8/5
The Verve+ offers versatility and gives consumers more frames and sizes to choose from. Most buyers will fall in love with their defiance of the 'one size fits all' mantra. There are XS, S, L, and XL for people who fall within the height range of 4'9" to 6'1".
It also helps to know how durable this aluminum gold frame is, accompanied by an equally long-lasting power pack system that keeps riders cruising on the road for longer.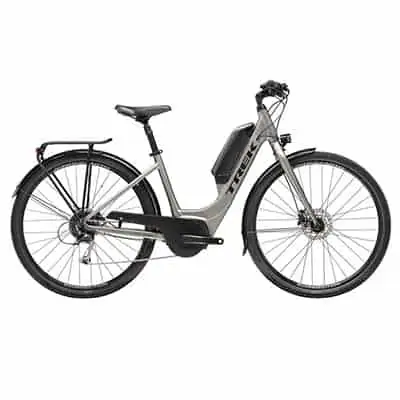 Verve+ 2 Lowstep
Main Features:
The Motor: 250 watt
Top Speed: Up to 20 mph
Range: 38-40 miles
Also Related:
Best Electric Bike for Short Riders – Turn Your Height To Your Advantage
What Size Bike Should a 5 Foot Woman Get
An electric bike with a 13 to 14 inch frame and 14 to 16 inch diameter tires might be a great fit for a 5 foot woman.
However, this can vary from person to person. A woman with long legs might feel more comfortable getting an electric bike with a slightly bigger frame size. On the other hand, women with shorter legs might prefer an e-bike with a slightly smaller frame. 
Therefore whenever buying an electric bike, it's best that you take all factors into account. After all, you wouldn't want to spend money on an e-bike too big or too small for your height.
E-bikes for Petite Women – What Are They Like?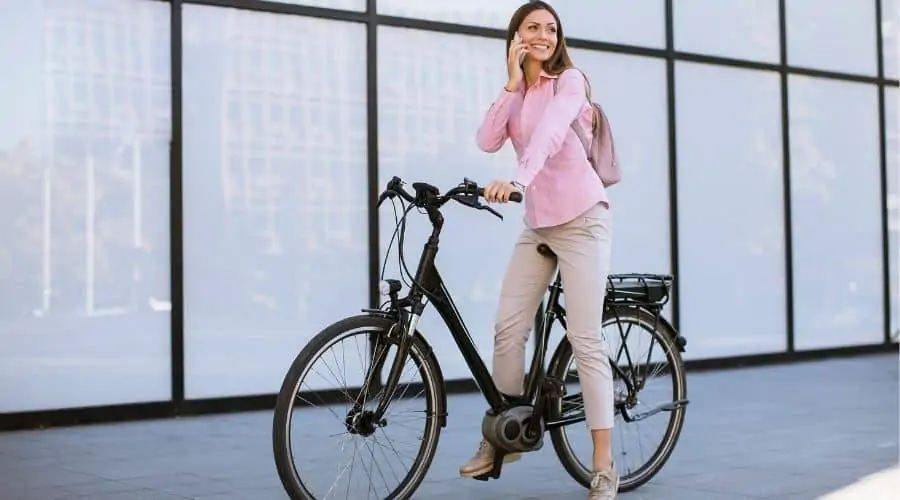 Photo credited by canva
If we are honest, the average e-bike is made for people with a height vantage of 5 ft 7 and upwards. This may seem totally unfair to the fun-sized ladies who also want to ride around, wind in their hair, ruling the streets! Or maybe just commuting to work, whatever rocks your boat.
That's exactly what petite e-bikes were designed for. What you're bound to notice about e-bikes designed for shorter women who haven't reached the 5 ft 5 mark is the size.
They are visibly smaller than regular e-bikes and they weigh a lot less too. Still, it's important to remember that most e-bikes come with extra gadgets and are certainly heavier than manually-powered bicycles.
Also Related:
Best Electric Bikes for Women in 2023 : Be in charge & Ride in Style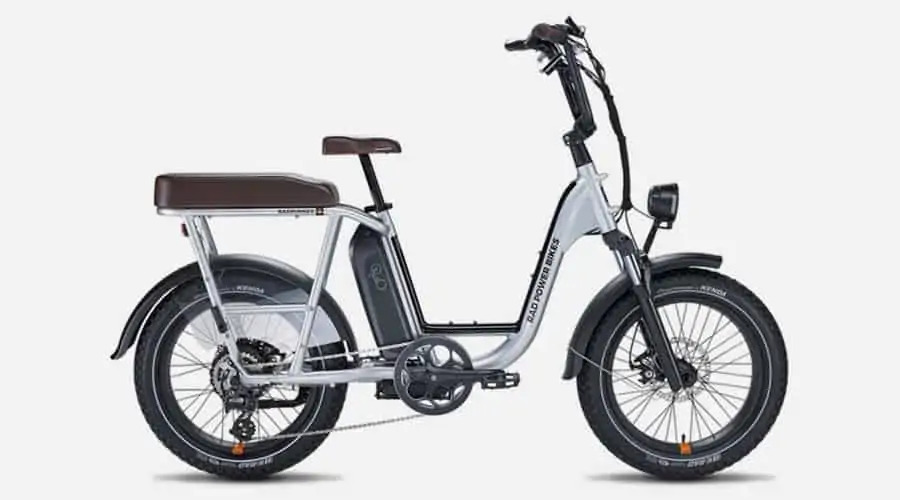 So, it's up to you to confirm the size requirements and ensure the e-bike fits your body frame and physique.
What E-bike Do I Need for My Height?
There are a number of health challenges avid riders can face. Moreover, ladies that cycle for more than 100 miles per week can experience symptoms worse than soreness.
One of the best ways to prevent this is by owning the right e-bike. The position you ride in is greatly affected by the size and frame of the e-bike. For example, if the handles are too wide apart, that already puts strain on the shoulders and the spine.
That's why there are bicycle frames that range from high-step, mid-step, to low step. As the names suggest, high-step e-bikes are a no-no for petite women. Save yourself the energy of constantly fighting to mount such e-bikes.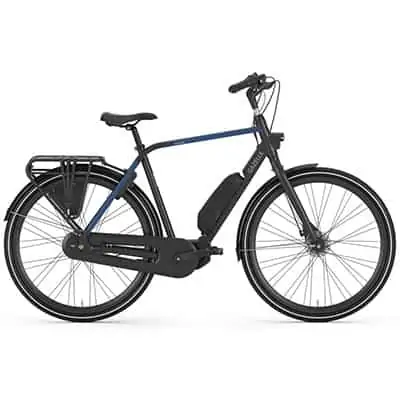 High Step E Bike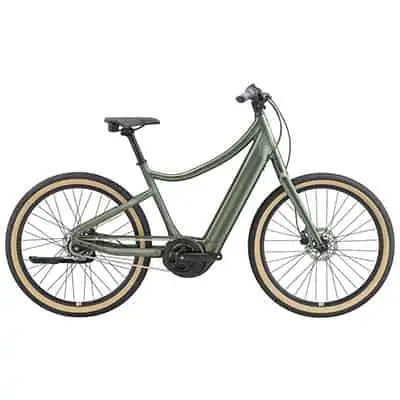 Mid-step E Bike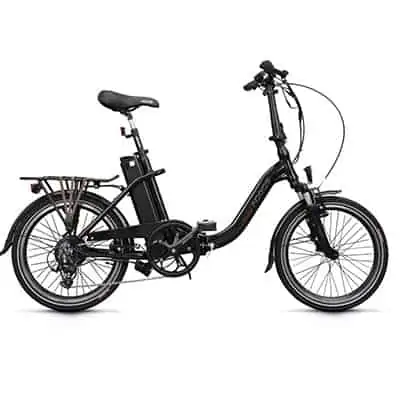 Low-step E Bike
Rather, choose from mid-step to low-step e-bikes. Mid-step e-bikes still offer a sturdy frame that allows for intense rides without compromising your comfort. Low-step e-bikes are designed majorly for commuting, running errands, or making occasional stops.
Both are much easier to mount depending on the size, they equally prove easier to operate. Additionally, it's important to consider your height when choosing a suitable e-bike. Ladies who don't meet the 5'3" mark should opt for e-bikes that are 14-15 inches.
However, if you're on the taller side, a 16" small-framed e-bike would be suitable for height ranges from 5'3" to 5'7".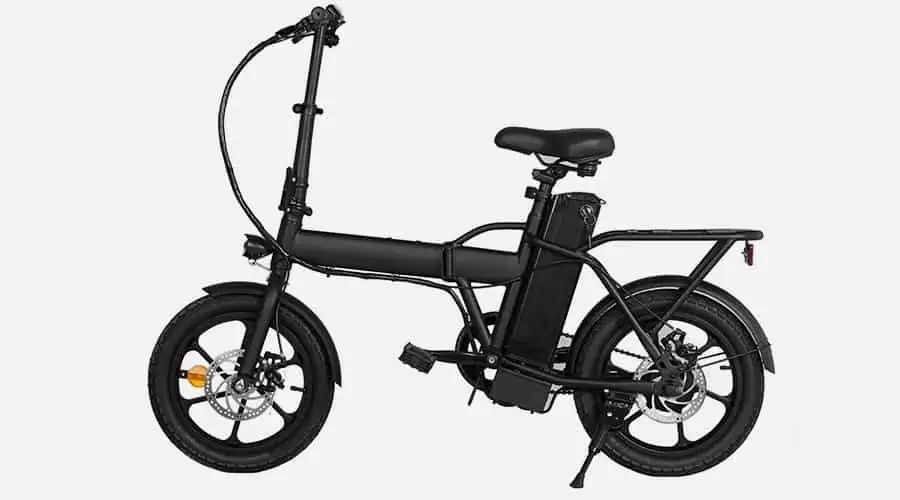 16-inch Frame E-bike
Also Related:
Best Throttle Electric Bikes With Pedal Assist | Time For An Insane Upgrade?
Are Step-through E-bikes for Women?
While many claim that step-through e-bikes are equivocally designed for both men and women, such statements may not be factual. The truth is, step-through bikes started gaining popularity around the 1940s.
In the traditional sense, the frame was made for women, girls, and ladies. Men's bicycles had more 'high-top tube' frames. The reason is simple: the step-through frames made it easier for women who wore long skirts and dresses to mount their bikes.
Of course, in recent times, the designs have evolved, and more people( men and women alike) are using step-through e-bikes because of the functionality and comfort they offer.
Since the frame is a convenient mix between a low-step and step-over design, it helps the rider maintain an ergonomic upright position when riding. Plus, it's easier for women of all height ranges to stop, step out and step back in with ease.
Also Related:
Best Electric Bikes for Heavy Big Riders: These Will Handle Anything
What Kind of E-bikes Are Suitable for Small Females?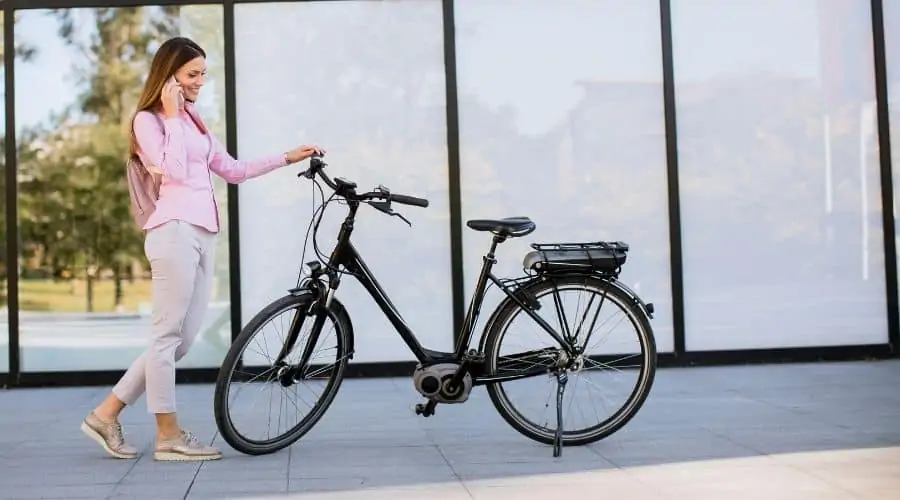 Photo credited by canva
There are some crucial factors to consider when buying an e-bike. It would suck to spend good money on a great e-bike that doesn't suit your body frame and size.
So, while you may want to simply pick from commuter e-bikes, road e-bikes (for more intense long-distance rides), and mountain e-bikes (for random rocky adventures), they still have to suit your body type. There are petite women who are highly athletic, and taller riders who are not.
Plus, women with injuries and achy muscles or older women who have restricted motion ranges would certainly have different preferences when picking out an e-bike. So, let's say you just need an e-bike for commuting, it would be odd to pick out a mountain e-bike.
The range and power of an e-bike must match your weight and what you intend to use it for. Additionally, e-bikes that are more maneuverable and lightweight make riding easier. That's why many petite ladies opt for step-through frames with only the basic add-on features to checkmate unnecessary weight.
Also Related:
Best 750 watt Electric Bikes Including Fat Tire Options
Women's Lightest Folding Electric Bikes?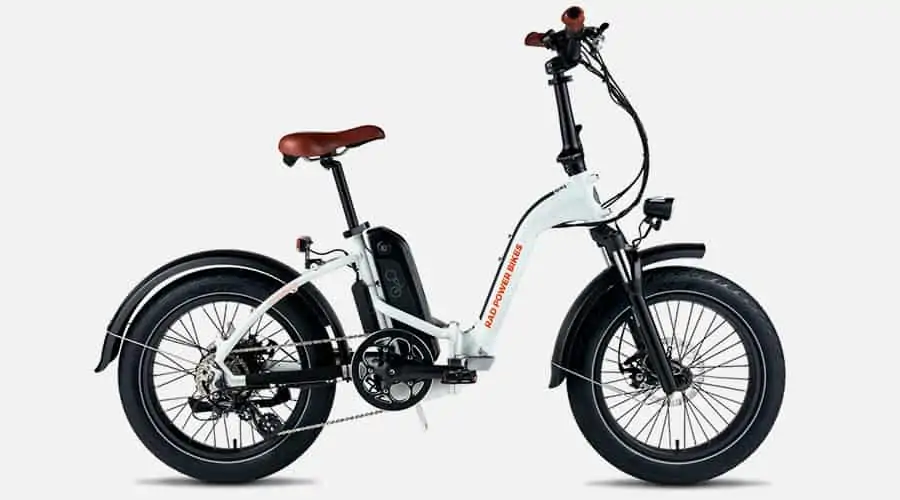 Overall Rating: 4.8/5
The Radmini electric folding bike combines fine aesthetics with durable comfort without compromising on a convenient riding experience. Its motor boasts a whopping 750W, which provides users with the options of commuting, racing, and more adventurous riding experiences.
Plus, thanks to the 7-gear system, this folding e-bike can slow things down and speed things up with a simple twist of the throttle.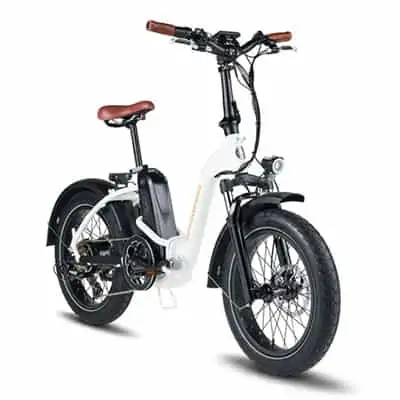 Radmini Step-Thru Electric Folding Bike
Main Features:
The Motor: 750 watt
Top Speed: Up to 45+ mph
Range: 45 miles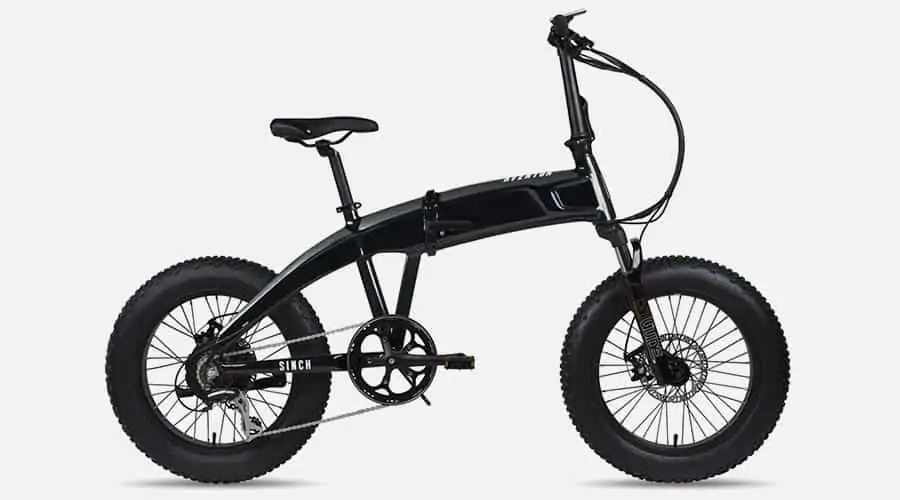 Overall Rating: 4.7/5
Apart from guaranteeing easy portability, storage and comfort, the Sinch e-bike equally guarantees convenient performance at its best. This lightweight foldable bike will fit anywhere from the trunk of a car to the posterior of a desk.
The powerful motor and fast-charging battery work hand-in throttle with the 5-level pedal assist so you can power up or pace each ride at will.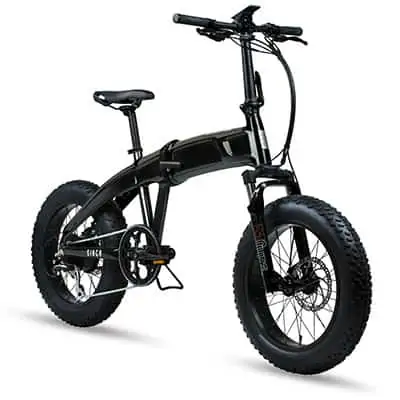 Sinch Foldable E-Bike
Main Features:
The Motor: 500 watt
Top Speed: Up to 20 mph
Range: 40 miles
Overall Rating: 4.8/5
This electric folding bike by Swagtron brings on a little more pizzazz when it comes to design, aesthetics, and form. Of course, all those dynamic curves serve to guarantee comfort, stability, and extended mileage.
It also helps to see that this e-bike weighs just 42.3 lbs, which makes it a lightweight and functional contender.
Eb7 Elite Swagtron Folding E-Bike
Main Features:
The Motor: 350 watt
Top Speed: Up to 18.6 mph
Range: 15.5 miles
E-Bikes for Petite Riders
(Cheaper Options)
Swagtron Swag Cycle EB-5
The Swagtron swag cycle EB-5 is a great option for short female riders. Not only does it come with small 14 inch wheels but also an adjustable handlebar and bicycle seat. So you can easily find the perfect riding position by adjusting the seat and the handlebar to your liking.
Additionally, the EB-5 comes with an aluminum frame which is not only sturdy but also lightweight. Weighing in at about 37 pounds (16.8 kg), this e-bike is easy to carry around.
Further boosting the portability of this electric bike is its triple-fold design. Therefore, carrying this e-bike up the stairs, in the trunk of your car, or on subways is much easier when compared to other adult bikes on the market.
However, a drawback of the EB-5 is the lack of a suspension system. With no shocks or springs, this electric bike does not offer the most comfortable experience when riding over rough and bumpy terrain.
It also doesn't come with a headlight or any rear fender lights. Therefore, if you're someone who'd be riding their electric bike at night, you'd have to buy them separately and install them yourself.
ANCHEER 14 Inch Folding Electric Bike
The ANCHEER 14 Inch Folding Electric Bike is the most suitable option for petite riders. This is largely due to it being lightweight — only 26.5 pounds (12 kilograms) — as well as it featuring 14 inch wheels.
Unlike other hefty e-bikes on the market, this electric bike by ANCHEER is extremely lightweight. With a net weight of only 26.5 pounds (12 kilograms), this e-bike might be a perfect fit for you if you're a petite rider, as you can easily carry it around.
Furthermore, since it has a recommended height of 5 foot 1 inch to 5 foot 10 inches, you do not have to worry about your feet not touching the ground while riding this e-bike. This is due to its 14 inch diameter wheels which are a great fit for petite riders.
Additionally, it features a foldable design which allows you to easily fit your electric bike under your desk, inside the trunk of your car, or carry it around on buses and subways for daily commute.
This electric bike by ANCHEER also comes with a high speed 500 watt brushless motor that enables you to reach speeds as high as 20 miles per hour. It also has a unique cruise control feature with which you can set a constant speed to ride at.
But every rose has its thorn. If you're looking for cheap long range electric bike, this e-bike might not be for you. This is because its 48V 7.8Ah lithium-ion battery only gives you a range of 18 to 20 miles. So if you'll be traveling long distances, you'd have to get a backup battery or carry your charger with you.
What is the Best Road and Hybrid Bike for Smaller Women
Swagtron EB-6 Bandit Electric Bike
If you're someone who loves off-road riding on the weekends but you also want something that does well on the road for daily commute, the Swagtron EB-6 Bandit might be what you're looking for.
With 4 inch wide tires, the EB-6 performs exceptionally well over loose terrain due to the increased traction provided by the wider tires. Additionally, since the wide tires allow you to run low pressures, you can comfortably ride over bumps.
Furthermore, the EB-6 comes with an adjustable seat that lowers down to 32 inches off the ground. That coupled with its small sized frame and 20 inch diameter tires, this electric bike is a great fit for smaller women — especially for those around 5 feet — looking for a hybrid e-bike.
However, the downside of this electric bike is that you cannot adjust the power output of the motor. And since it comes with a powerful 350 watt motor, this can be dangerous if you're not careful. Especially when riding near other vehicles on the road or while making a turn.
Recent Topics